During the 2009-2010 season, I focused my attention on the exploration of Washington's North Cascades.
This area is considered by many to be among the wildest, most remote, and most rugged of those in the contiguous U.S., and certainly the wildest of the Cascades. Situated North of Stevens Pass and stretching to the American border, I subdivided the area into ten unique subranges, as consistent with Peak Bagger's subdivision system.
The map below indicates which areas are encompassed by each range subdivision, or subrange: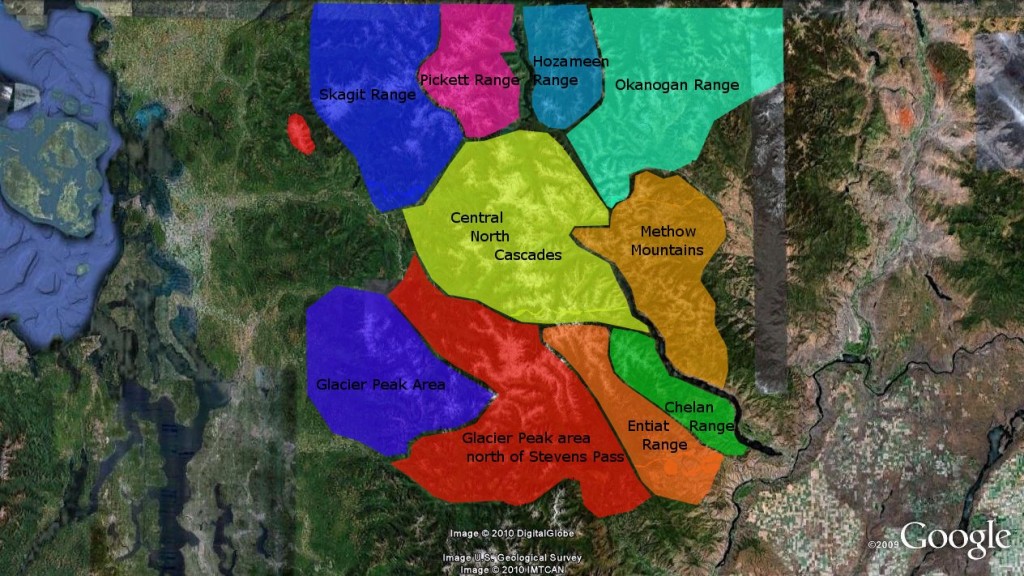 I explored remote objectives in each of these areas. Click on the trip reports below to read a report from each subrange.
1. The Skagit Range:  North Twin Sister Trip, Mt Baker, Mt Shuksan
2. The Pickett Range: Partial Traverse of the Picketts, and Mount Ruth
3. The Hozameen Range: Crater Mountain
4. The Okanogan Range:  Mt .Robinson
5. The Methow Mountains: Abernathy Peak
6. The Central North Cascades: Mt. Buckner, Spire Peak, Sahale Mountain, Johannesburg Mountain
7. The Entiat Range: Seven Fingered Jack
8. The Chelan Range: Cardinal Peak
9. The Glacier Peak Area: Mt. Pugh, Kyes Peak
10. The Glacier Peak Area north of Stevens Pass: Stevens Pass Circumnavigation,Rock Mountain
Nearby Ranges Visited:
The Chiwaukum Range, The Stuart Range, The Tatoosh Range, The Bailey Range, and The Dakobed Range