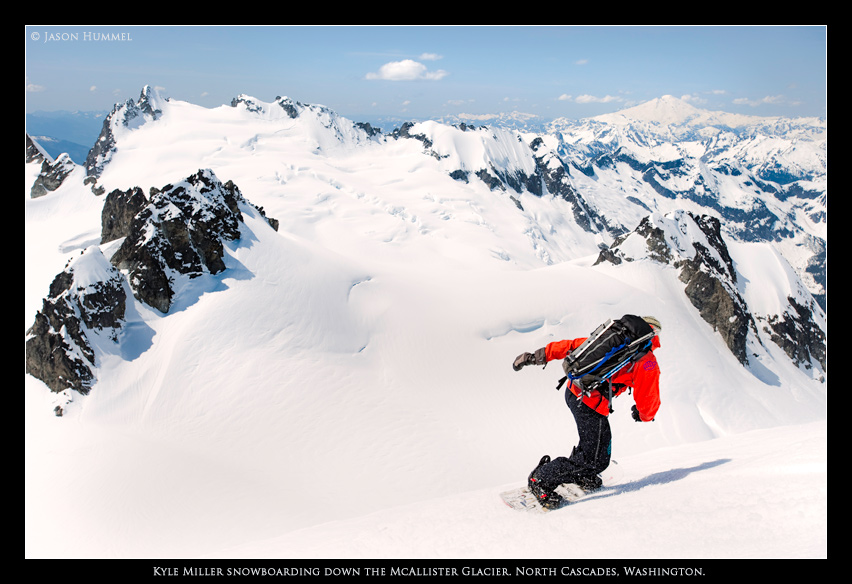 The Black Diamond Revelation Pack is a great all-around ski mountaineering pack, especially if you want to have one pack that will do everything. The design is very clean and seamless, but the construction is burly. No major competitor exists for a similar pack. Osprey and Arcteryx both make packs for ski mountaineering, but the set up and construction is comparatively awkward. In some ways, Black Diamond can be considered to have cornered the market in terms of ski mountaineering packs with a similar pricepoint. Given that this is the case, I was eager to get my hands on the Revelation and test it out in its intended environment.
I like the pack because it's sleek and sturdy but doesn't sacrifice comfort. The 35 liters of space is perfect for either a day trip or a multiday trek (I used it, for example, on the Mt. Buckner summit and snowboard descent, and my recent trip to the Eldorado area, as far as overnight trips go.) It's tough to fit all of your gear into it for glacier travel and avalanche considerations, but it's definitely doable. I usually fill mine with extra clothing, sleeping bag and pad, shelter, food, avalanche safety equipment, skins, crampons, and ice axe, among other items. I especially like the external zip pouch, which easily holds skins and/or crampons for easy access, as well as the ice axe carrier—it's snug, secure, and easily accessed. The ice axe holder is the most sophisticated system for holding an axe that I've used, ever. Also, the simple buckle layout makes it so that it literally takes seconds to transfer your skis (in my case, when my splitboard is in ski mode) from your feet to an a-frame layout when conditions warrant cramponing. Moreover, the external fabric is—as you'd expect from BD—both durable and weather resistant.
Finally, the pack's single most impressive feature is Black Diamond's proprietary product that can literally save your life—the avalung. This is an ingenious snorkel-like device that can be used in the case of a burial to divert your carbon dioxide away from your body and allows you to breathe air directly from the snowpack around you, ultimately allowing you to survive longer beneath the snowpack in the event that you are buried. Like an avalanche transceiver, this device is an indespensible one, as well as one that you hope you'll never have to use.
The nitty gritty:
average weight: 3 lbs, 2 oz (in 35 L model; it also comes in a 33 L model)
colors: comes in red and black
materials: aluminum frame with 420D & 840D Ballistics nylon (water resistant but not waterproof– use a thin garbage sack to line the interior in the case of finicky, need-to-stay-dry items or stash them in a lightweight drysack, I like this one)