The Fryingpan Loop: Banshee, Cowlitz and Tamanos
It's amazing how the mountains can bring people together from all different walks of life. People from different social classes, religions and beliefs share the mountains with one another. Many years ago I met a guy who goes by the name of Don and posted on TAY as Boot, we were in the Crystal Parking lot, both getting some preseason turns. We quickly realized that we shared the same love for topography and remote corners of the Cascades, we became touring partners from that day on.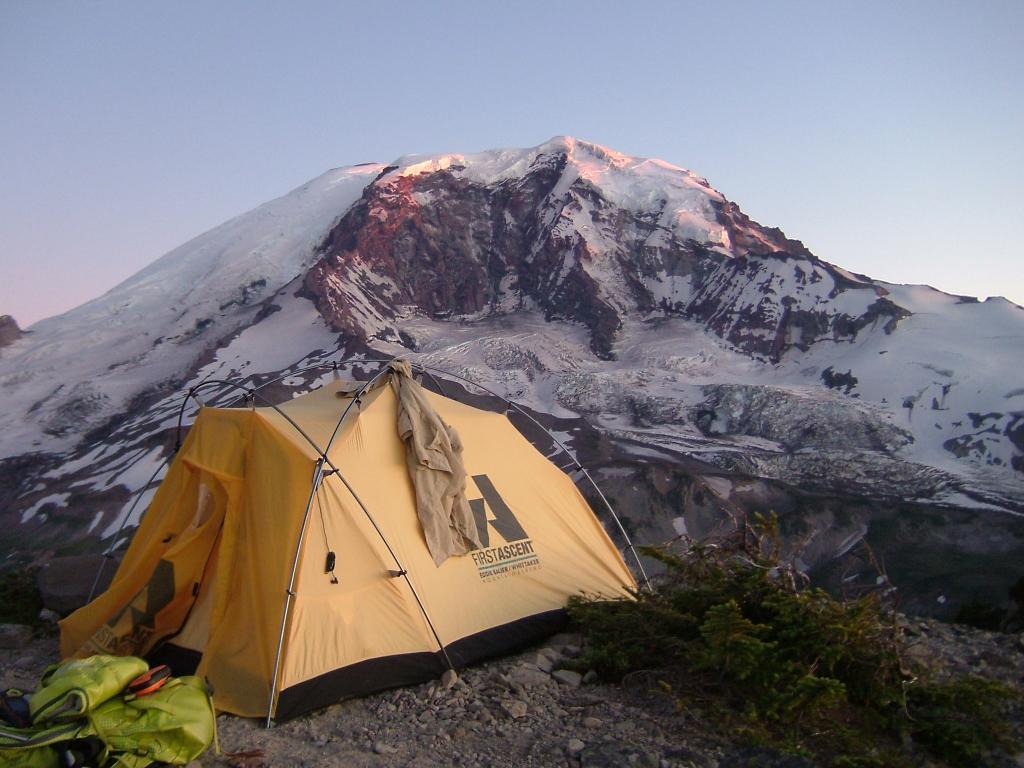 At the beginning of this season we had brief chats over emails and he was stating a lack of enthusiasm to get back into the mountains. It took some motivation and promises of the Interglacier in Powder conditions, but two days before new years he was back on Rainier. He created a tick list of peaks and conditions he wanted to ride in and so his season began.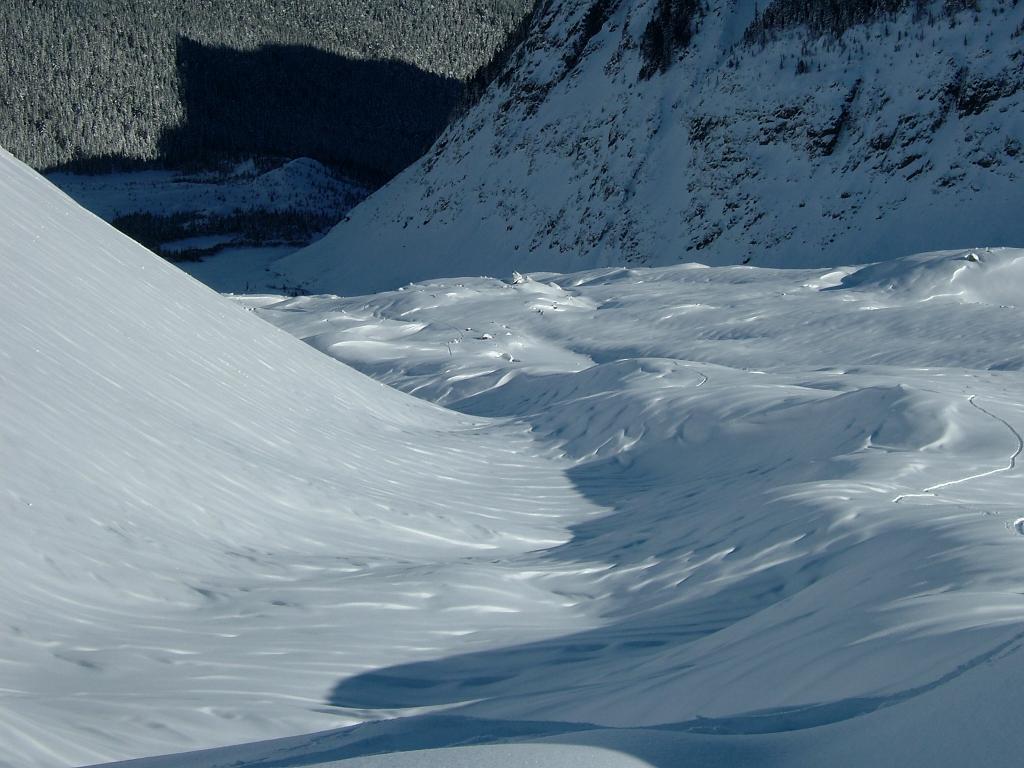 Skin track stoke on the Emmons
One of those lines was the Cowlitz Chimney.
We came up with a plan to skin up the Frying Pan Creek and make our way up to the eastern shoulder of Rainier and slowly traverse NE. With around 2 feet of new snow and a tad bit of time for the slopes to stabilize we made our way into the White River. In the end it would be 11 miles and 7300 vert broken down to 3 couloir, 1 avi path and 1 treed run, all of which were NW to NE facing.
The sled ride in was fast. It had been a while sense I was solo on one and it was nice to rally it. Once arriving at Fryingpan Creek Boot checked his watch. It had taken us 30 minutes which was a new record for us. Within minutes we were skinning up the Frying Pan Creek trail. This valley is one of my favorite in the Cascades. There is not much old growth left in the Evergreen state after over a century of logging but this place remains preserved, not to mention there the massive volcano that feeds it.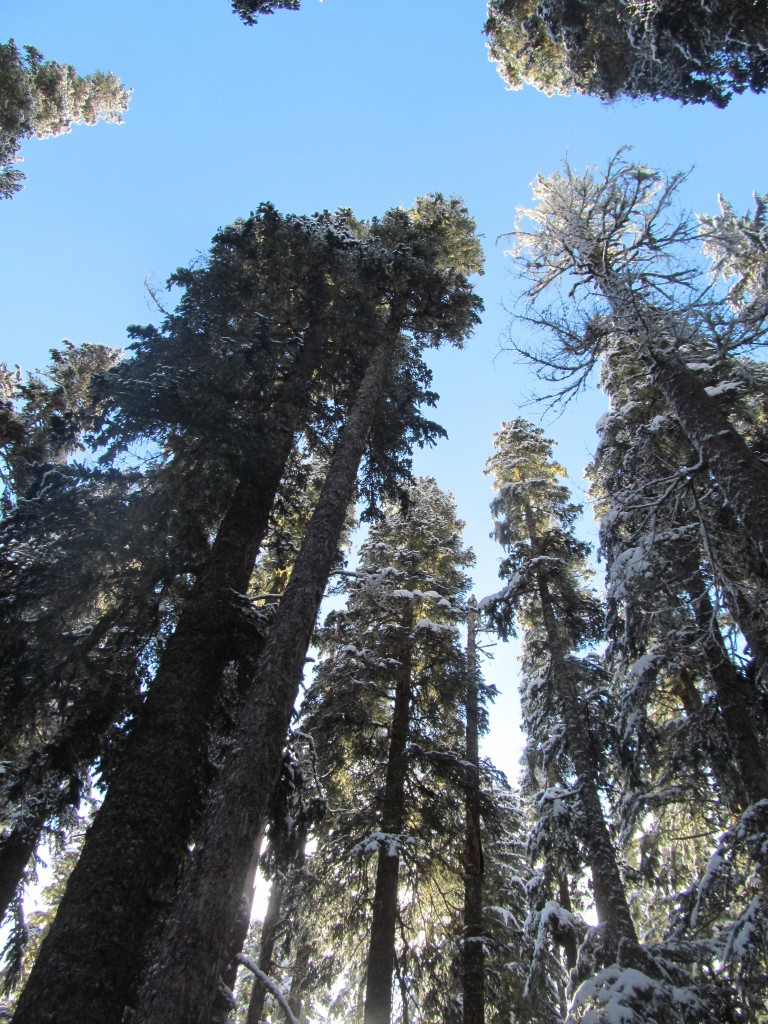 We skinned up the creek for a few miles before cutting up towards the shoulder and ultimately Fryingpan gap. The drainage was direct and quickly became a canyon with numerous waterfalls along the way. The creek was filled in but had some exposed moves to 10 feet deep holes of raging currents. The crux was a 20 foot tall waterfall with a steep snow ramp on the side. Being stubborn I attempted to skin it via veggie belay and some careful footwork but in the end had to boot it.
Two minutes later it was official we had made it into the alpine.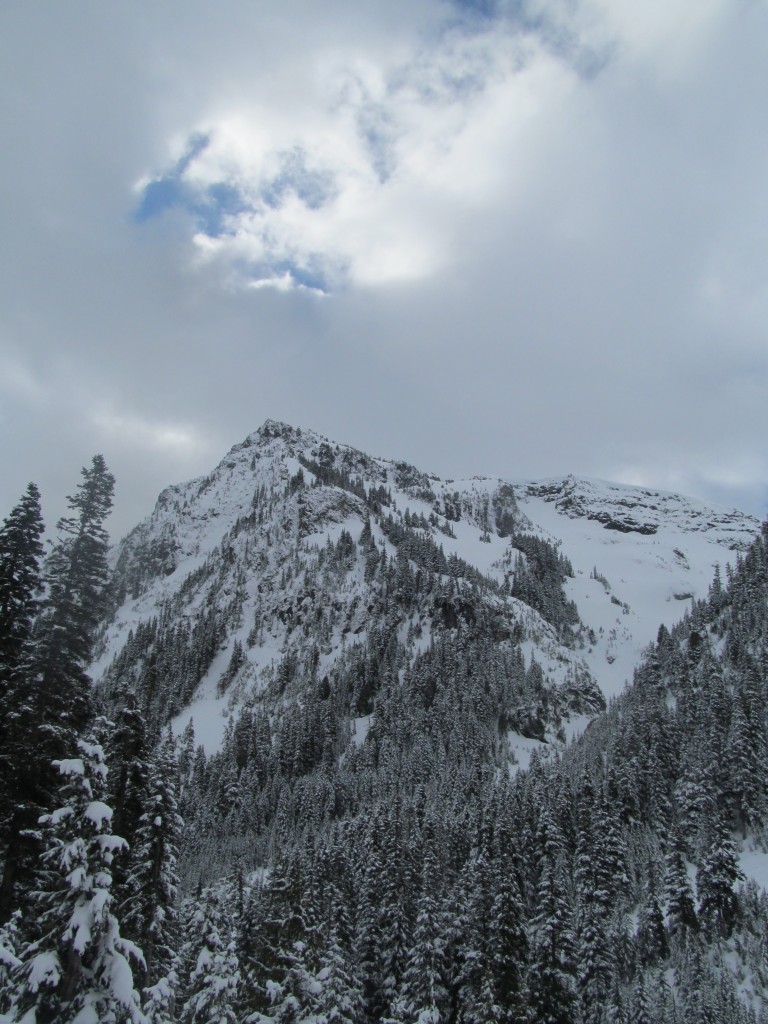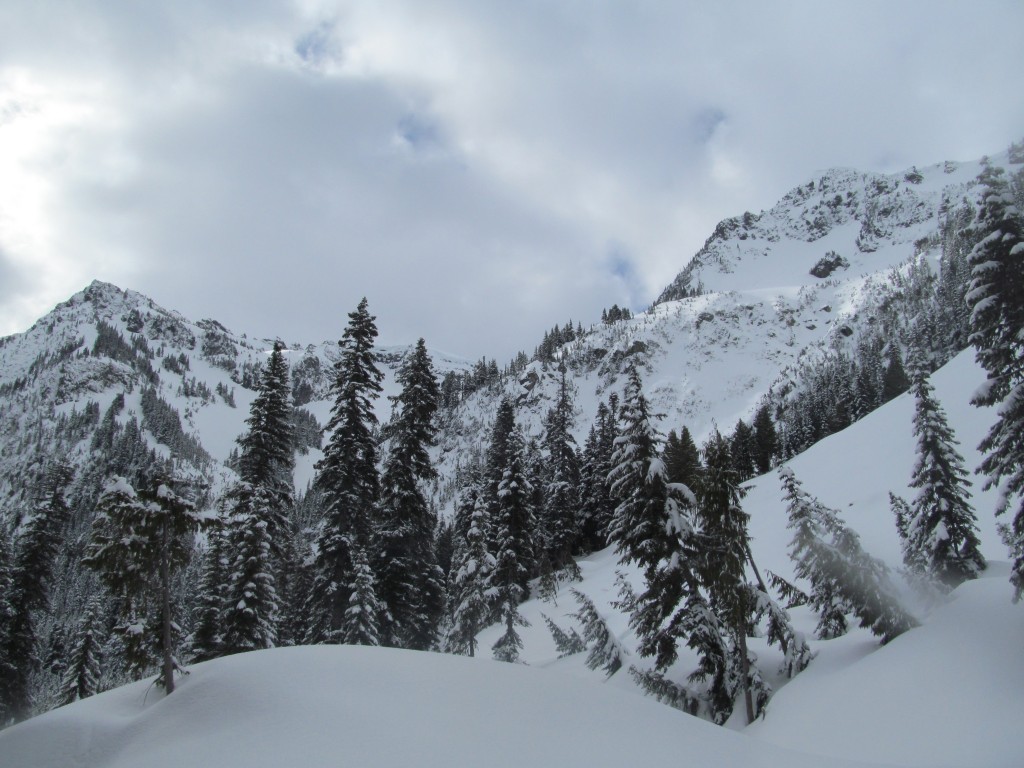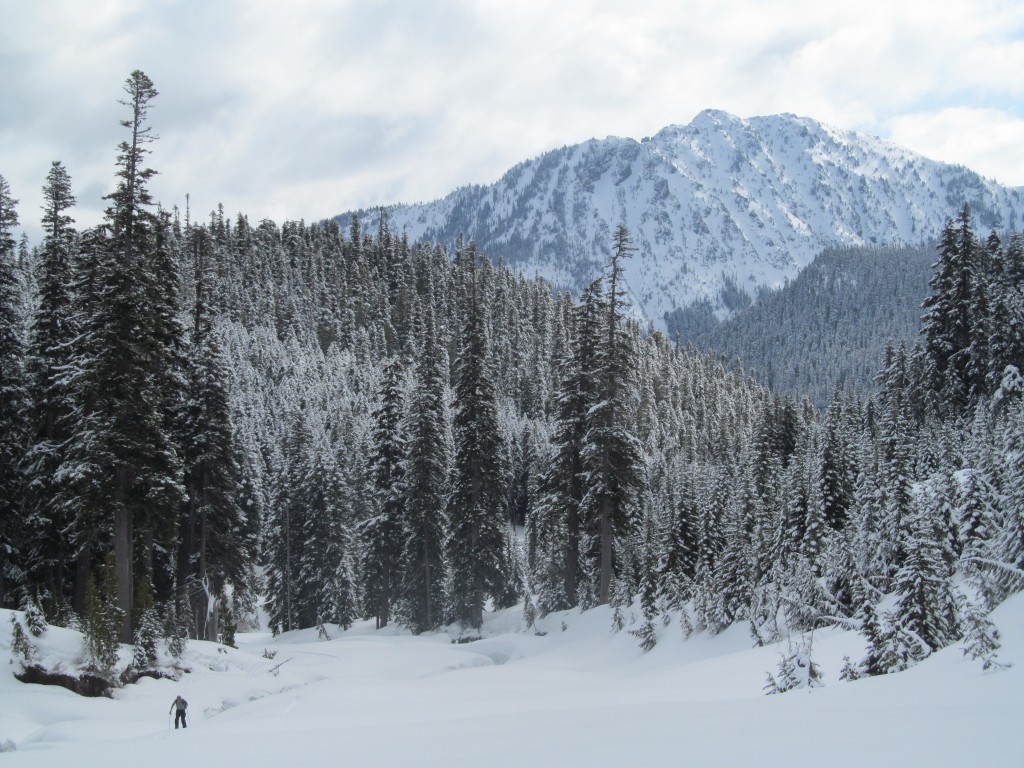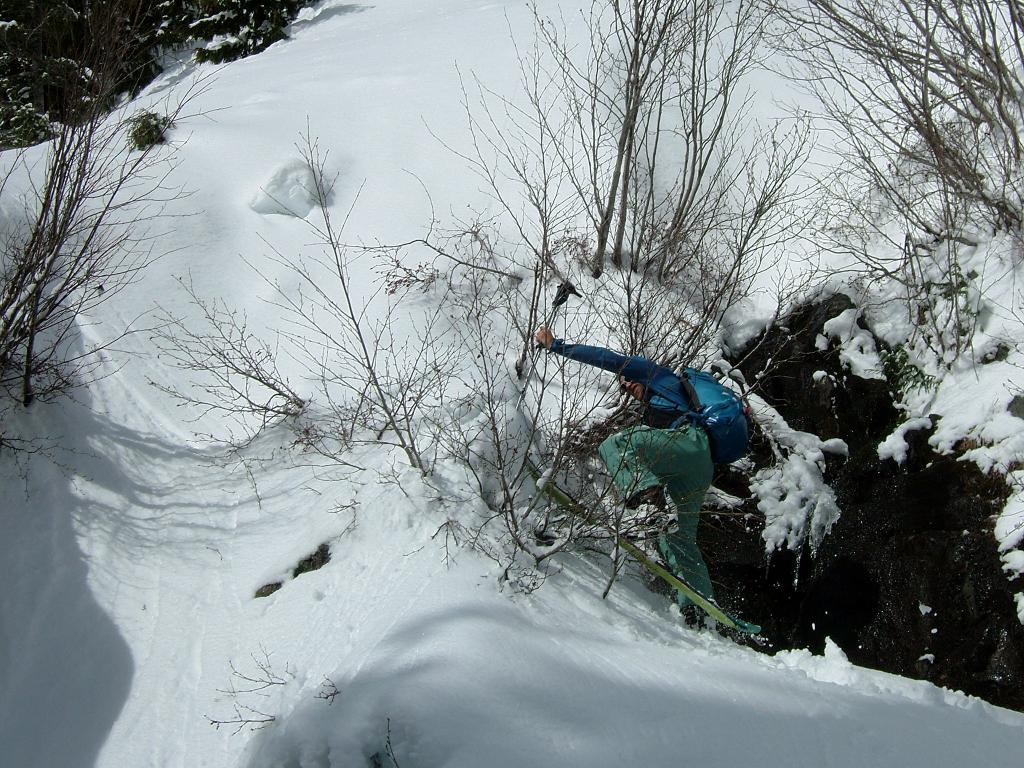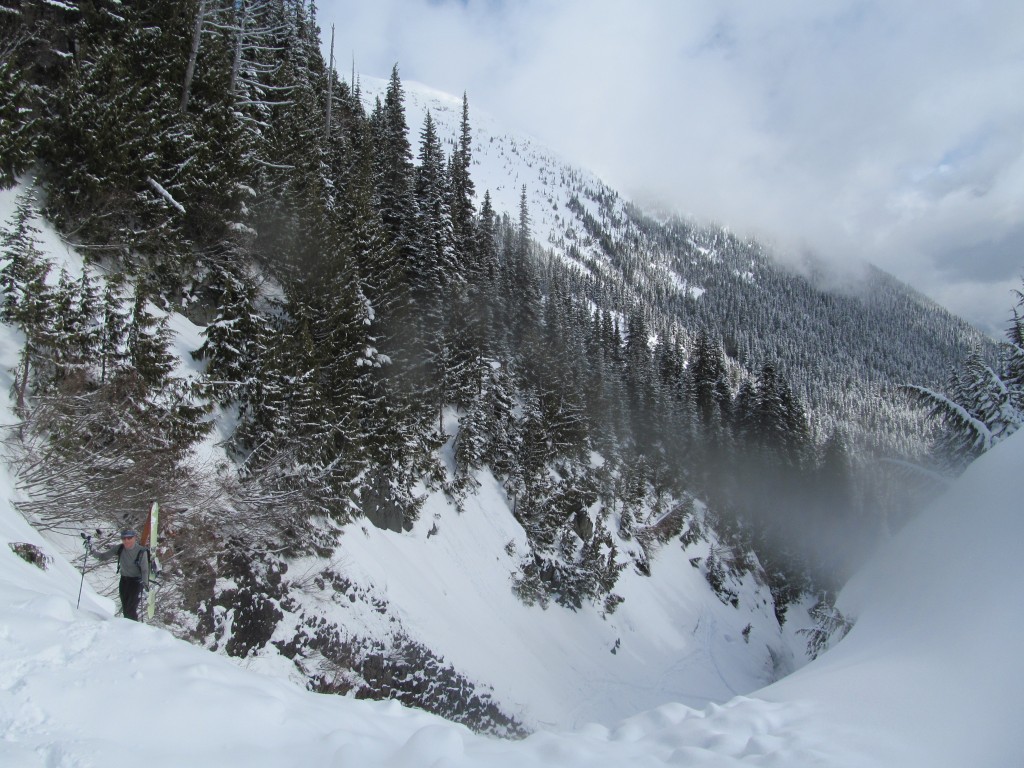 The year prior both Jason Hummel and myself had done a traverse from Paradise to Crystal this would be a similar route but with three differences. The exit, the amount of daylight and the snow conditions. This time there was more than a foot of powder.
What was at first bluebird slowly turned into white out conditions but with familiarity of the terrain I was able to navigate our way up onto Banshee peak and before long we were standing on top of the Banshee Couloir. Visibility come and go so we waited for a window and made our descent down onto the Sarvant Glacier. It was epic April pow, faceshots in the choke and wide open pow turns after that.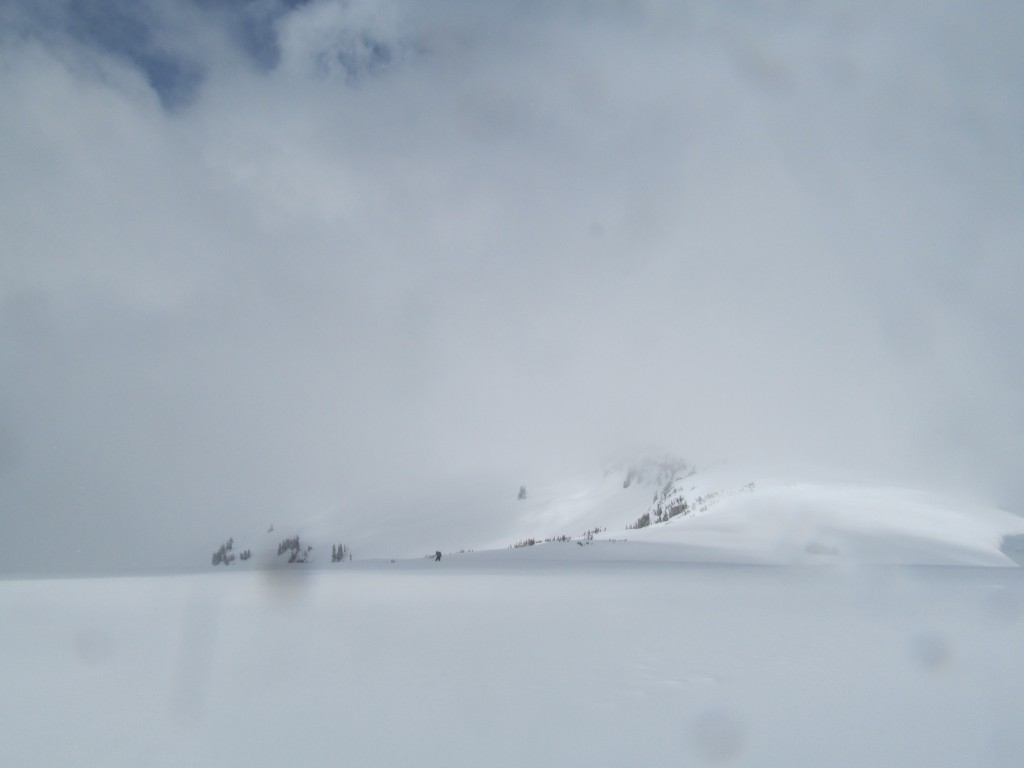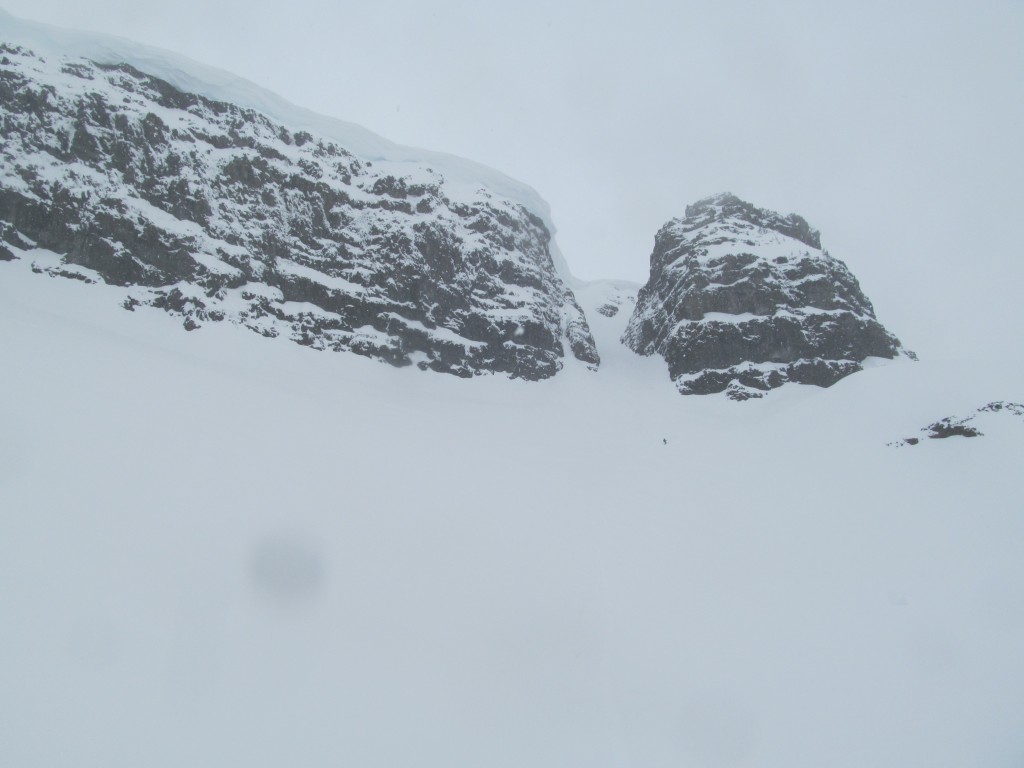 By the time we had transitioned to skinning the clouds had moved it thicker as we were navigating in a white out. Normally I would get out but I felt confident in the terrain. I made a slowly rising traverse up towards a rock ban I could barely see we made our way to the mellow col and navigated around the southern slopes to the Cowlitz Chimney col. Clouds came in and out the whole time.
We sat on top in a white out and patiently waited for visibility. We ate our lunches and chatted about our history with this run. Two years prior we had sat at this same col twice and had been skunked on weather. Third times the charm right? It turns out it is as the clouds lifted and one at a time we dropped into the Cowlitz Chimney with Boot going first.
I have rode the Cowlitz Chimney twice before but not in conditions like that. It was deep, stable, open faceshot top to bottom for 2000 feet, It was like Iceburg gulch at Crystal on steroids. Boots plan delivered big time and we were stoked.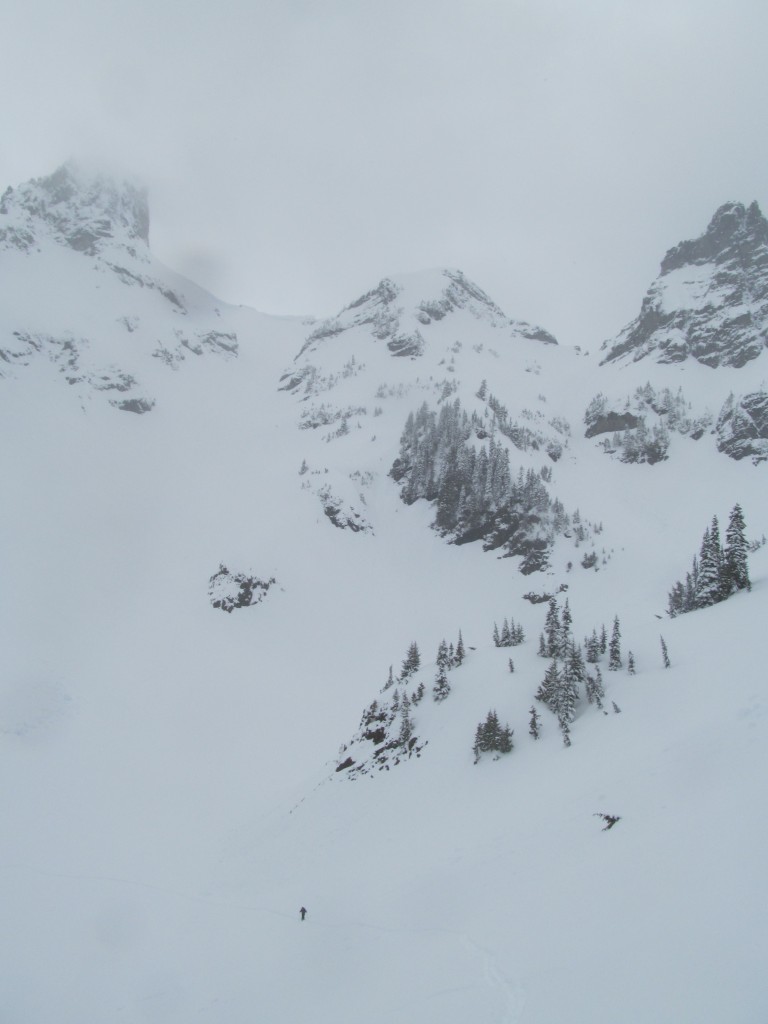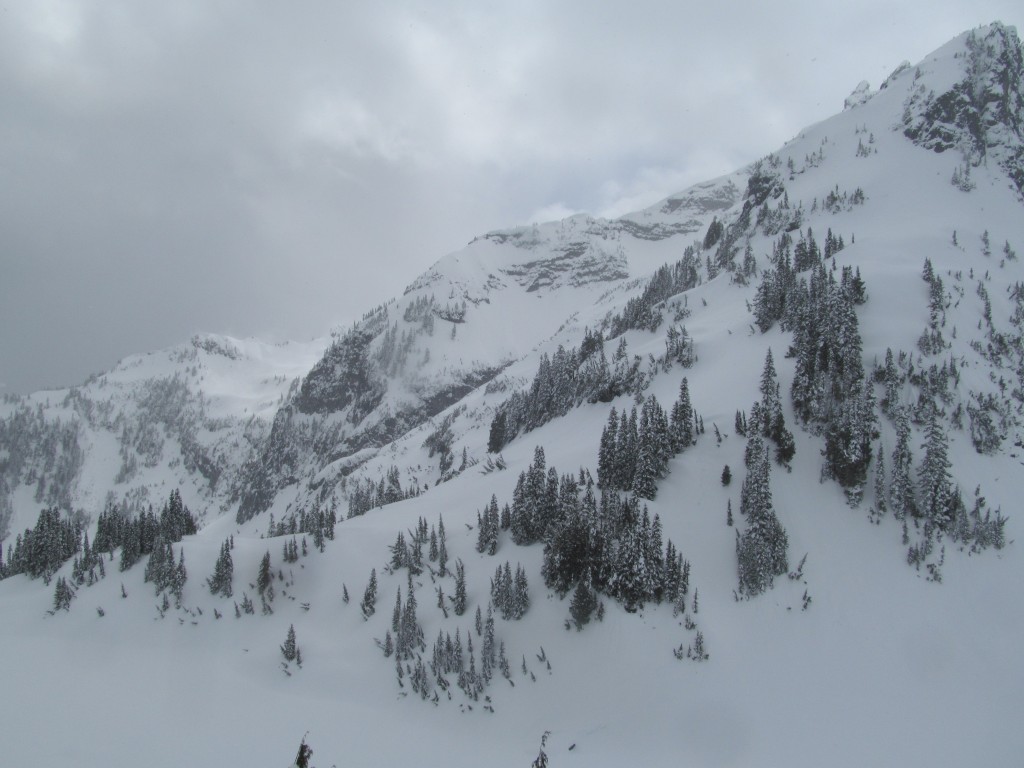 We skinned up a steep section of ridge occasionally looking back at our line. As always the visibility started improving and we heckled the mountain wishing we had been more patient. With a quick descent down the best snow and visibility so far in the trip we started making our way towards Tamanos and the Owyhigh Valley.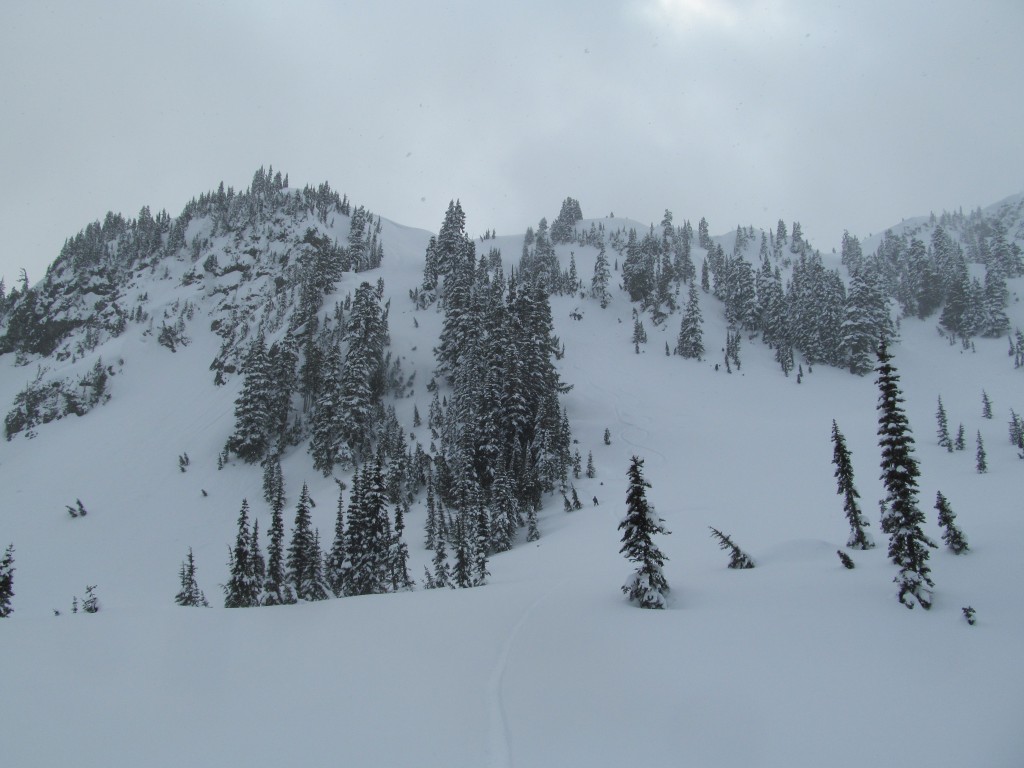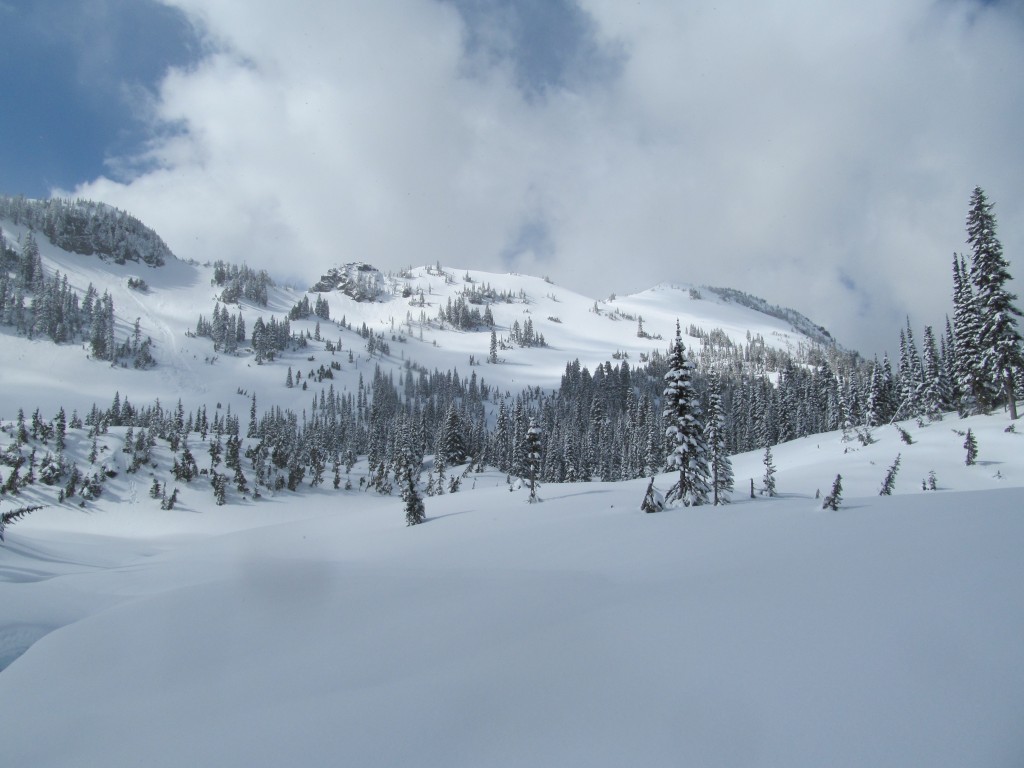 With a mellow and well placed skin track we made our way onto the ridge of Tamanos. Once upon the ridge the world opened up around and below us. From our vantage point we could see Rainier to the west and a panorama of mountains in every other direction.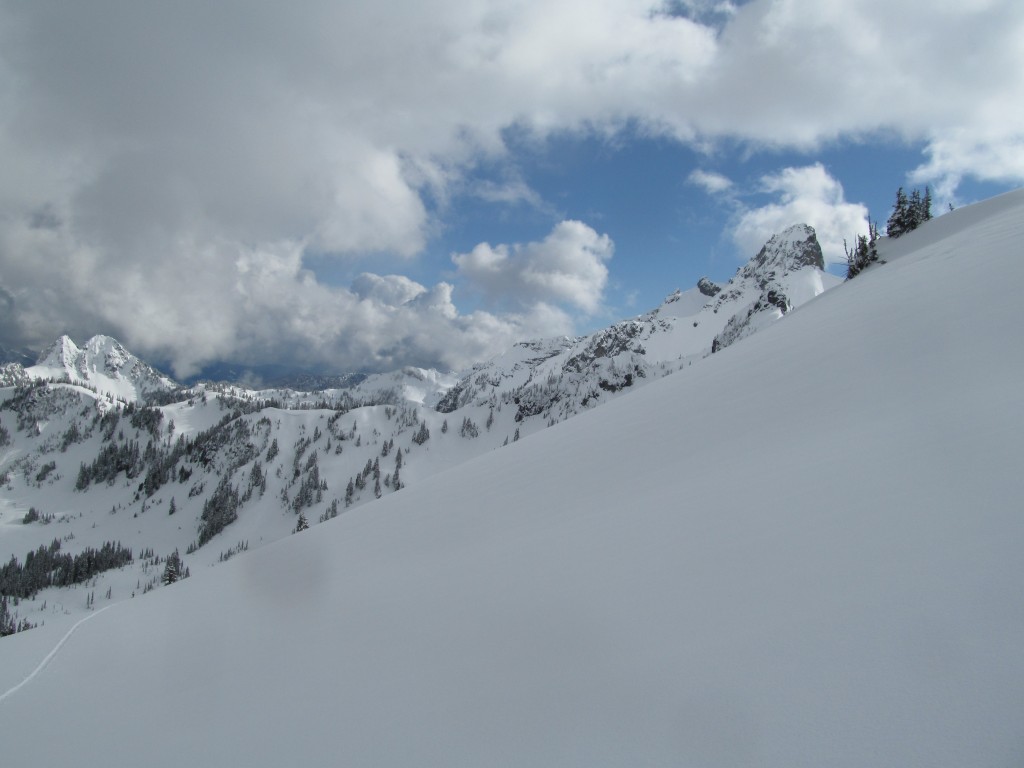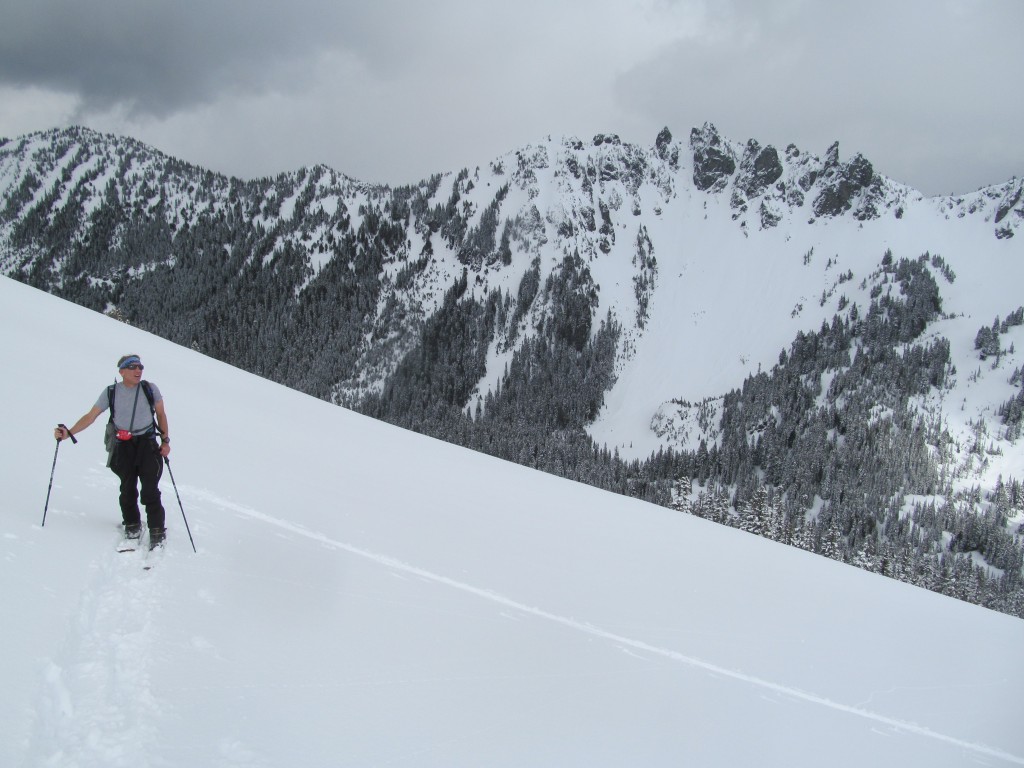 Tamanos has always been Boots and my go to run when heading out to the White River. With a little bit of creativity and love of the suffer it is one of the quickest big mountain tours in the park.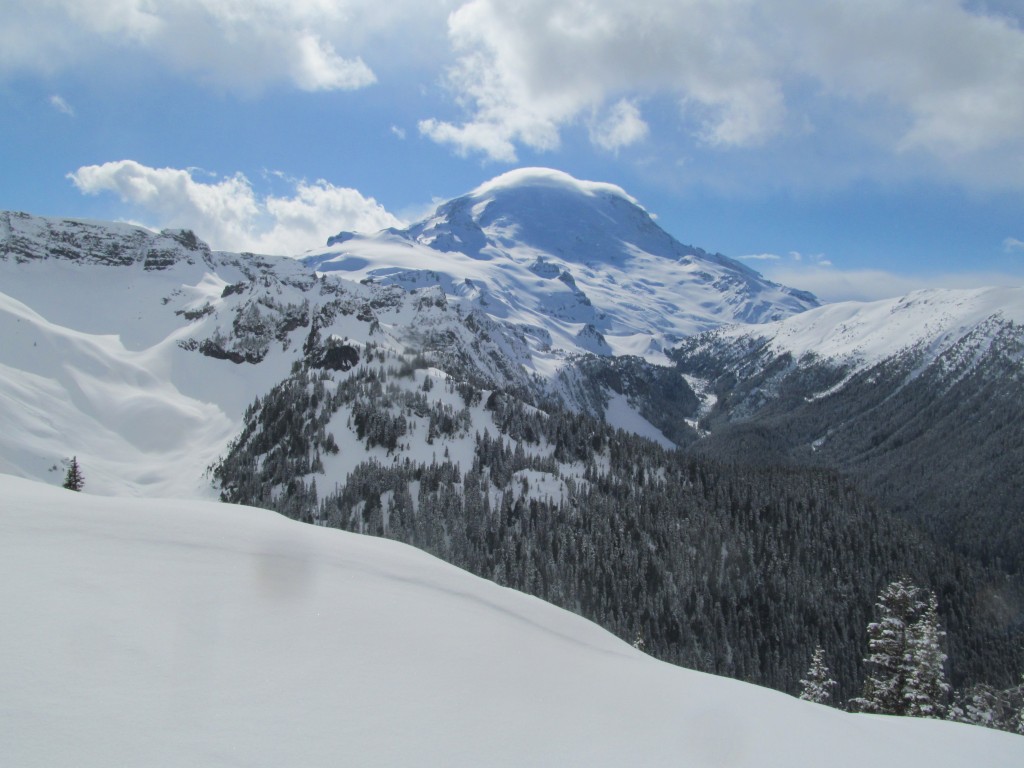 From the summit ridge we dropped into the couloir one at a time with Boot once again being the guinea pig. When riding we are always aware for potential slides and slabs so when Boot rode in he made his way over to a safe zone. He had caused a 5 foot wide foot deep slab that ran the entirety of the 700 foot chute. While it was small it would have been a sucky ride. Once he was at the bottom I carefully cut into the slope. My cut caused the rest of the slope to go so I waited for it to run and had an amazing ride down firm at first but bottomless pow in the apron.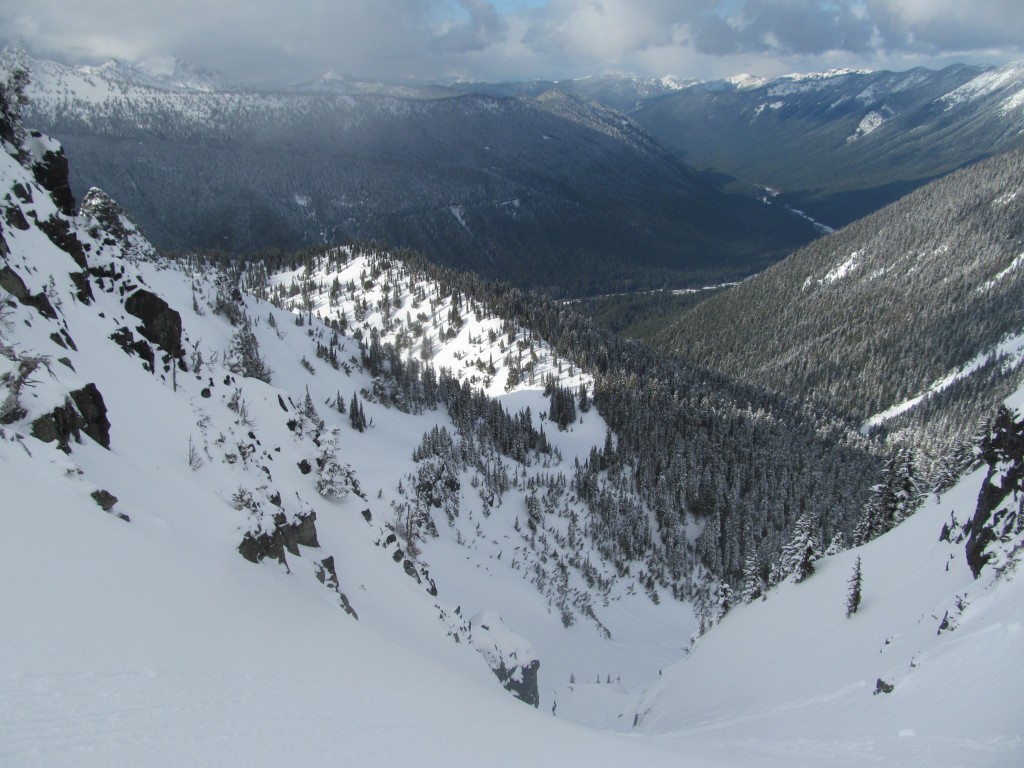 We smiled and shared our experiences before putting on our skins for the final ascent up to the NW ridge of Tamanos. I made a scenic route up to the top of the old scared avi path.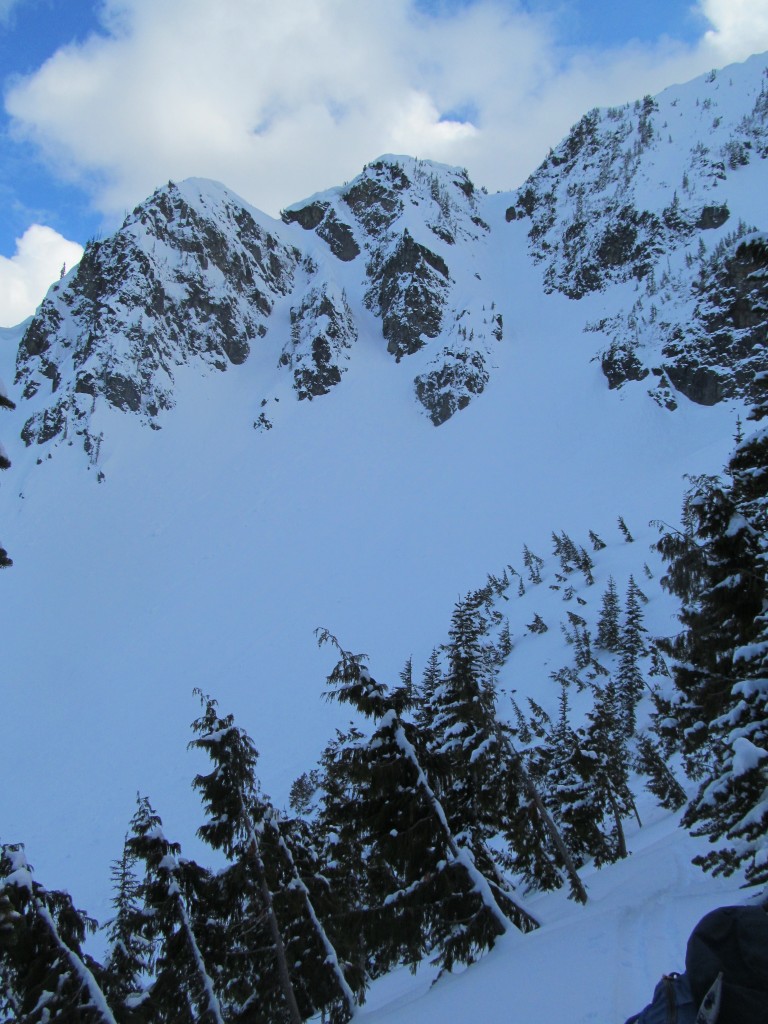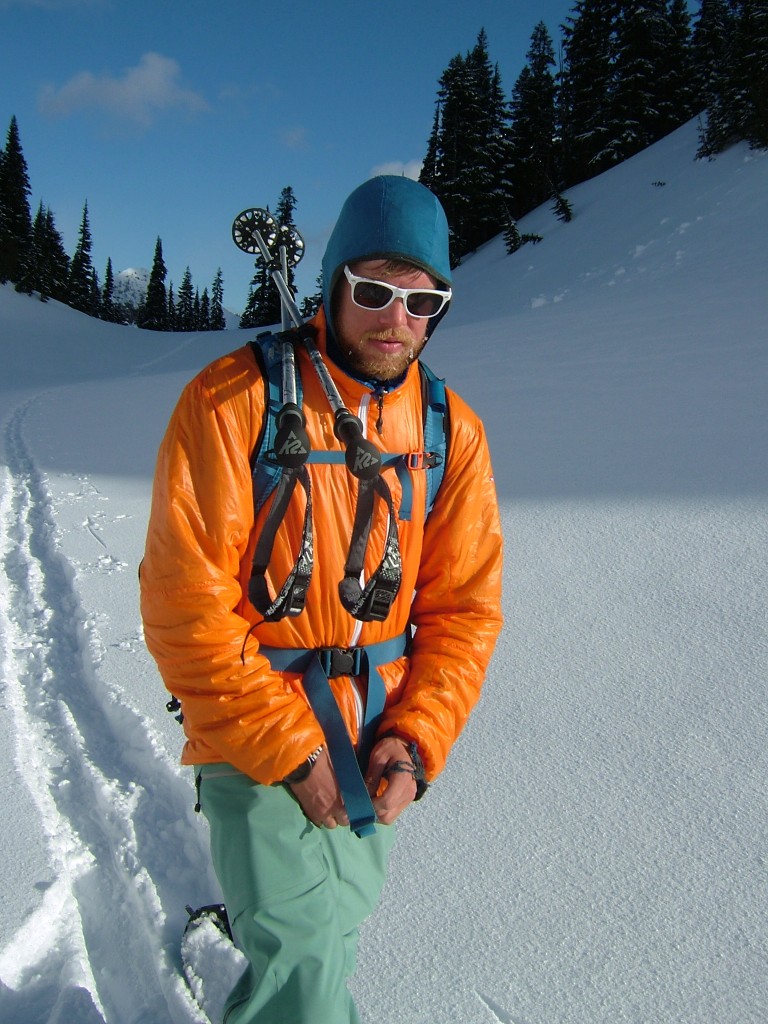 From the ridge there is a 2500 foot direct slide path that runs directly to Fryingpan creek and within a mile of the sleds. We said our goodbyes to Rainier and made our descents in stable pow for the first 2000 feet and smooth slush corn the rest of the way to the creek. It was the best conditions I have ever had that line in, finally it wasn't littered in debris.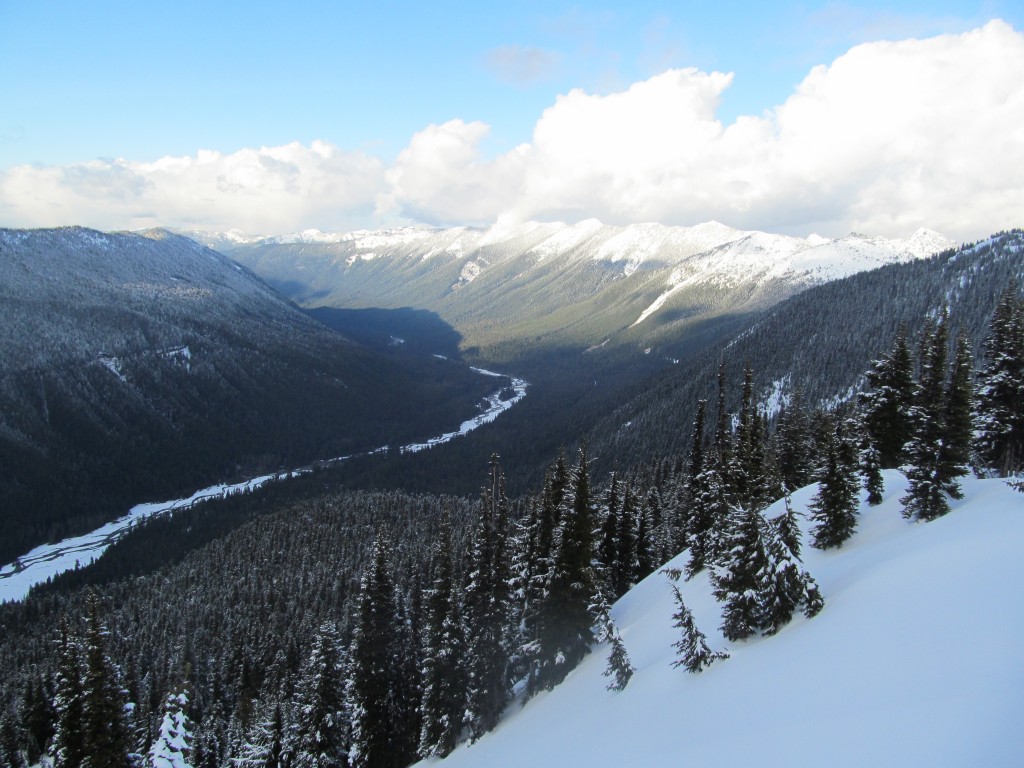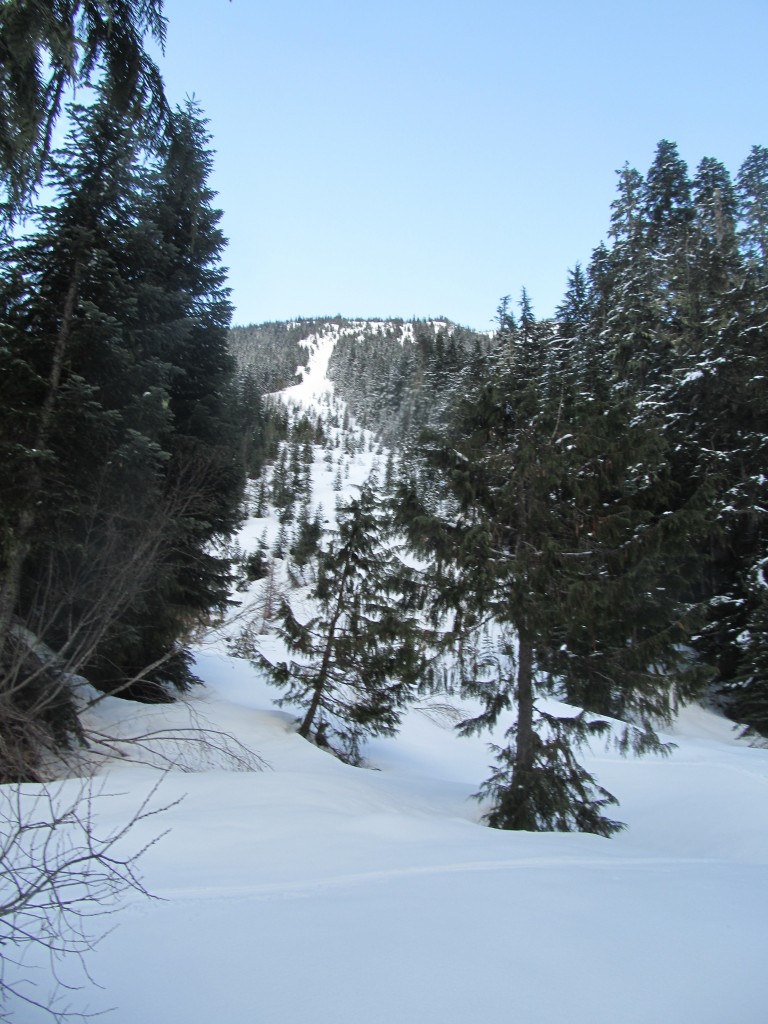 Our exit was via Fryingpan creek which is always a pain. there is never a snow bridge and it is almost guaranteed to get you soaking wet but this time it wasn't the case. We immediately found a log jam and made our way across on foot before putting our skis on. From here on out I was able to skin the whole way back to the sleds, stubbornly skinning on rocks across a few creeks but still skinning.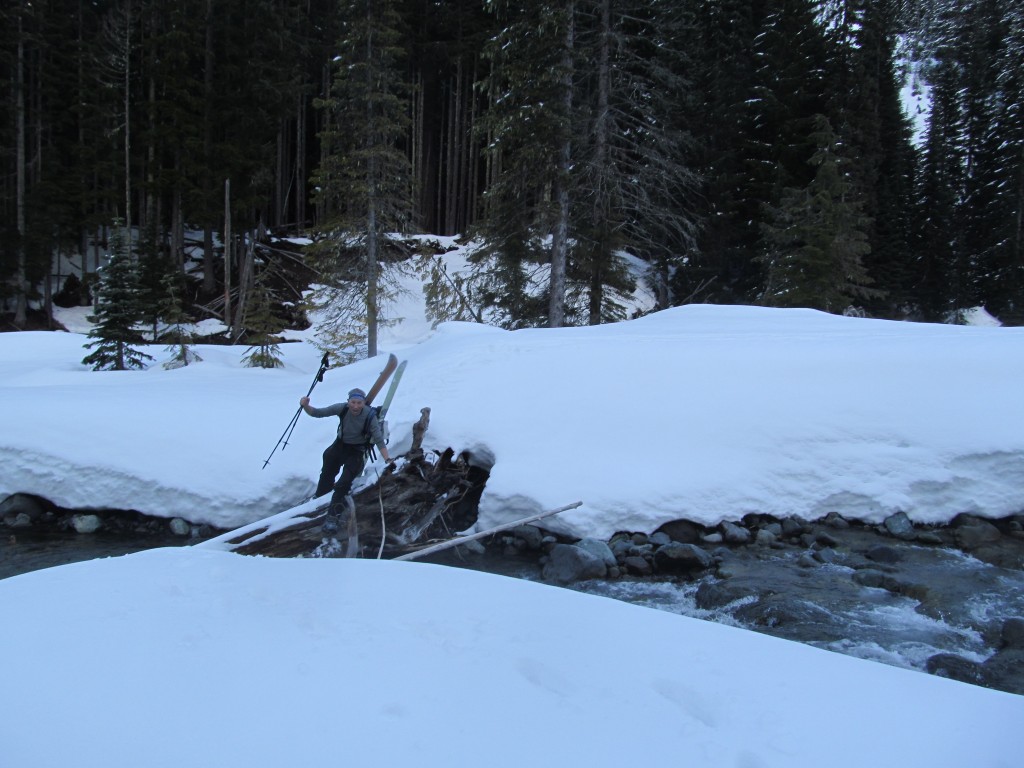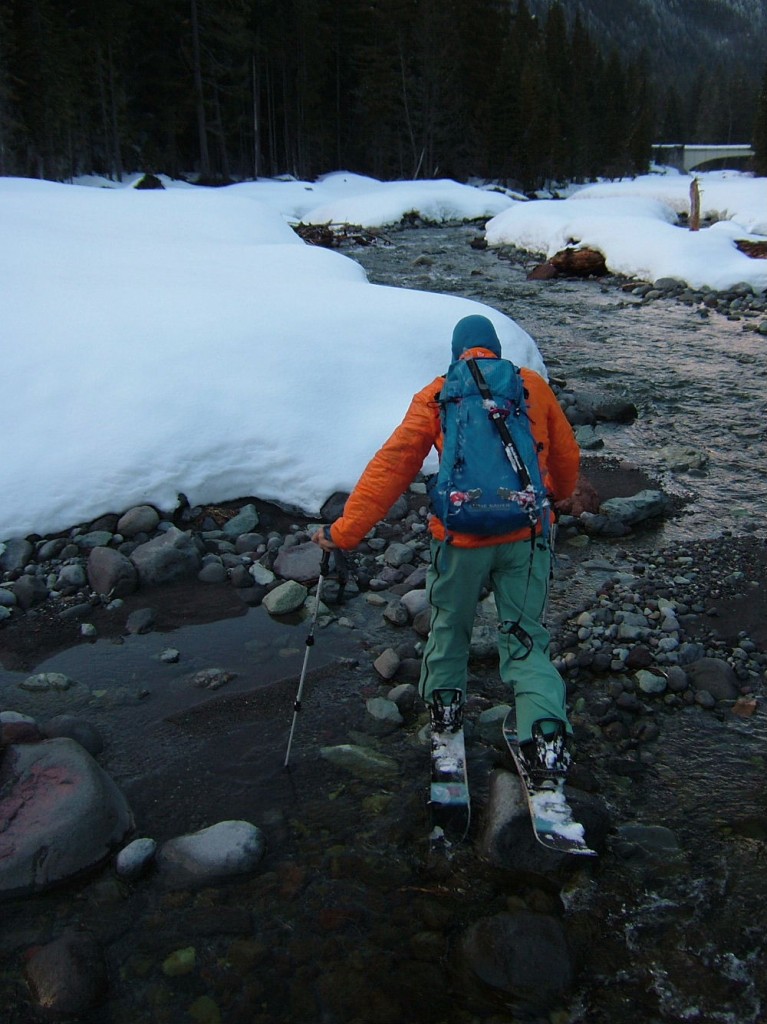 The ride back was a blast until we got to the Mathers Y. It turns out while we were up at the White River the plow driver for WSDOT cleared both lanes of the road. Long story short I don't recommend EVER sledding on 6 miles of bare pavement. It was weak!
A hudge Thank you goes to my friend Boot for putting together this great trip. It has been an honor to be your friend and I look forward to many more years.