It all started with a near death experience. The last time I ventured into the Pickett Range, I slept--alone-- within 100 feet of a debris pile that nearly killed me. Last time, I chose, three days into a six day trip, to bail after almost losing my life to a skier-triggered slide that poured down on me from above. Last time, I hadn't trusted the snow. It was warm enough that things were heating up quickly, but it had been cold enough recently that the snowpack was far from isothermic. In my opinion we were toying with spring conditions on top of winter layer cake. Constantly triggering loose, wet point releases was fine, but when those had started to step down to a deeper layer, causing full-on wet slabs, things started to get scary for me. Having one such wet slab miss me thanks to a serendipitously-placed boulder, well, that was an experience that screamed, "lucky," and I didn't want to stick around to find out if there would be many more second chances.
My route had been slightly different than that of Jason and Forest: they were on skis, and I was on a board. Jason had said that a snowboard, "just wasn't the tool for the job." We snowboarders--and splitboarders-- often do look at terrain differently: traversing doesn't hold quite the appeal that it might two our two-planked compadres, and sometimes slashing and spraying is more of our style than a series of hop turns. Nonetheless, despite my slightly alternate micro-route-finding techniques, I knew that a splitboard was actually the perfect tool for the job of traversing the Picket range. But that, for everyone's safety, it made more sense to return with a few like-minded men (or women, though is often the sad reality of my life, more men turned up eager for the job), who also happened to be on snowboards. Right after my fateful trip with Jason and Forest, the emails poured in: "Kyle, dude, let's go back," they all said. But I wasn't ready yet. In fact, I really wasn't even all that interested in traversing much of anything. Because while I was turning my back on the Picket range, my eyes had caught Jack Mountain. I didn't want to go back to the Pickets. All I wanted to do was to go climb Jack. But once there, on Jack Mountain, thoughts returned to the Pickets as I watched the sun set on Mt. Fury. I knew there was no way around it-- I had to go back. Fast forward to May 4, 2012. Here I was, a year later, dreaming about Mt. Fury again.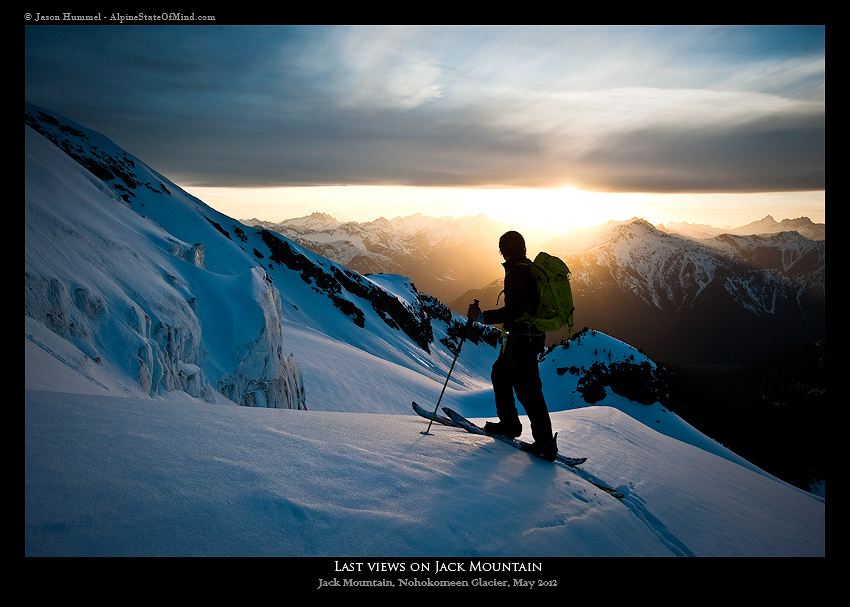 The weather was good. It was nearly our Nation's birthday. We Cascadian ski tourers like to do big things at the beginning of July. Sometimes, we are lucky, and our snowpack is still fat then, there is plenty of sun, and the snow is still smooth. It's corn season, with long days thrown in, too. As usual, I wanted to celebrate our Nation's independence by pushing my physical limits, and doing what some had said I couldn't do, seemed perfect. Moreover, those Independence Days that I had spent in the states, I had chosen for traversing. Three July fourth's ago, I had done the Dakobed Traverse, Two years ago, the Alpine Lakes Traverse. Last year, I had been in Matchu Pitchu (not a traverse, but cause for celebration nonetheless). July 4 has been an auspicious time for me. As the holiday approached and a high pressure window solidified, I reached out. Within a moment after a gmail-proposal to Frankie, he was in. Scott was a long-time touring partner. And I had skied once with Seth. In a few moments' time, we had a party of 4 splitboarders. We were stoked!
DAY 1: July 4
Here we were at the Sourdough Ridge trailhead. It was awkward at first-- I was back, but I was here with a new and different crew. It felt good-- like it was the right time, in the right place, with the right people. We followed the maintained trail that was nonetheless steep and aggressive. The blood started flowing. July was later in the season-- there wasn't any snow until 3500' vertical feet above the car.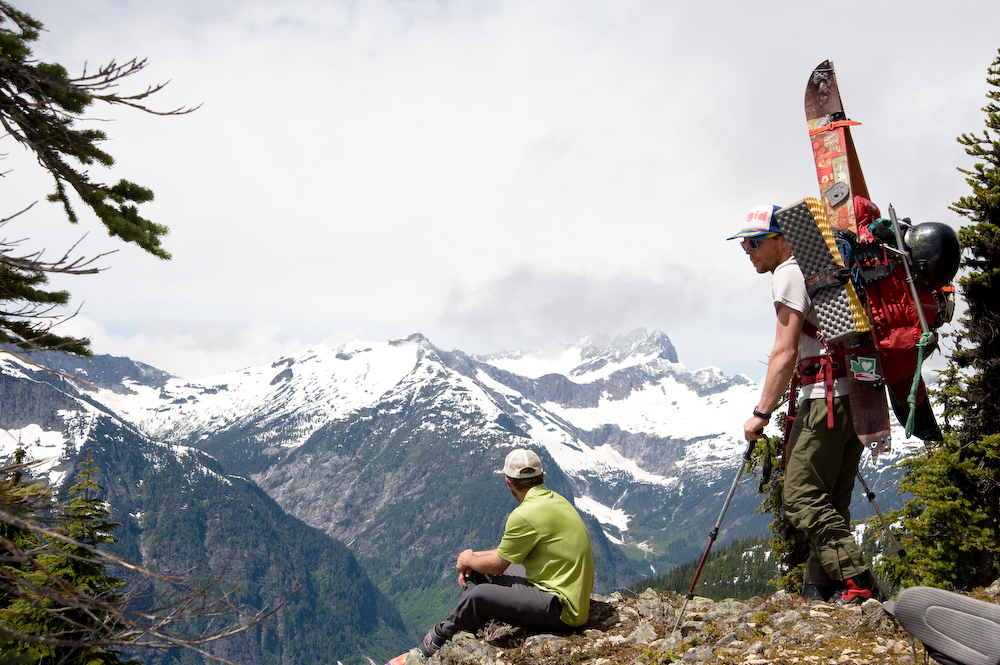 Sourdough Ridge, however, provided breathtaking views. I had learned from previous route-finding mistakes that it was better to stay along the ridge, following its gentle dips and rolls, than descending directly to Elephant Gap.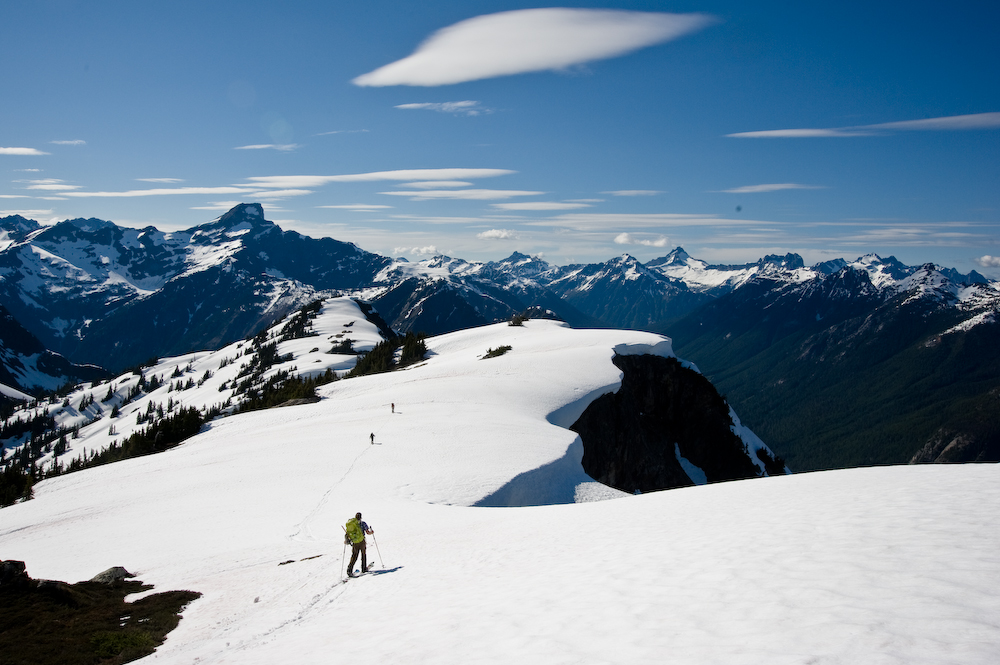 We were able to skin about 2000 vert towards the East flanks of Elephant Butte, where we quickly found a nice large, flat rock upon which to camp. One day complete, with ravenous appetites and glorious alpenglow: the trip was just beginning. It was a beautiful sunset with the most gorgeous of Alpenglows-- from there I could see the Colonial Massif.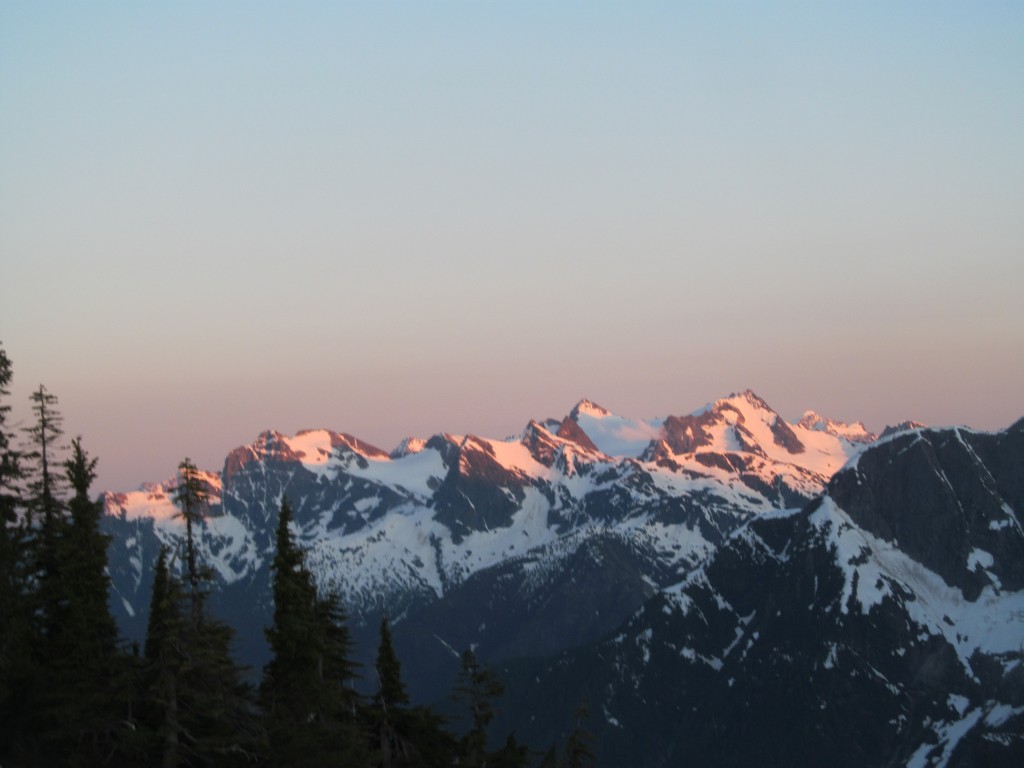 DAY 2: July 5
We awoke early, before the sun had warmed our camp spot, and made a big breakfast. We had a long way to go. Finally, the sun poured vitality into our bodies, as it crested the ridge. It was a quick traverse around the South Flank of Elephant Butte, and I couldn't help but remember the slide that had almost buried me the last time I was here, with Jason.
We skinned continuously up to McMillan Col, a blind roller to an area that we knew from photos and whispered warnings that was littered with cliffs and steep terrain. "This is the crux," we thought.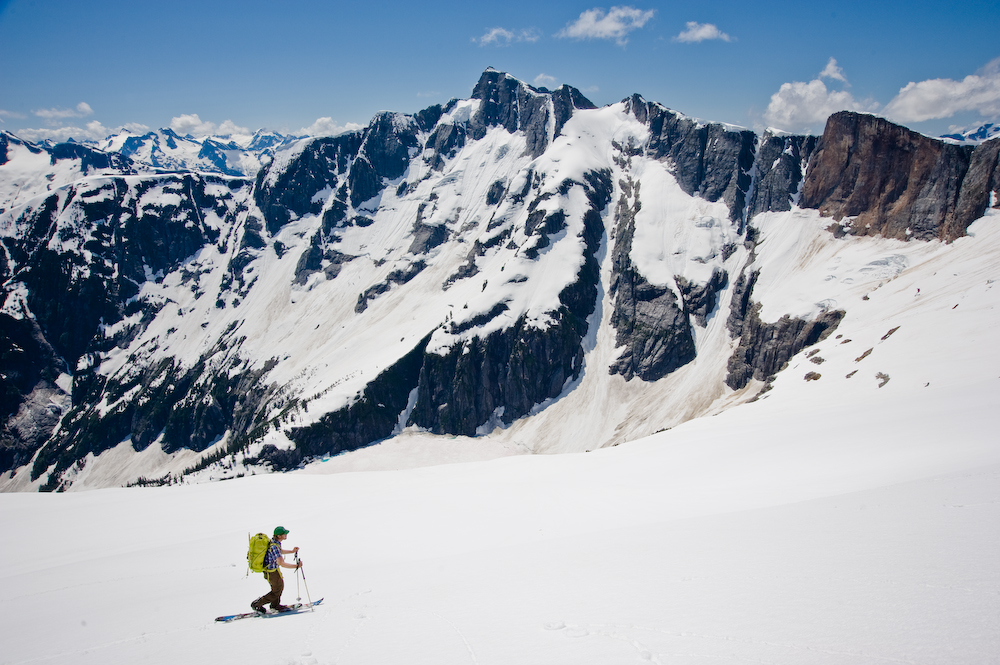 We hoped that by dropping McMillan towards rider's left and keeping a consistent traverse while bootpacking we'd find a place that went, and allowed access to a snow slope lower down. As it turned out, we initially dead-ended into a cliff. Stopped dead in our tracks, we had to look around a bit.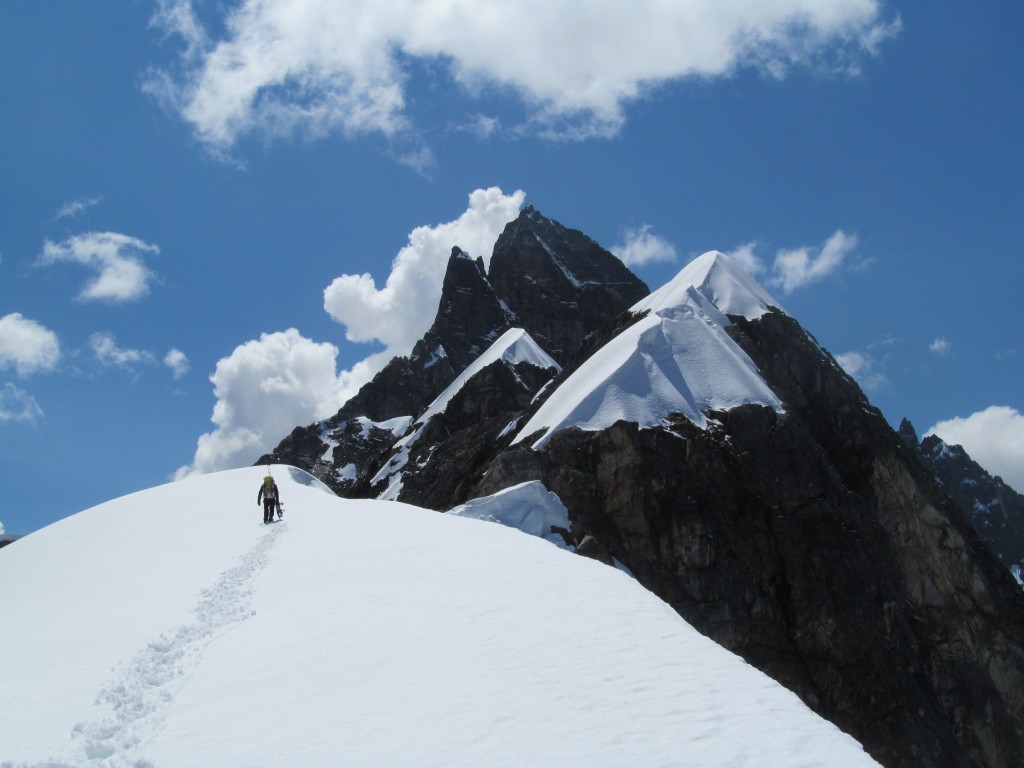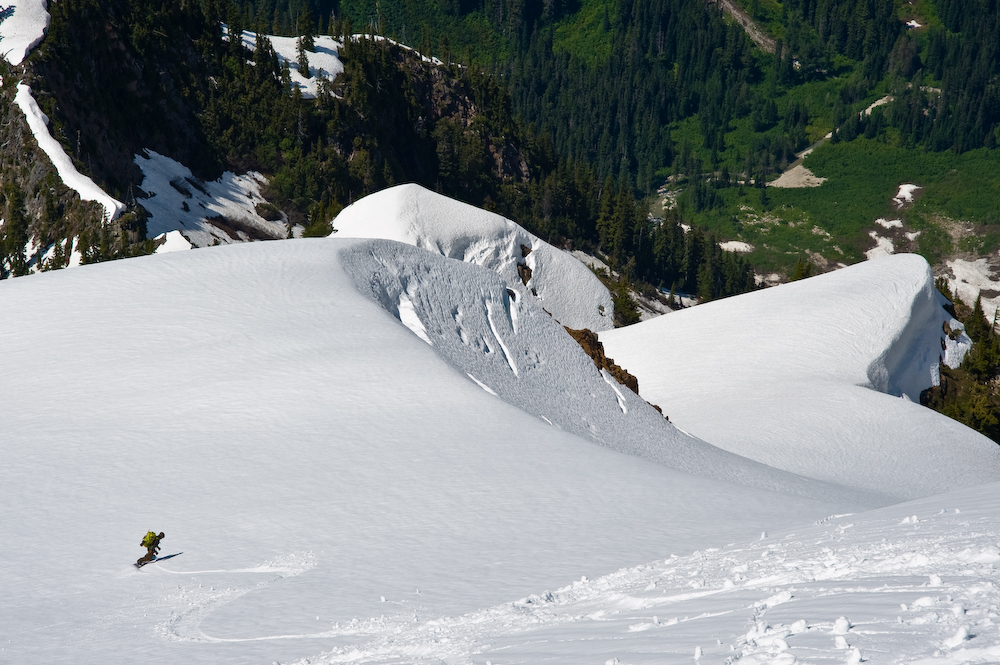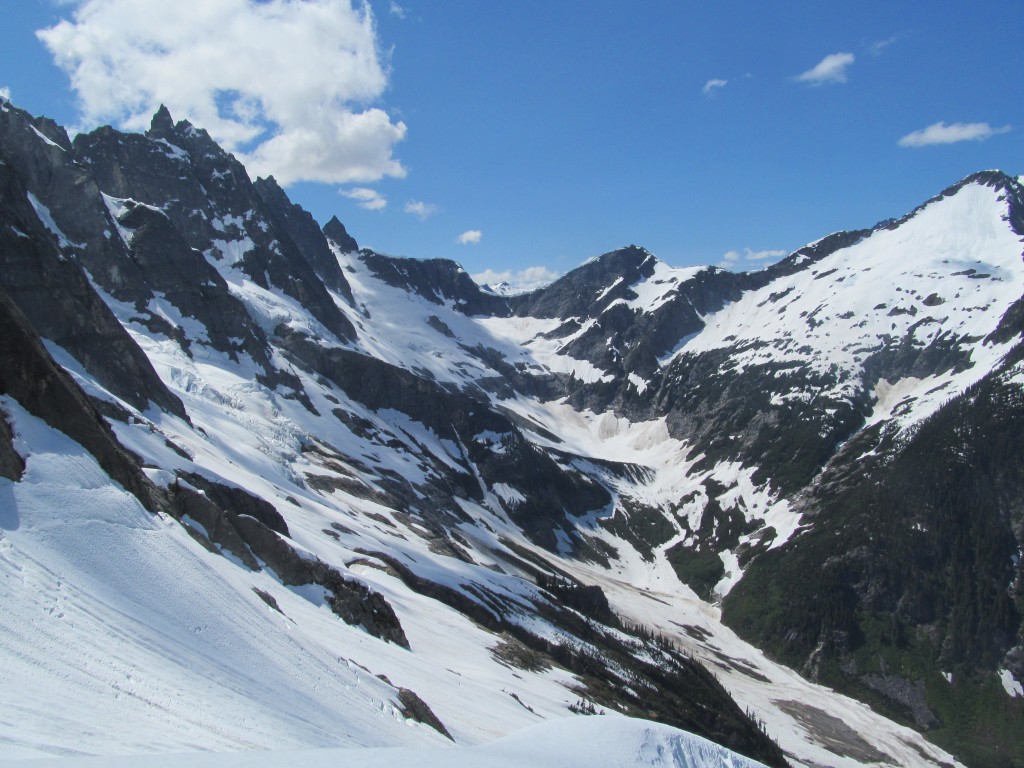 Frankie found a place to downclimb to reach snow.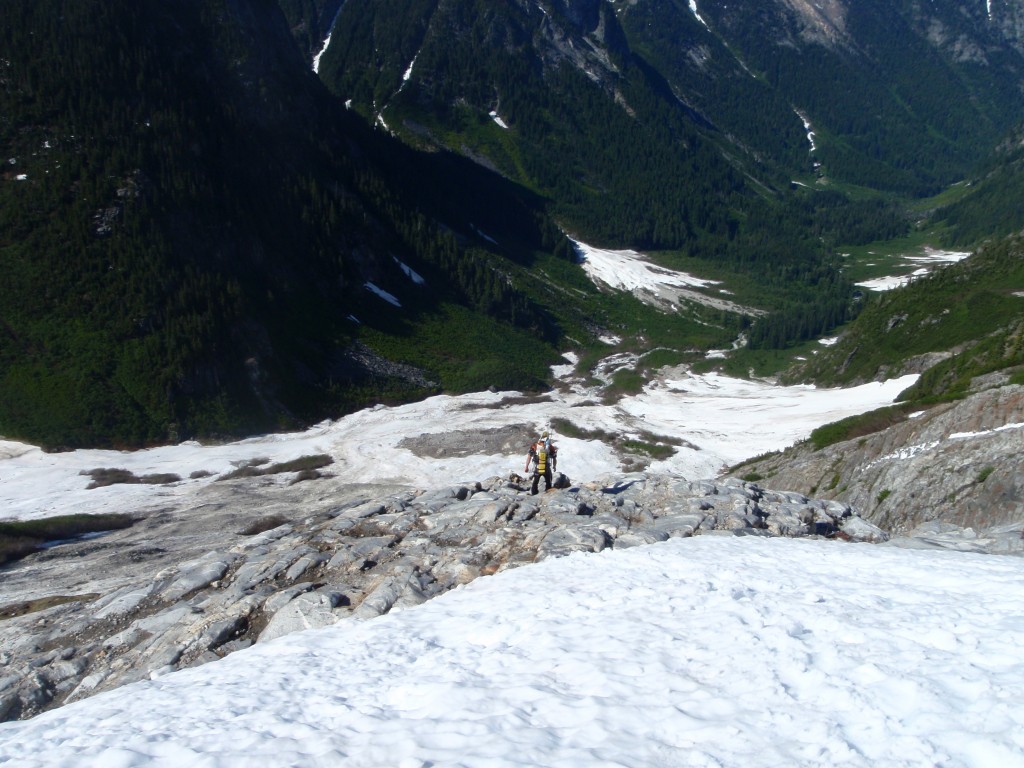 There we were, on a nameless snowfield at the base of McMillan cirque, filled with avalanche debris. We couldn't ride the snowfield because of the boulders of hardened snow, but we knew that there only remained a single valley between us and Mt. Fury.
It was time to bushwhack. Slide Alder and Devil's Club dominated our landscape for the next several hours. We crossed McMillan creek across a luckily downed tree, and we watched the full moon set over our sandy beach camp.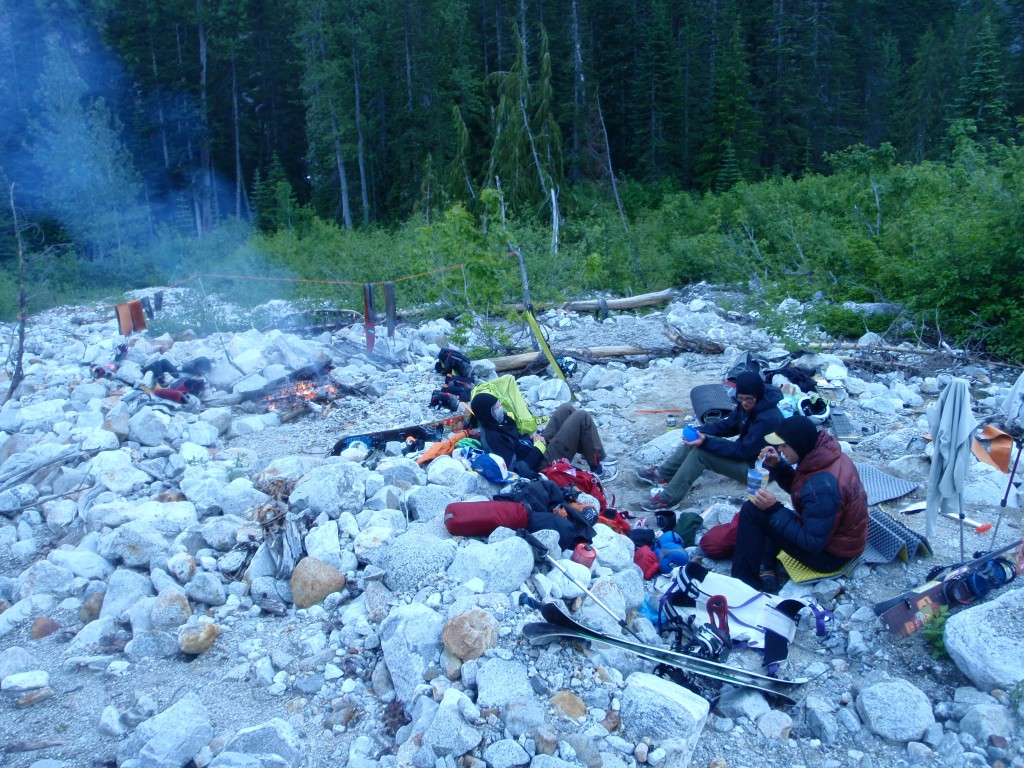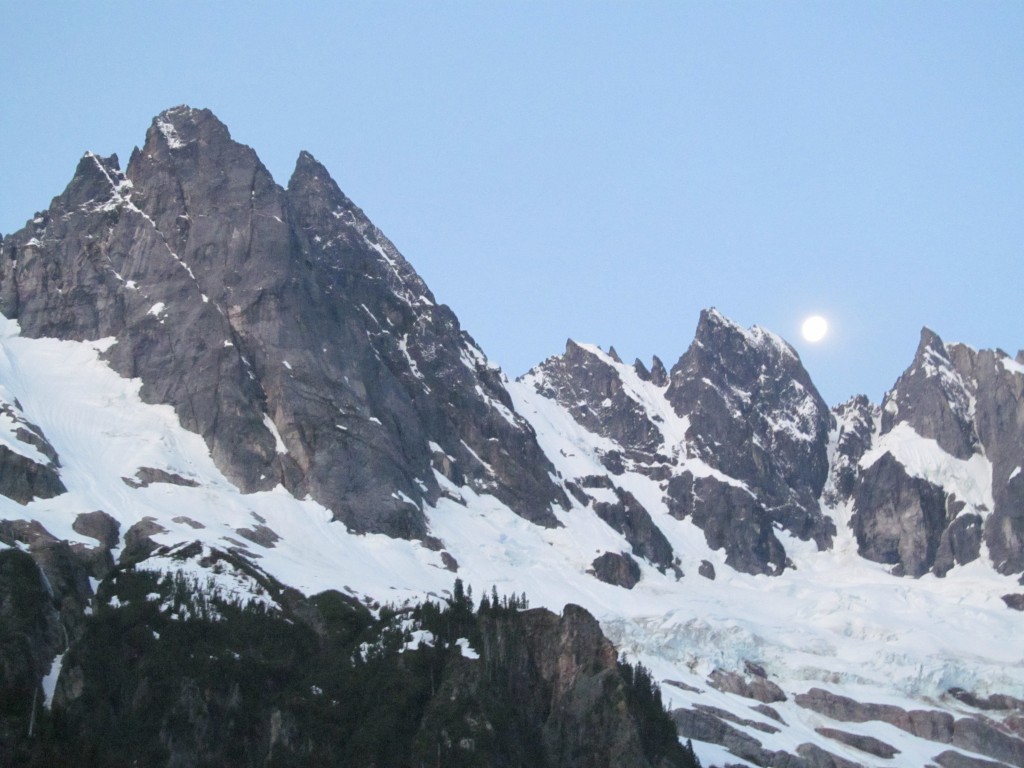 DAY 3: July 6
Beach camps provide excellent access to water. Unfortunately, sleeping near a bog in July in the mountains also often provides excellent access to mosquitos. And our open-air bivy was quickly cut short by our quiet captors.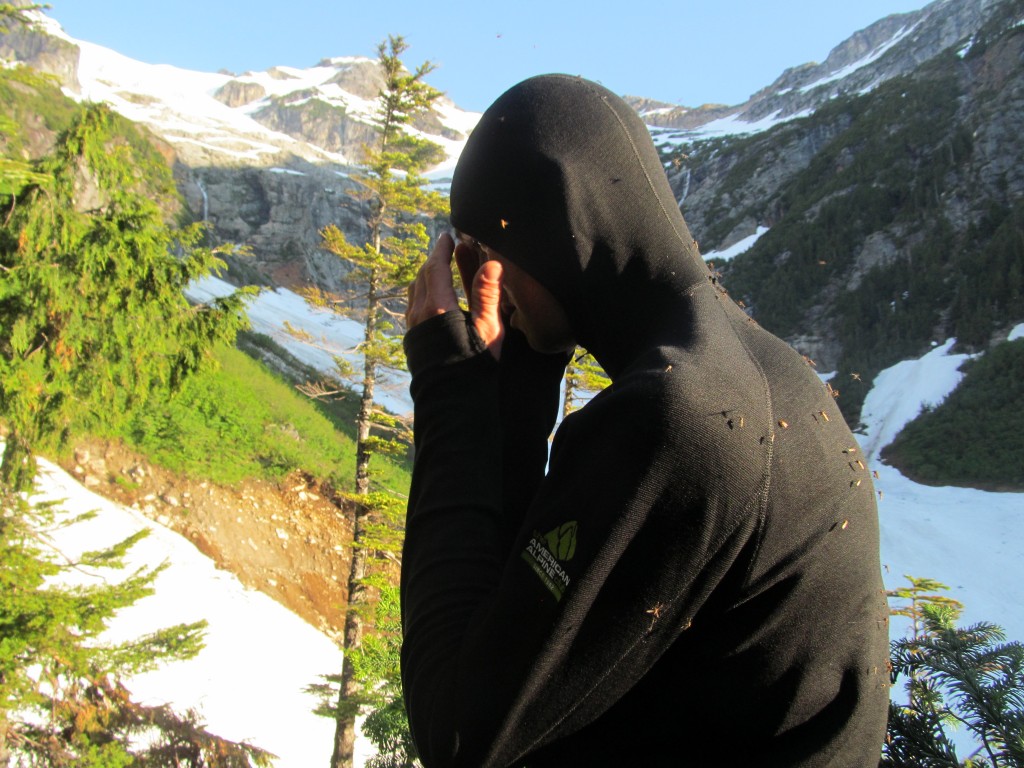 We packed quickly and considered our two route options. It was clear that there was a lovely snow ramp ahead that went in the right direction. Unfortunately, it dead-ended into a waterfall. The second, seemingly more arduous (but more doable choice) was what we chose: epic bushwhack before hitting snow and traversing towards the base of Mt. Fury Cirque.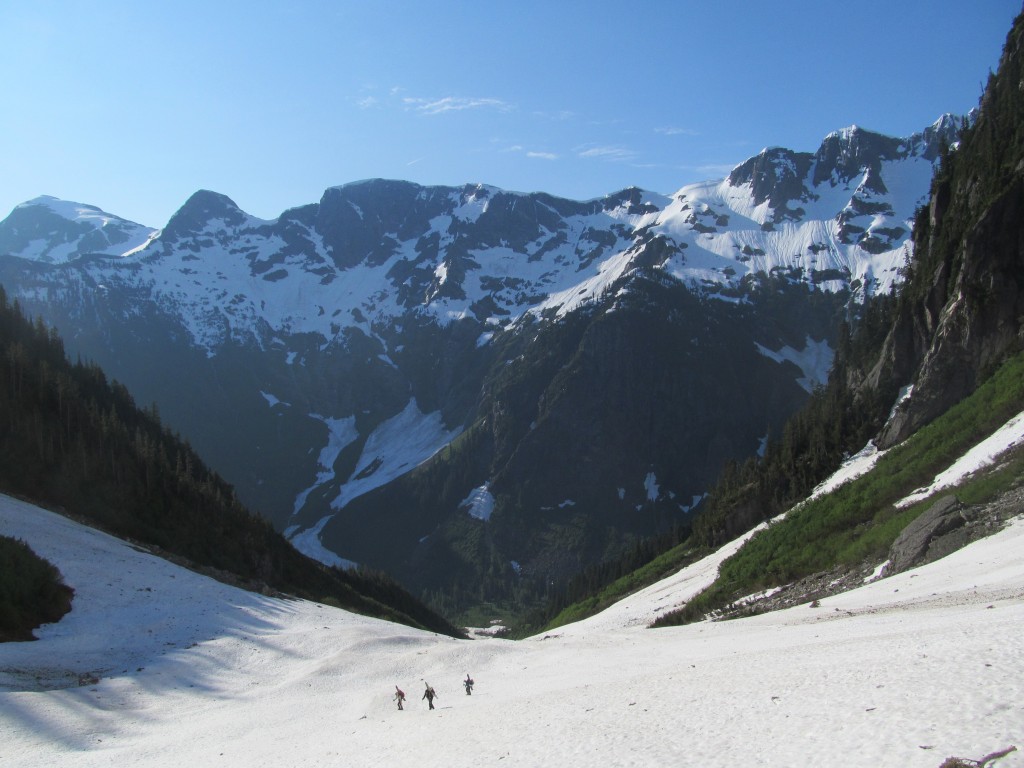 After stumbling through forest for several hours, Frankie found access to a couloir that went. Only a few hairy steps on mossy rock, and we were on our way to the higher slope.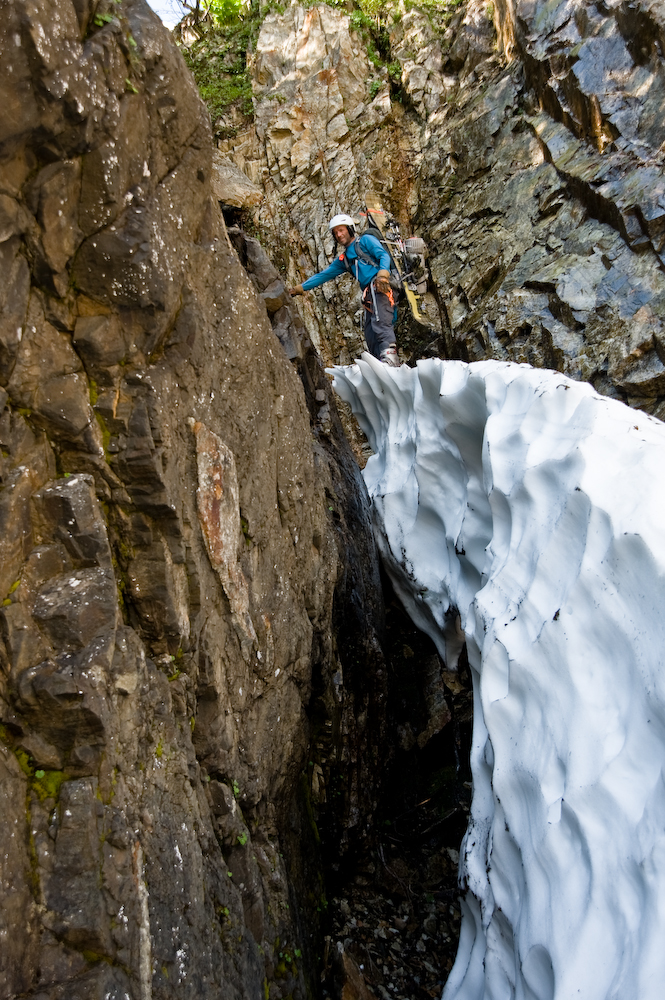 Traversing around to the base of the South Face of Fury, we looked up at a beautiful line. We had come all this way, after all. It didn't make much sense not to ski the south face of Fury, so we dropped our overnight gear and proceeded to gang-bang it after a delightful South Fury summit.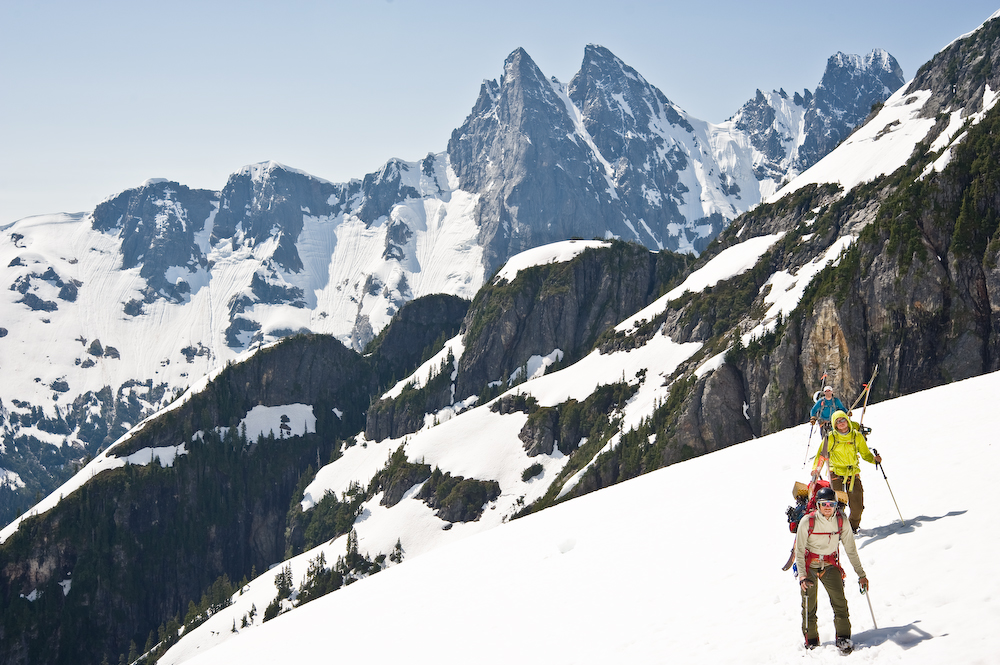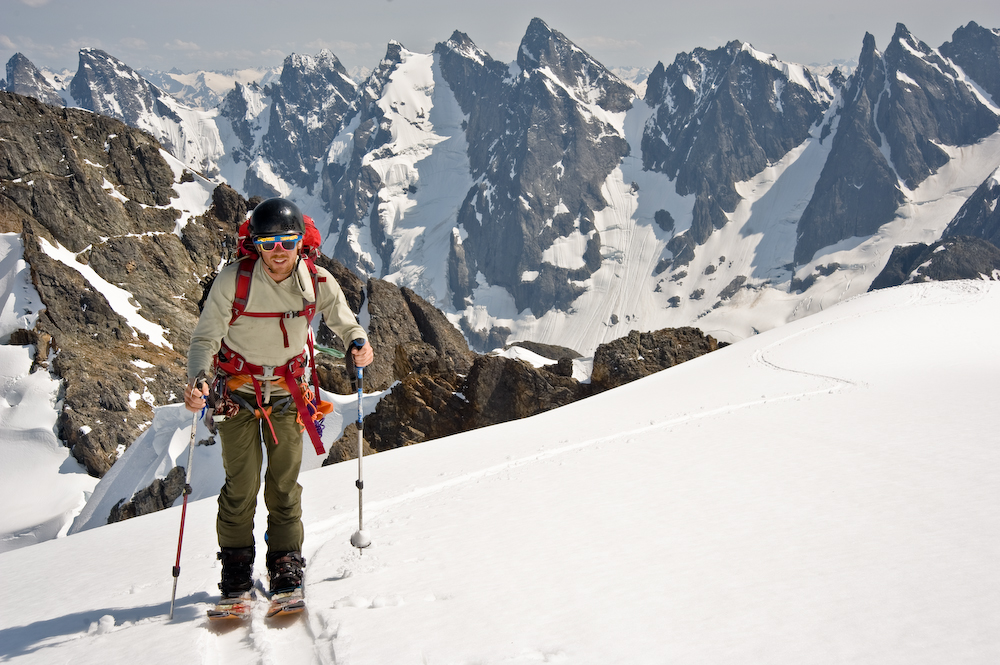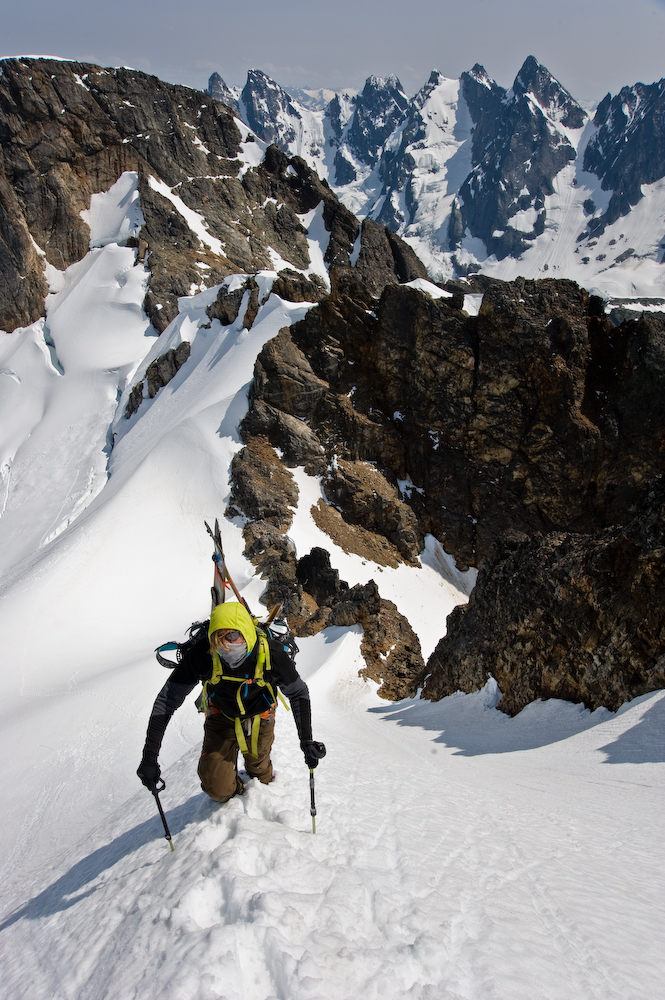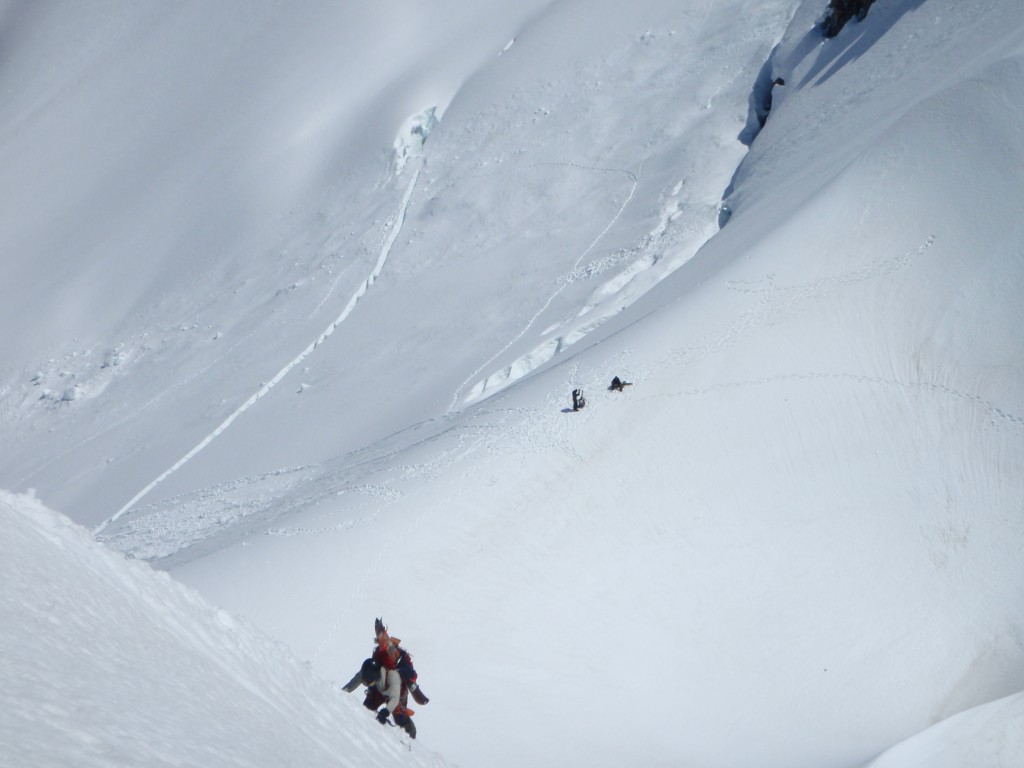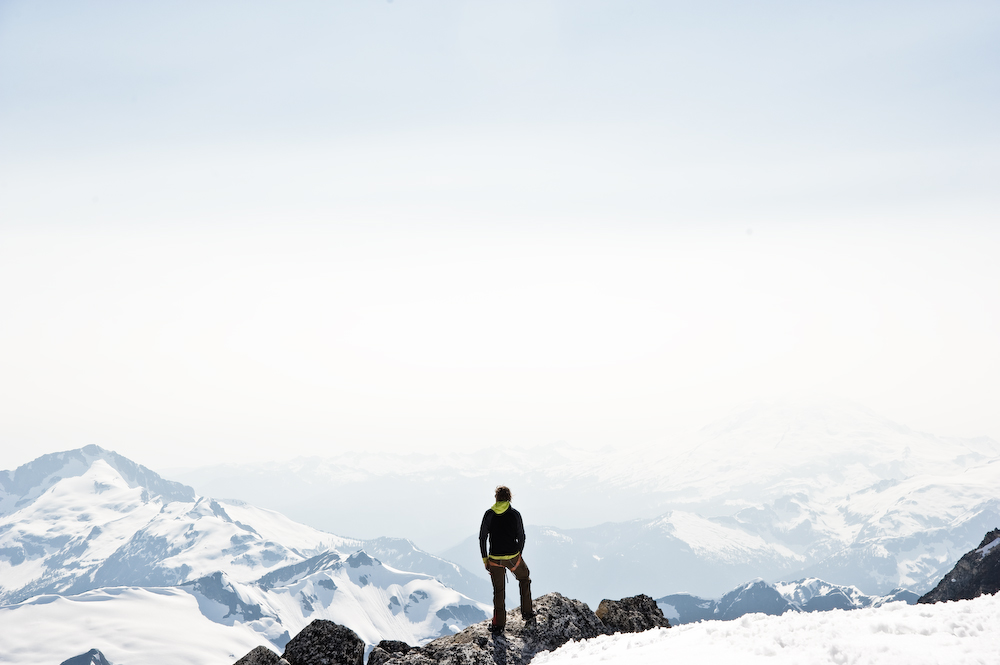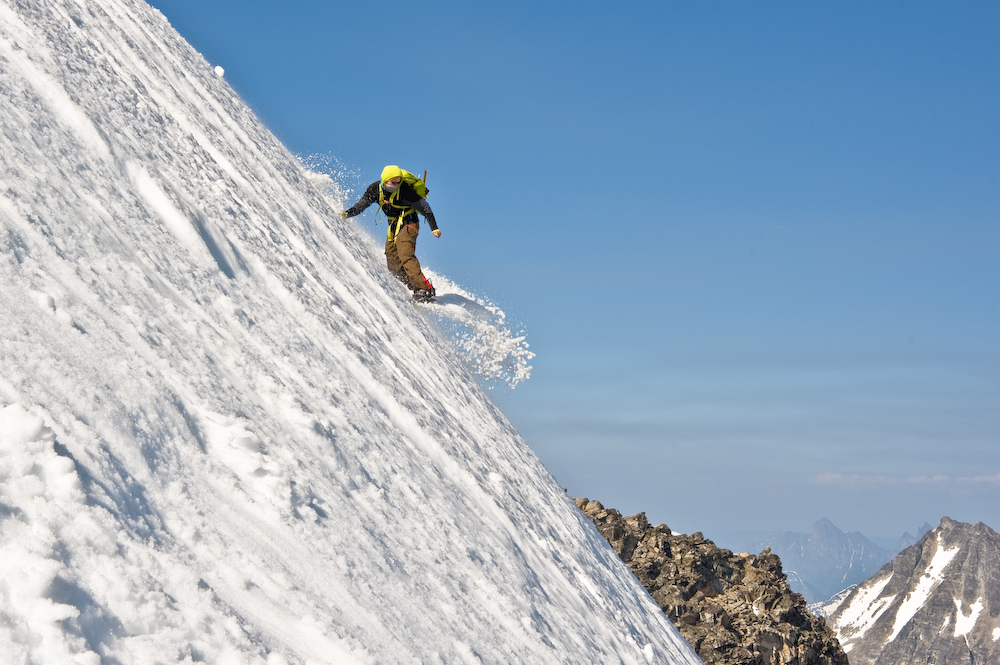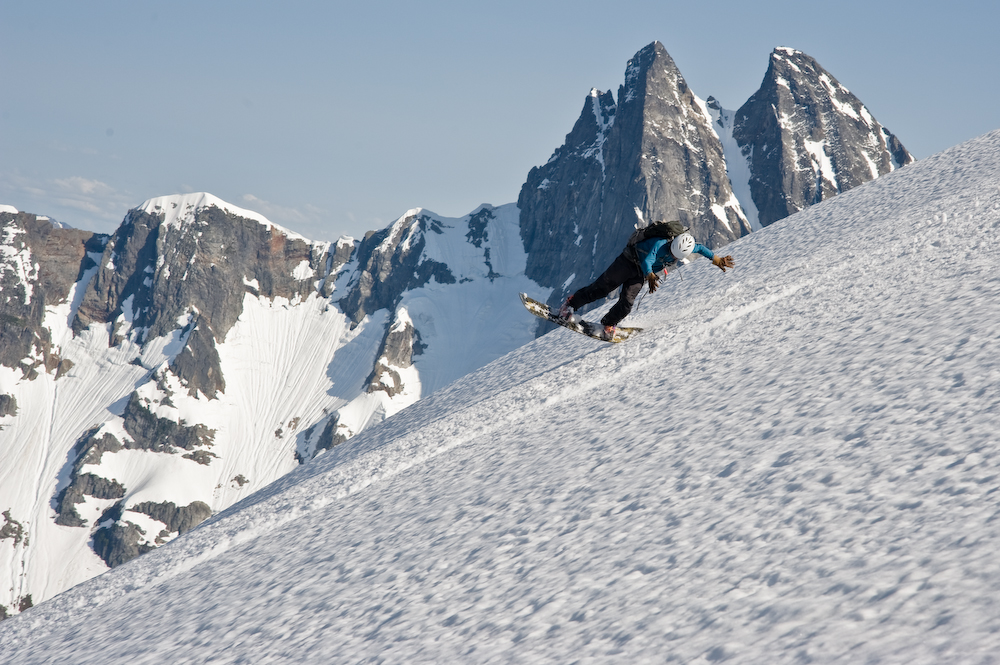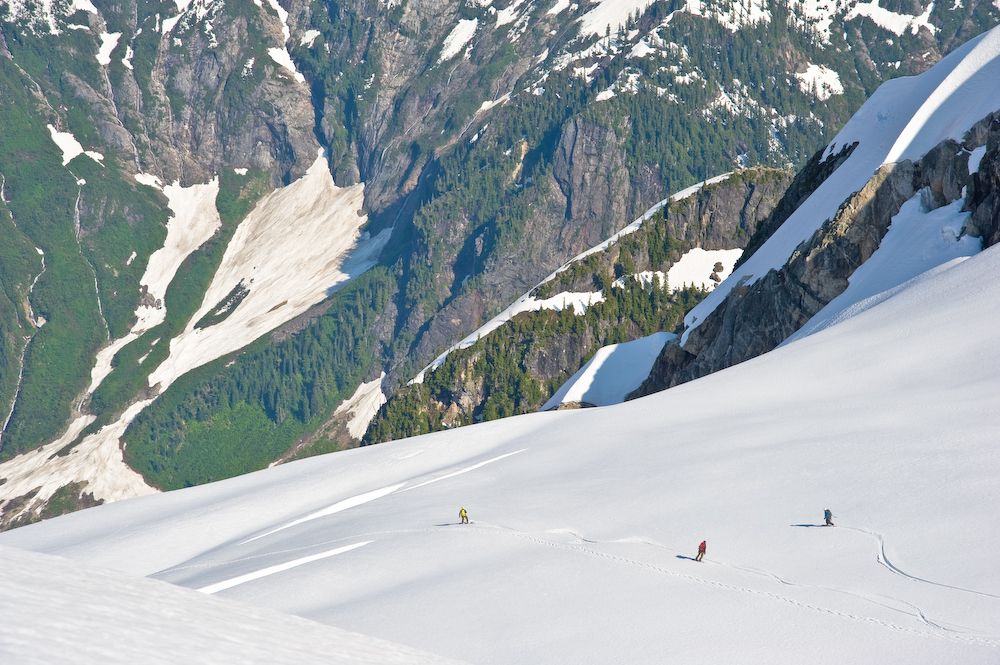 Smooth corn to our overnight gear and then skins on the boards; we trudged our way over to a ramp that accessed Luna and set up camp for the night, able to see where we had come from and amazed that we had traversed. From across the way, it looked merely like a very steep wall with foliage. I went to sleep able to see our tracks glistening in the distance.
Day 4: July 7
Sunrise over our tracks was a welcome sight as we warmed our bodies with the indispensable 13th essential: Starbucks Via.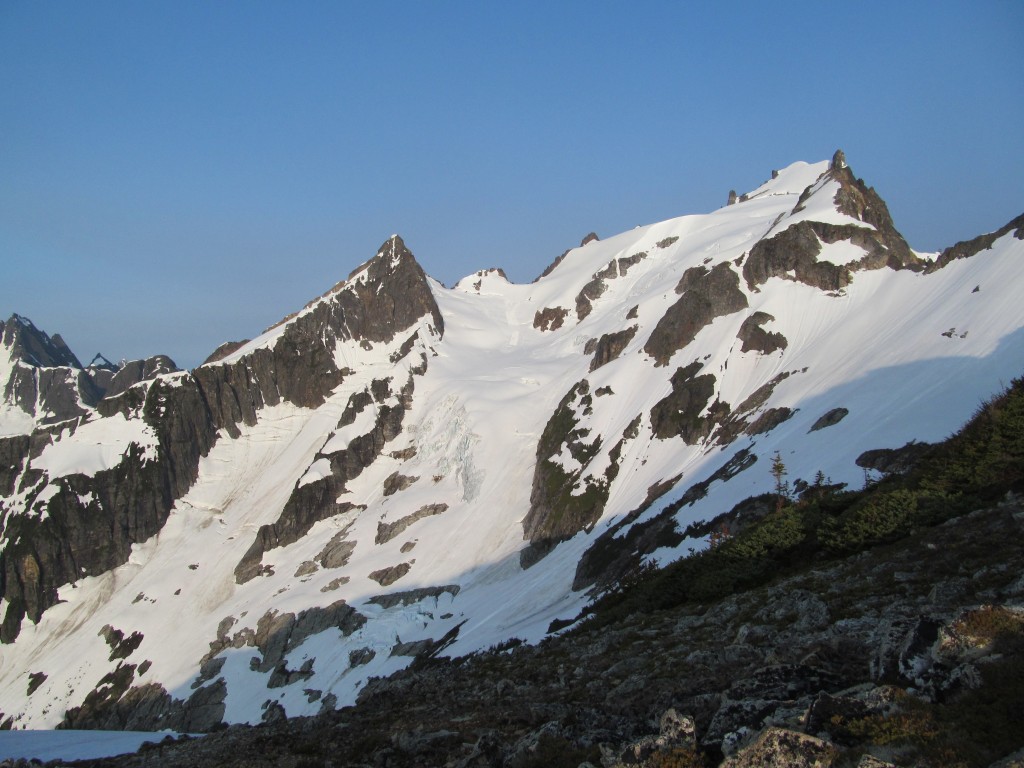 A quick shred won 400 vertical feet got us started for the day, and we decided to check out a different col for descent to Luna from the ridge separating Luna and Fury. We went and scoped it out-- it went--and we rode all the way down to Luna Lake.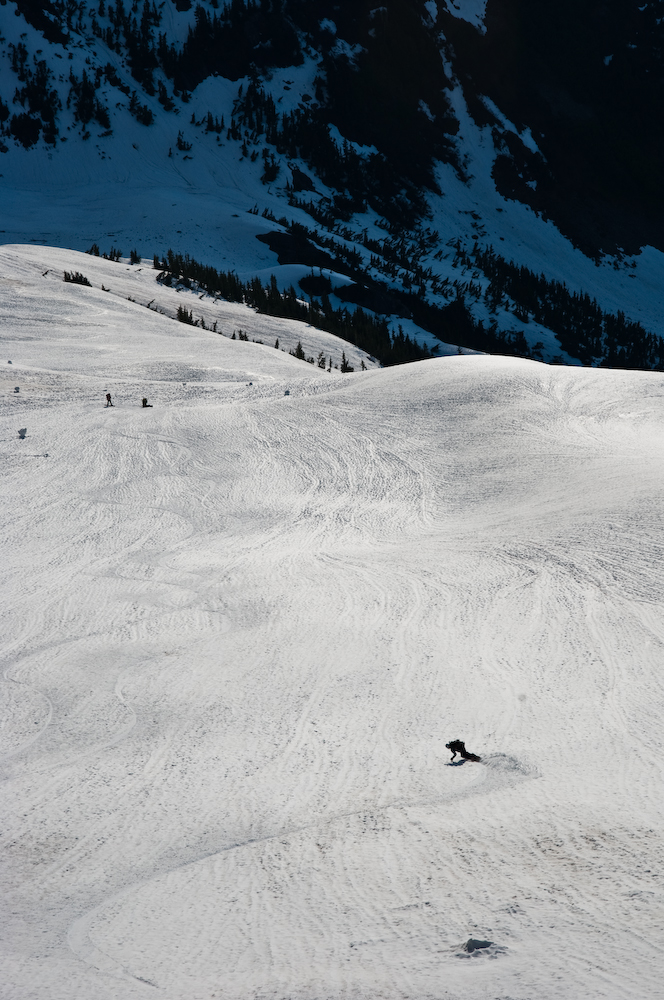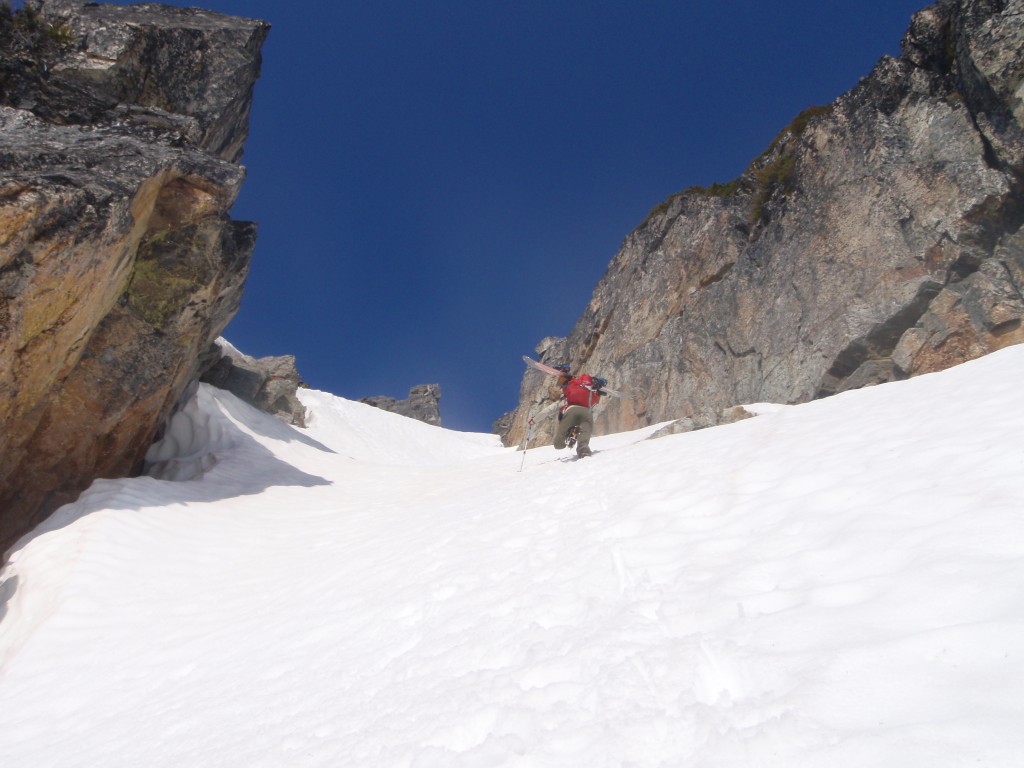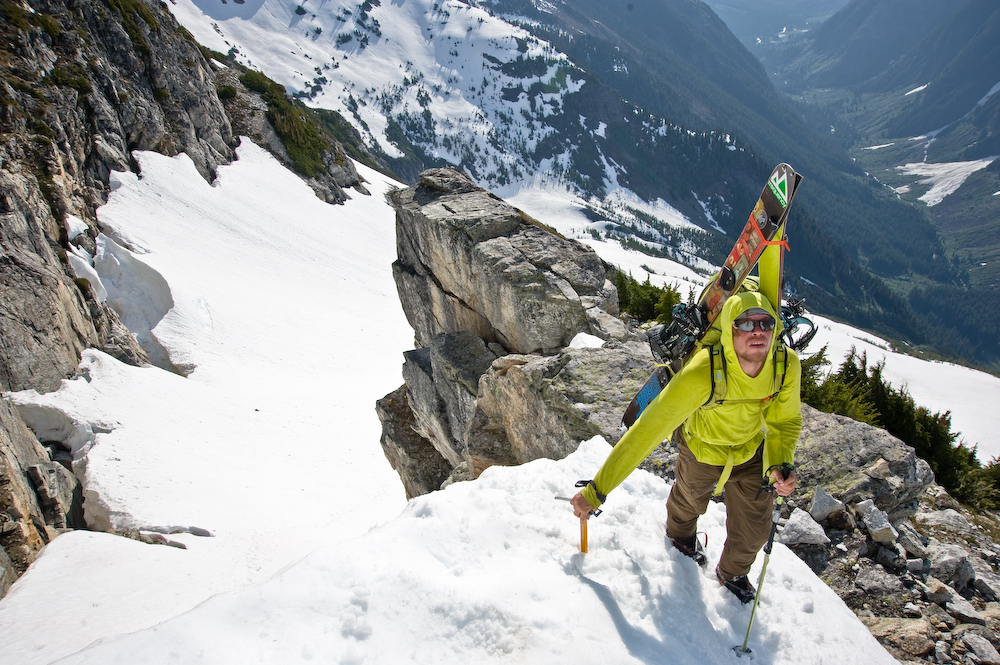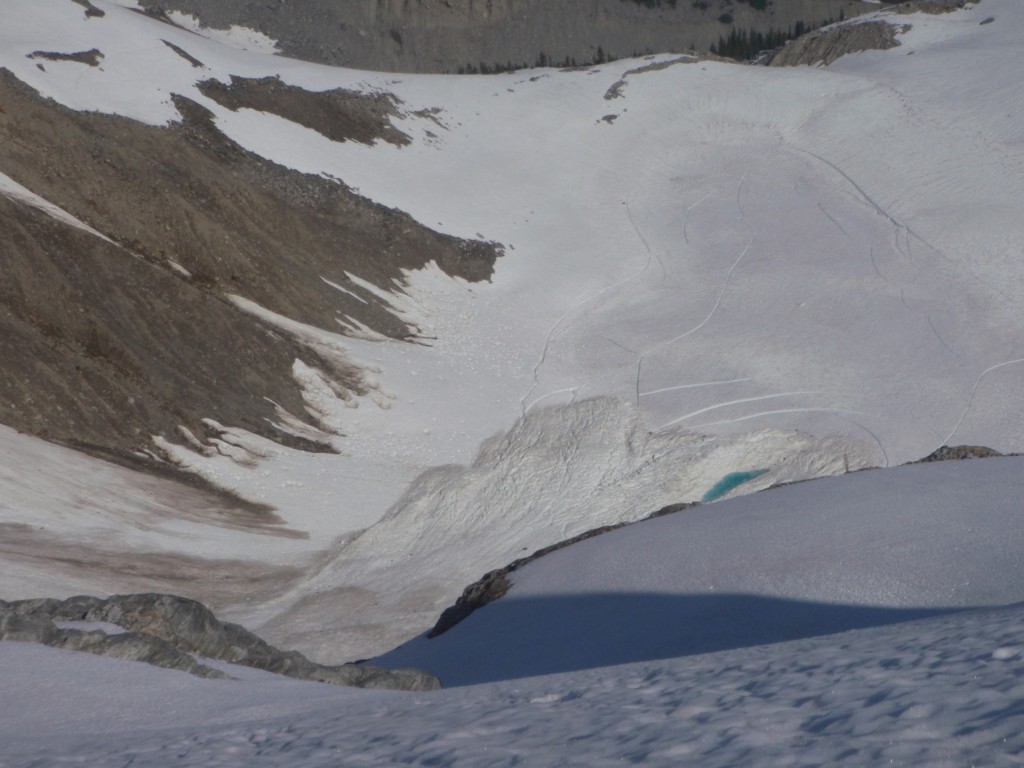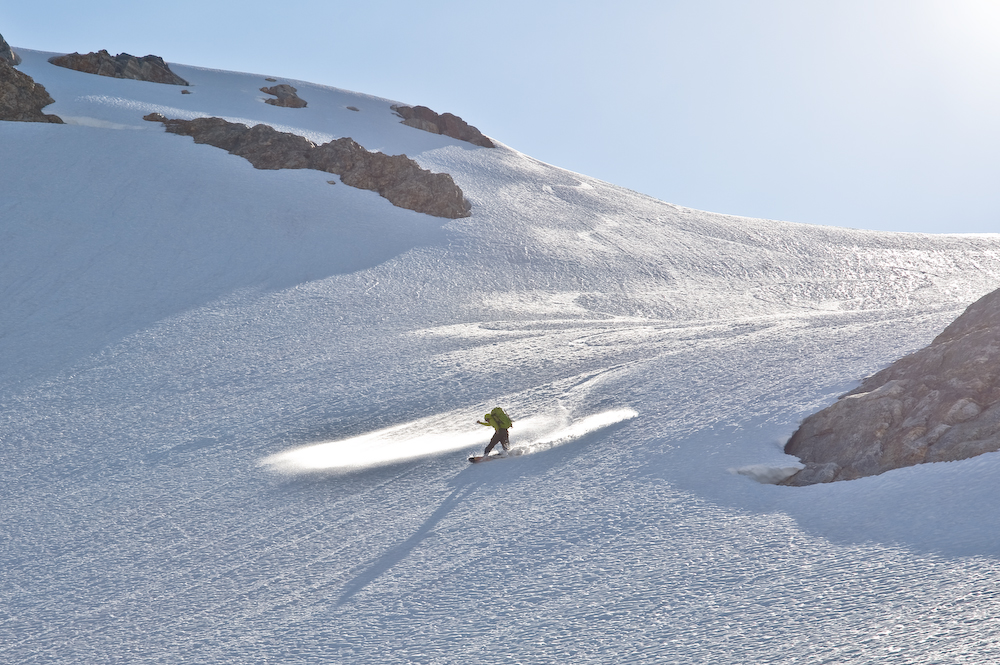 From there, we could see the traverse that wrapped around Fury and over to Challenger. A quick routefinding discussion about how best to complete the traverse (most options provided significant exposure) led us to pick out a solid-looking ramp down into the valley that would take us above most of the ice bulges.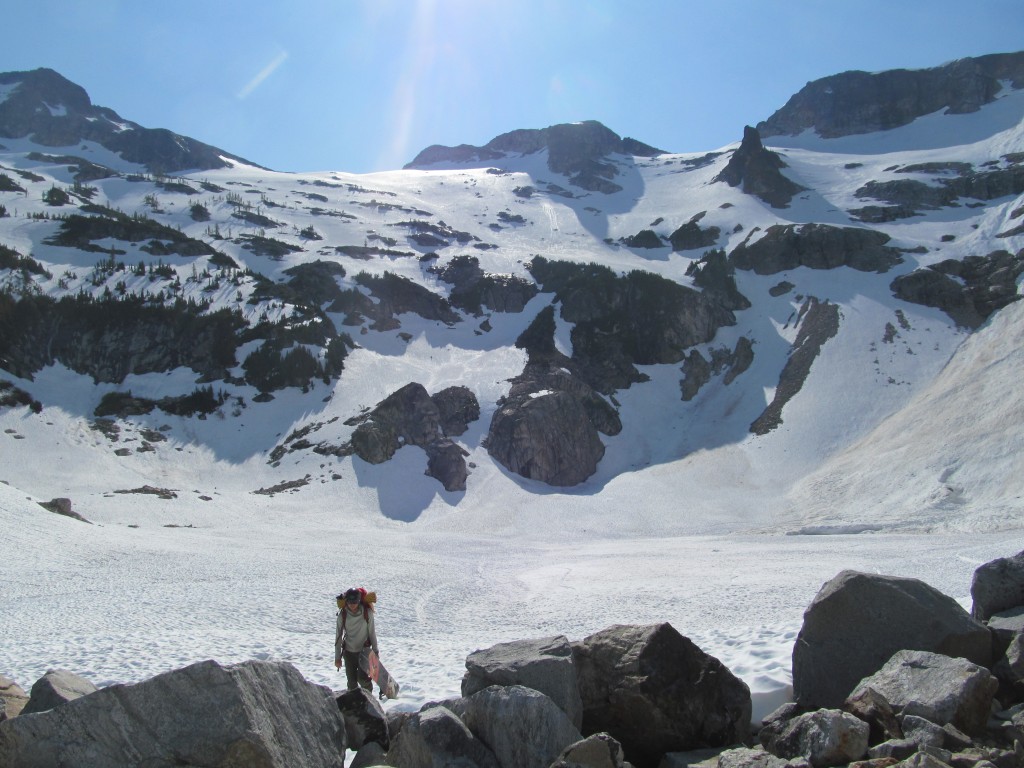 We traversed far left before getting down into the low valley. Quickly, we skinned and hiked all the way up our chosen ramp while listening to the symphony of serac fall in the warming afternoon sun.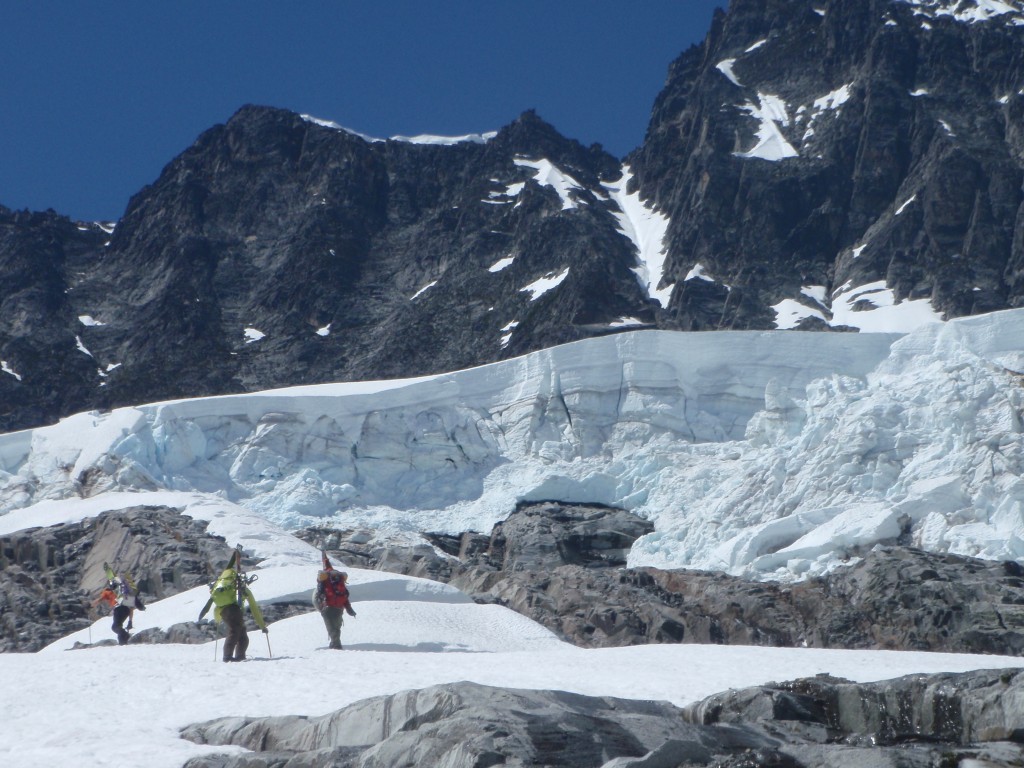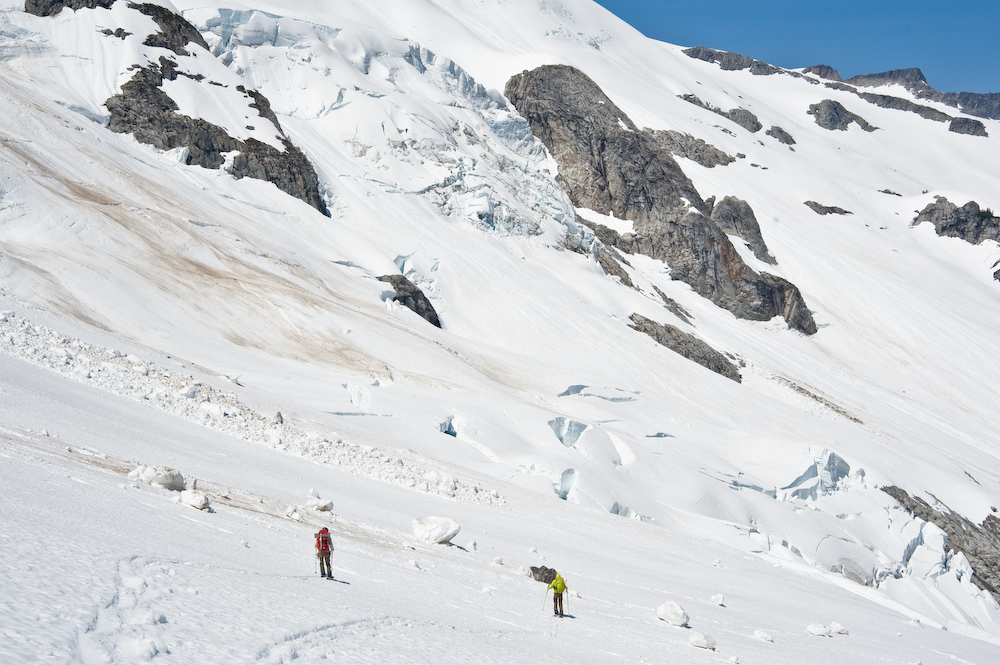 With a little bit of fast footwork, we rested on a melted-out rock for a few hours on the SE Face of Challenger. From there, we skinned up to the East Col of Challenger and followed a ridge up to within a few 100 feet of the summit.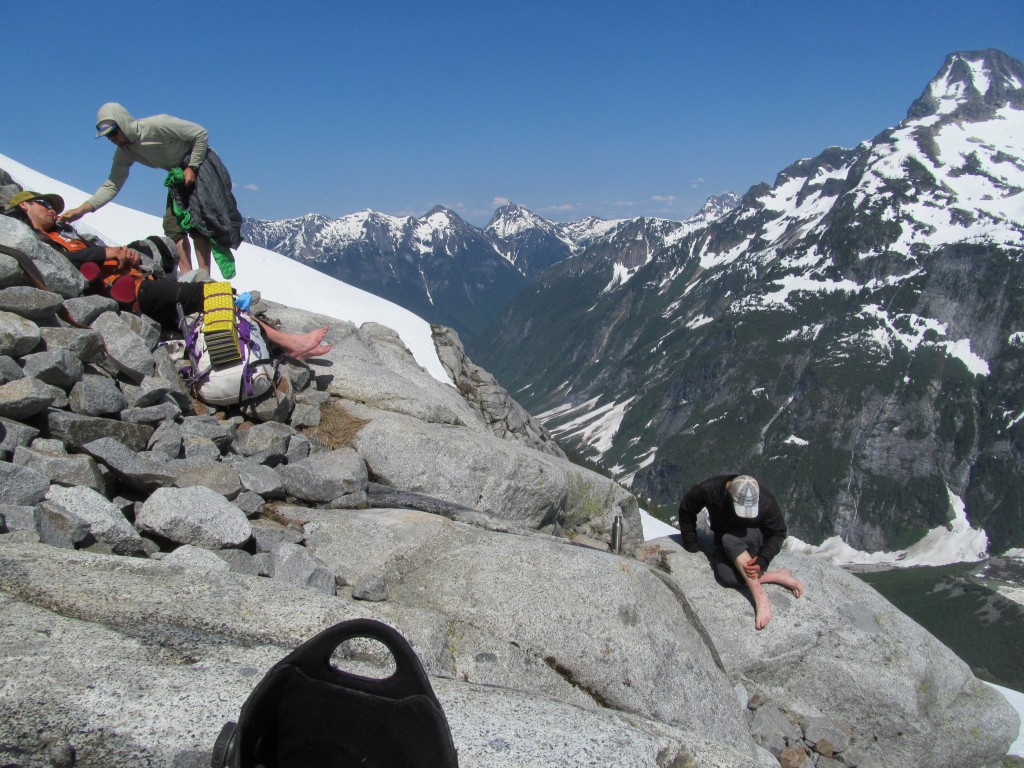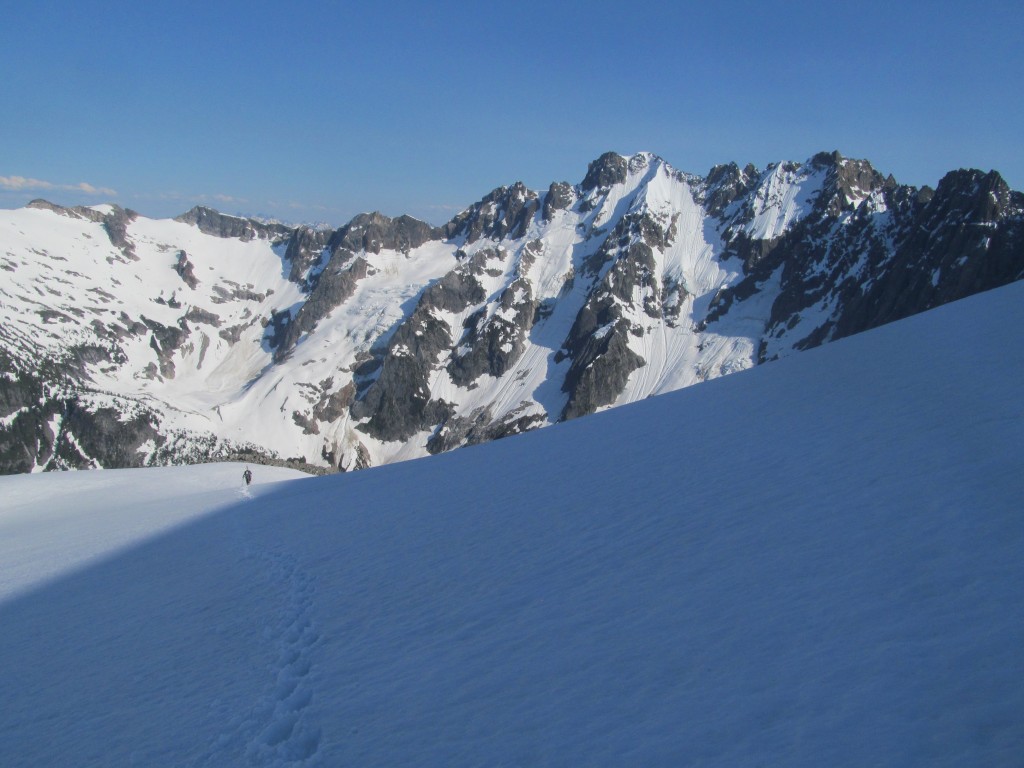 As we watched the sun set beautifully over Fury to one side and Shuksan to the other, we realized that Shuksan looked very far off. We would need to be very close to Shuksan in a few days' time. Until then, it was time for some much-needed sleep.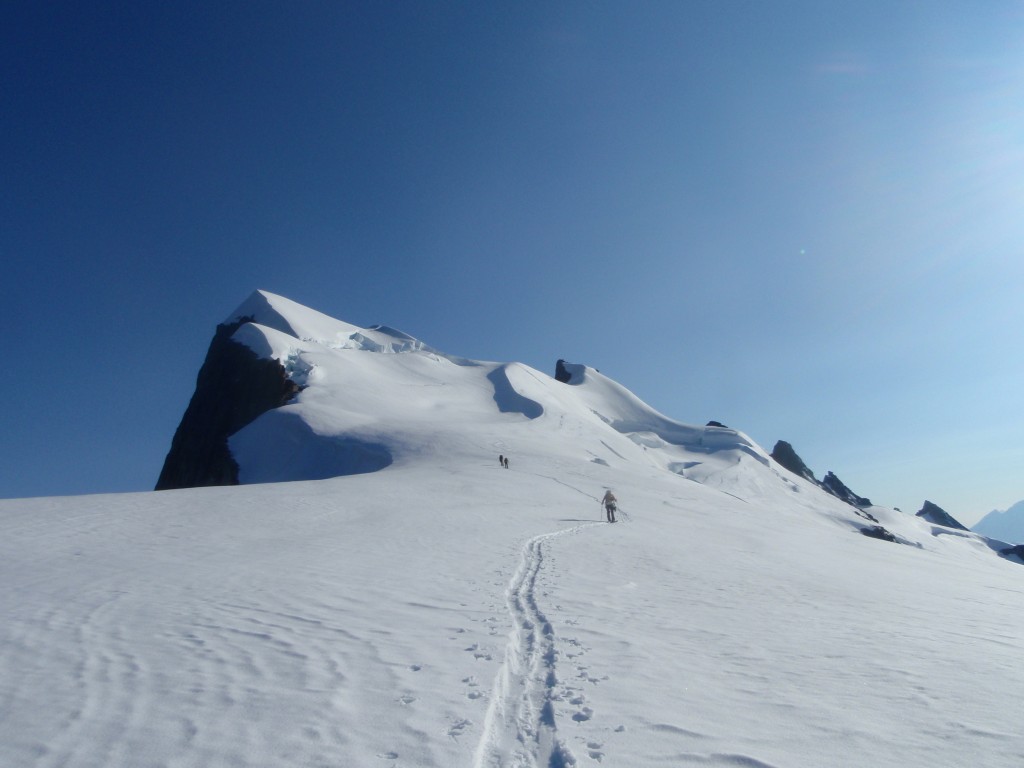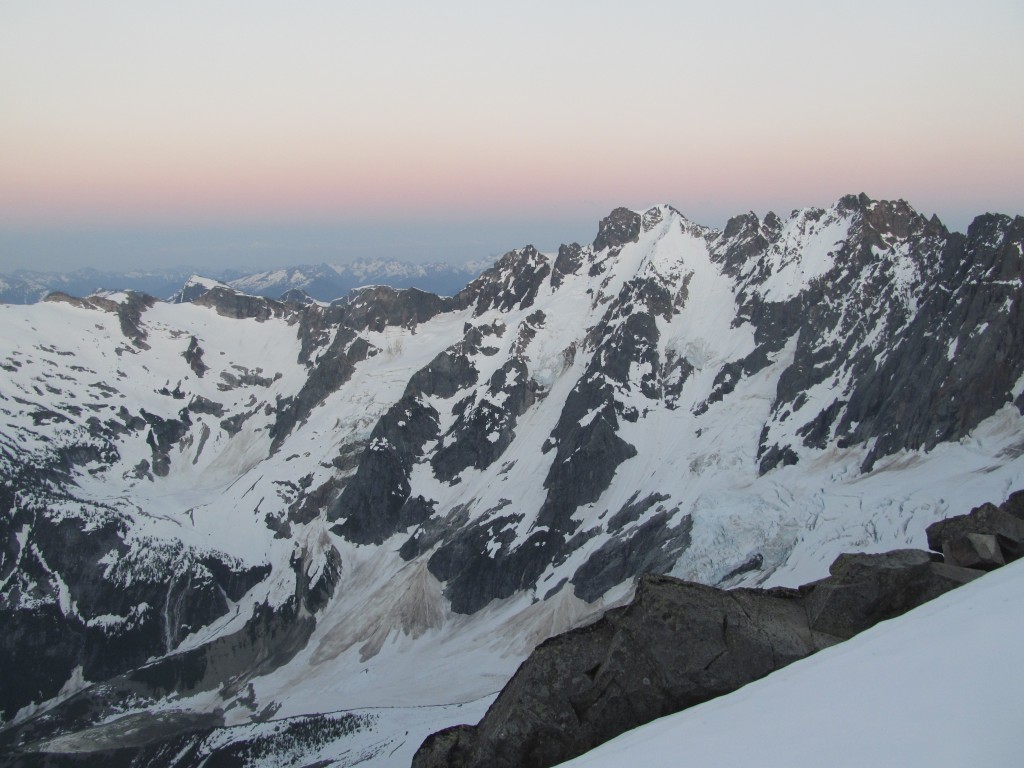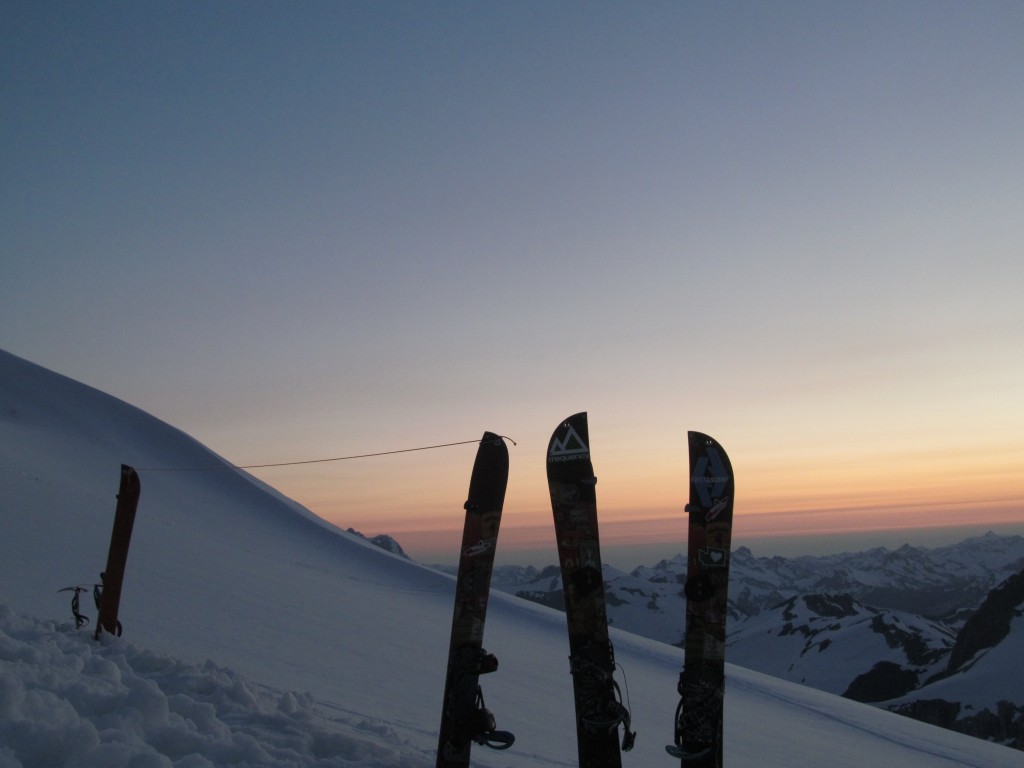 DAY 5: July 8 We woke up and started climbing toward the Summit of Challenger; it was a dicey traverse and exposed 5th class climb. Instead of climbing to the true summit, we strapped into our boards and rode down a smooth ramp along Challenger's NorthEast rib and across the Challenger Glacier toward Imperfect Pass.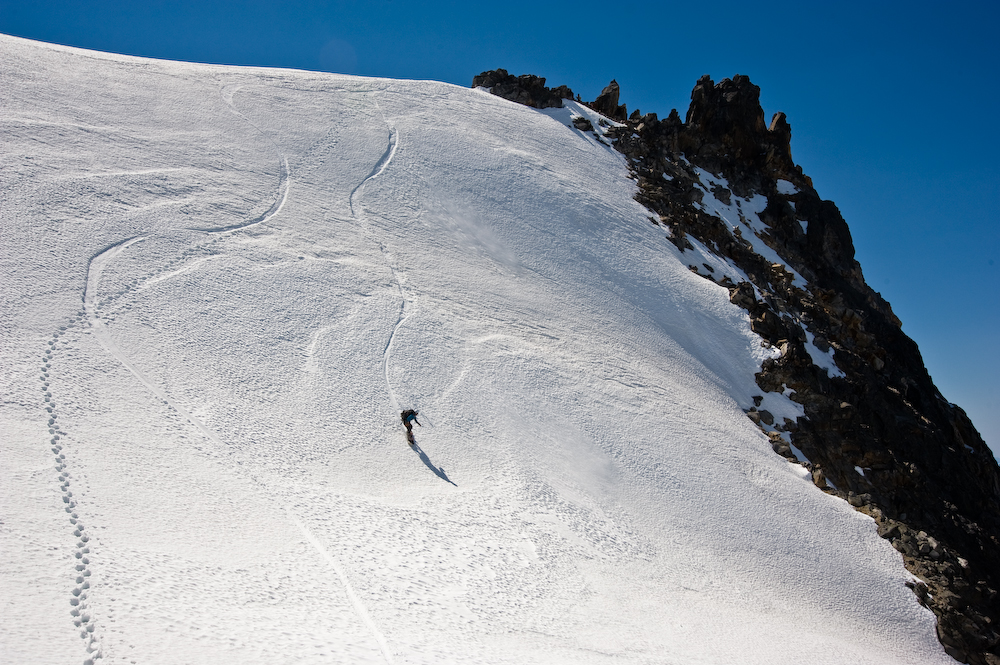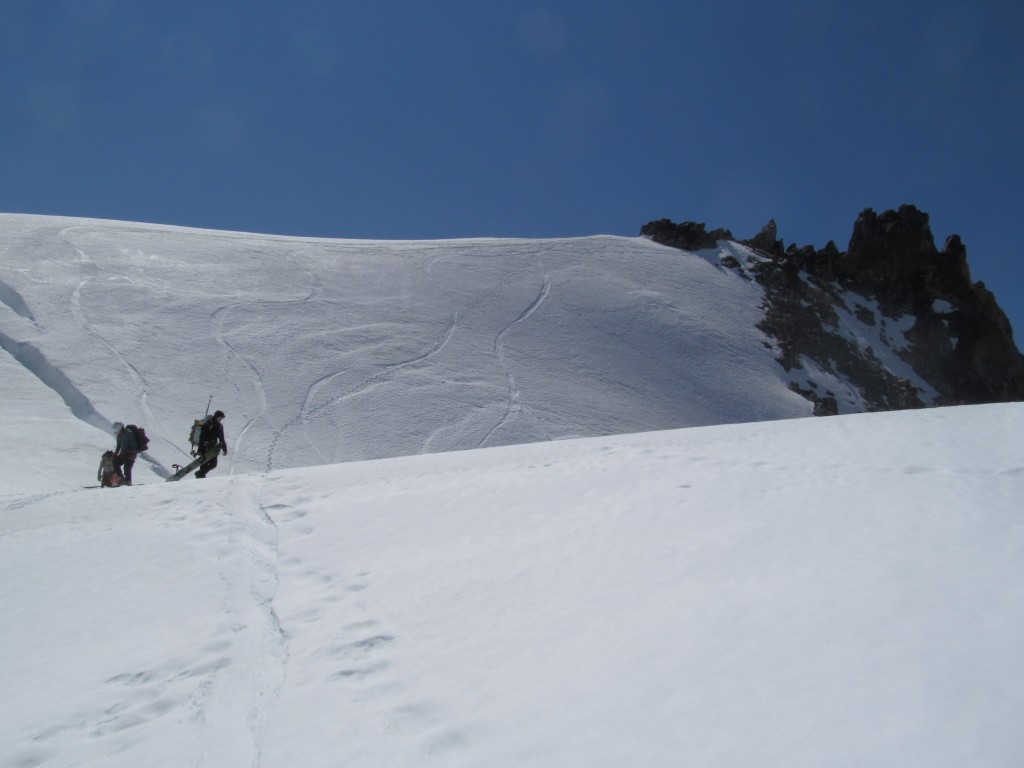 Imperfect pass is aptly named, as the way through is not exactly perfect. Frankie scouted an old climber's trail that permitted access to the lower slopes. We rode down a ways. Off to skier's right, was our next objective: Easy Ridge. Getting to Easy Ridge wasn't easy. We had to cross a super-slippery rock near a waterfall. We finally made our way to the lower slopes of Easy Ridge.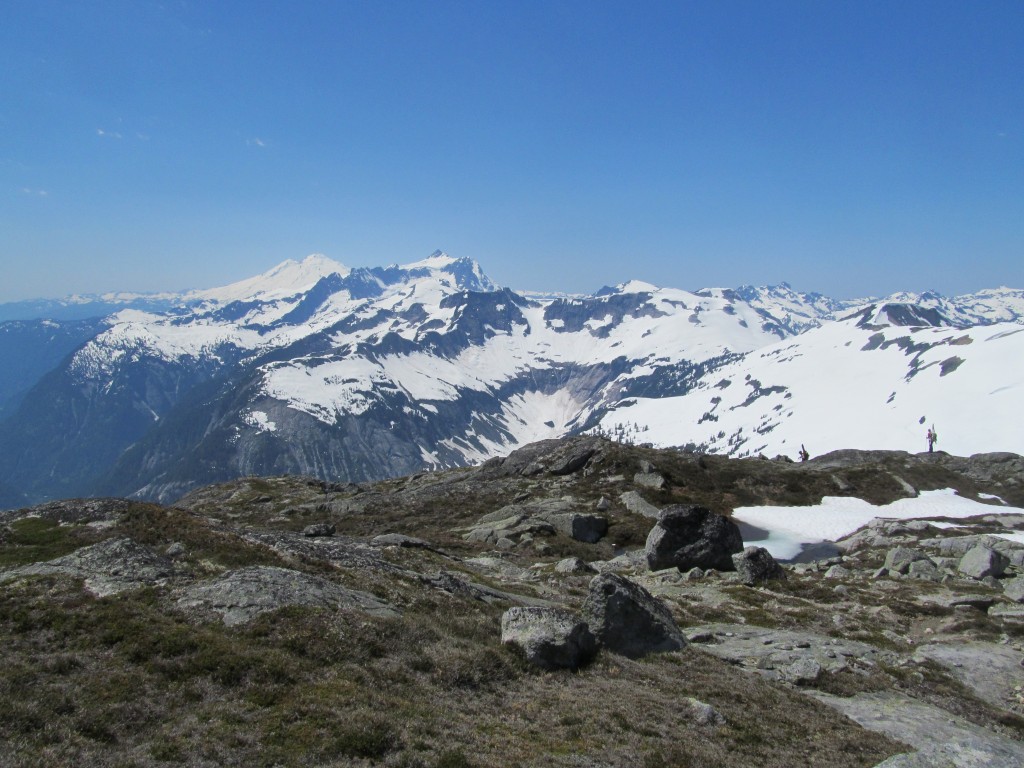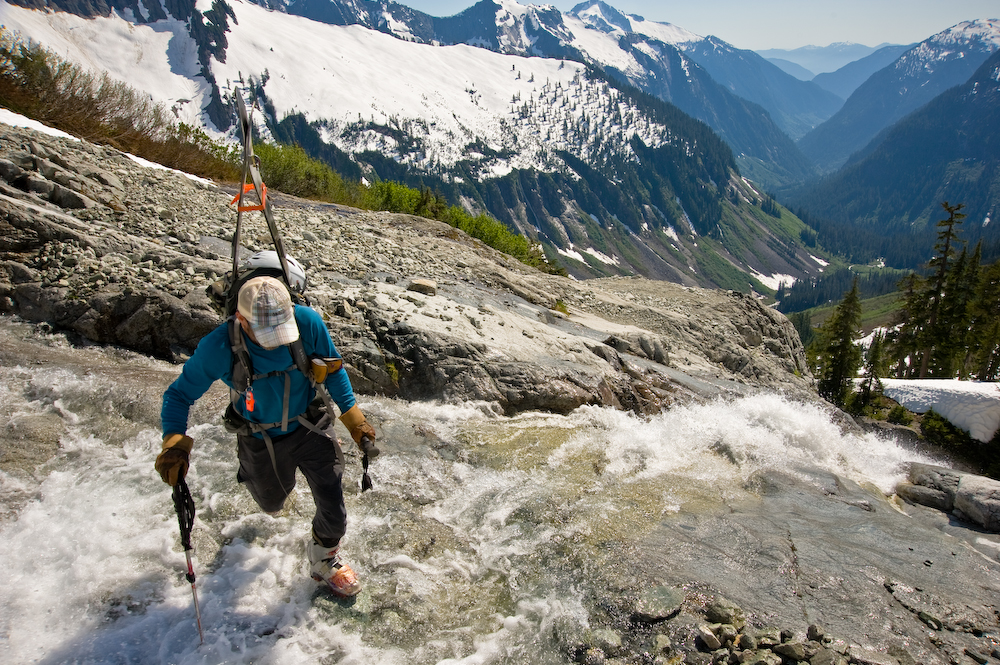 Once on Easy Ridge, it was easy after all-- we could see Whatcomb and some of the most isolated peaks in the North Cascades. We kept skinning on the ridge, a series of ups and downs to a camp spot and one of the best sunsets of my life.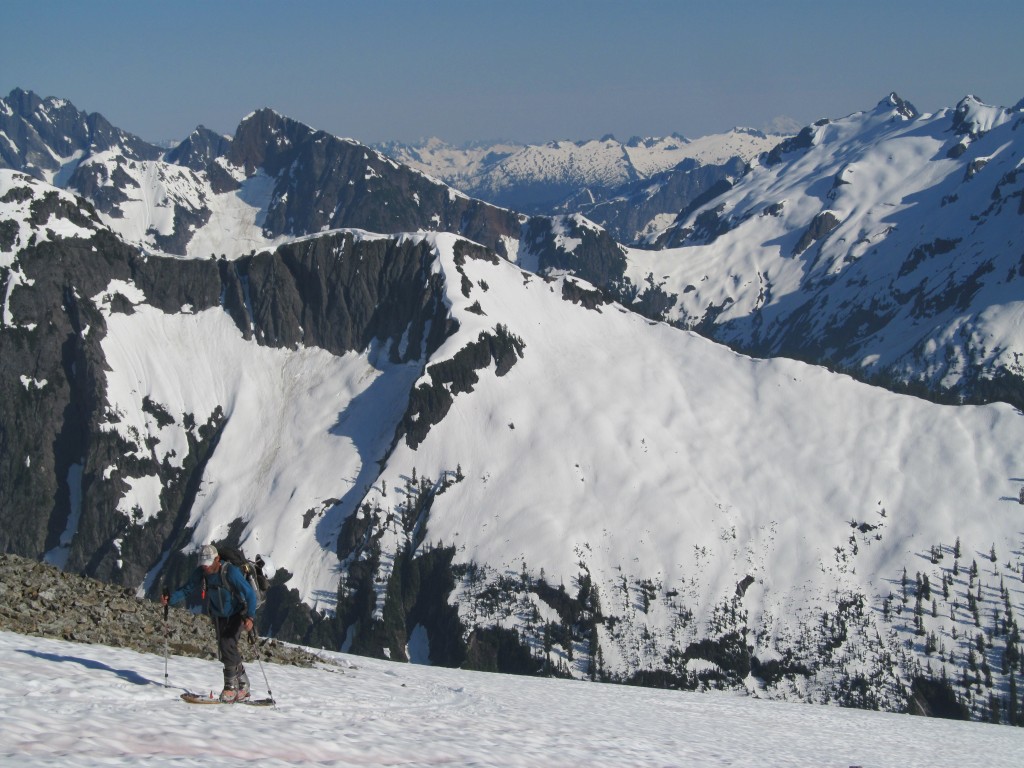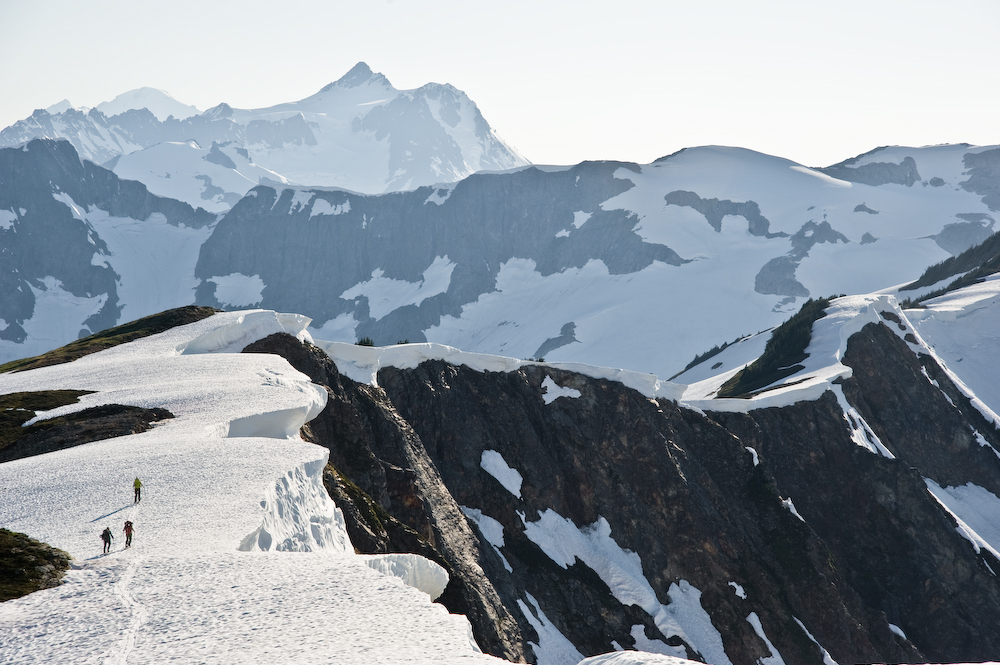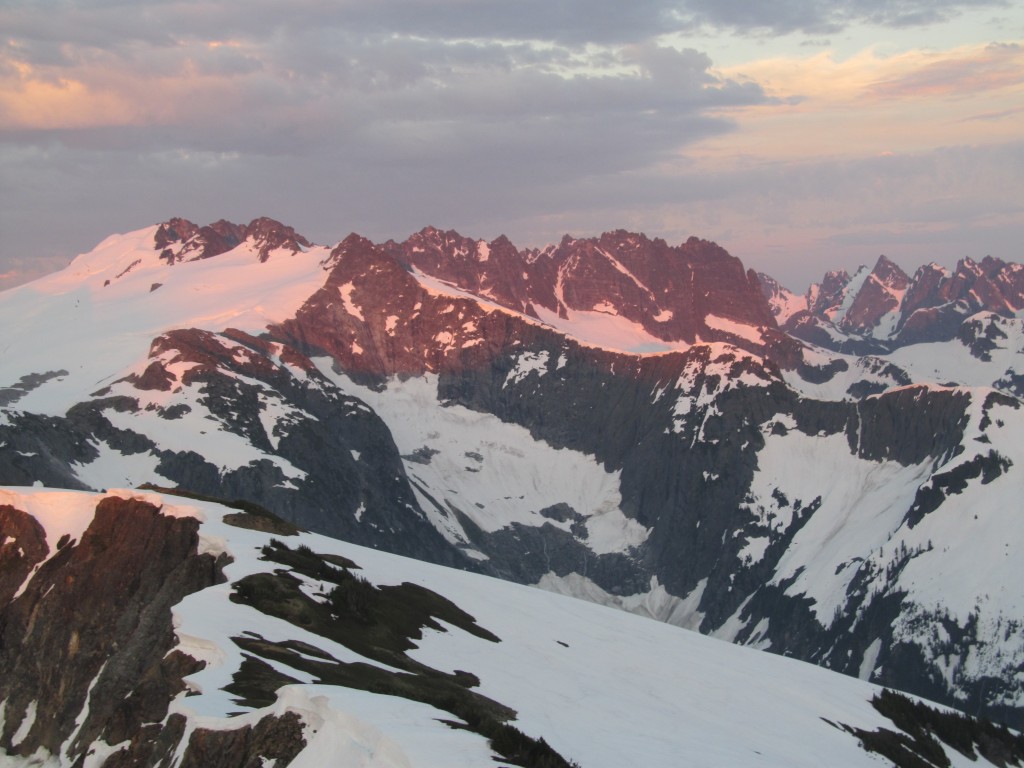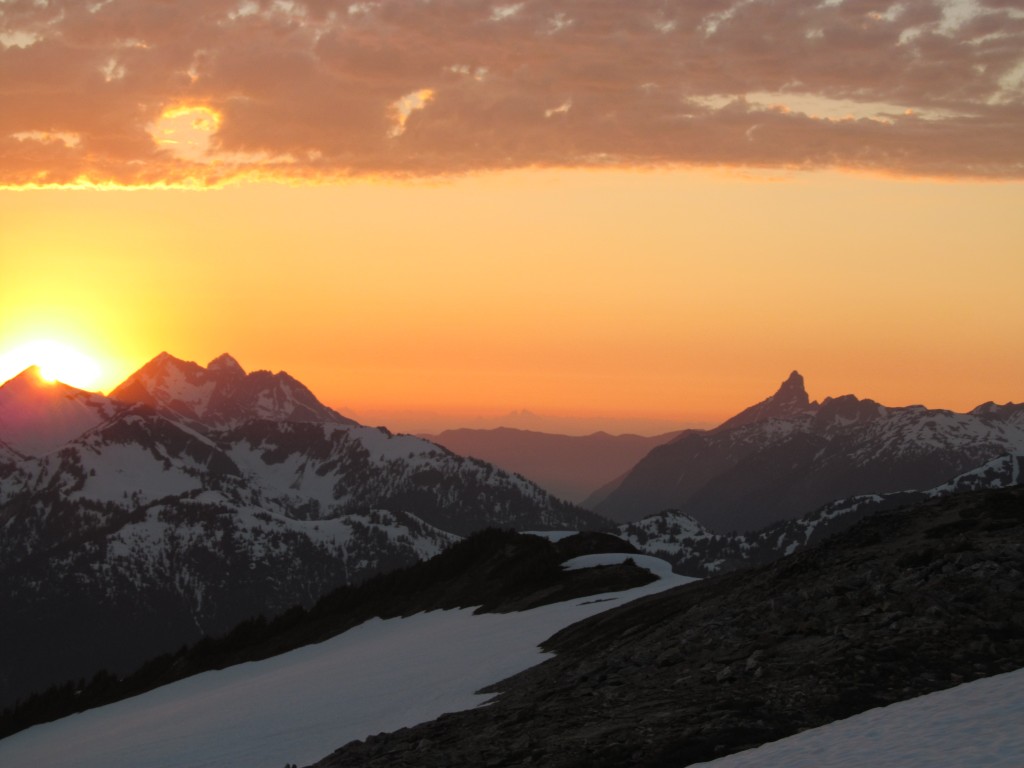 Day 6: July 10 We woke earlier than planned on July 10. In fact, it was 11:00 p.m. on July 9. We were in the midst of a thunderstorm-- exposed and hanging out with a bunch of metal stuff. There was loads of lightning. We needed no other indication. As quickly as possible, we threw our gear into our packs and rode down in the dark towards a more protected zone between Easy Mountain and Mineral Ridge. It was not your usual backcountry snowboarding scene: We rode down one by one, by headlamp in the thunder, lightning and rain. Only in Washington, and totally erie. We threw the tent back up in one sheltered spot deep in the trees and called it a night for the second time. 7:00 a.m. came quickly, and we decided to ride from our camp spot down to the Easy Creek Valley. We were stoked that we were going down to Easy Creek, and we hoped that all of the cruxes of the trip were behind us.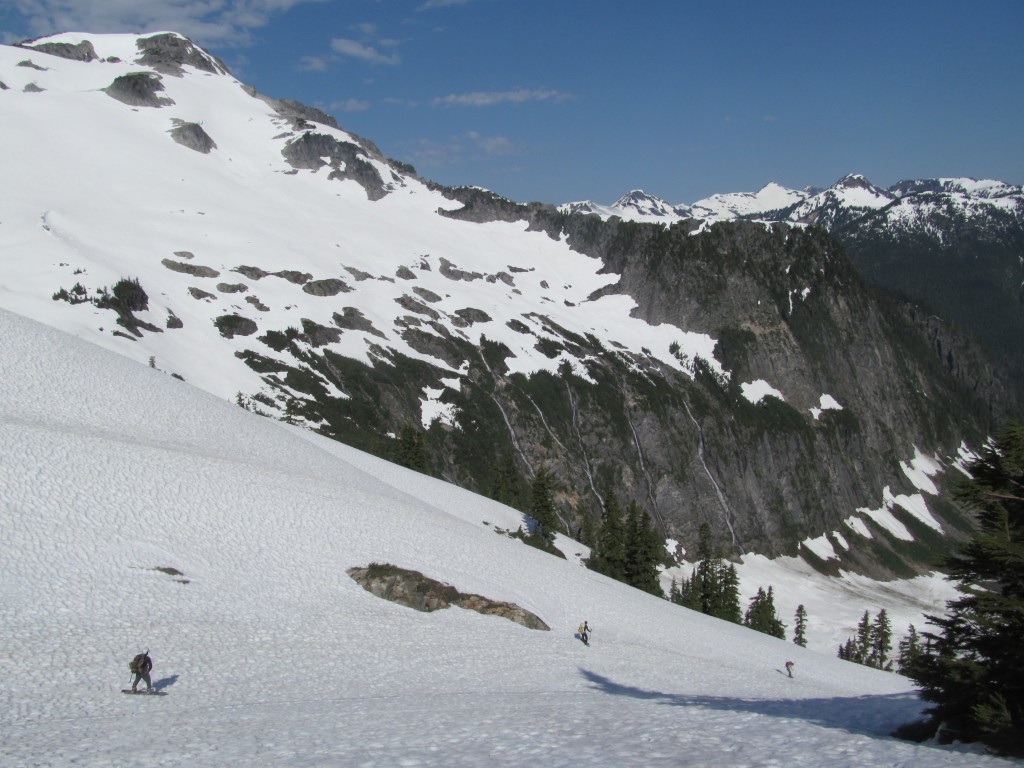 As it turned out, however, the couloir we'd chosen had ended in a steep cliff so we climbed up on to the next ridge and found a way through it. Once down into the Valley, another heinous bushwhack of epic proportions ensued. Supposedly there was a climber's trail on the other side of the valley, so we crossed Easy Creek not so easily. Creating a fixed line, we self-belayed across to the other side, bushwhacking down to the valley for a few hours until finally finding the fabled climbers trail.
Once again, we celebrated that there would be no more cruxes. Then we got to the Chillowack river, and there was no bridge, so we had to find a huge tree to cross over. While I love water in its frozen forms, gallons of rushing maelstrom scare the shit out of me. Needless to say, as we crossed, there was a huge river underneath.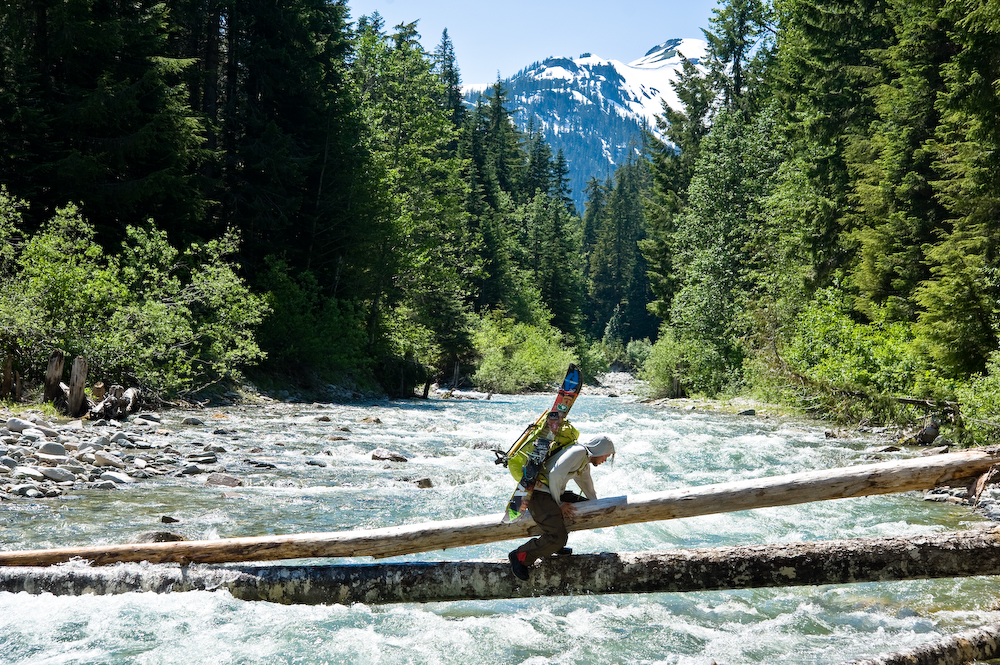 Once on the other side, celebrated that the hard part was finally over. We were all weary and ready to be back to the car. Finally, we hiked a relatively easy 7 miles up to Hannigan Pass. At this point, we were crossing numerous creeks, but we didn't bother to keep our shoes too dry.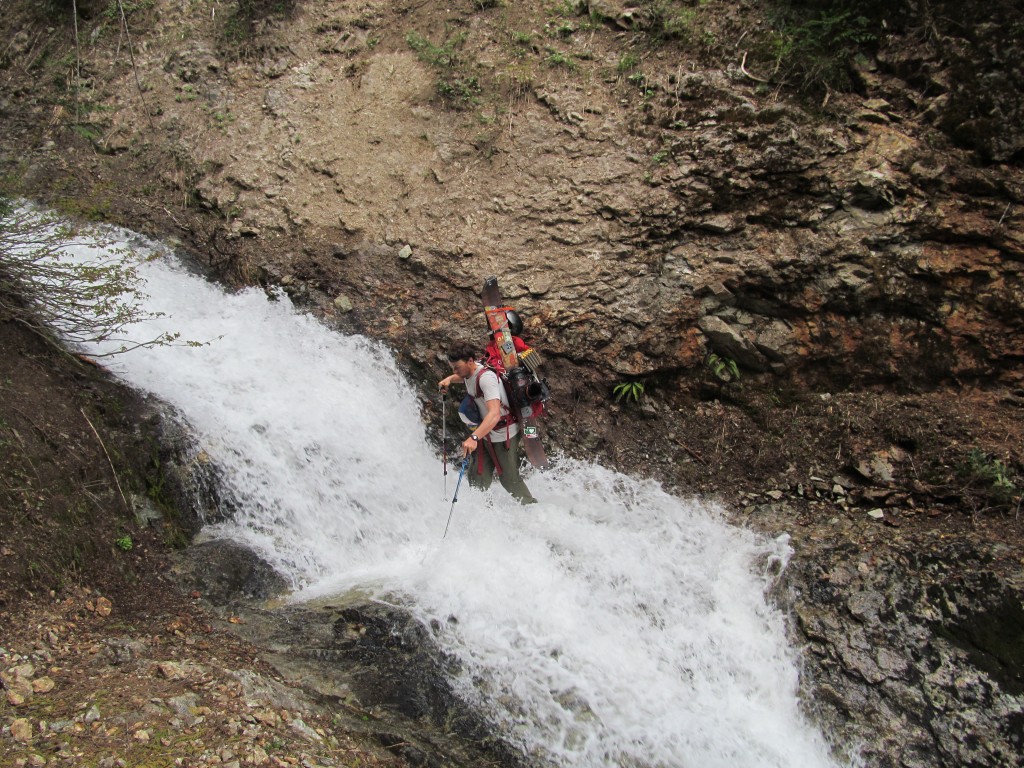 Finally, we reached the snow slopes near Hannigan Pass, and donned snowboard boots for one final skin up to Hannigan Pass. We rode 400 feet down to a lovely maintained trail that allowed us to run straight to where the car was waiting.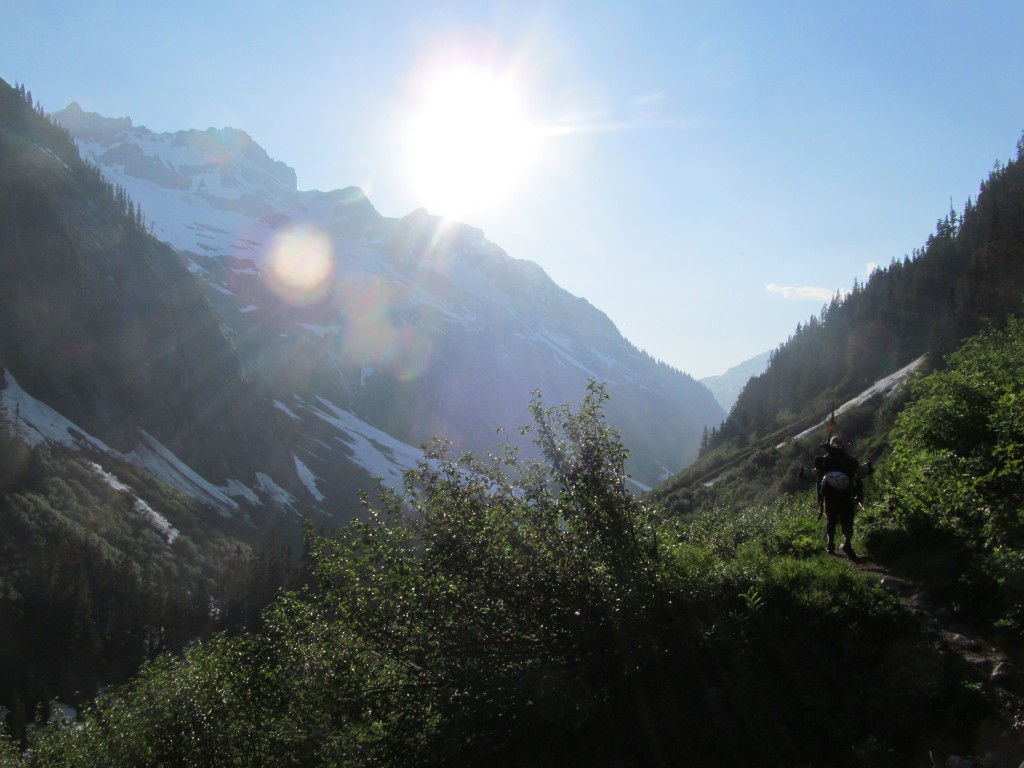 Making it to the car was an euphoric feeling. It didn't seem like it could really be over. But it was. There were finally no more cruxes. The celebration lasted nearly an hour. Perched atop a picnic table, we took a proud photo as a nod to Skoog tradition.