I have heard of and dreamed about doing the Magic S Loop for years but never got around to it. As fate would have it someone in our two person crew put gas into a diesel engine which debunked our plans of getting too remote. Instead we skinned up to Cascade Pass and over into Pelton Basin where we called home for two nights. From there we were able to turn what is known to be an epic slog into a reasonable day trip.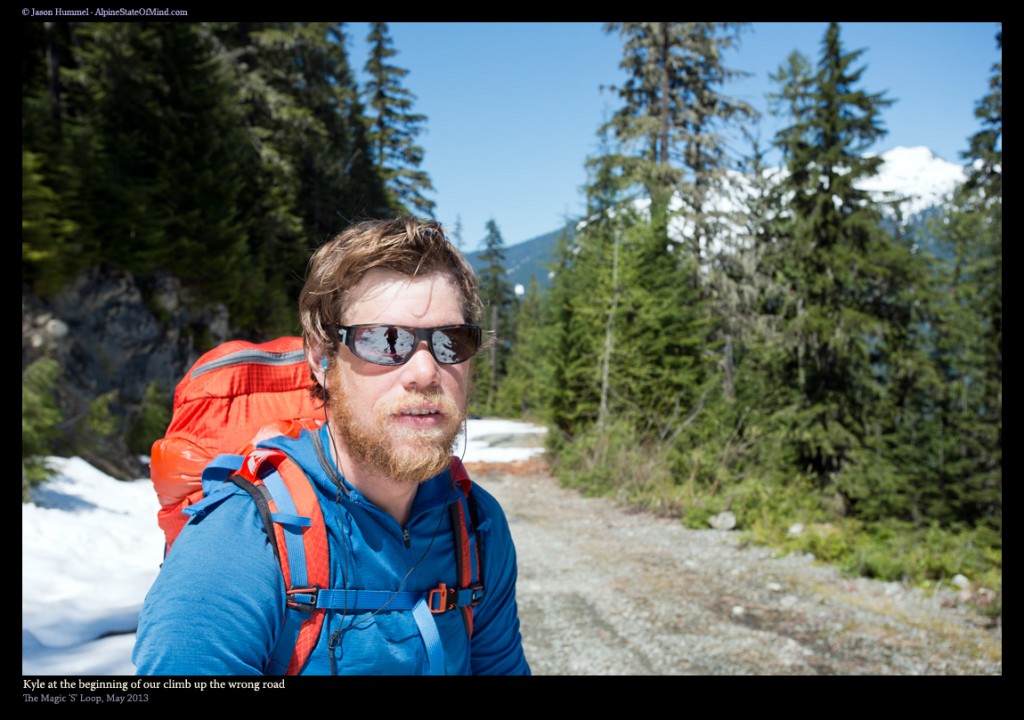 We walked on the bare pavement of Cascade River road to for about two miles before switching to skinning. In the distance we heard and watched numerous wet slide avalanches tear down Johanasburg We skinned over Cascade Pass and made the decision to camp in Pelton Basin. We skinned around to find the perfect camping spot until we settled upon digging a trench merely feet away from an open stream, no having to melt water. That night I slept amazing while Jason had a uncomfortable night of snowblocks landing on his head. Wind had ripped through the valley but my trench provided shelter from the elements. Upon waking up we waited for the sun to warm us up all the while drinking coffee and eating breakfast.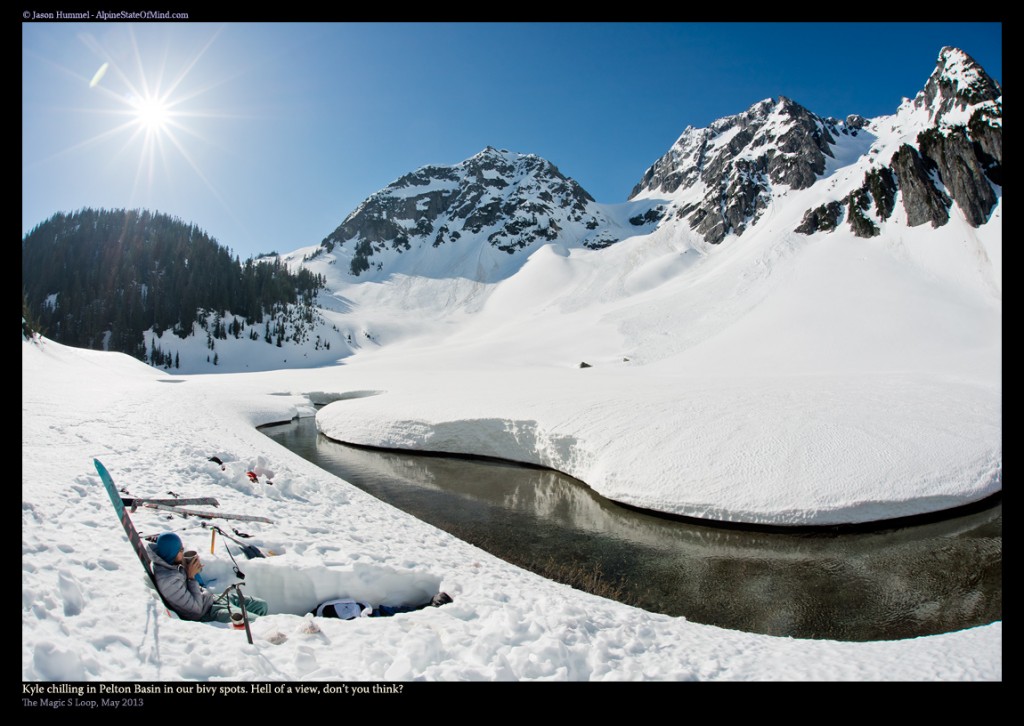 With the day being exceptionally warm I decided it was time to cut off the sleeve of my beaten up baselayer. Those sleeves had an amazing 3 year run.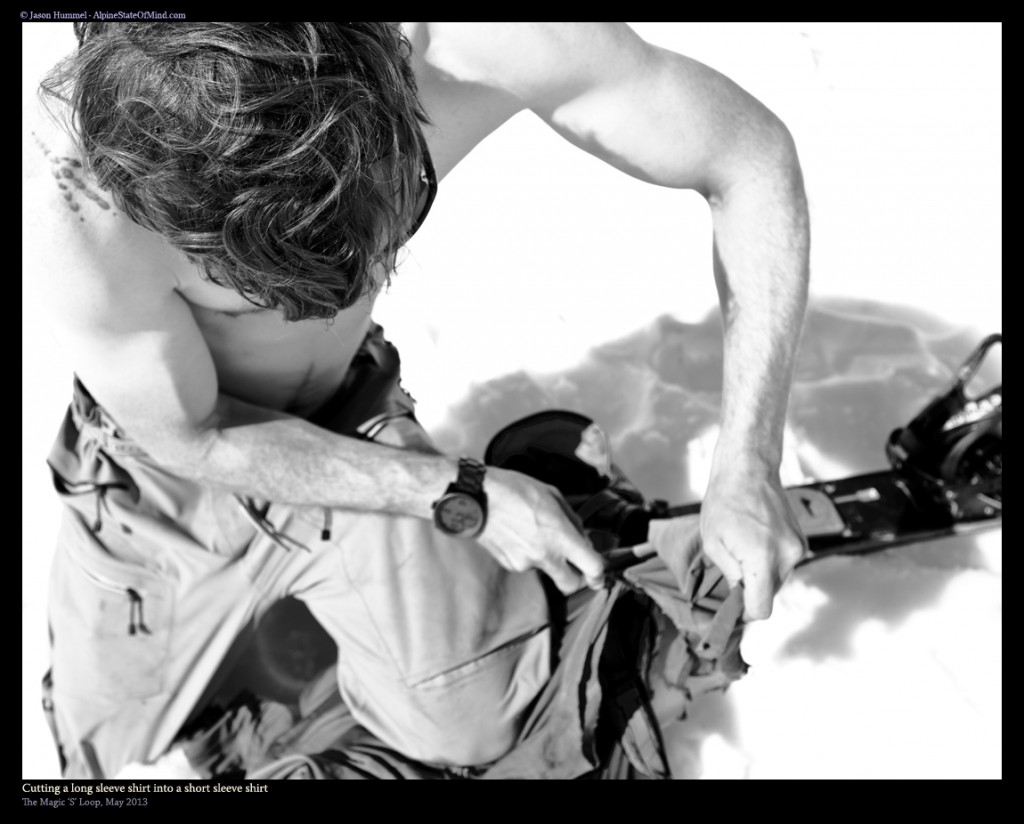 We decided it was far safer to climb directly up to Cache Col instead of traversing from Cascade Pass. The snow was easy postholing so I went without crampons until we arrived onto the upper snowfield and started skinning.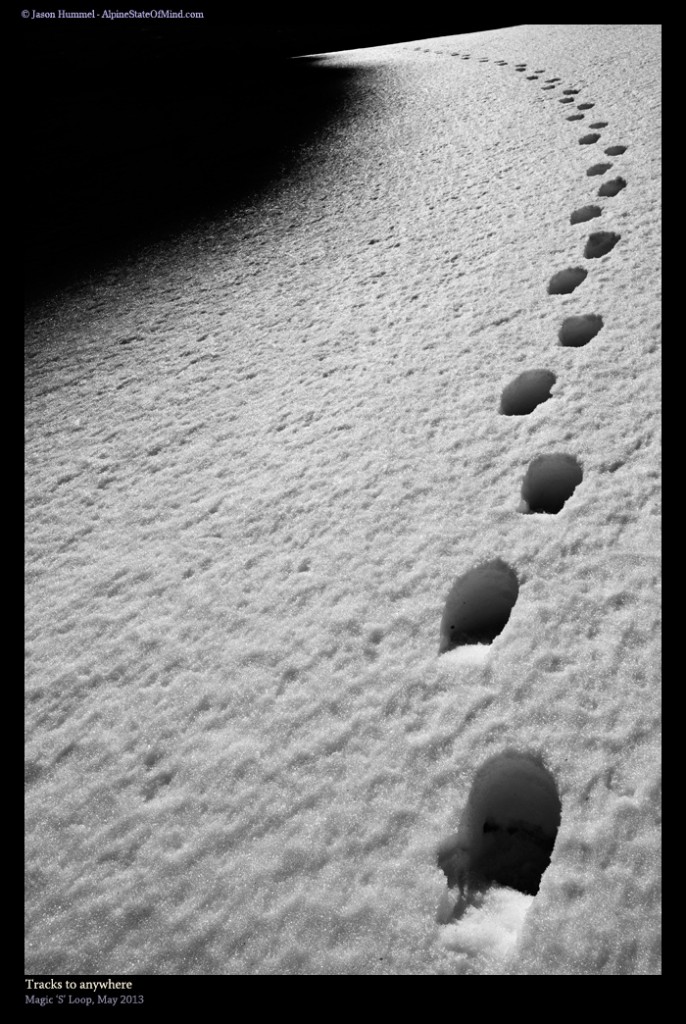 Once arriving at Cache Col we made a high traverse over to Kool Aid lakes before dawning skins and making it up to Arts Knoll. We were in the heart of the Middle Cascade River an area that sees a handful of people during the winter months. Once on Arts Knoll we took a quick break soaking in view of the North face of Spider Mountain which recently got skied by Scott Rinckenberger. This is were our route left the classic Ptarmigan traverse and made our way around the south face of Hurry up Peak where we climbed up Plan B couloir. With two ice axes and crampons it was some of the best climbing I have had all season. Steep, airy and a grand view of the Cascades.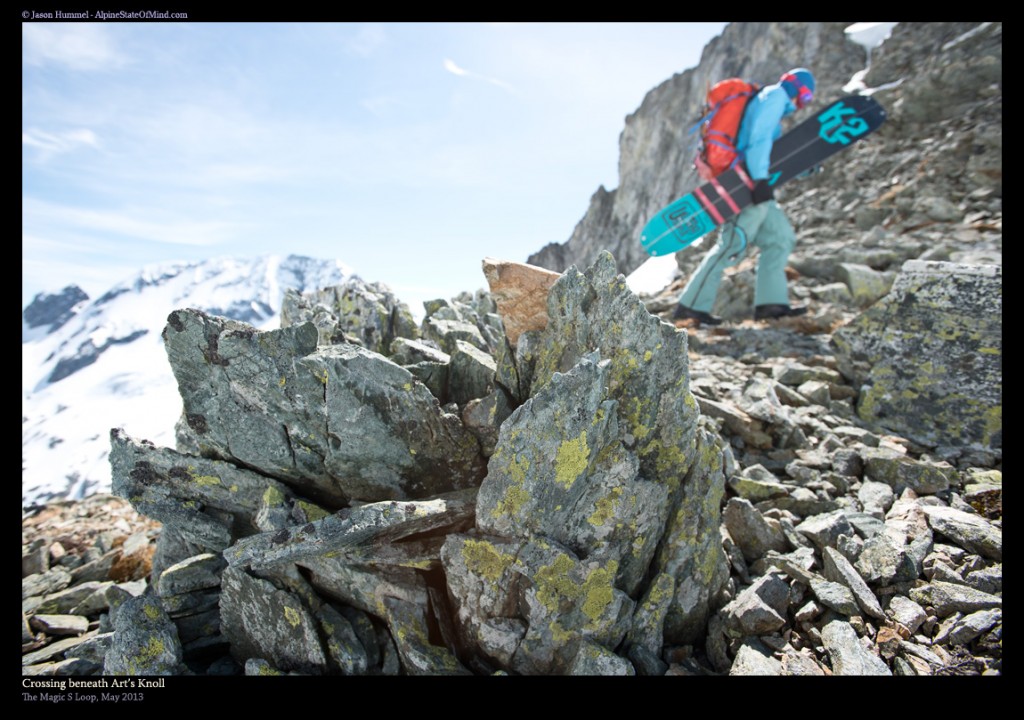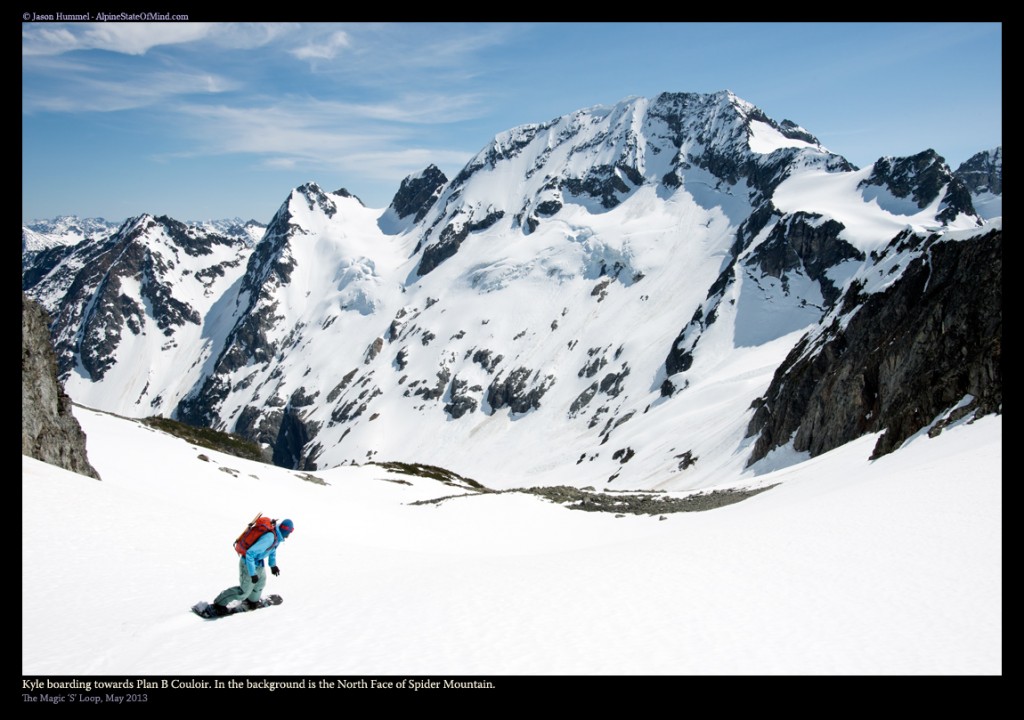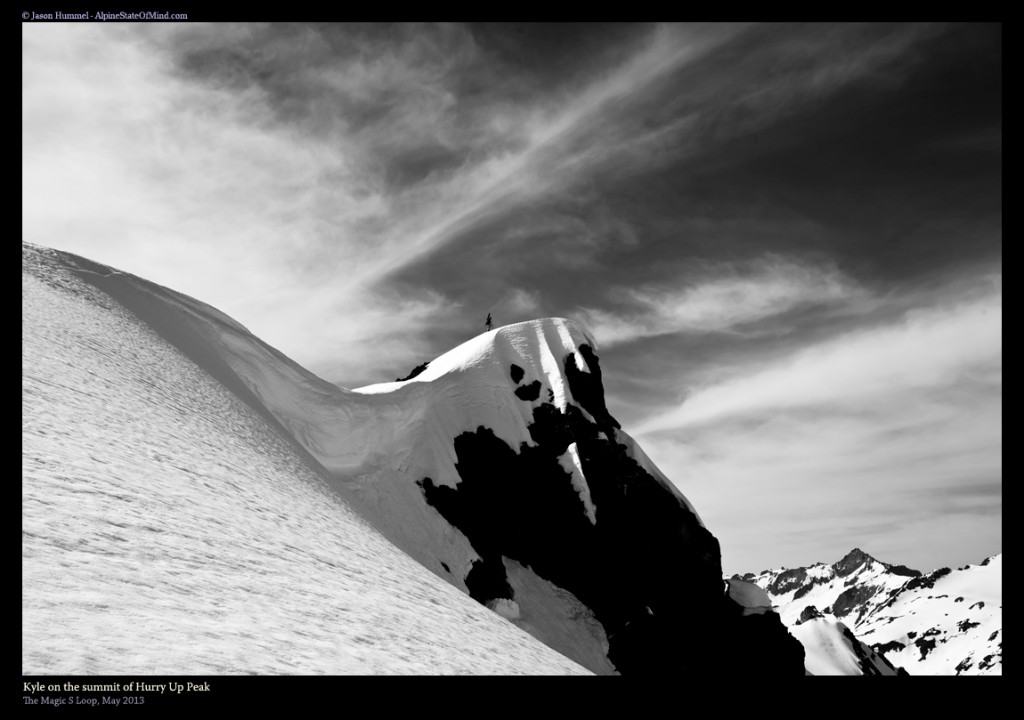 Once on the summit of Hurry Up Peak we took in the view on got onto the steep slopes of the S glacier. By far the best run on the tour it was steep fall line and great snow conditions. From a few hundred feet above Trapper Lake we bootpacked up to our final col. While walking on the glacier we encountered millions of Glacier worms. It had been a while since we had seen them and we shared memories of the Blue Glacier on Mt. Olympus an the infestation of worms.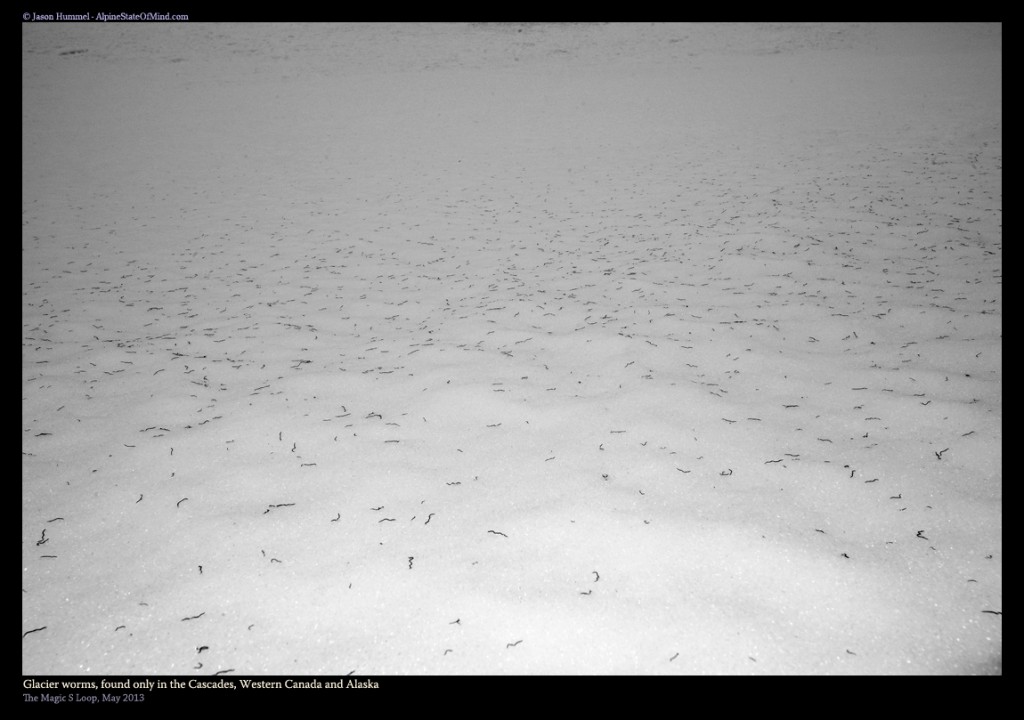 Our final descent was 2000 feet directly back to camp where we rested and ate for the long deproach the next day. The Loop is far more ski friendly but Hurry Up is a rad descent. I am looking forward to my next adventure in this seldom explored area.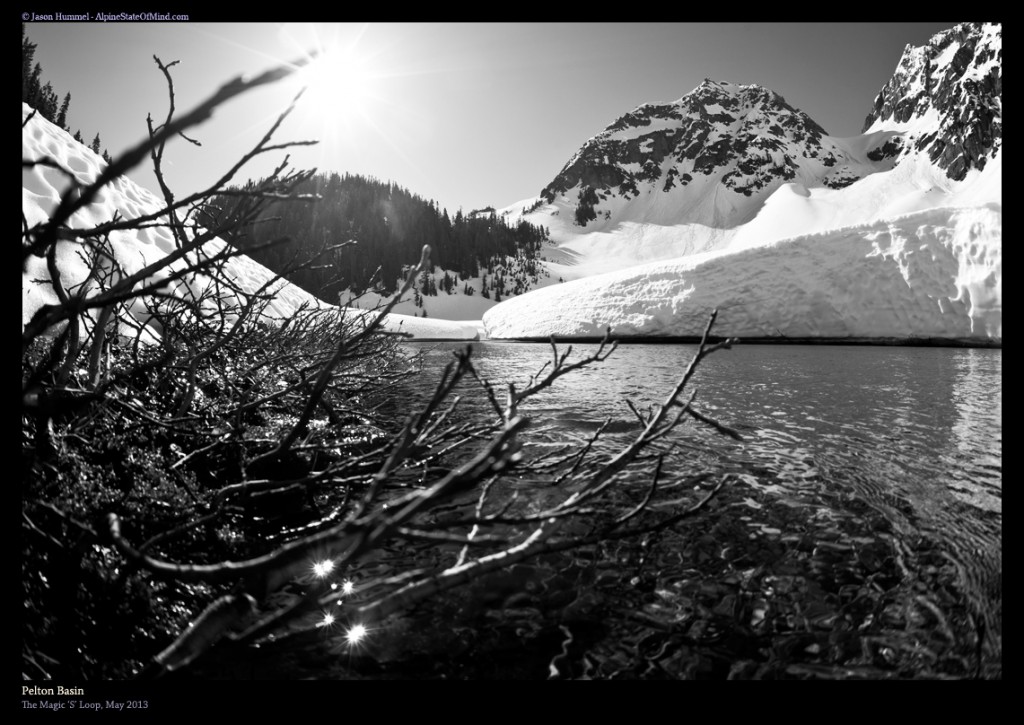 Cascade River Road is filled with all sorts of good mountains, some may content that they are the best in Washington. Peaks like Eldorado, Sahale, Johanasburg and Buckner await anyone with motivation to get into the alpine. If you haven't been there I advise making it your next destination.