I have had the good fortune to learn about life through the use of a Splitboard for the past 15 years. In the first 10 years I focused on sharpening my mountaineering skills in the Cascade Mountains of Washington state and in the past 5 I utilized those skills abroad. I created a routine heading to the corners of the globe to focus on specific things that I have come to love in there epicenters. From Ski mountaineering in New Zealand to lift accessed powder riding in Japan I found myself in love with these places with and what started as a love for mountains quickly changed into the cultures as well. This report is over the 2016 season where I experienced ups and downs both mountain wise and mentally. New Zealand New Zealand had always been a land of mystery to me. Like a great puzzle the rugged mountains and isolation hold the highland guarded and shrouded in mystery. This season was my 4th time returning to the Southern Alps after learning the lay of the land, the weather and an all new respect for these mountains the 3 previous seasons. Something that anyone should consider before buying a ticket to NZ is that snow conditions can be what most would call poor about 80% of the winter time but that other 20% of the time it's hard to find a more beautiful spot. Basically powder and snowpack is somewhat unreliable but corn skiing is much more predictable so because of that I made the call to arrive in early September 2015 and depart at the end of November 2015. Australia Before heading to New Zealand I had the great opportunity to hang out with the Godfather of Splitboarding in Australia for a week attending the Australian Splitfest for the 3rd year in a row, do some guiding on the side and head back into the Old Snowy Mountains.
The highlight of which was putting on a snow camping guided trip where I was able to show 2 clients/friends the strategies of safe travel and building windproof shelters among the fabled Western slopes. It was a great trip and though weather came in much earlier than expected and was a bit wet as usual we were prepared and had a great time sharing stories and experiences both in guiding and the Splitfest.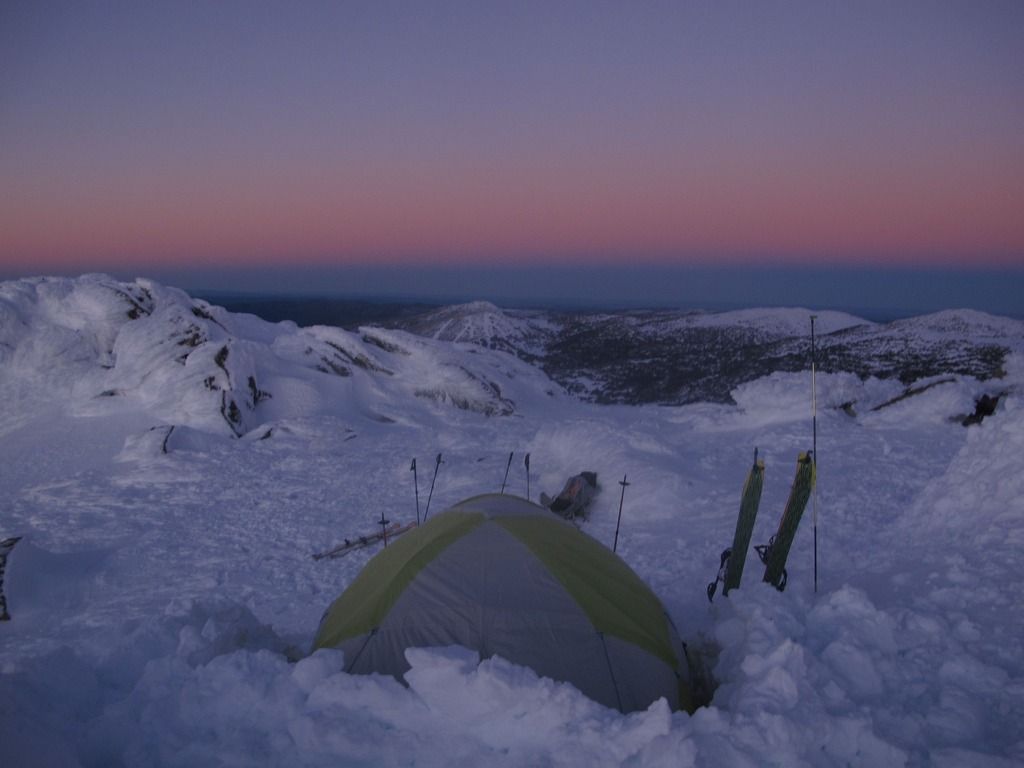 New Zealand I've fallen in love with the Club Field culture which is a uniquely New Zealand thing and with the support of License to Chill (http://www.chillout.co.nz/) I was able to get a seasons pass to 12 different ski fields within the South Island.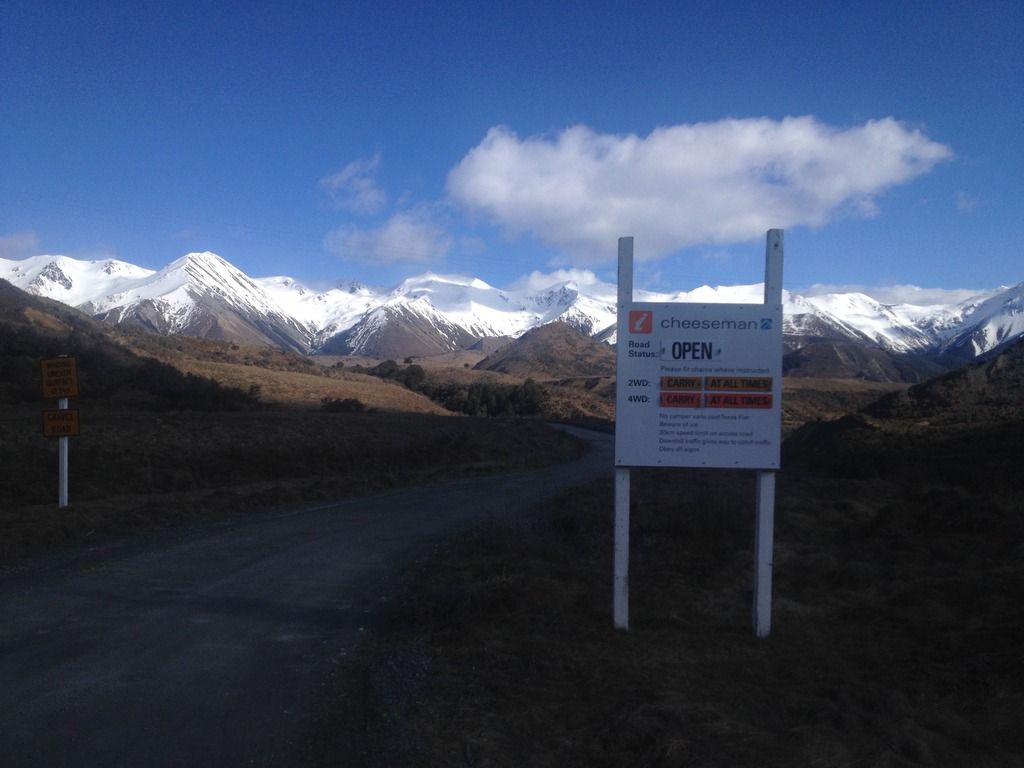 If one hasn't heard of the Club Fields 90% are based off of a lift system called Nut Crackers where you have a rope tow that drags you up thousands of vertical feet through the use of a harness and metal device, this is used so that you don't crush your hands on the numerous pulleys along the way. I had the good fortune to meet up with my friend who goes by the nickname Pow Slash Wiggles who was working as a ski patroller at Broken River.
For the first few weeks we went from one club field to the next getting back into the swing of things and making the best of conditions.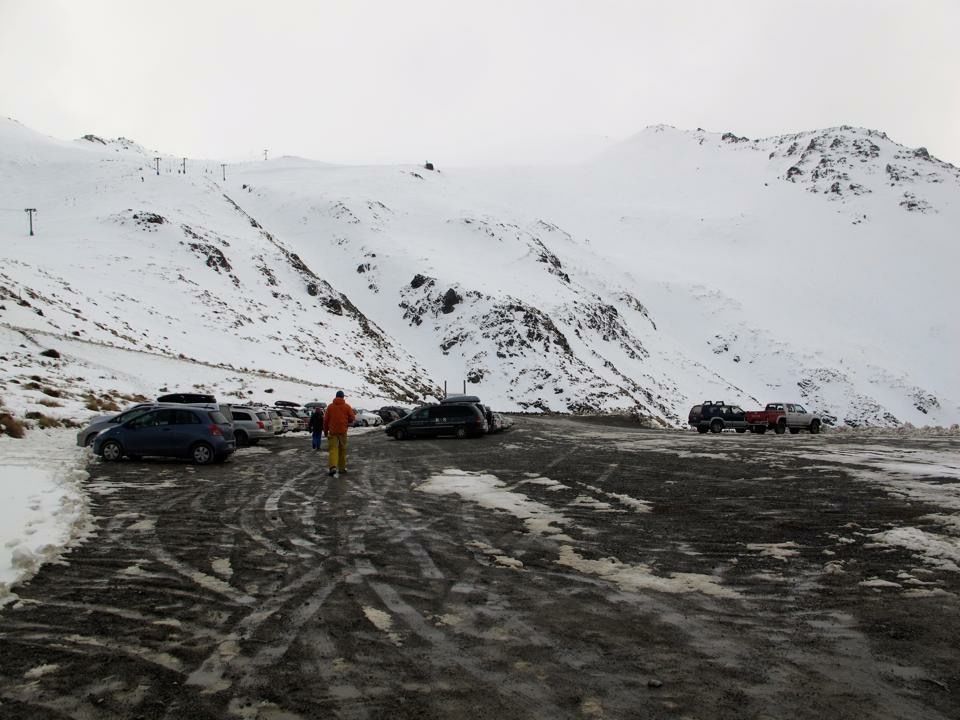 A highlight of which was heading up to Mt. Olympus and riding a line I had seen a decade earlier but didn't have the experience to feel comfortable with yet.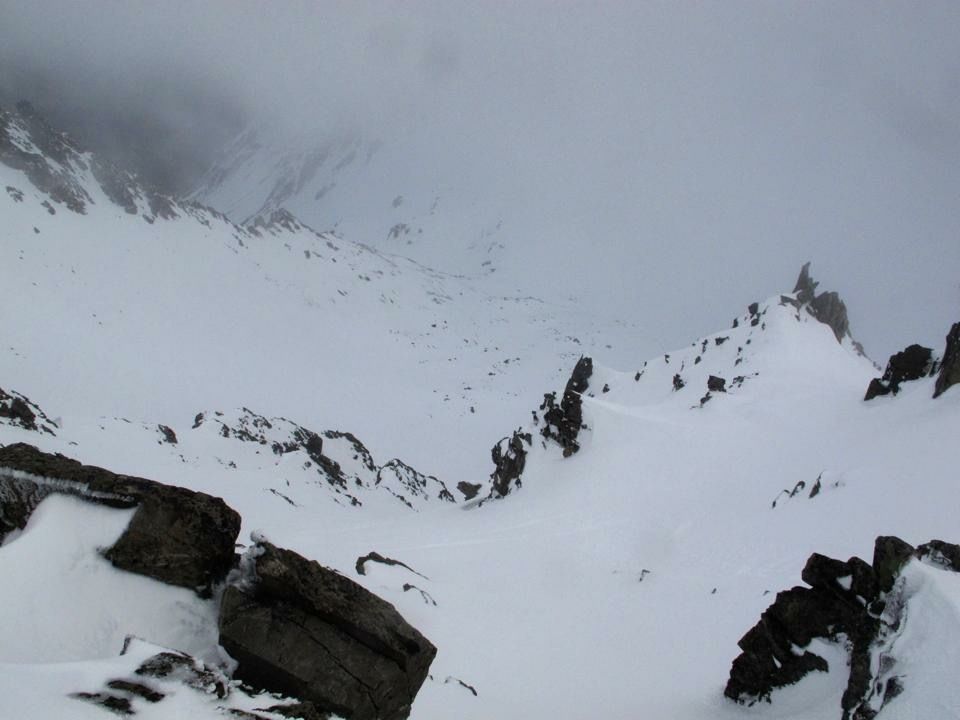 Another highlight was heading to the backside of Temple Basin during the NZ Splitfest put on by Shane Orchard and Richard Harcourt and enjoying epic powder in the Mingha bowl off the backside of this total gem.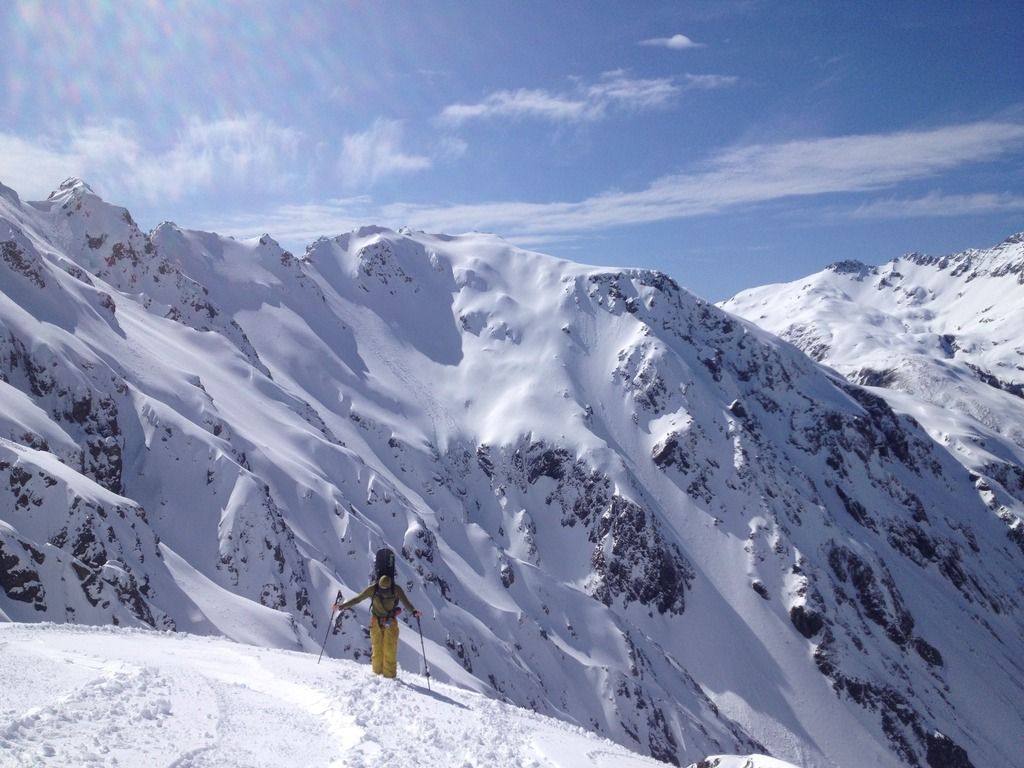 For the last two weeks of Club Field riding we had the good fortune to have Zach Clanton come join us and Broken River was kind enough to give us shelter and a base of operation to show him what made this place so special.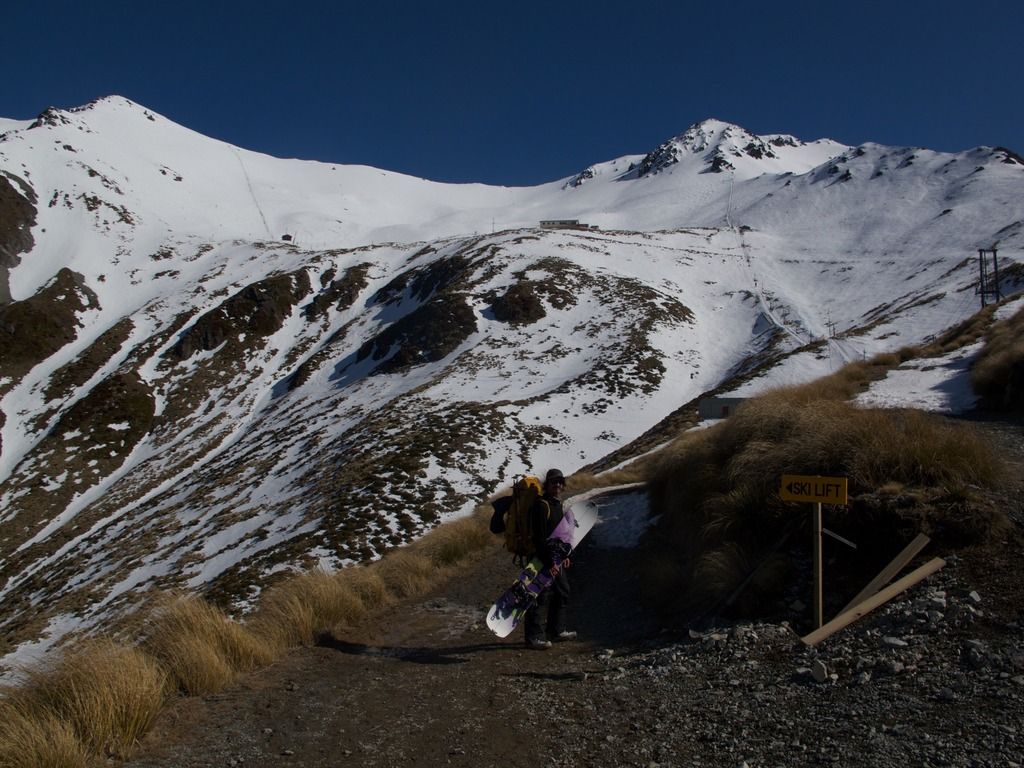 If you ever have a chance to stay up there I highly recommend it, as you are within a 10 minute walk of the rope tows, in beech forest and best of all the place has a Sauna. I've fallen in love with Sauna'a after since spending a bit of time in Finland where it is a vital part of the daily routine.
Zach had arrived at a transition time between powder skiing and corn riding which meant the slopes were firm for the most part of the day and the snowpack was quickly melting away, but we took the opportunity to do some hiking and show him the ropes, quite literally.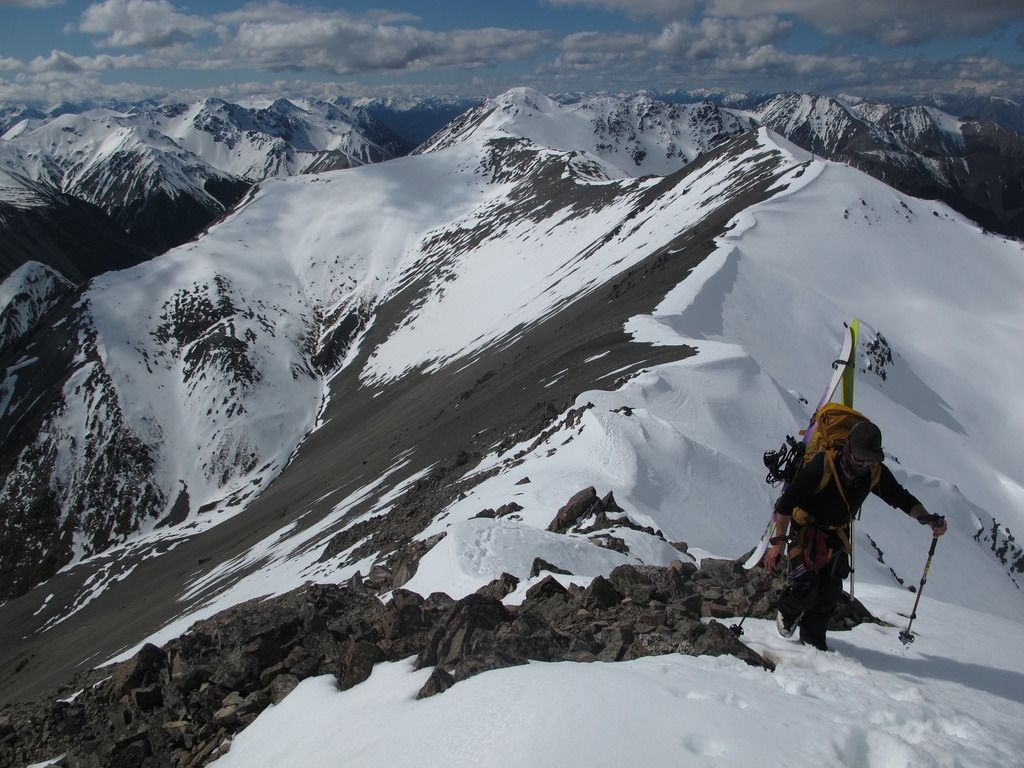 The highlight of the time was doing a ski traverse from Broken River to Olympus and back and this is the only time that I have gone on a multi day trip bringing shorts so we could soak in Mt. Olympus's hot tub. Aspects were melting out fast though and with a thin snowpack for the most part we had to stay on the high ridges.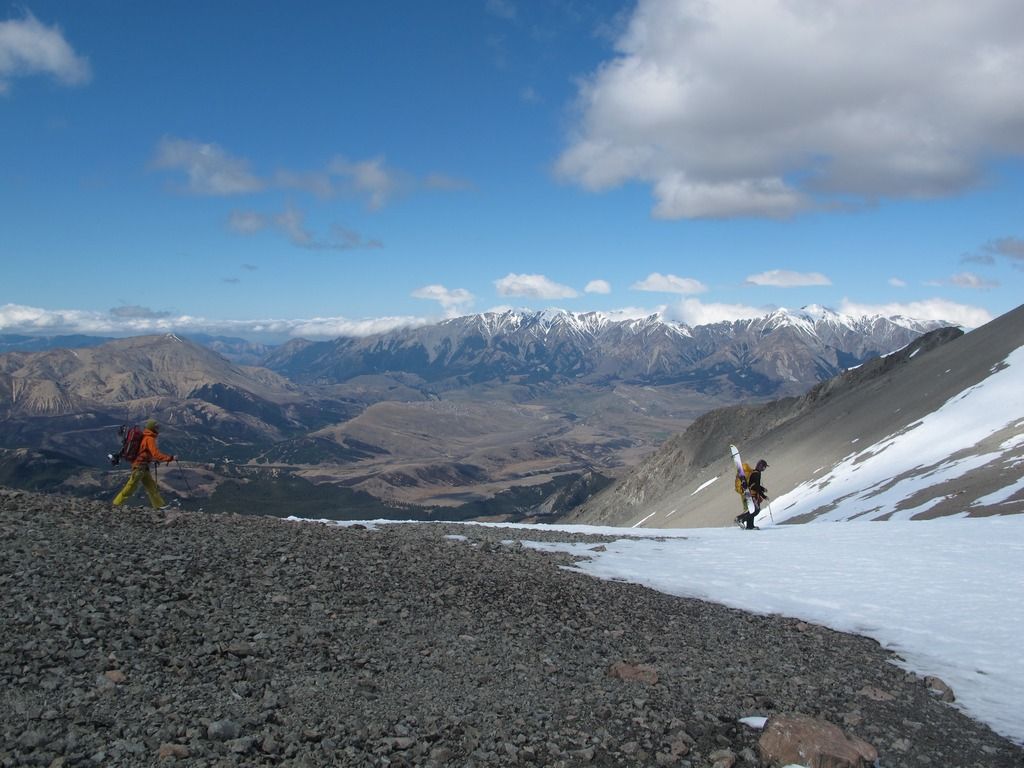 When walking through these areas you could only imagine how amazing this place would be if the snow fell all the way to sea level.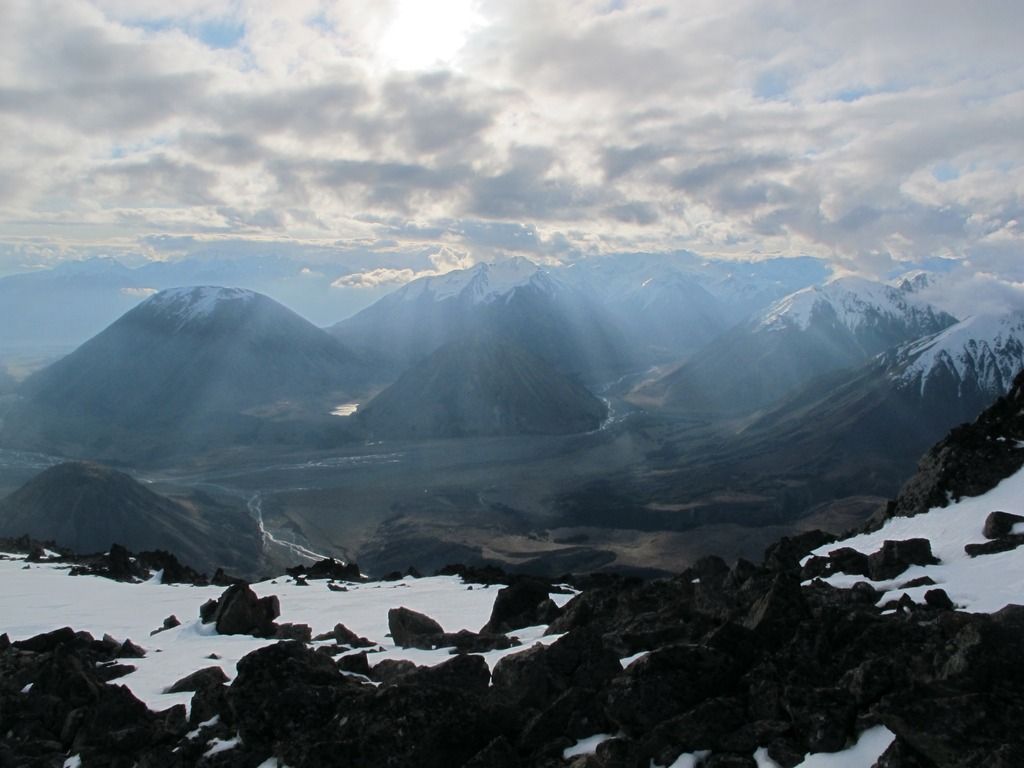 When the club fields closed we had the good fortune to meet up with our friend Holly Walker, went out and bought a car and started to check out several huts that are located in the high country and ran by DOC (Department of Conservation). Being a tourist based economy there are more than 700 huts lined throughout both Islands and our first journey was to the Angeles Hut in Nelson Lakes National Park.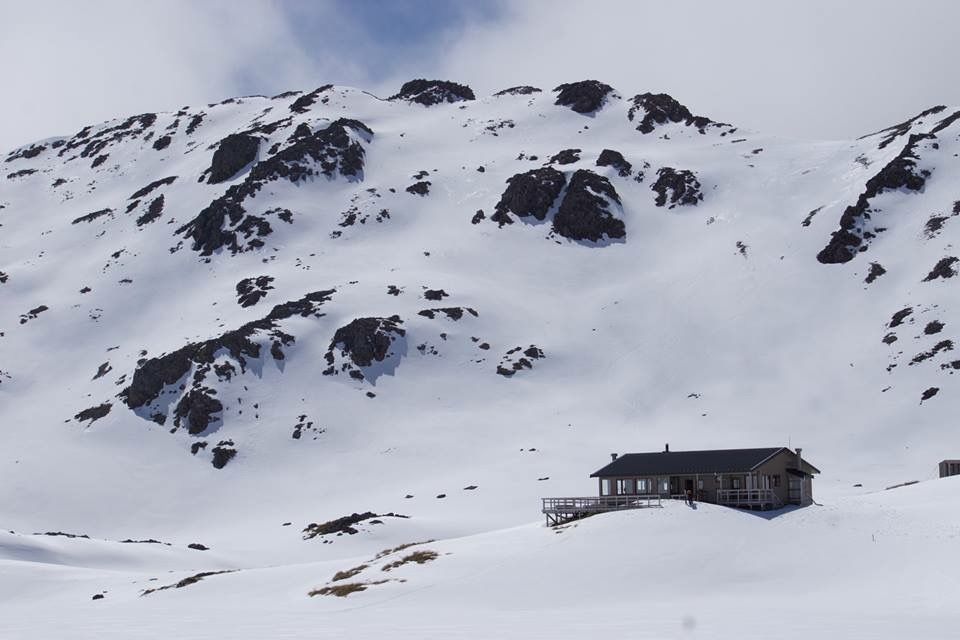 Sadly on our way in Holly had injured her knee pretty bad and wasn't able to ride the local slopes but luckily the zone is beautiful and for the next 3 days we rode around our perfect little shelter.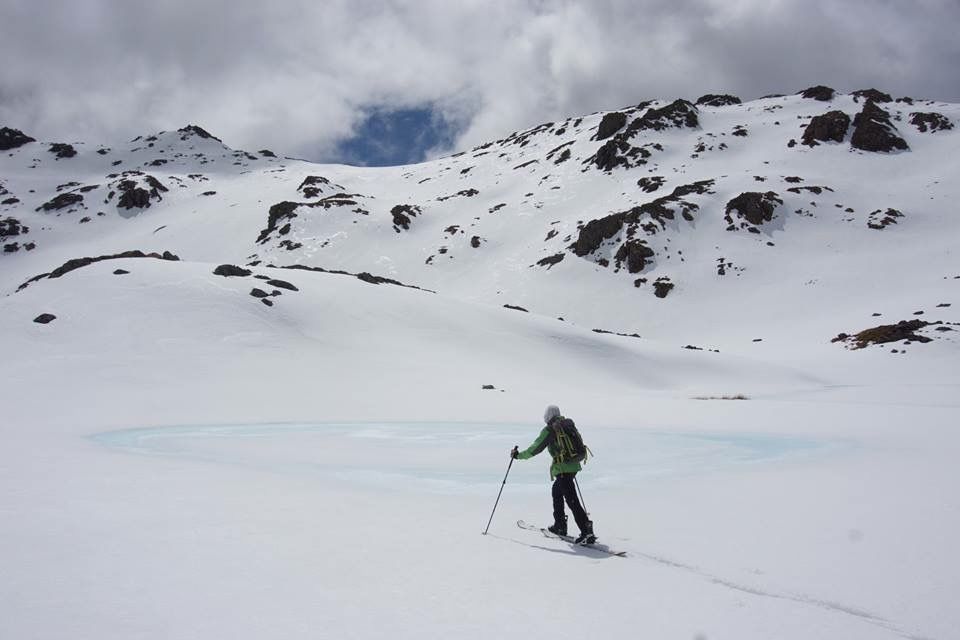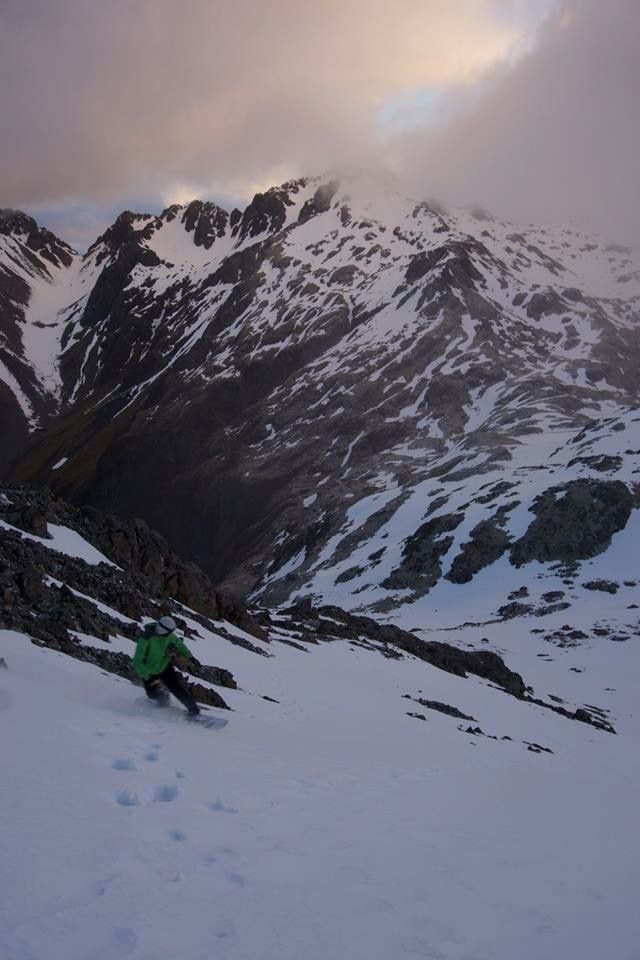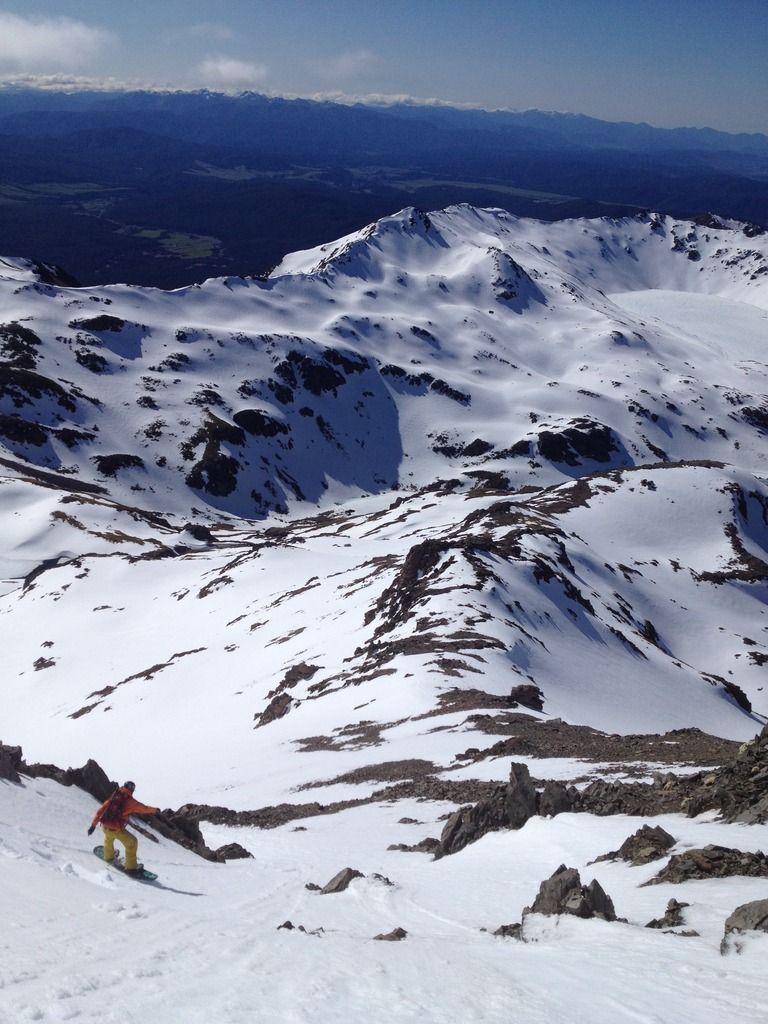 We were even visited by a few baby Kea's which had enough time to say hello and attempt to destroy are gear, those pesky little buggers....I LOVE THEM!!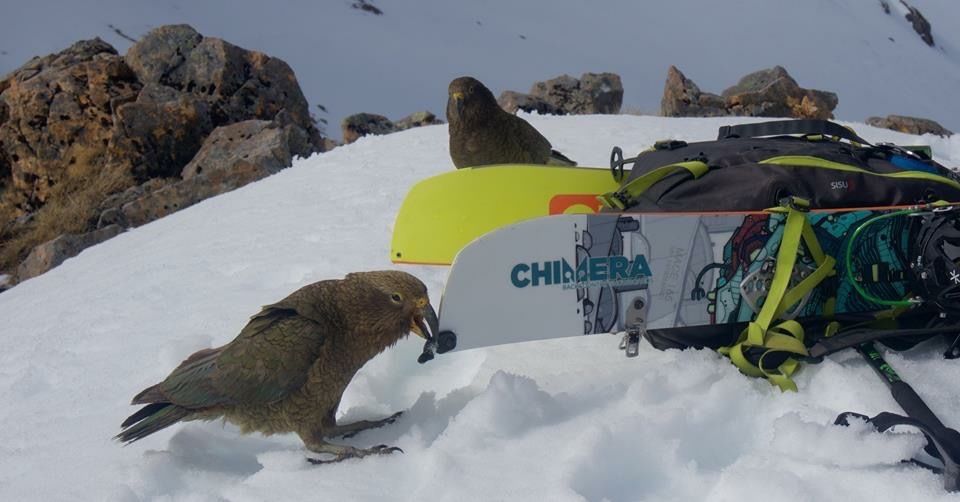 Departing from the hut to the car was a 6 hour walk which was incredibly painful for Holly as her knee wasn't getting better. I ran to the car and dropped off my backpack and returned to her halfway down the trail so I could grab her pack, making travel a bit easier for her only to find that our car battery had died and we spent a night in the parking lot before a car could come and help jump start it. With Holly's injury she sadly and smartly couldn't join us for anymore ski touring trips. Are next adventure took us down to the Otago country near Queenstown where we stayed at the Routeburn Hut and decided to head into a zone that Pow and I had been to a year earlier and our friend Remi was happy to join us.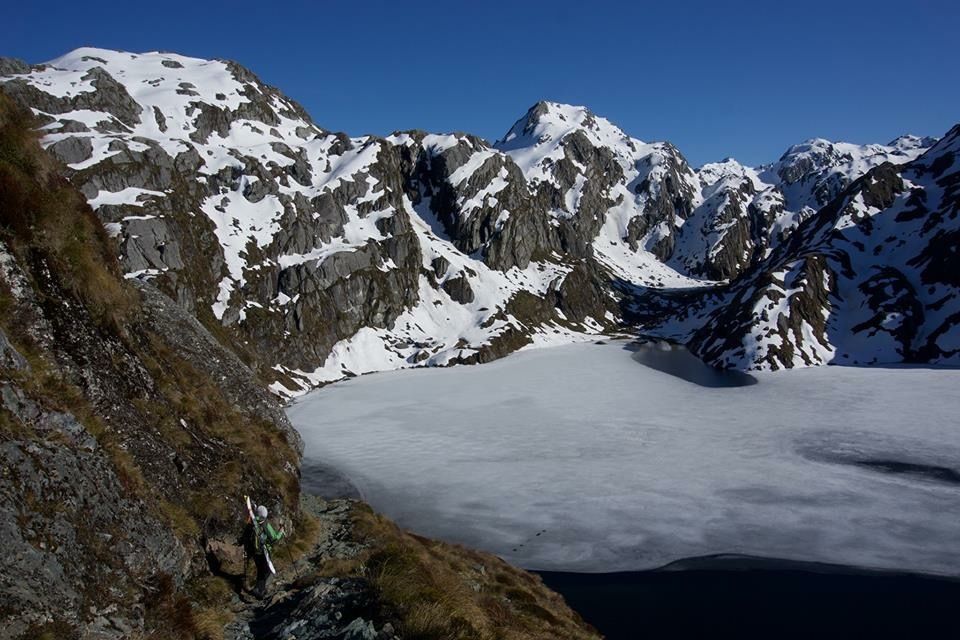 We carefully skirted around the lakes shores and headed up into an area referred to as Valley of the Trolls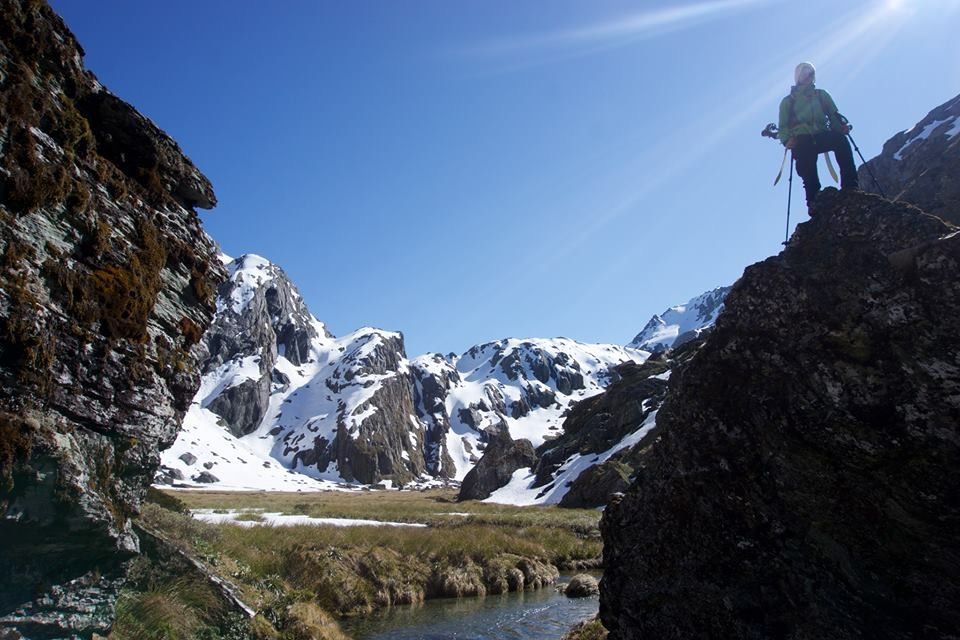 We have spotted a line that caught our interest but as we started climbing clouds made there way in and as we reached the summit we found ourselves in a white out. Pretty typical of New Zealand especially since this zone was 5 kms from the Pacific ocean.
We descended a beautiful couloir in whiteout conditions and made the call to head back to the shelter knowing there was good chance conditions wouldn't improve and that it is just not safe to travel when you can't see anything. We made it back to the trailhead where Holly was waiting after 3 much needed days in Queenstown and made the decision to go visit Milford Sound as it was something all of us could enjoy. Along the way we would occasionally stop to check out the surrounding mountains just long enough for the Kea to come and attempt to destroy our car.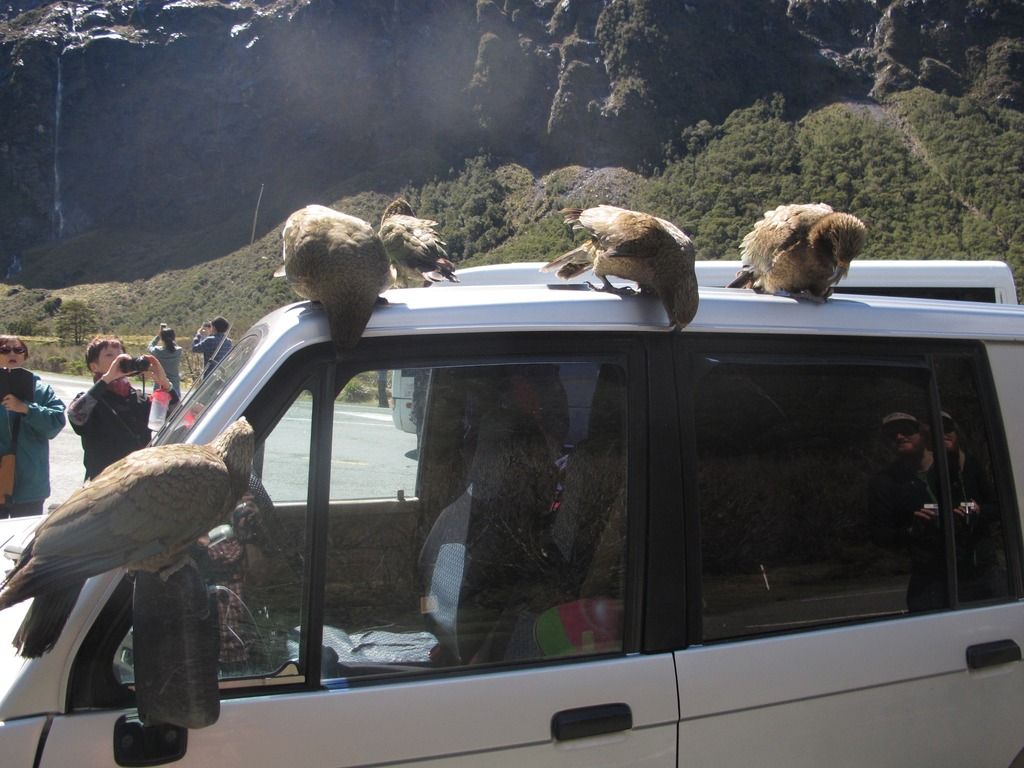 Milford Sound is one the most beautiful Fiords I have had the good fortune to visit with rugged peaks dropping straight into the ocean.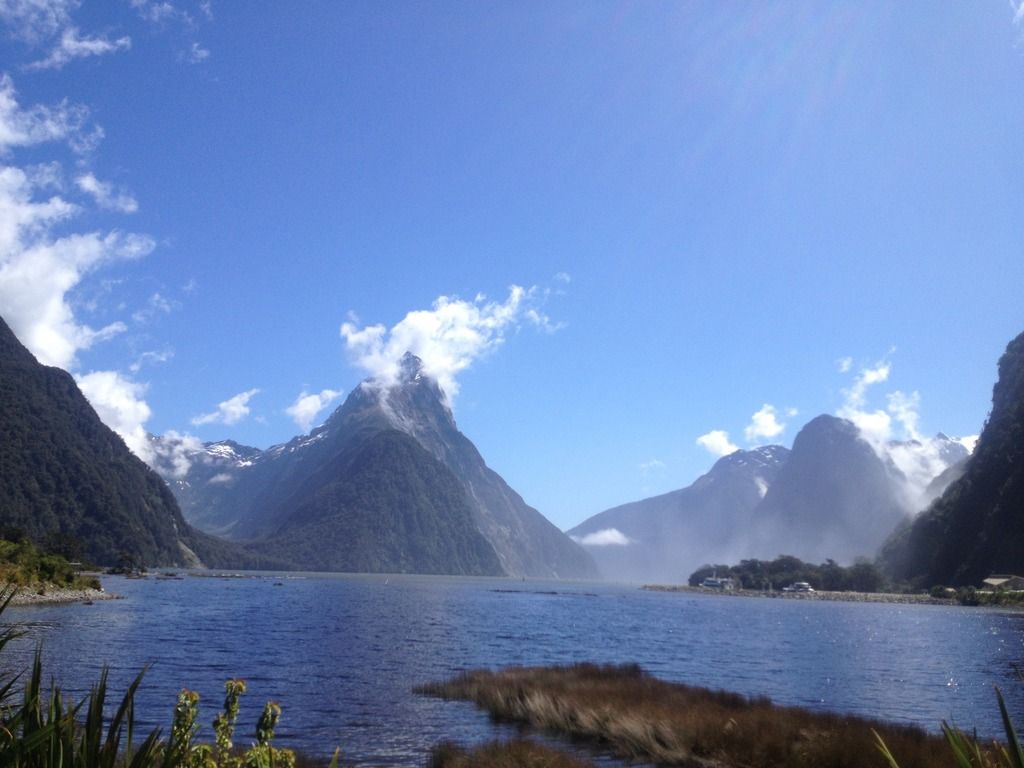 We decided to go on an overnight cruise where we went halfway down the fiord in sunny but windy weather and the next morning finding the most brutal weather NZ can offer.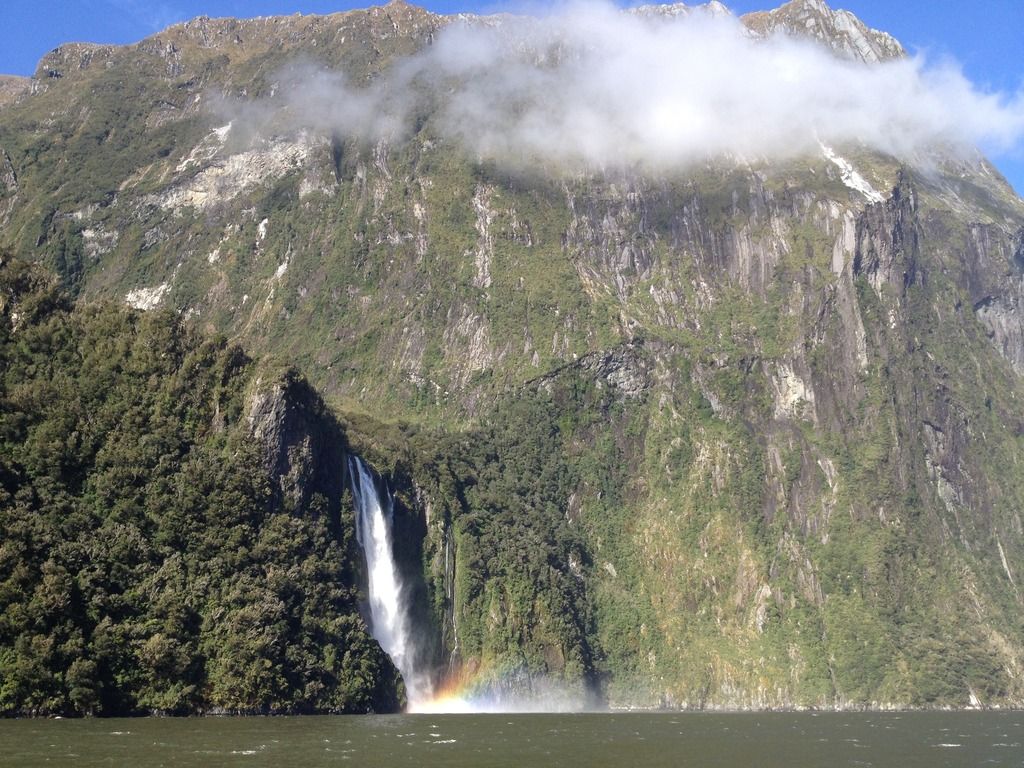 The winds can do some crazy things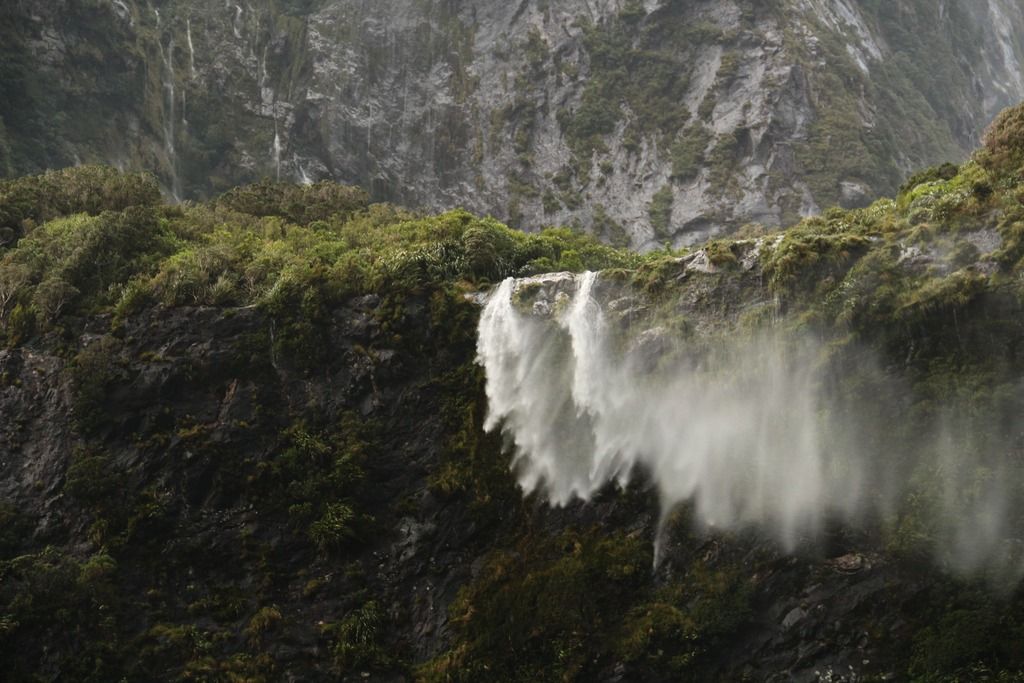 With Holly's knee not recovering she made the right decision to head home and we took a small road trip waiting for weather to improve. Once the forecast called for sunshine we made the call to head to Mt. Cook village where we met up with local legends Ryan Nicol and Yossi Jager and flew up onto the Tasman Glacier and we stayed at the Kelman hut, exploring explored the local scenery.
It was my third time in the area as the year before I did an 18 day traverse, so I had gotten to know the area pretty well. Conditions were quite firm as the wind wasn't allowing for the snow to soften up but we made the best out of it by taking in the views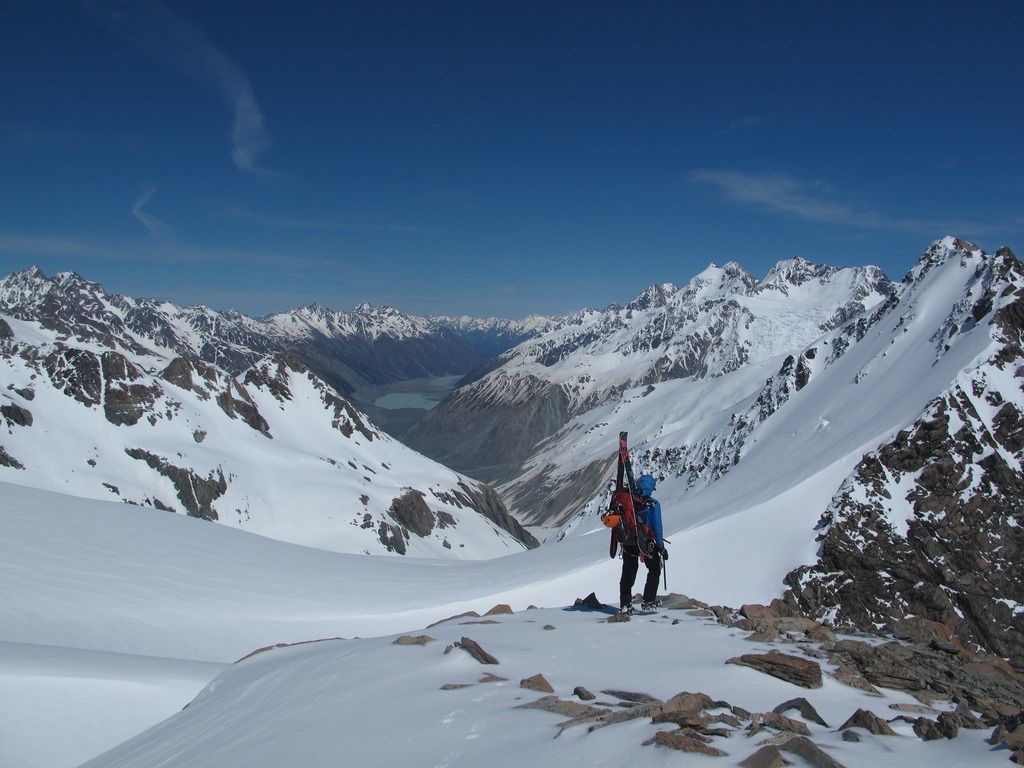 Our time together was a bit challenging as the weather was constantly fickle, racing to attempt to get peaks before the clouds came in and having the lines in pretty dire conditions but we made the best out of it.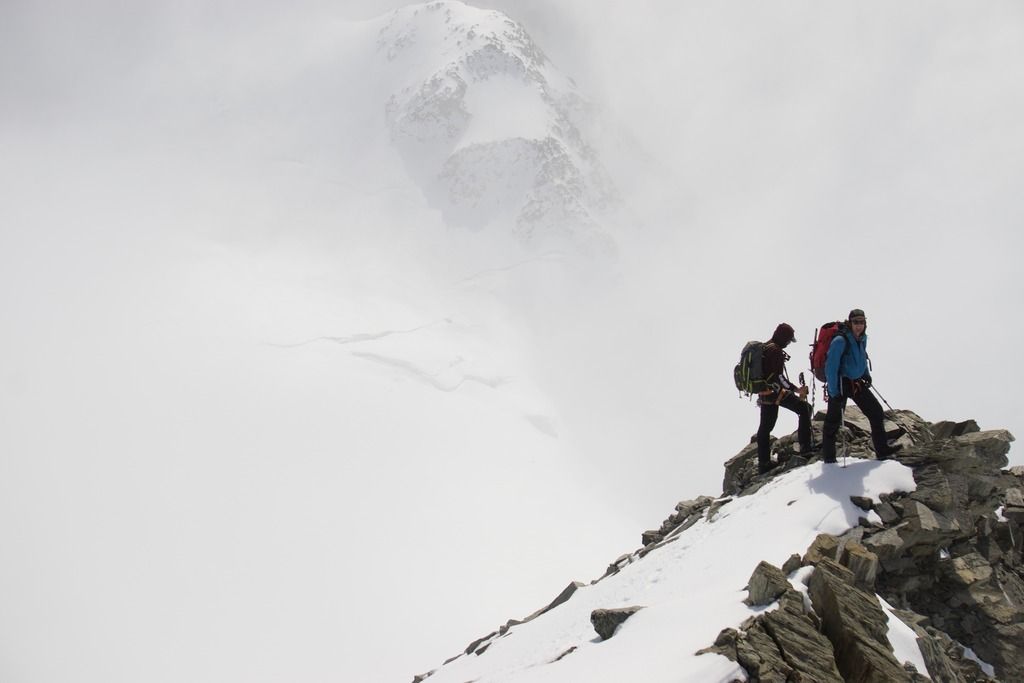 But the beauty of this place is just unreal.
By Mid October Wiggles and Remi were on planes heading home and Zach had become more interested in Rock climbing, which is totally understandable as that is another of his passions and the place is a rock climbing mecca. I had gotten the invite to join Ryan and Yossi into a relatively unknown zone at the head of the Rakaia river. They took a helicopter in with my snowboard, while I decided to do the 30 km approach with 2 weeks worth of food and gear solo.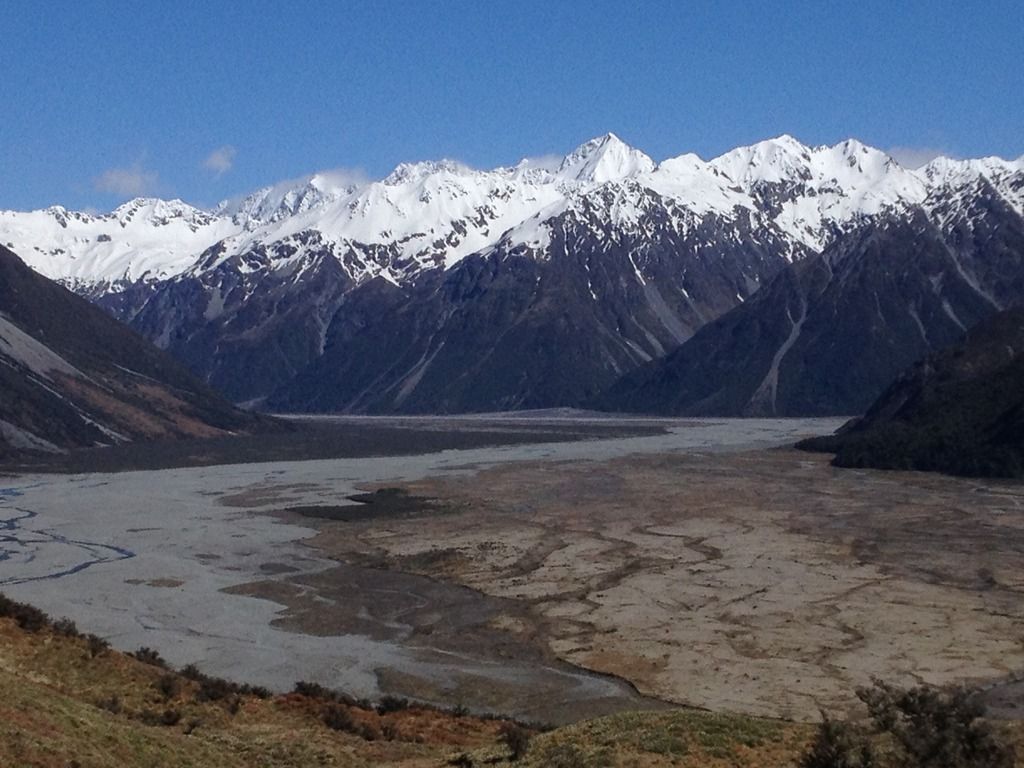 Along the way I had to do a thigh deep river crossing in glacial water which meant I couldn't see the ground below me, this scared the crap out of me not knowing how to swim so well in swift, cold waters. I made it one step at a time only to get on the other side and toss my backpack onto the ground and the brunt force was on my camera, breaking it and only leaving me with an Iphone to take photos. The Rakaia is a beautiful braided river valley with massive mountains on both sides which made my journey pleasant.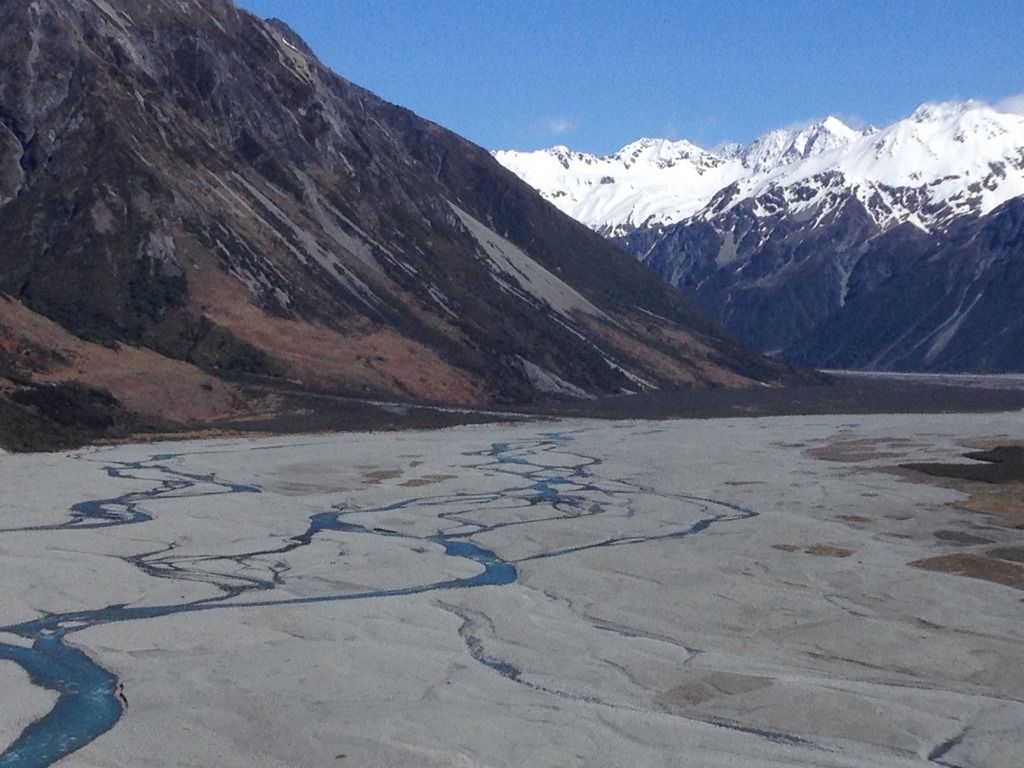 When I finally made it up to a small knob that I had to climb over to get down to the Lyall Hut that Ryan and Yossi were using as a basecamp I really started seeing the potential of this zone. Where I had come from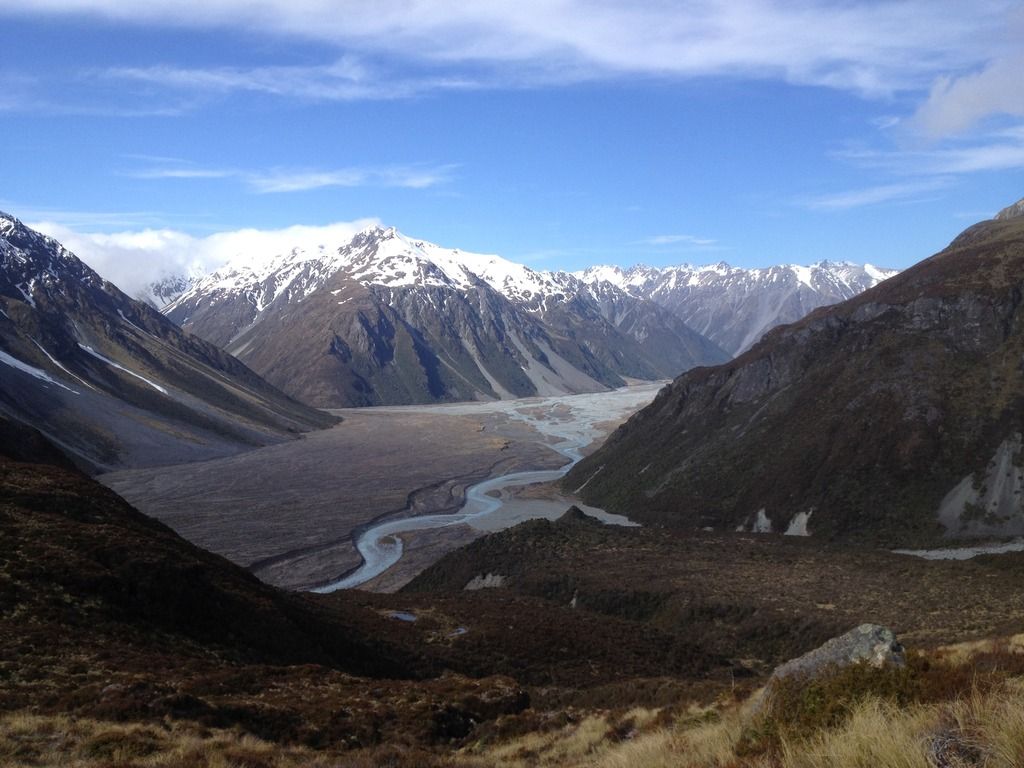 Where I was going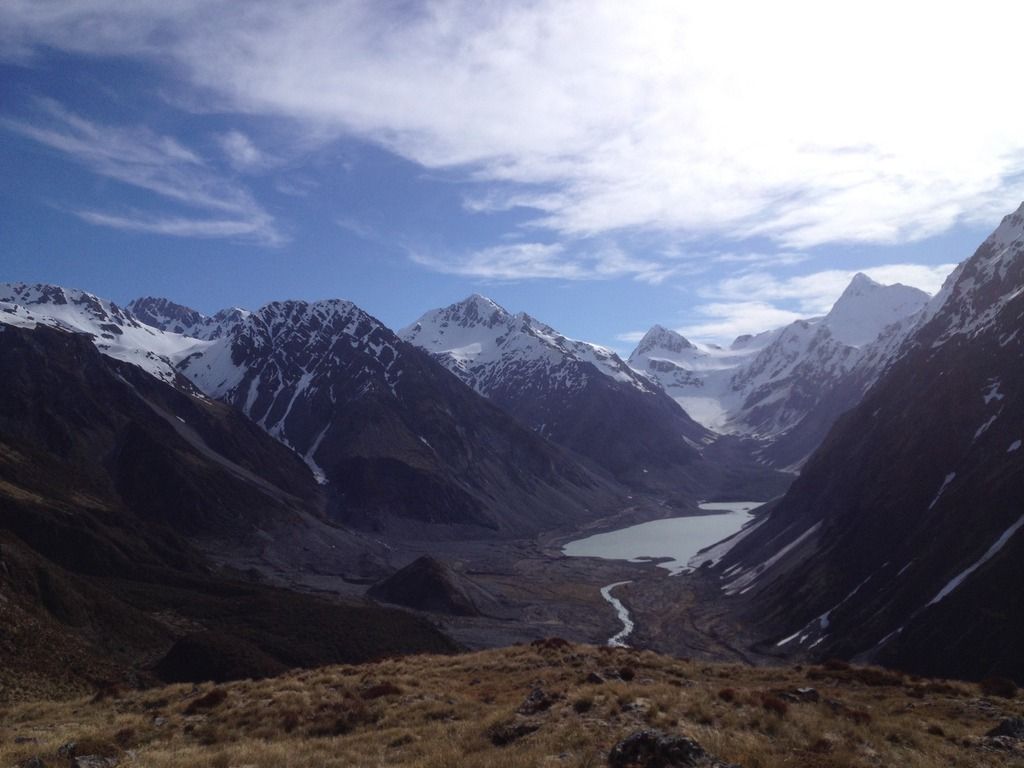 Another valley if weather allowed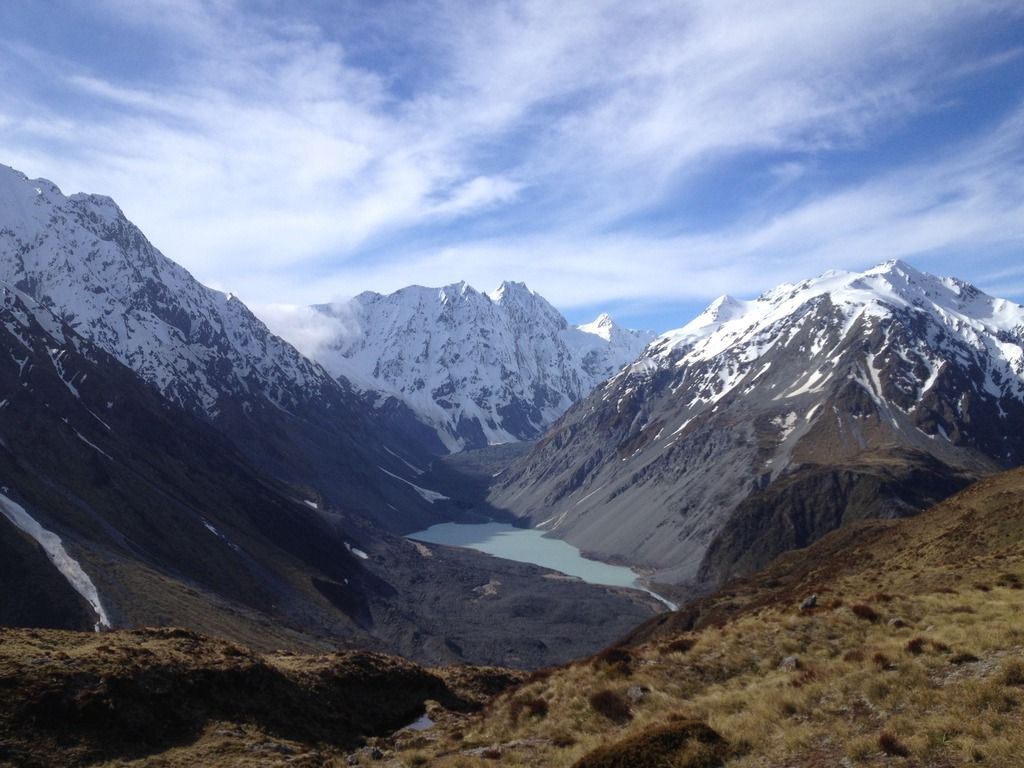 From here I had to drop a thousand feet down to the hut and I made the mistake of trusting a downloaded map on my smartphone which showed a trail which wasn't there. I made the stubborn decision to thrash down the bush slope as the sun was starting to set and found myself in some of the worst bushwhacking of my life through thorn covered bushes so thick I couldn't see more than a few feet in front of me. After many hours of clawing through the bush I barely made it to the river valley minutes before sunset, covered in scratches head to toe and making it to the hut just after dark.
I spent my first night there alone as Ryan and Yossi had decided to go on an overnight adventure since arriving with fresh knees. After a day of resting by the river they arrived back at the hut. It turned out that Yossi had a bit of a nasty slide in firm conditions during the trip which made him a bit stressed. He was soon to be a father and you could tell he was having a bit of mental tug a war with proceeding with the plans while we hung out in the hut for 3 days waiting for weather to clear In the end he made the right decision and called in for a helicopter when the weather finally broke and than it was just Ryan and I for the next week and a half. I had my own issues as my splitboard wasn't wide enough causing heel drag, this was fine when snow was soft but left me without a heelside turn when conditions were firm and steep, this added a whole new level of stress that I was dealing with during the entire NZ season but I made due and Ryan and I came up with plans to head for a peak called The Warrior.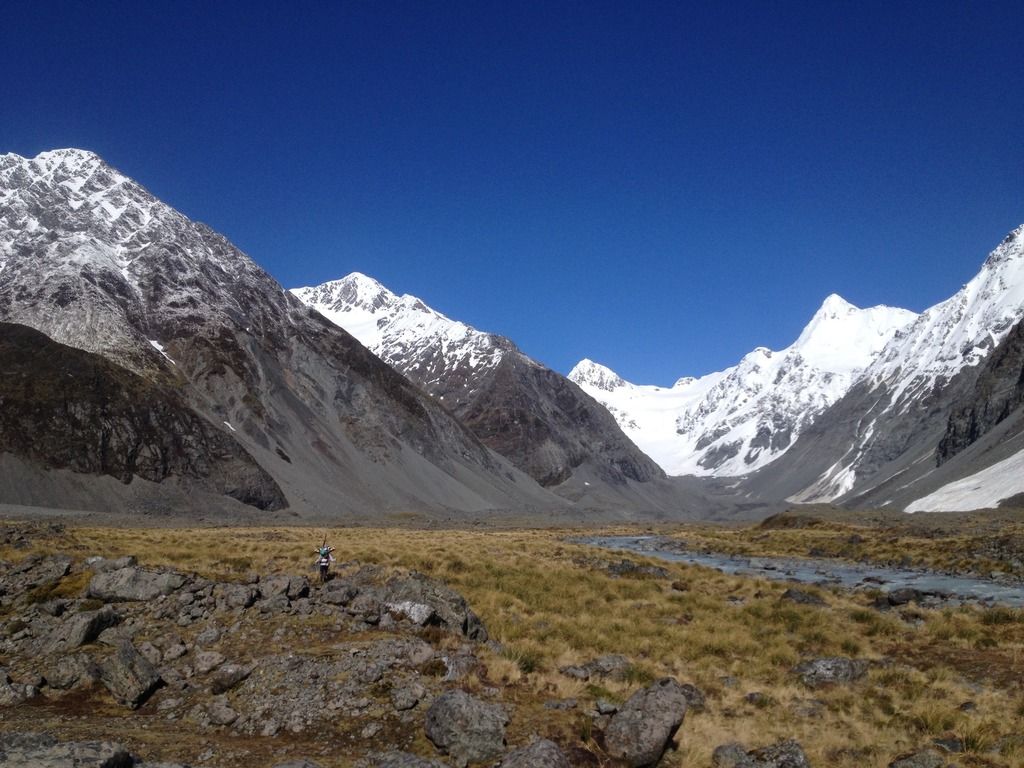 As with most isolated peaks in the Southern Alps this moutain required an approach to an approach followed by another approach just to get to the base of the mountain, all of which are exposed. Here we are looking back at the way we came with the hut being at the bend of the river.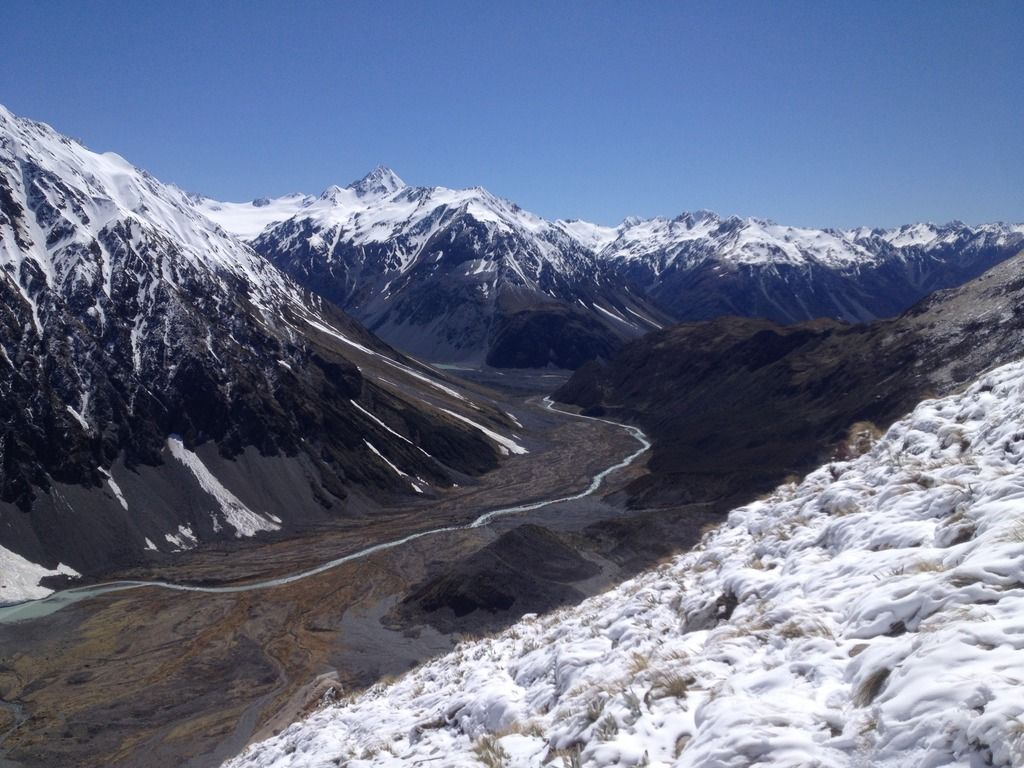 Finally we were high enough to get our boards off our packs for a little bit and get to skinning in the high country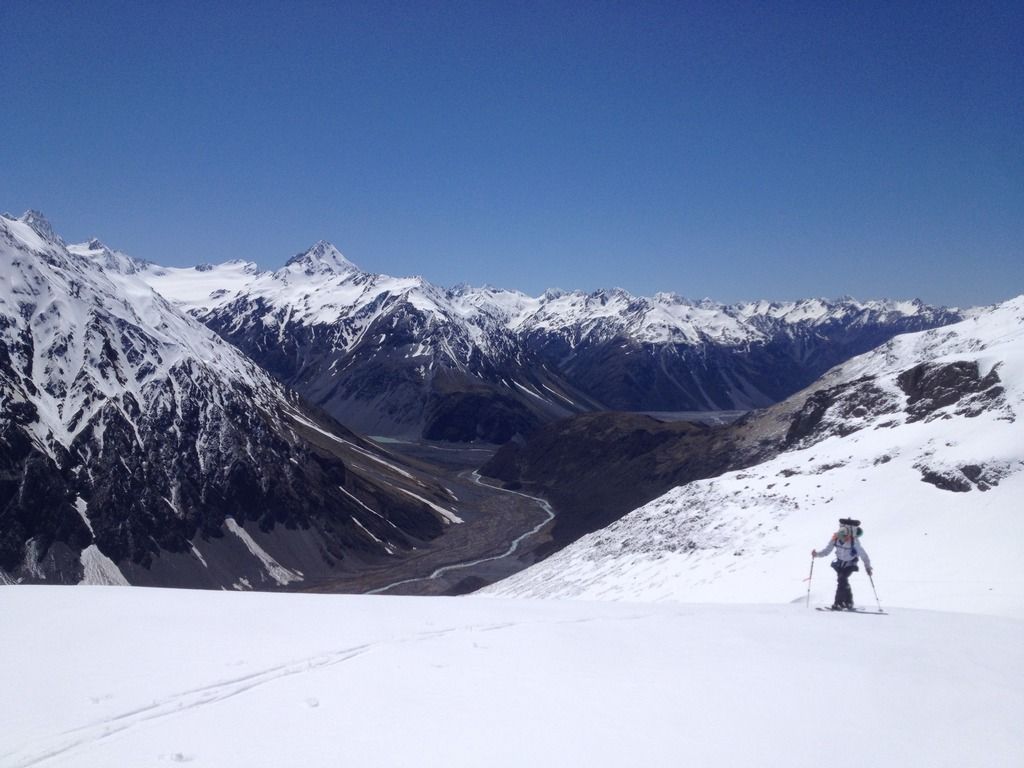 Followed by another sketchy traverse above cliff bands to get to the valley below which gave us direct access to the warrior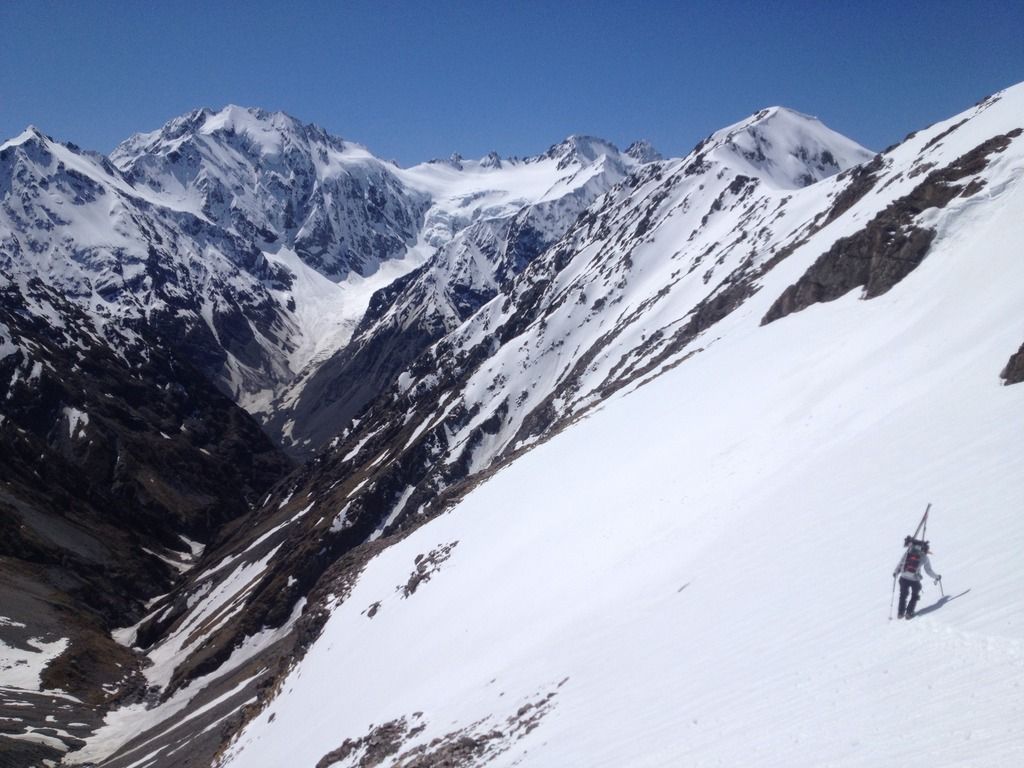 Once in the valley we were looking up at The Warrior and making plans for an early departure so we would have firm climbing conditions. This was going to be another exposed zone so we wanted to make sure there was no chance of a wet slide taking us out.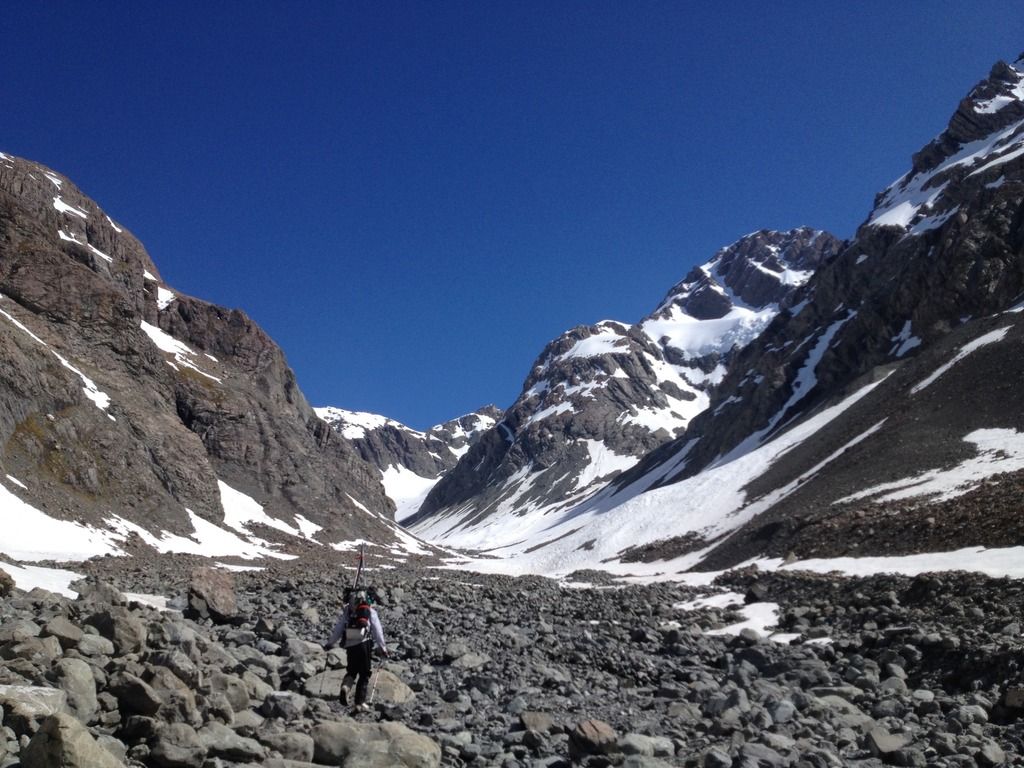 We left at about 5 a.m. and made good time up the first and mostly exposed area with crampons and two ice axes in hand making it to an upper flat plateau just as the morning sun warmed us up and gave us a chance t dry our sweated out gear.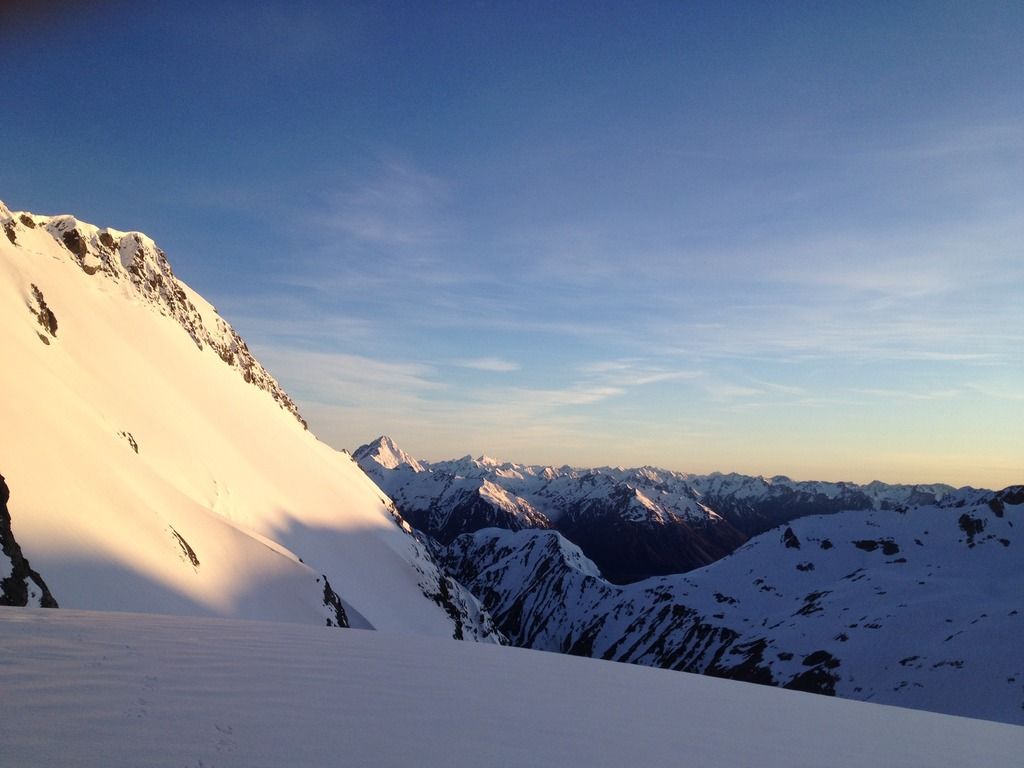 We looked up our line that made it all the way to the summit and made the call to start climbing before the sun hit it in fear of being hit by a potential wet slide.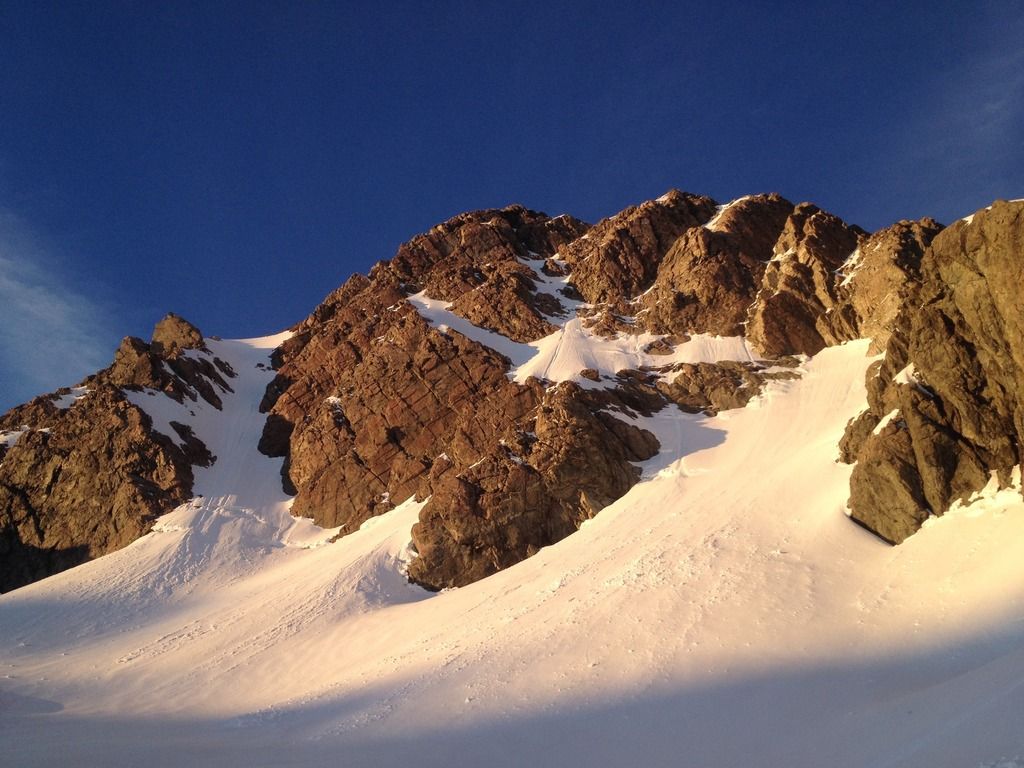 Pictures never do lines justice but this one was steep and firm climbing in which you had to focus on every step, barely getting your crampons to take purchase. Before long with a sigh of relief we had made it onto the high ridge and were looking out among the beauty of the southern alps.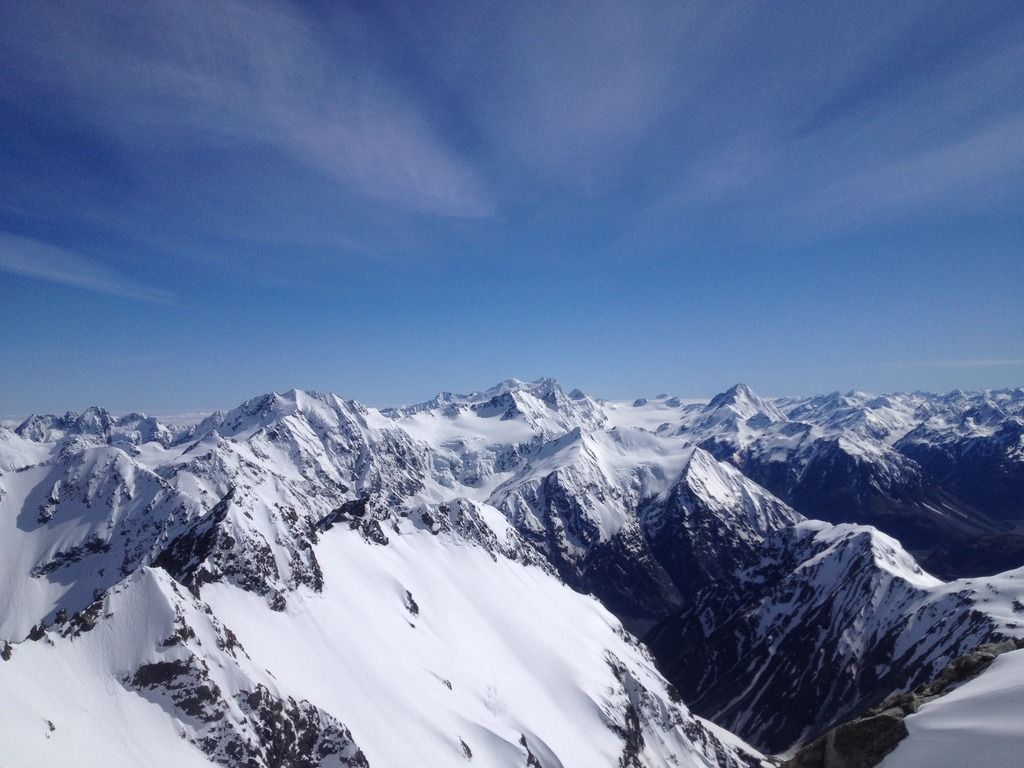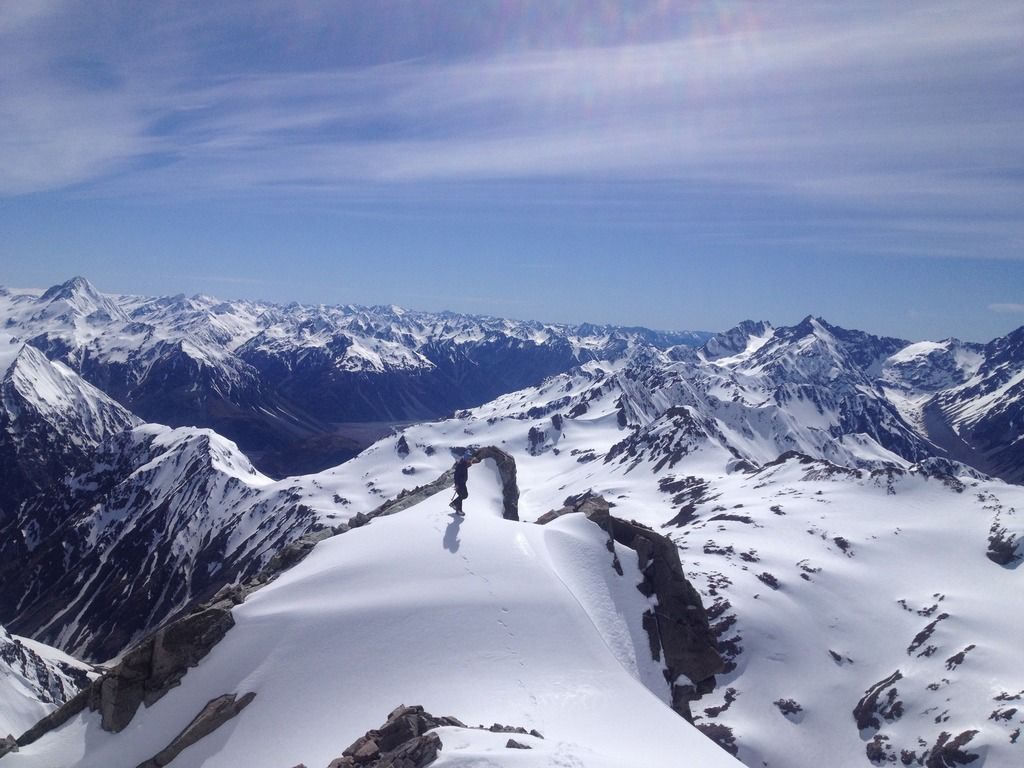 We waited for it to slowly soften trying not to be too early and not to be too late taking in the views and I cleared my mind not allowing my anxiety overcome me.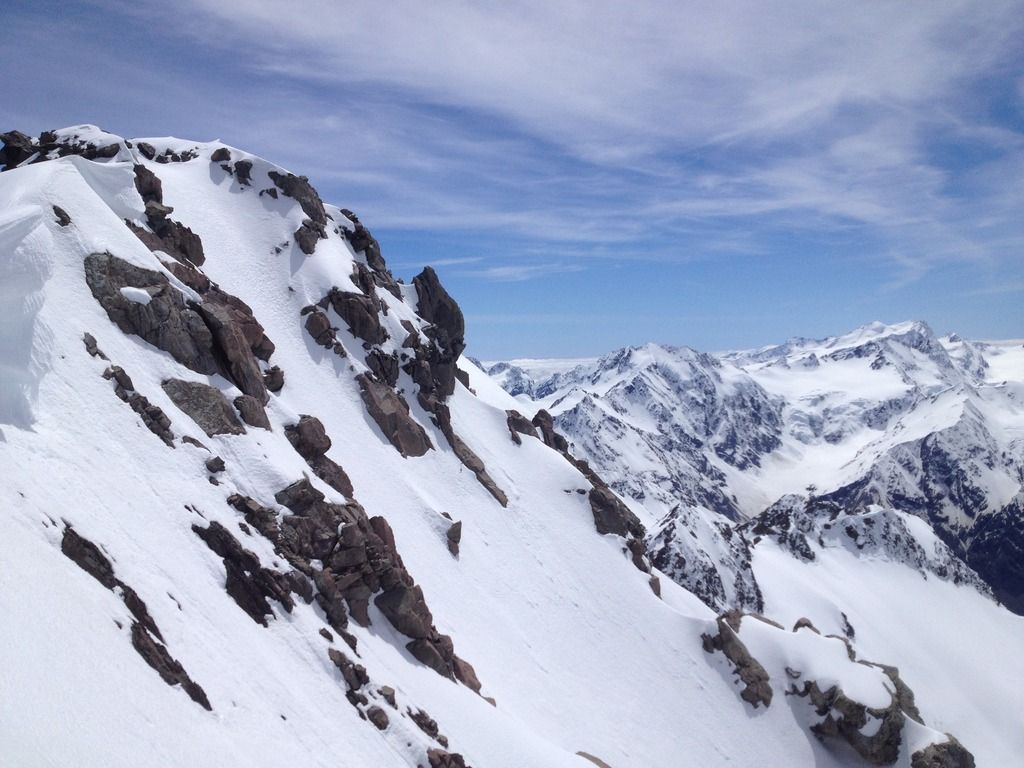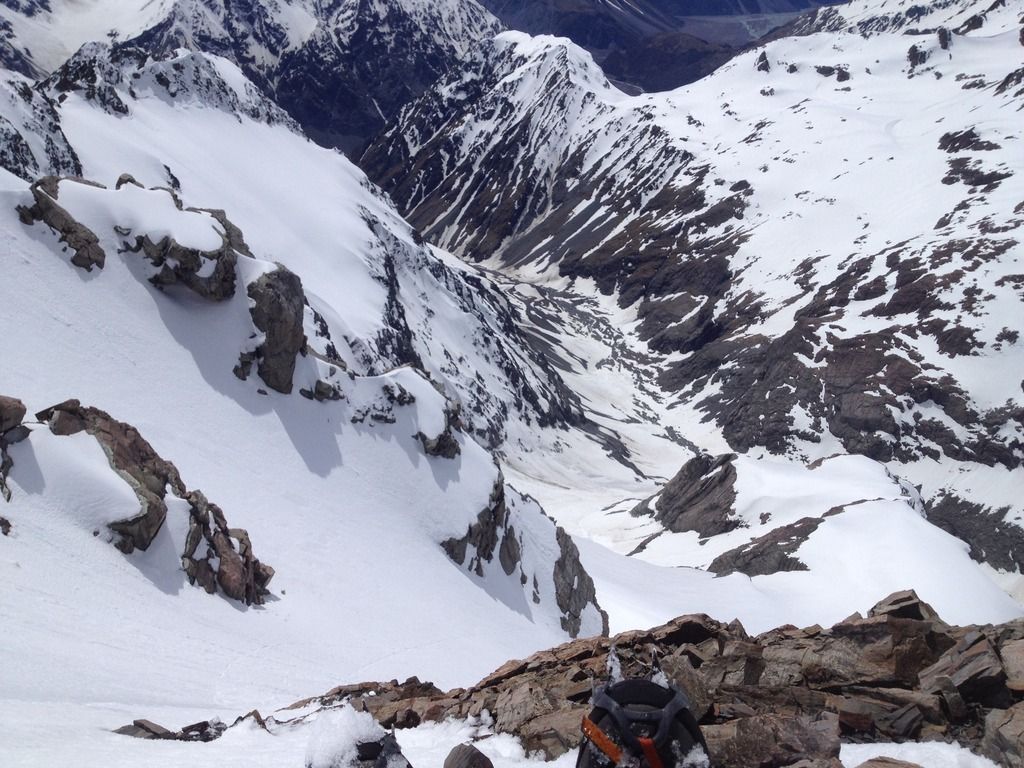 Looking back at our approach and the hut way in the distance.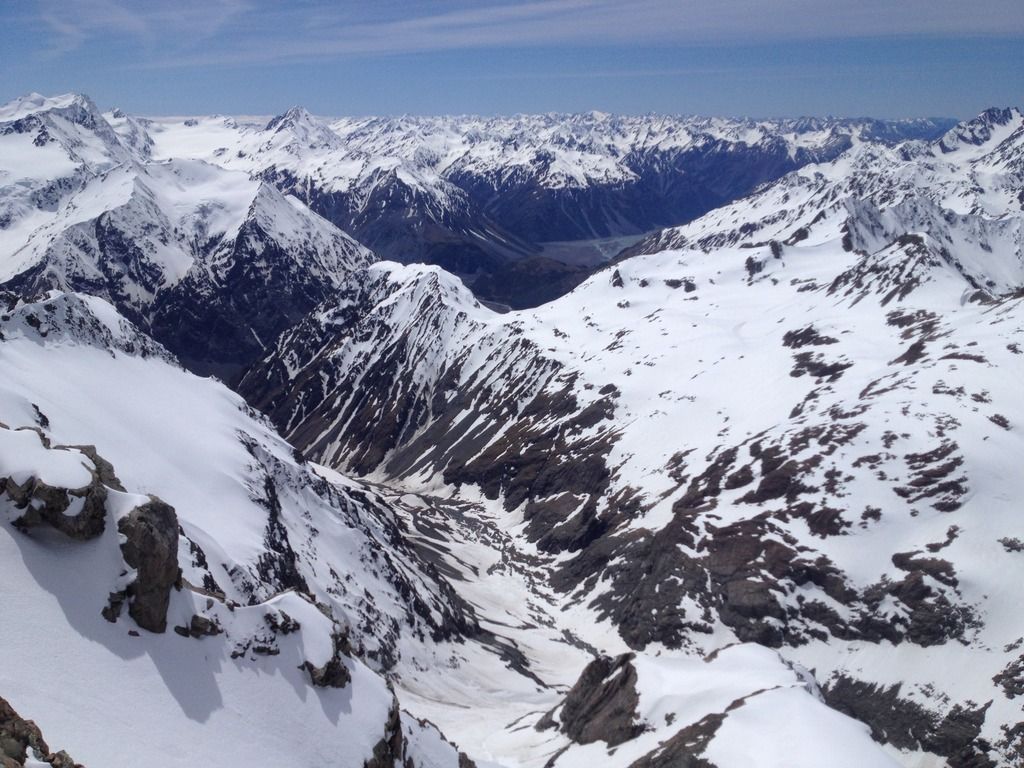 Ryan being the boss that he is dropped in first finding conditions to be somewhat firm yet edgeable and smoothly made his way down the first part of the line.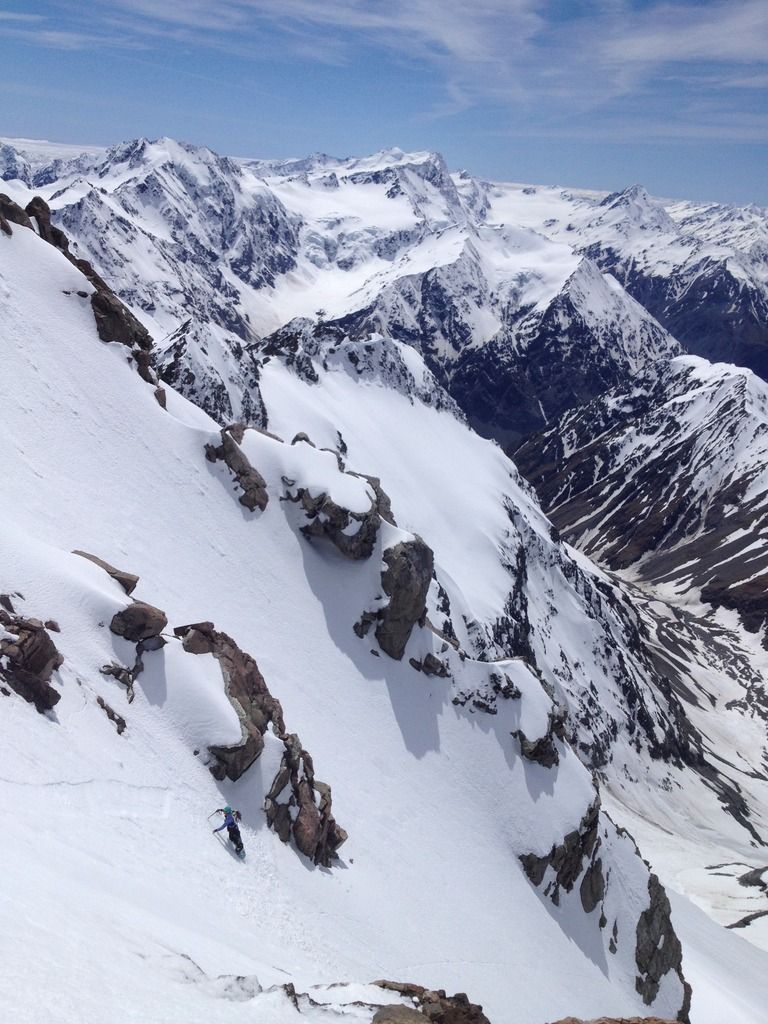 I carefully made my way down after him before feeling confident in the snow. As and snowboarder who has rode steep and firm conditions knows there is a level of trust and a bit of fear that goes into the first healside turn and after a few seconds I knew I had to go for it. There was a sigh of relief when I went for it and the edges held on somewhat soft snow. The rest of the run back to camp super fun and enjoyable with the heavy part of the line over with. I was proud and honored to do this line with Ryan and we were back at camp by 11 a.m. where we packed our stuff and headed back to the hut arriving just before sunset. For the next few days the weather was atrocious with high winds and rain making the idea of heading out not so appealing. so for the next few days we sat in the hut and read what ever books were there and made massive dinners waiting for more favorable weather. In the time span think I read "The Heart of Darkness" 3 times to figure out all the underlying plots before the weather finally cleared for the next trip. For our next trip we decided to skirt around Lyall Lake and head up the glacier to the mighty headwalls of the Rakaia walking on miles of moraine that buried the glacier underneath it.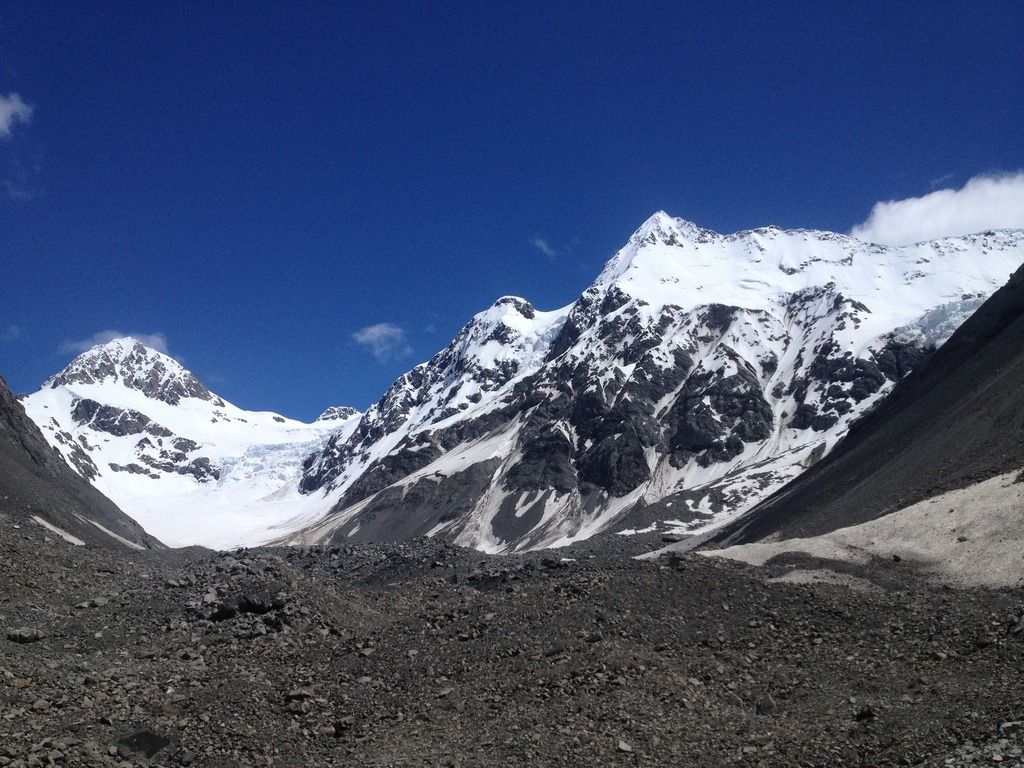 Our plan was to camp at the high col and attempt to ride the couloir in the distance if conditions allowed the next morning.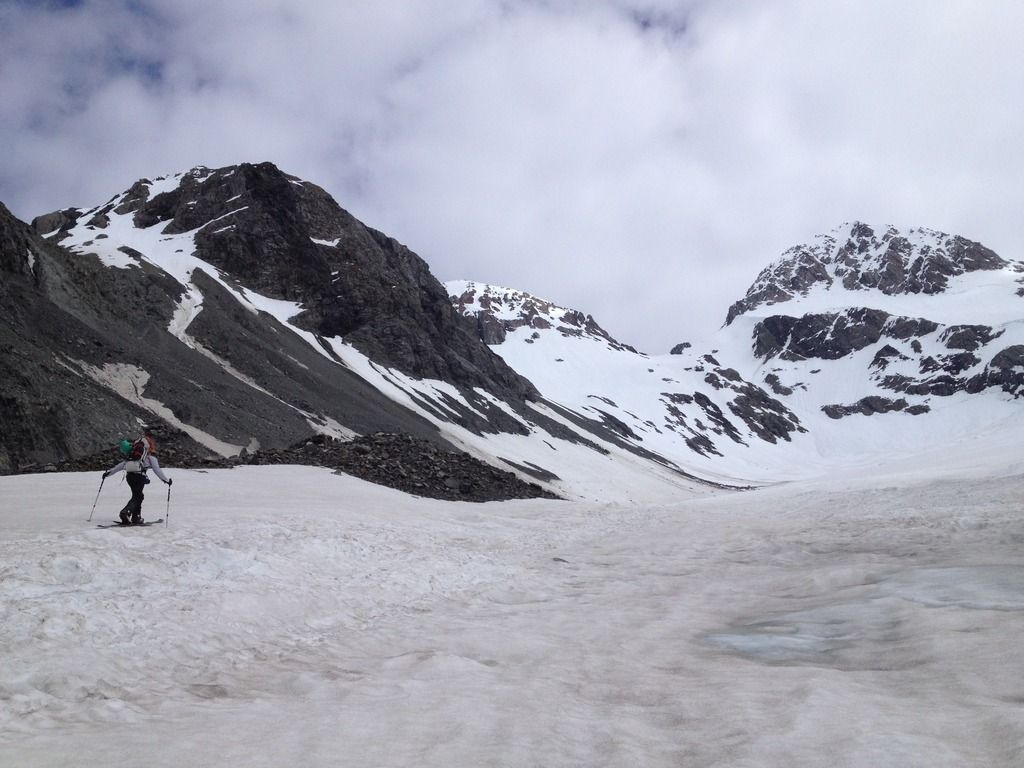 When we made it to the col we dropped off our gear and took in the views before heading for a late afternoon climb.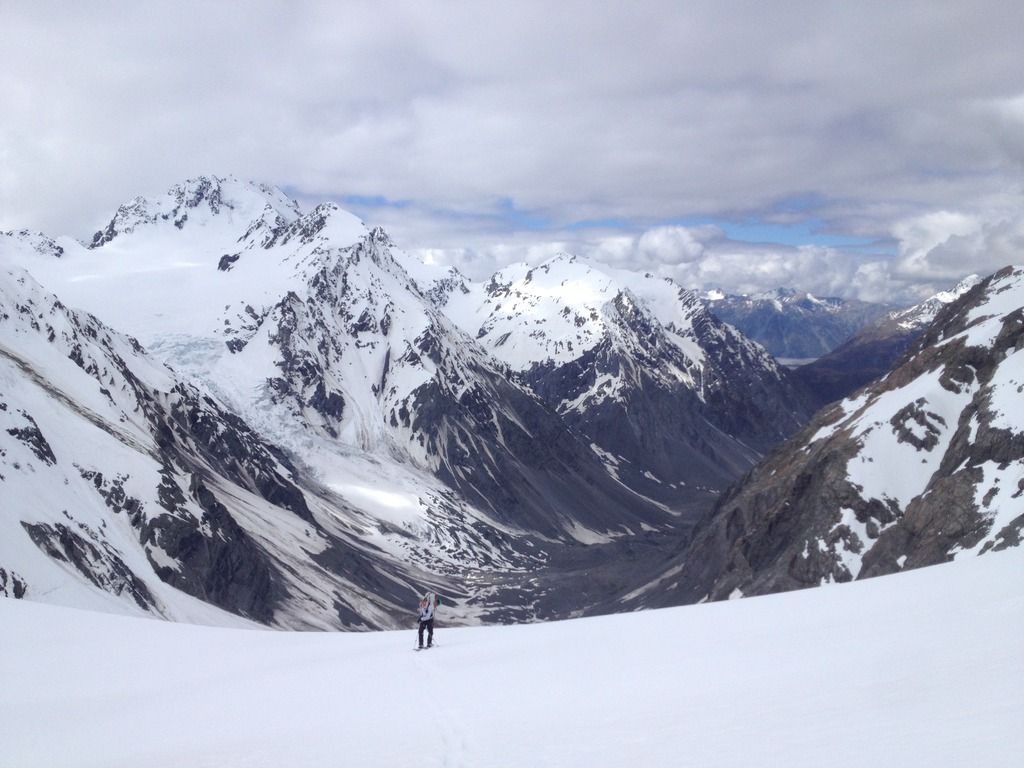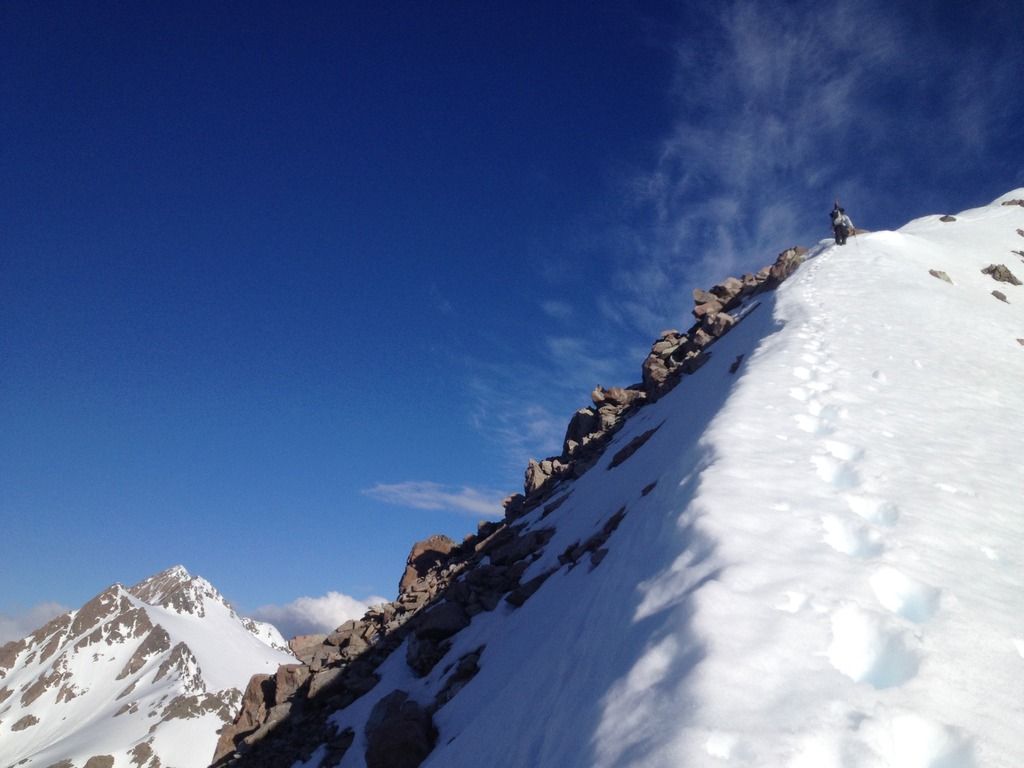 We made a descent in somewhat firm conditions than made it back to camp right as the alpenglow was lighting up the southern alps in a beautiful display of colors.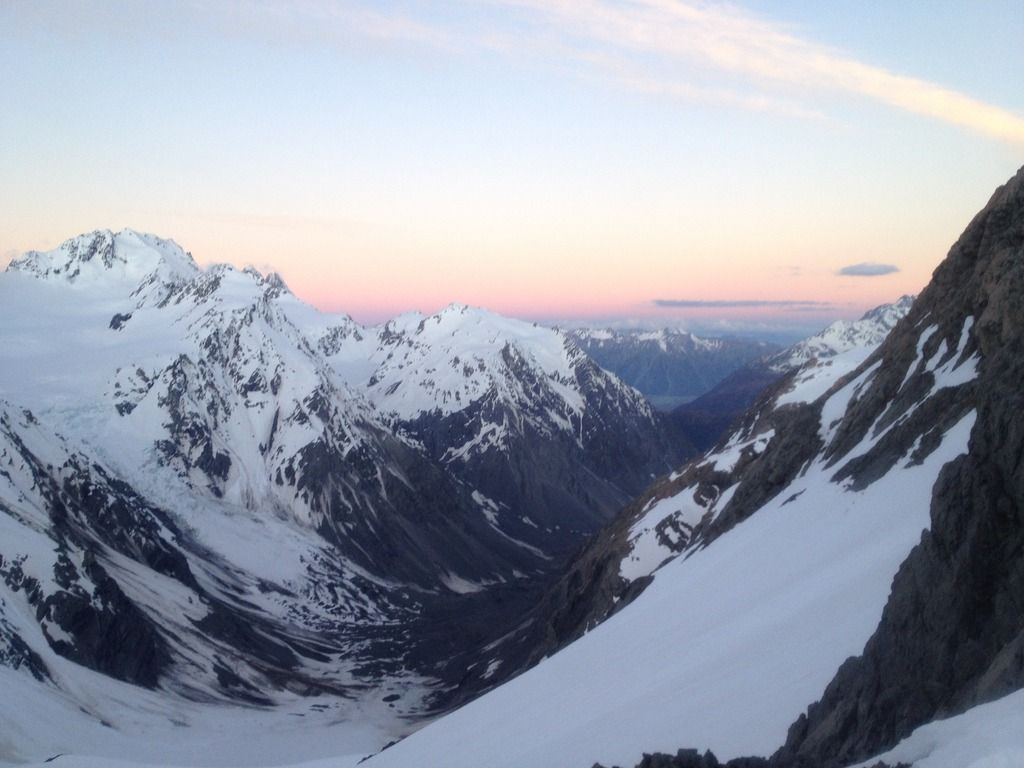 That night the wind howled and the weather stayed above freezing so the snow didn't have a chance to properly freeze. When we woke up we could hear wet slides in the distance and the approach to the line we were interested in had a small section of steep and exposed climbing that seemed to be in isothermal slush, so we made the call to turn back. It was a very hard call but we both knew it was the right call. As we walked down the glacier both sides were having massive wetslides rip to the valley floor and it reassured us that we had made the right call.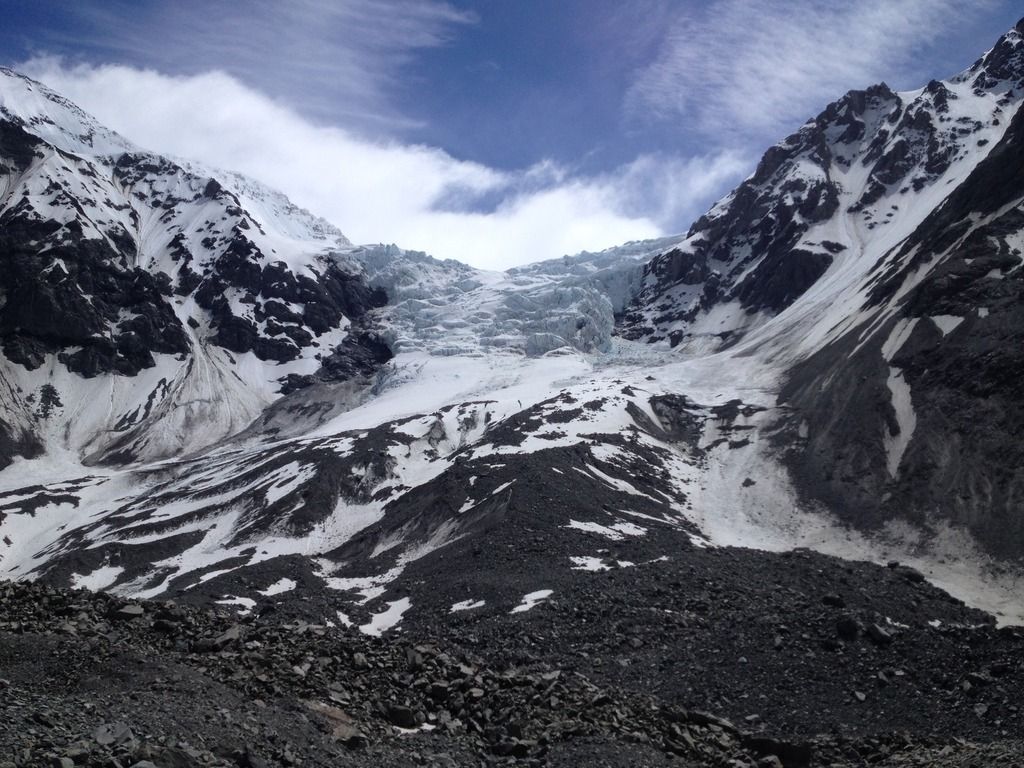 The glacier goes all the way down to the lake though if you saw this picture you would never believe it.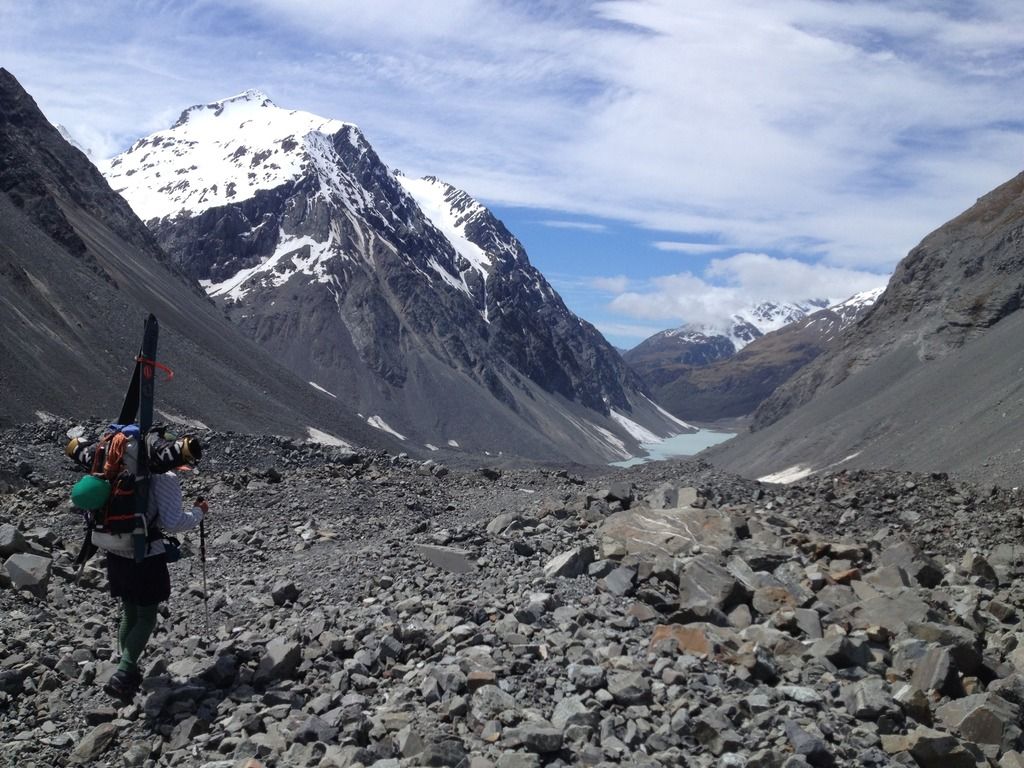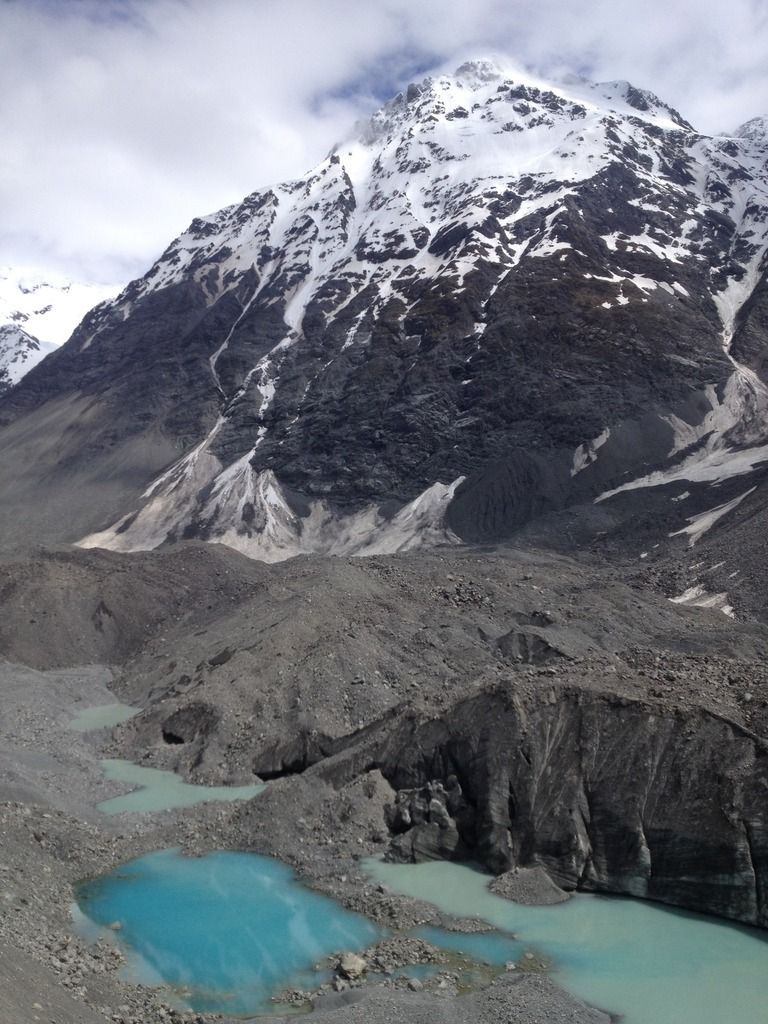 Once we made it to the hut we were barraged with bad weather again for what seemed like a week. Within this time we had one day to get out as it had snowed all the way down to the hut and we came up with plans to climb a near by peak. When we prepared for the climb I layered up with my baselayer bottoms under my shorts while Ryan just wore shorts. I thought this was unusual until we made it up to a low col and I was completely soaked and shivering by bashing though snow covered grass. I had hoped that the sun would come out and dry off my gear but there was little chance of this happening and I had to make a decision, keep on heading up and take the chance of getting hypothermia or turn back and not chance it. I chose the latter and went back to the hut, built a fire and dried off my wet clothes while Ryan went for the peak. It was a hard decision but I knew that I made the right one. a few days later the weather broke for the morning and we were able to call in a helicopter to fly us out to the west coast. This trip had a bunch of highs and lows but I had no regrets as making the wrong decision had the potential to be fatal and that was not something I was not willing to undertake. New Zealand can be brutal for numerous reasons but I knew I had played my cards right as I had made it out in good health but most importantly I had learned quite a lot about myself both in the high country. For two weeks after that I stayed with my good friend Chris Rayner and kept him company as he worked in his garage building a CNC machine and 3D printer all by hand (this dude is a legend) before a weather window was finally going to open up. Ryan was interested in doing a 3 peak bag of Rolleston High Peak, Armstrong and Philistine in Arthurs Pass. This was an area I had looked at numerous times across the valley from Temple Basin and I was excited to give it a go. In the end this trip took 22 hours where we started in the dark and ended in the dark, but man was it the great ending that I needed. From 55 degree almost ice climbing to exposed ridge walking everything turned out perfect and I could tell that my years in New Zealand had really helped me learn invaluable techniques when climbing.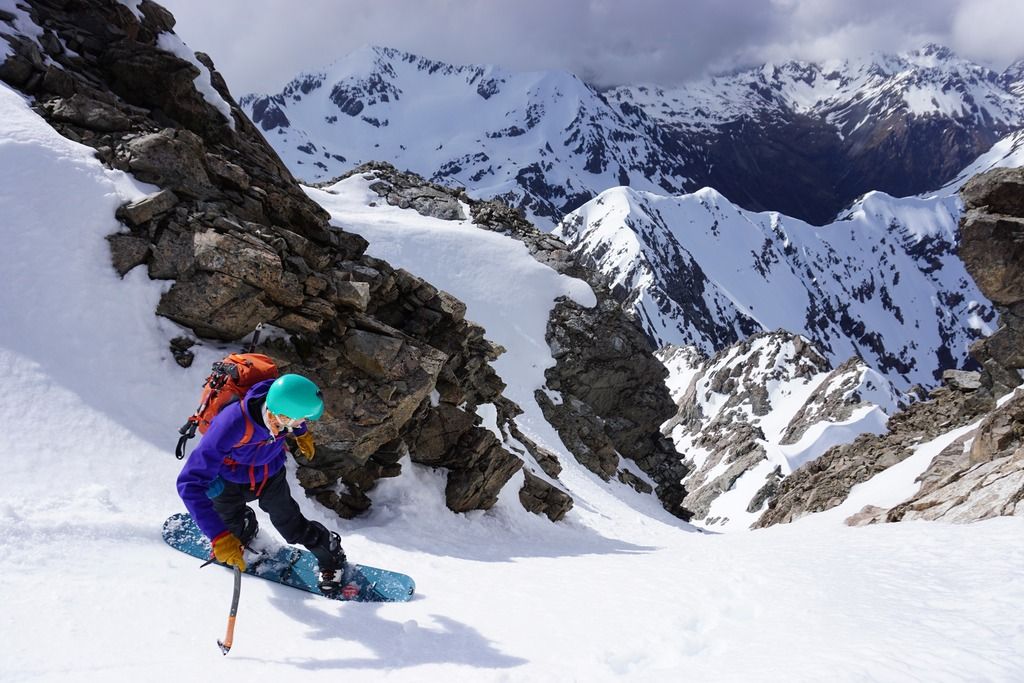 Those 4 months in New Zealand had many highs and lows but with a dire snowpack and dismal weather conditions we did what we could to make the best out of it, and that's what we did. As I get deeper and deeper into the Southern Alps I quickly realize I have only scratched the surface of possibilities. This land is an adventure lovers paradise, with a rich history of mountaineering and great people pioneering the endless mountains. Though conditions can be pretty harsh, it is the rugged adventure and the people who have brought me back year after and to them I have to say a huge THANK YOU and it's been a pleasure sharing these trips with you.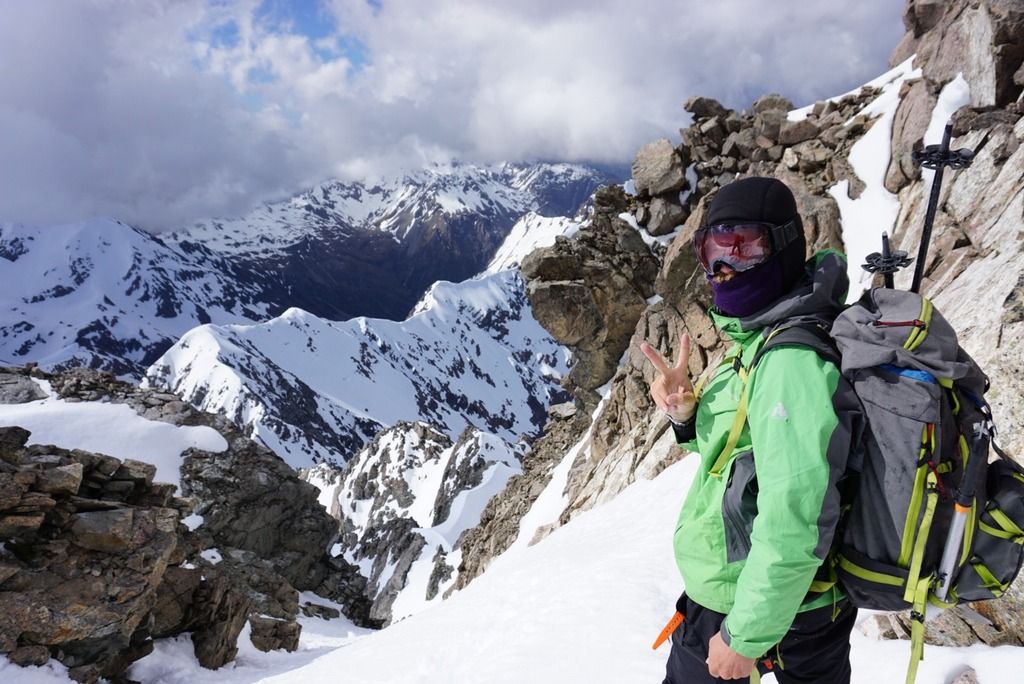 First off I have to Thank my main sponsors who without them none of this would be possible. Eddie Bauer Chimera Splitboards Karakorum Splitboard Bindings Thermarest and MSR and Licence to Chill Next my friends Pow Slash Wigley, Zach Clonton, Remi, Holly Walker, Ryan Nicols, Chris Rayner, Yossi Jager, Adam Flemming, Jaime Flemming, Mike Cheney, Shane Orchard, Rich Hartcourt, Adam West, John Luzinsky, Stu Waddel, Oliver Bersani, Caley George, Kristen Elliot and the Eddie Bauer crew, Bryce and Tyler Kloster, Russell Cunningham and the Karakoram crew and Alister Horn from Chimera as well and as the crews from Broken River, Temple Basin and Mount Olympus. Thanks for joining me and until the next chapter