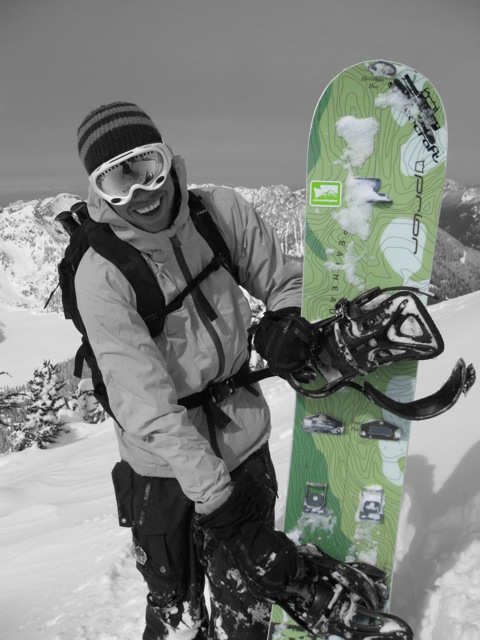 If you're looking for a state-of-the-art, all-around splitboard, look no further, because Prior has perfected the trade.
Prior
handcrafts snowboards and skis in Whistler, Canada, specifically to buyer specifications based on designs inspired by the Pac NW's cascade concrete and sierra cement. Who better, then, to create an all-around board that handles well in variable conditions? Though they've got an impressive lineup of splitboards in general, Prior's
Backcountry Split
is one of the most versatile boards on the market. With a somewhat shorter effective edge and a smidge of traditional camber, this semi-stiff board is manuverable and can hold an edge when you need it to, and you can trust it to respond quickly in gnarly situations (example: Kyle used it descending Mt. Rainier's iced up Gib Chute). At the same time, however, the subtle sidecut and significant width allow the board to float through powder and carve huge, arcing turns when you want to rip at mach 10. Overall, this is a torsionally rigid, versatile split that's responsive and great for spring touring. The crappier the conditions, the more you'll love this board, as it powers through crud and won't get tossed around, whether your riding ice, corn, cookies, or sun cups. Because the majority of the friction generated by your climbing skins occurs directly under your bindings where you apply weight, this substantial-width, shorter board is also surprisingly efficient on the skin track.
Best for: Spring touring; especially recommended for variable terrain and technical descents.
Specs:

Lengths

: in 4 to 5 cm increments 149 to 176;

Effective Edge

: 113 cm- 135 cm;

Stance

: 17"-25" for all lengths;

Weight

: 7.2 - 10.14;  Click for Full Specs from Prior.