This trip was originally written on both
Eddie Bauers blog
and on
Turns all year
. For a far superior trip report check out
Jasons version of the Osceola Traverse
I owe many thanks to Jason Hummel and Ben Starkey for there photos. So here it is
The Osceola Traverse: From Carbon River to White River
We took four days to climb deep onto her northern flanks and glaciated slopes. We crossed frozen lakes, lumps of powder-covered slopes, numerous summits, bits of winter rainforest, alpine tundra and summer buildings buried deep in our thick maritime snowpack. At the outset, our plan was simply wild—we'd start off from a low point of 1,700 feet above sea level, deep in the Carbon River rainforest, and follow the mountain all the way into the high country and exit via the White River. Brutal? Yes. A little crazy? Sure. But stylish? Definitely!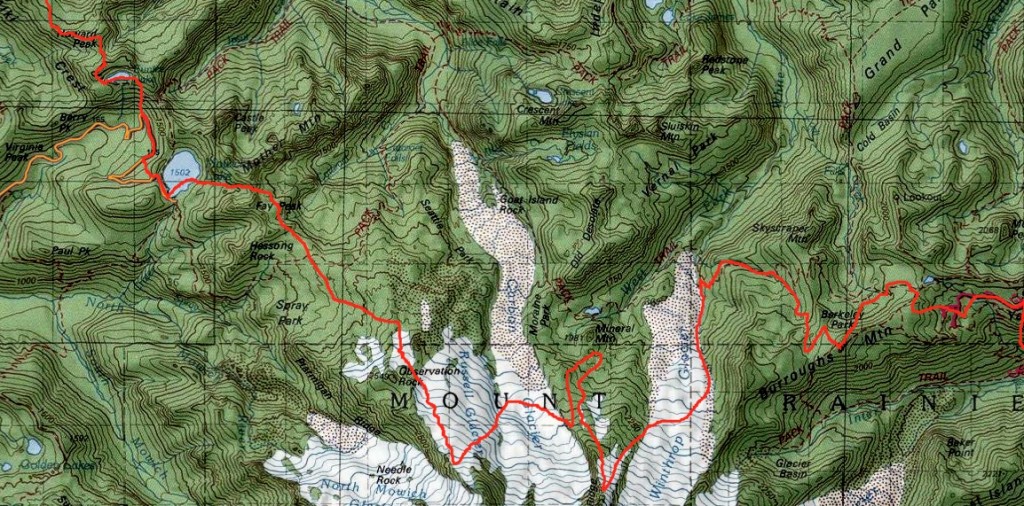 Day 1: Carbon River to Mowich Lake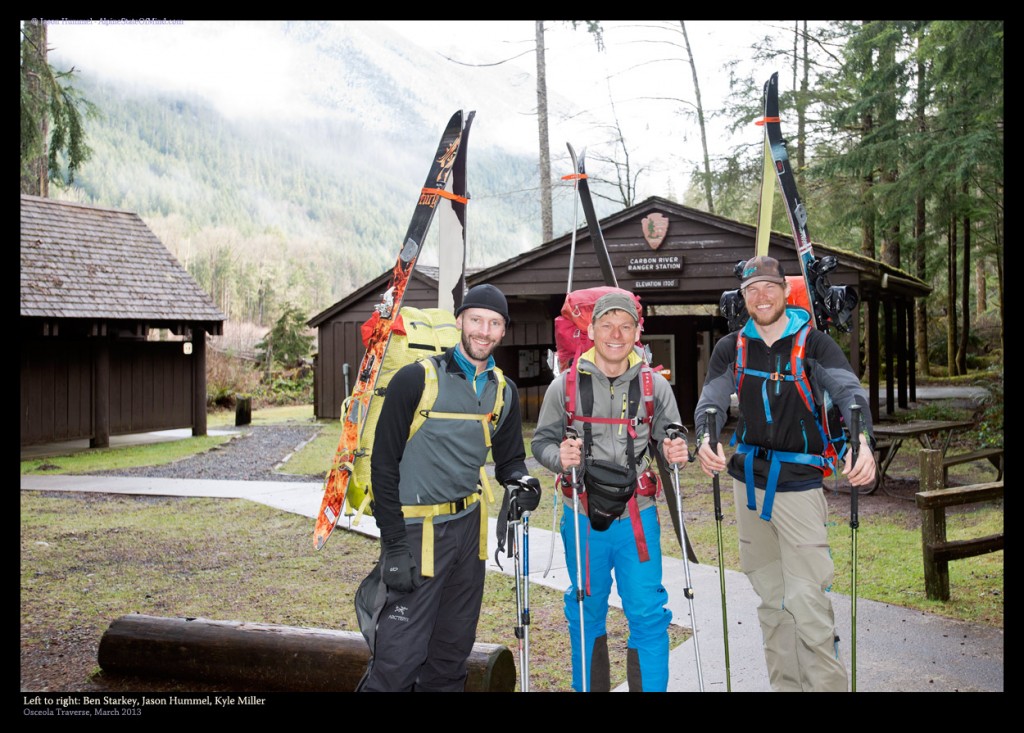 Our first day would take us from the Carbon River to Mowich Lake, as rain and snow fell. Trails quickly got lost under increasingly deeper snow, and soon enough we were blazing our own trail. From the moment we left the trailhead we were totally alone. It took a while to adjust, but after years of isolated climbing, I find it comforting. Climbing in solitude makes me feel at home, in control. I'd like to say we quickly made it to camp, but that was not the case. We climbed, traversed and descended from daybreak to dusk, arriving tired, cold and hungry, to a place that's usually a campground, though you couldn't really tell this time—it was buried under ten feet of snow. That night, I dreamt hungry, of summer sunshine and stuffing my face with food as the floodgates of old memories opened. The cold can take away physical feelings, but the emotions and the mind remain in even the harshest of temperatures.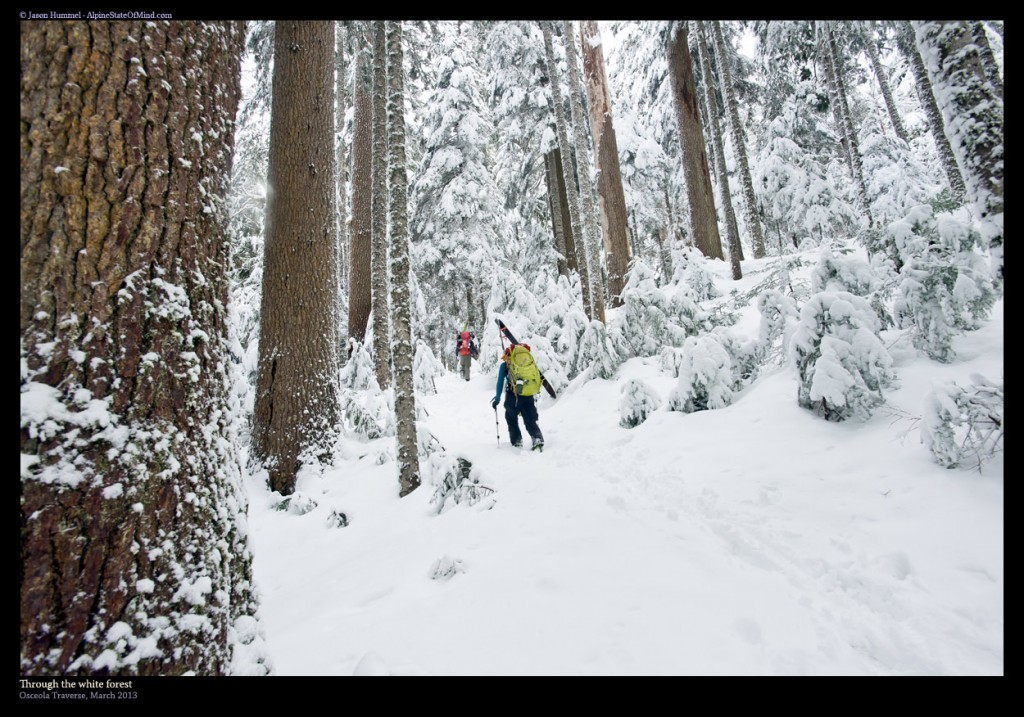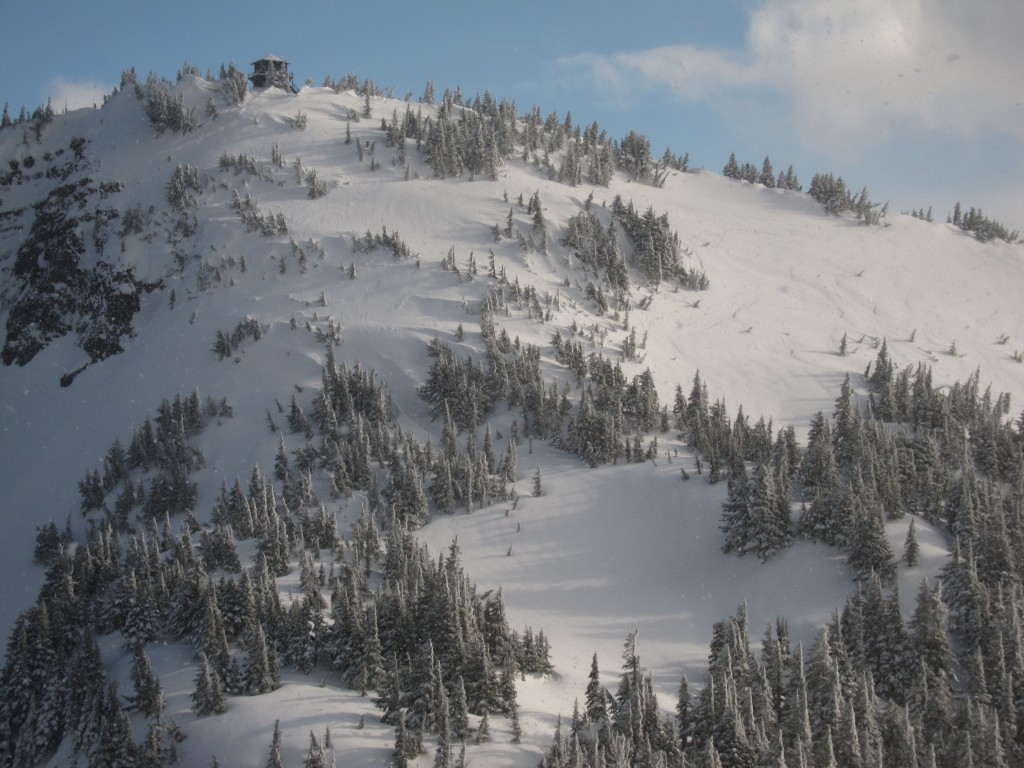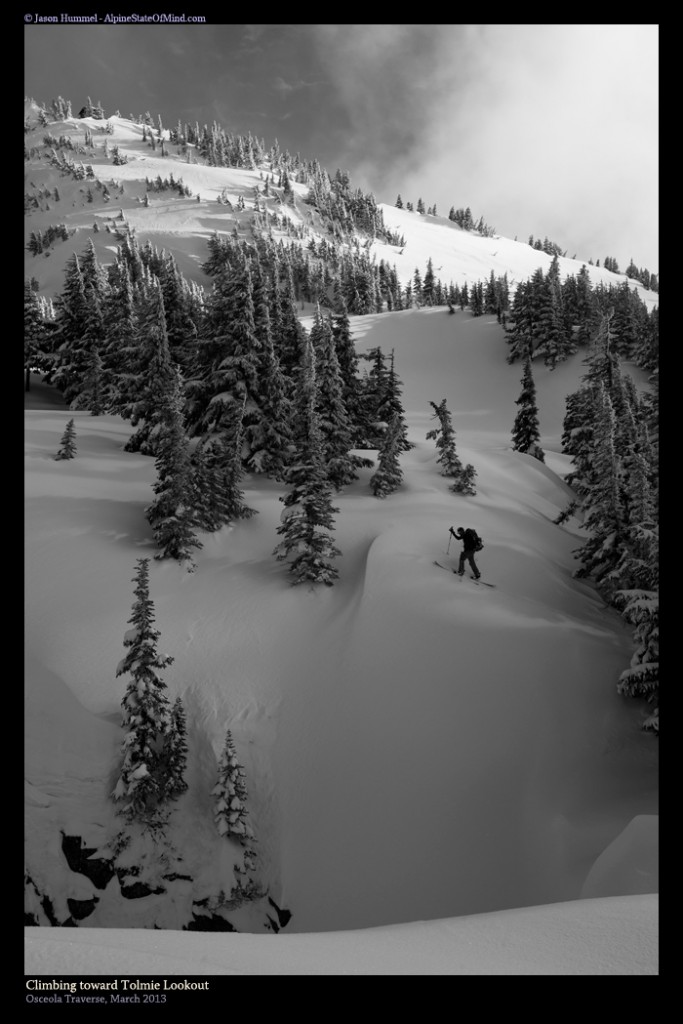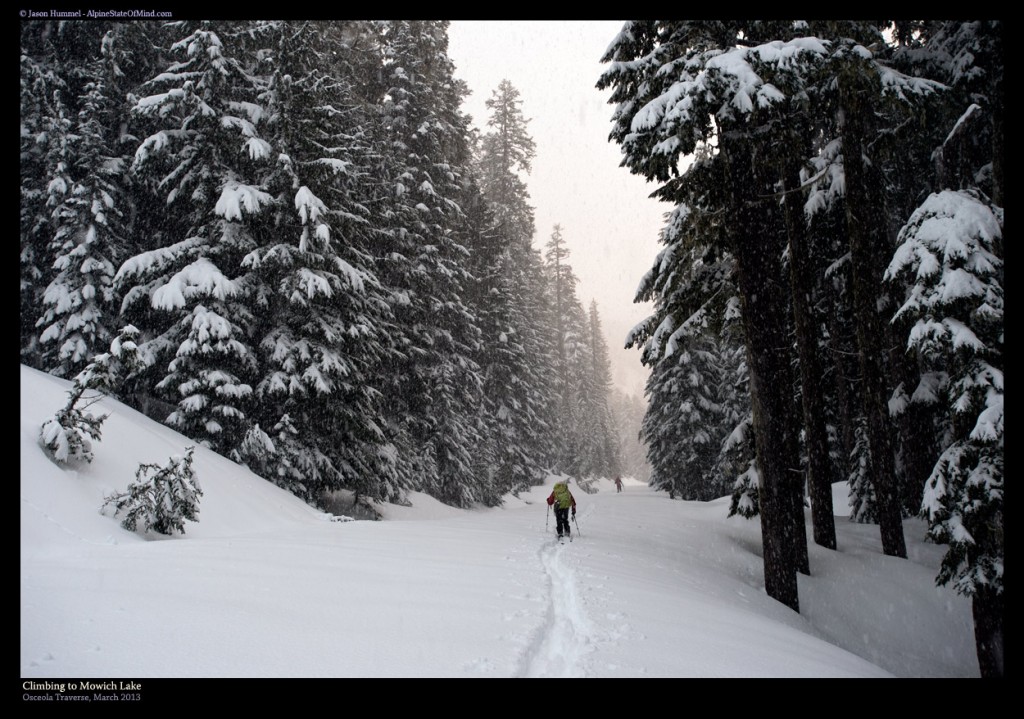 Day 2: Mowich Lake to Curtis Ridge
We woke surrounded by ice crystals. Our tent provided shelter from the elements, but the cold had its way with every drop of moisture. It's a cruel world when everything you possess is frozen, and the only thing separating the early-morning sun from you is the mountains that stand in the way of the painfully slow sunrise. In times like these, you just have to believe that it'll warm up when you start moving; you just have to go for it. The first few hours disappear into the entertainment of breaking trail. My skin track is my signature on nature's beautiful, untouched, white canvas of the mountains.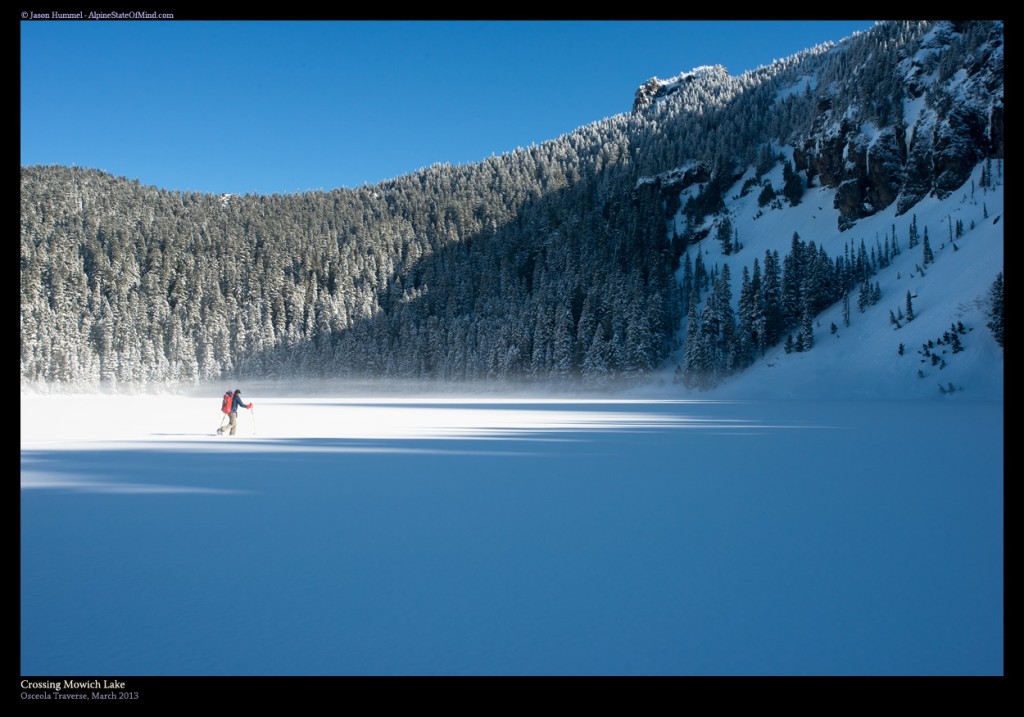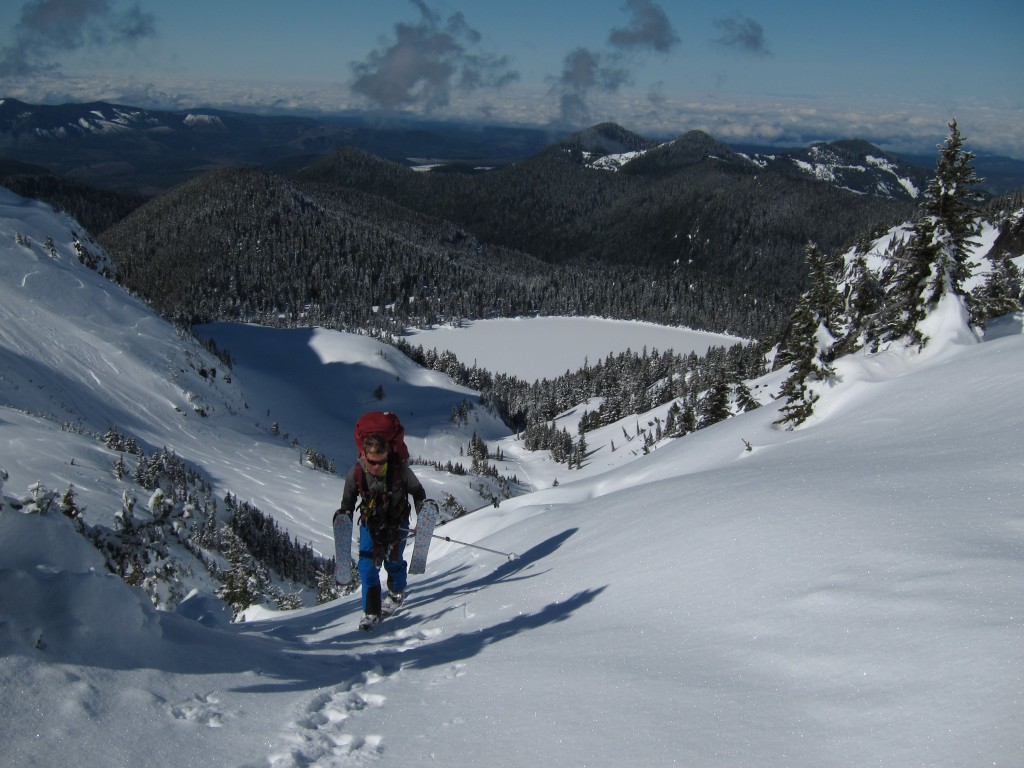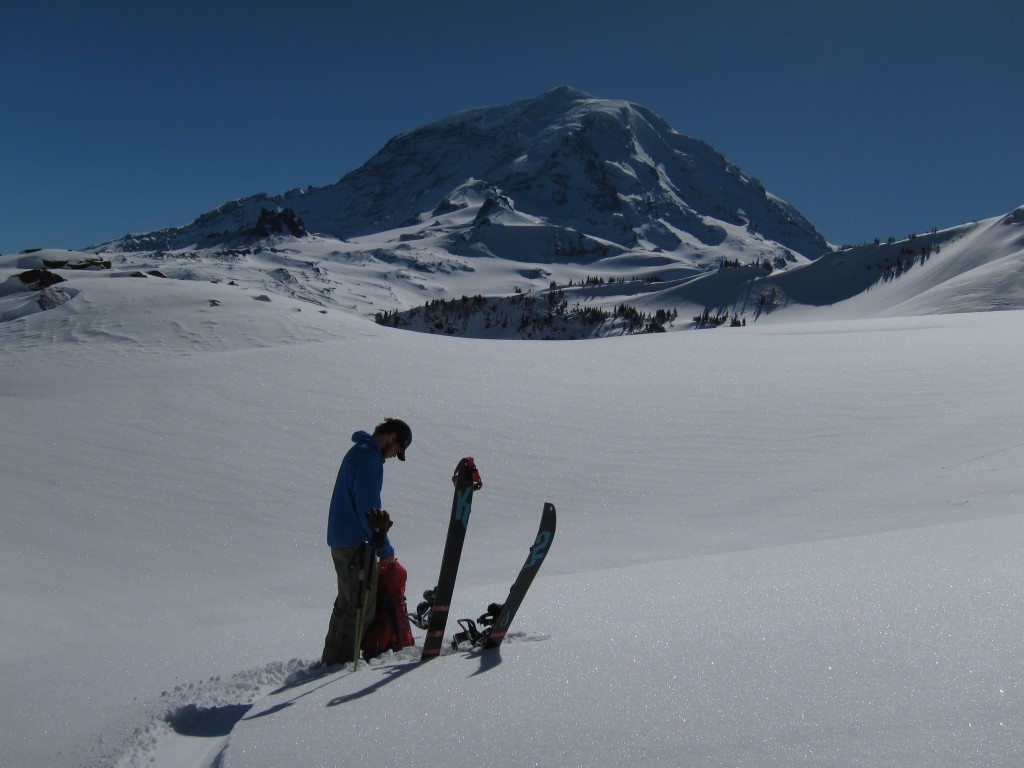 Soon we make our way to Spray Park. I can't count the number of times I've camped here, but this time it's different: no luxurious camping, no pretty girls to keep me company, no rangers heckling me about getting a permit. Before long, we make our way high onto the Russell Glacier. All that stands between the Carbon Glacier and us is 3,000 feet of perfect powder, which we happily plunder, burning dozens of faceshots into ever-etched memory.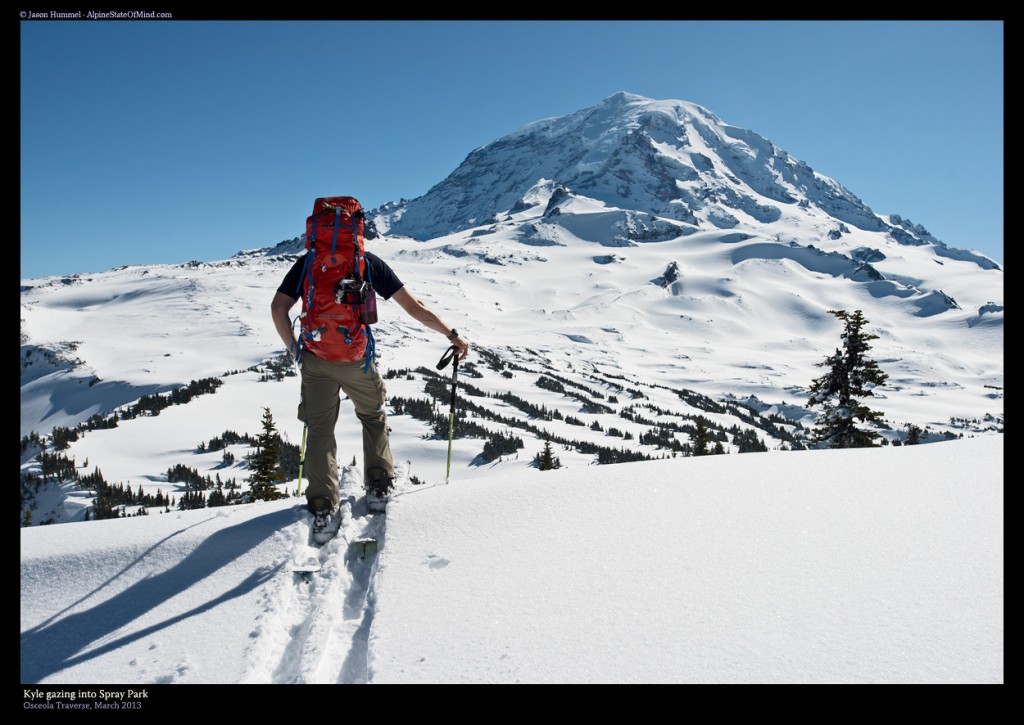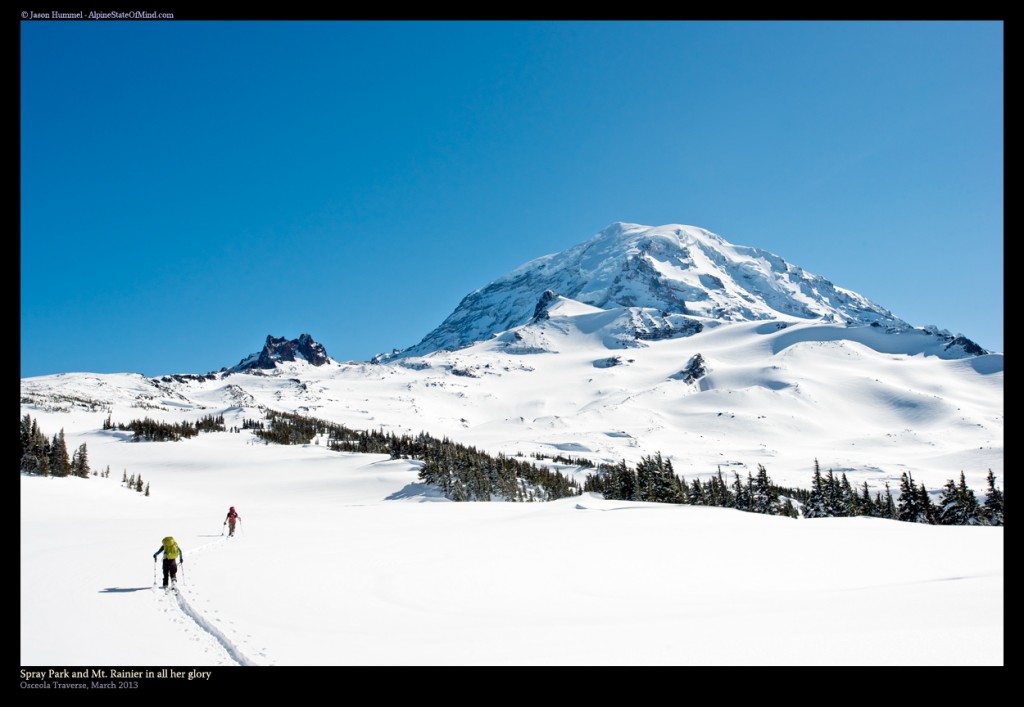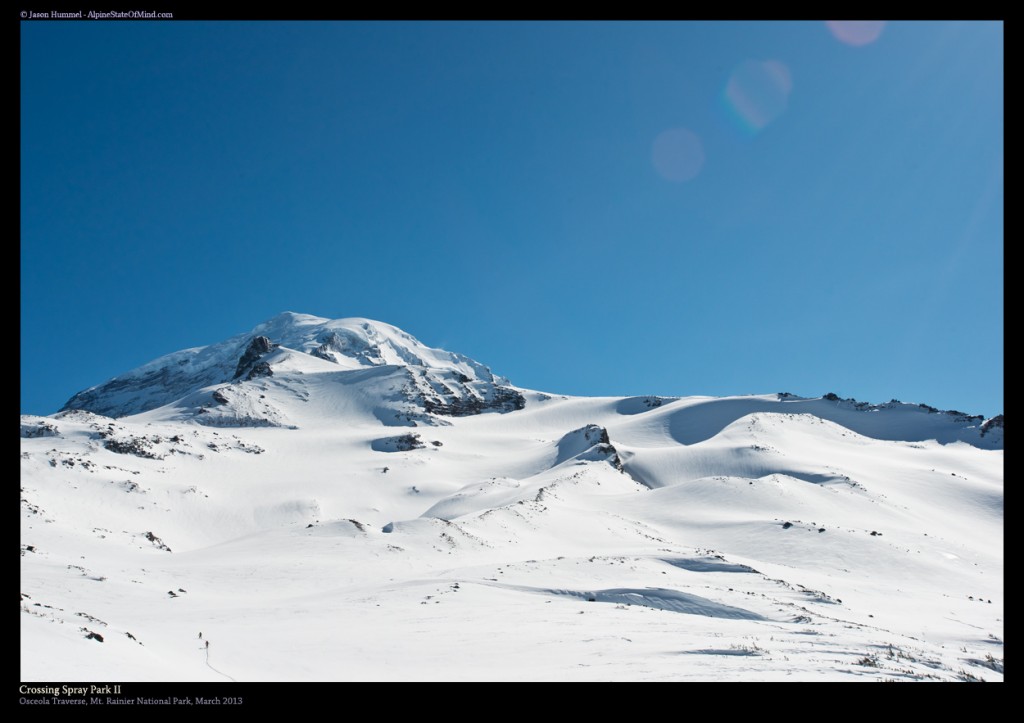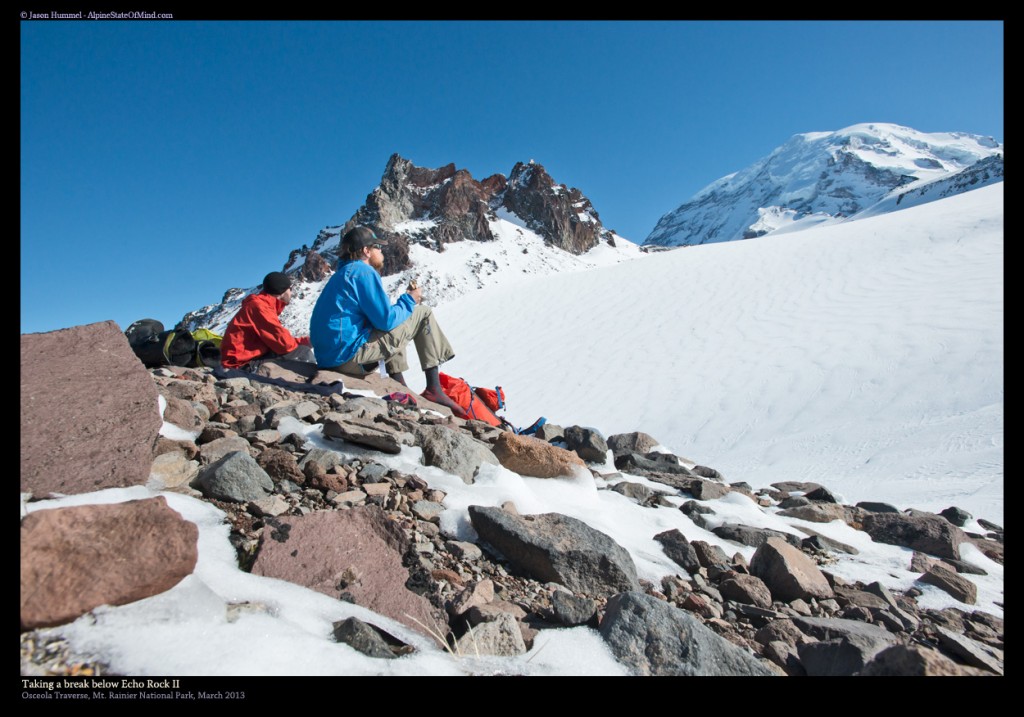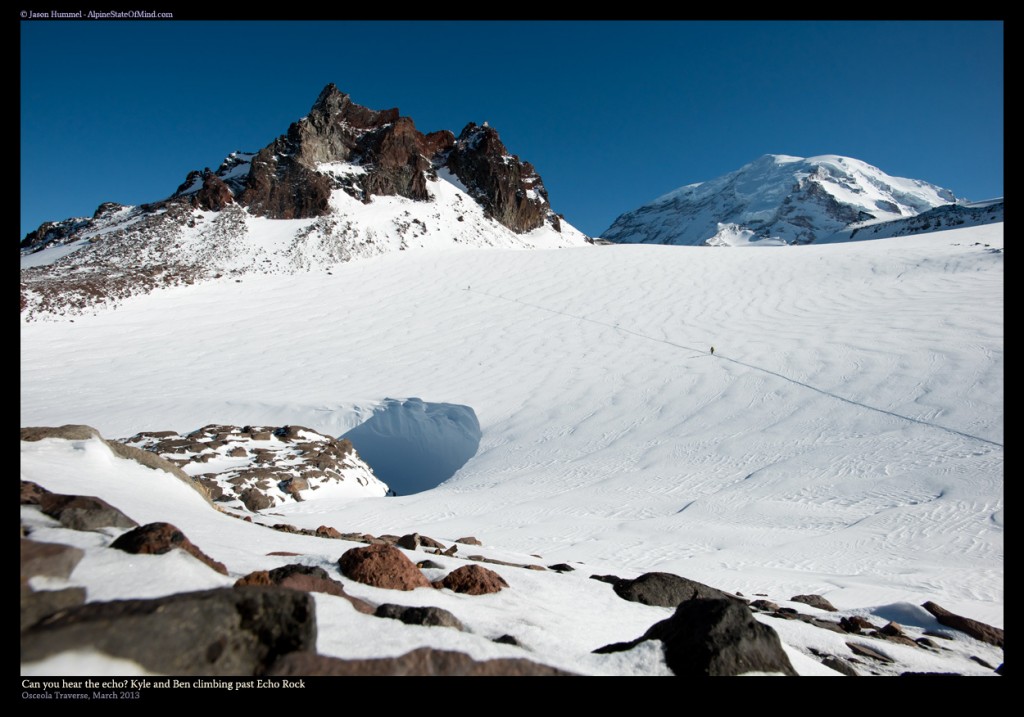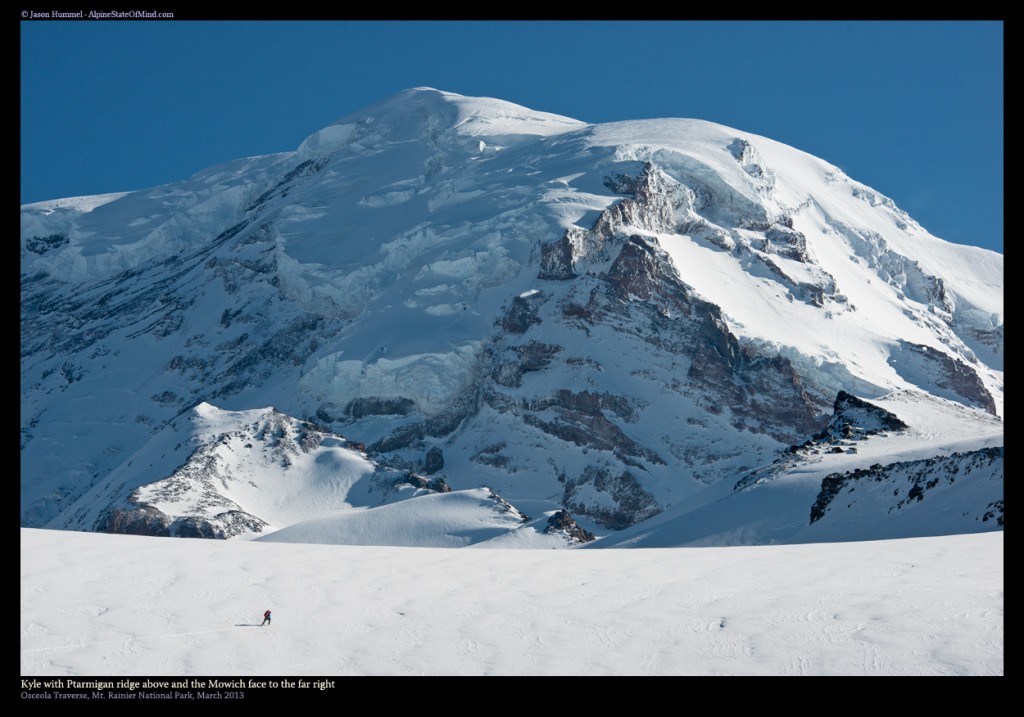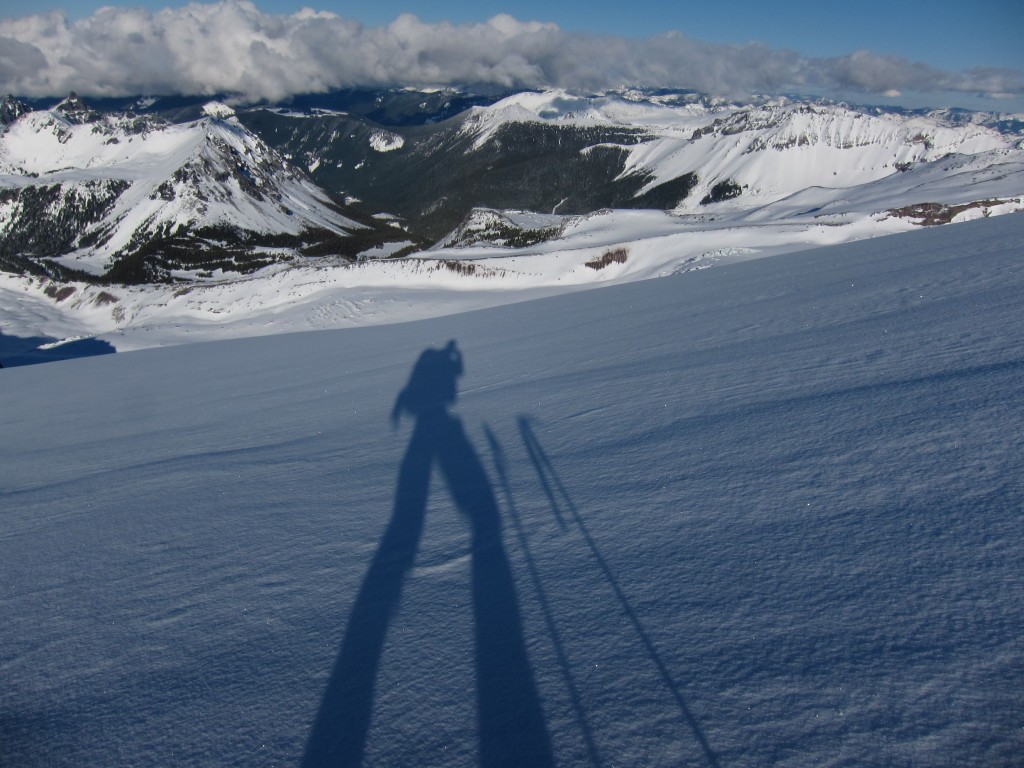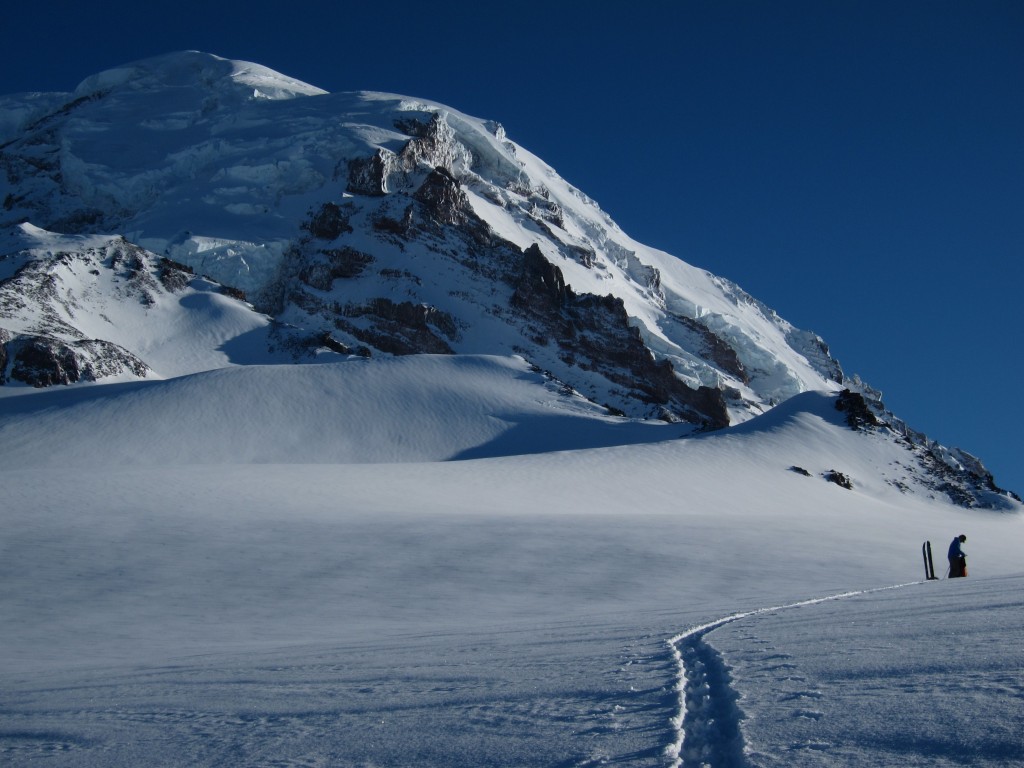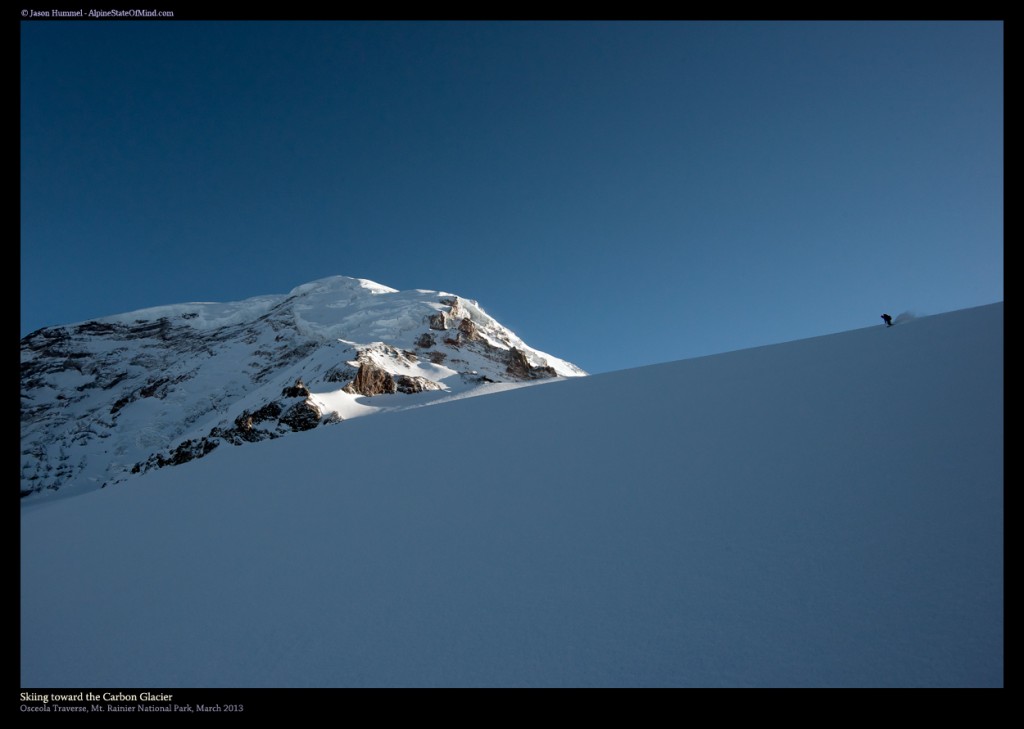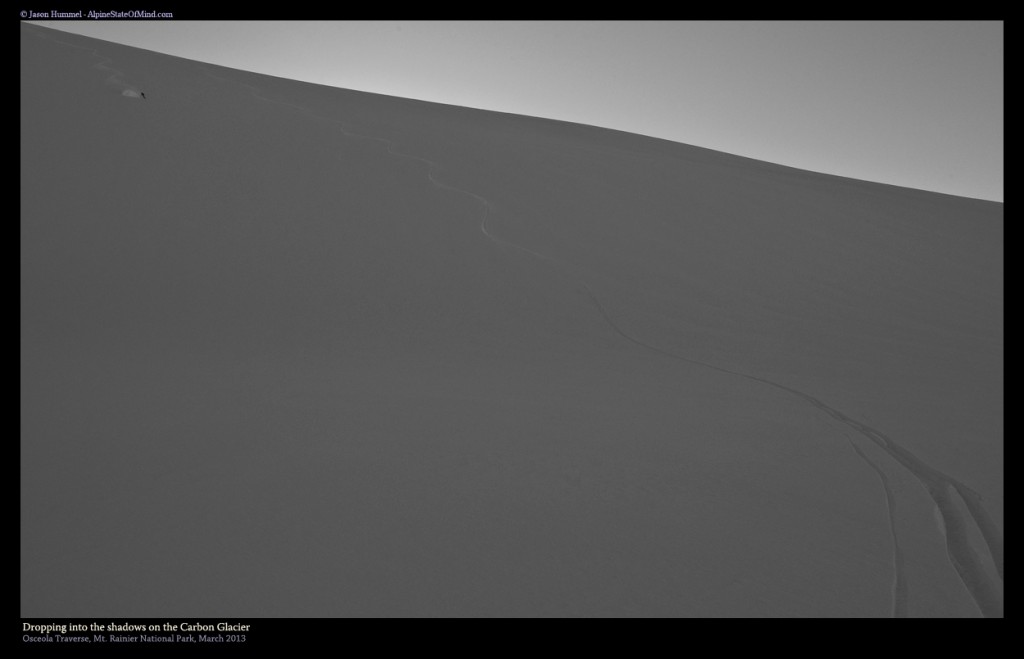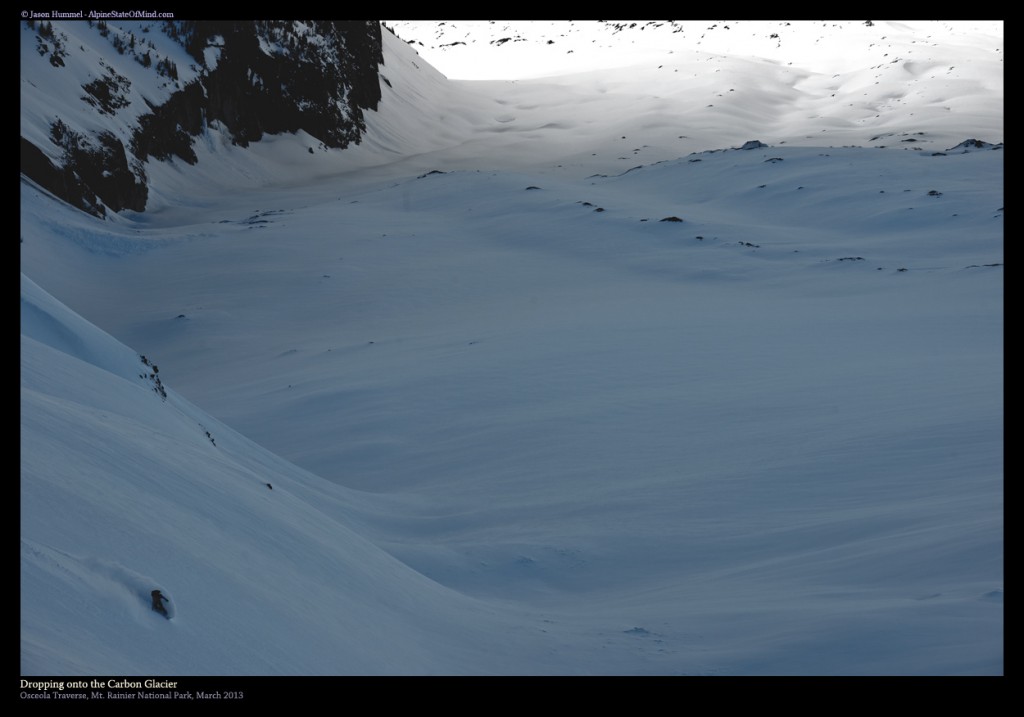 Once on the Carbon, the temp drops dramatically and my body responds. I hastily make my way across the deepest and lowest glacier in the lower 48, mesmerized by serac towers and the mighty Willis Wall. These features let us know—in their silent way—that if we don't respect Mother Mountain, we'll pay with our lives. We crest Curtis Ridge at sunset, as the alpenglow leaves the distant peaks ablaze. We opt for a high-country camp in order to capitalize upon the amazing views. "A picture is worth a thousand words," they say, and the view attests to the truth in this.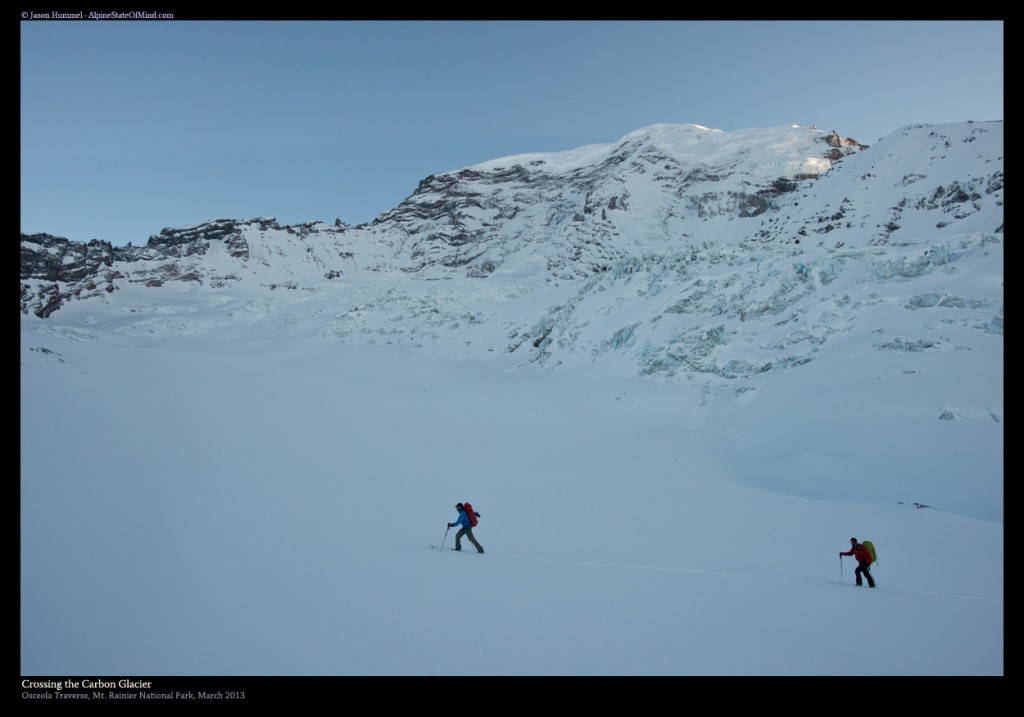 [/caption]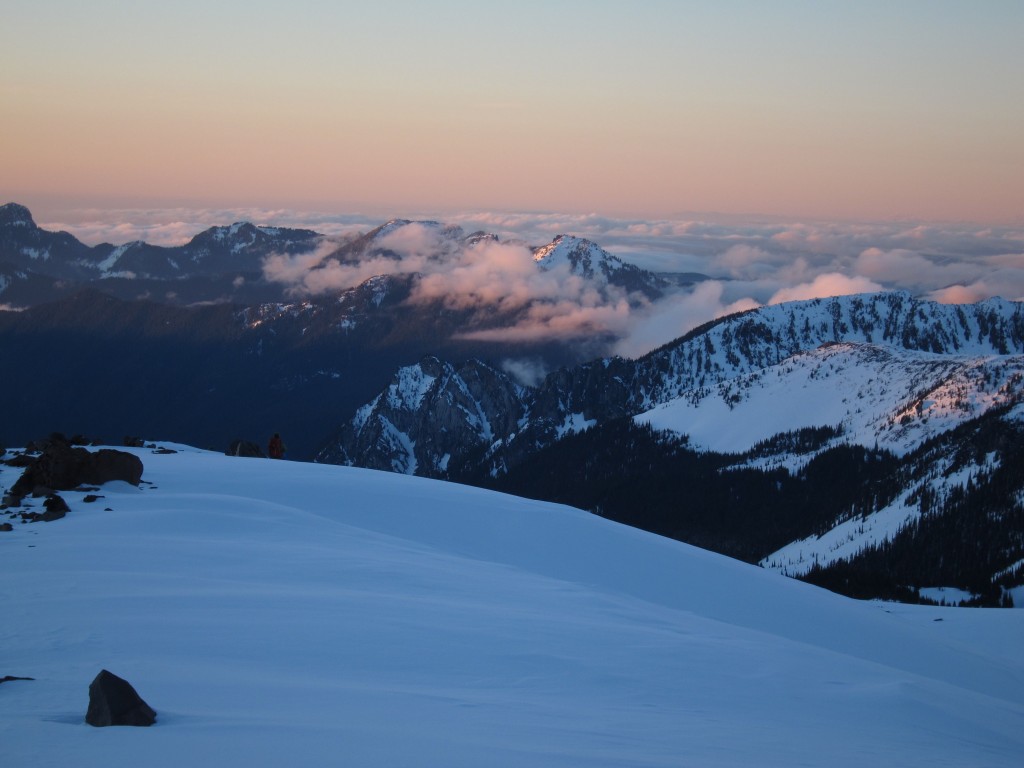 Day 3: Curtis Ridge to Sunrise
It isn't long before we awaken to the sun cresting over the eastern slopes. We all know it's the crux day, but no one mentions it. Instead, we joke around and play a quick game of tent volleyball. There's something nice about being naive (or in denial) about the perils to come. I used to have this art perfected, but with each passing year, I lose more and more of my innocence. Fortunately, I have made up for it by retaining my youthful playfulness, another art I have mastered. My focus quickly moves to putting in my perfect skintrack. I work with her curves, making my way up to Curtis Ridge. Below us flows the mighty Winthrop Glacier, and she dominates the view.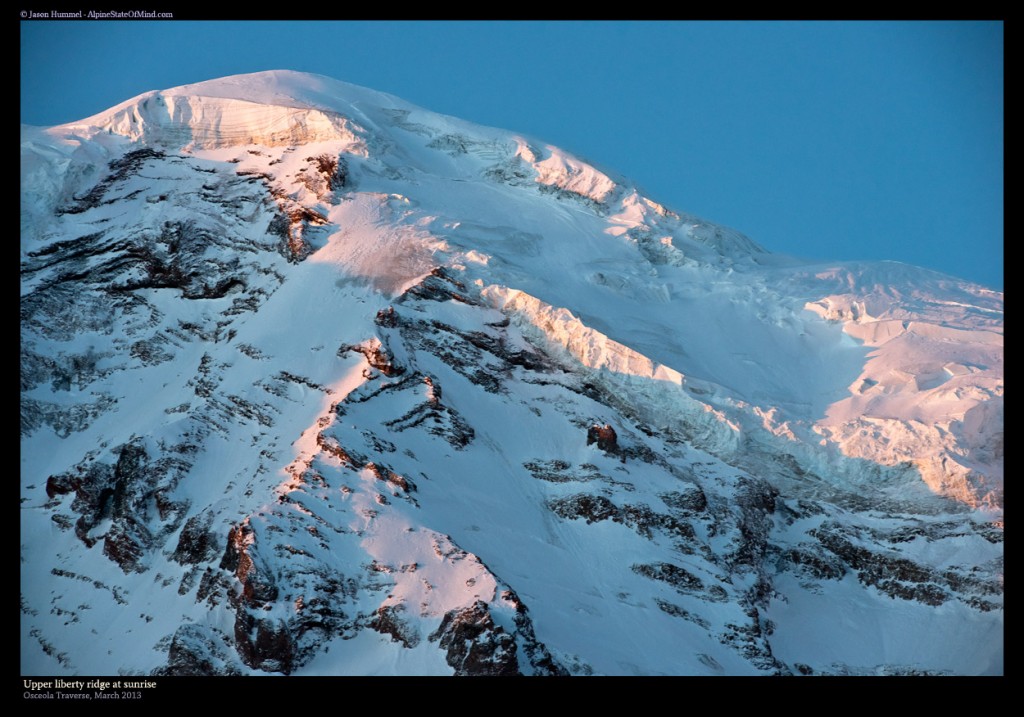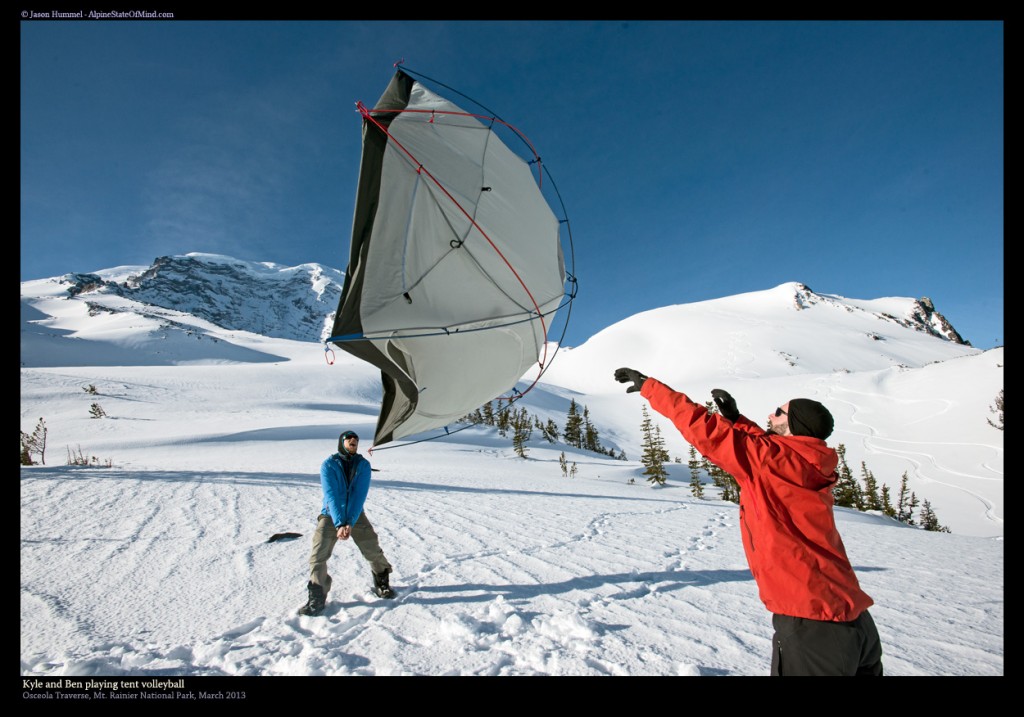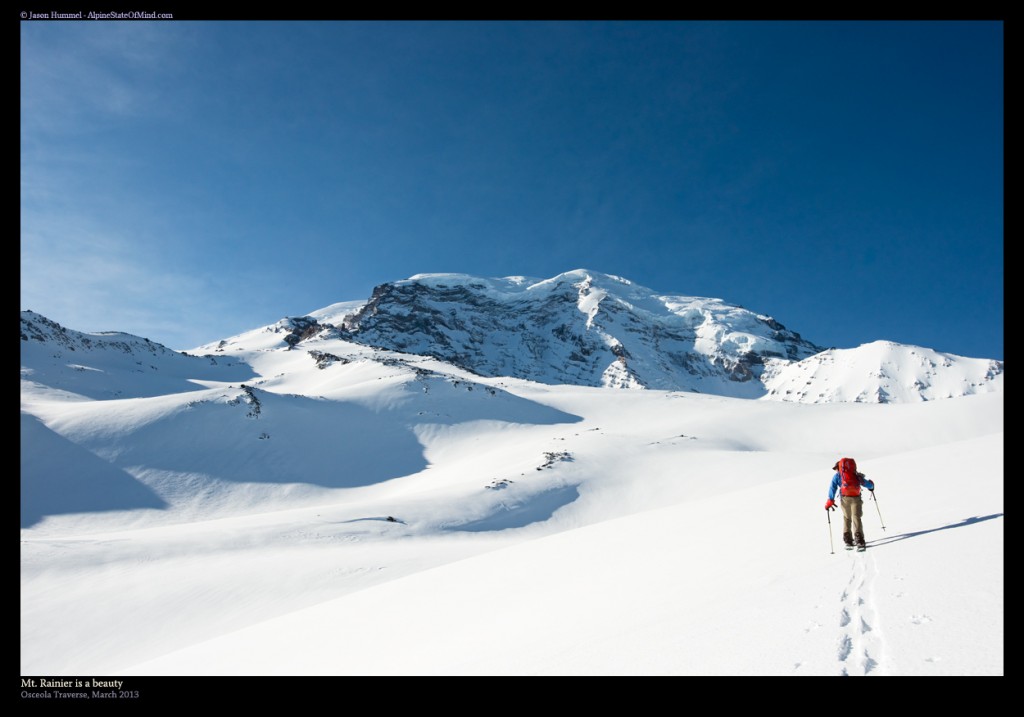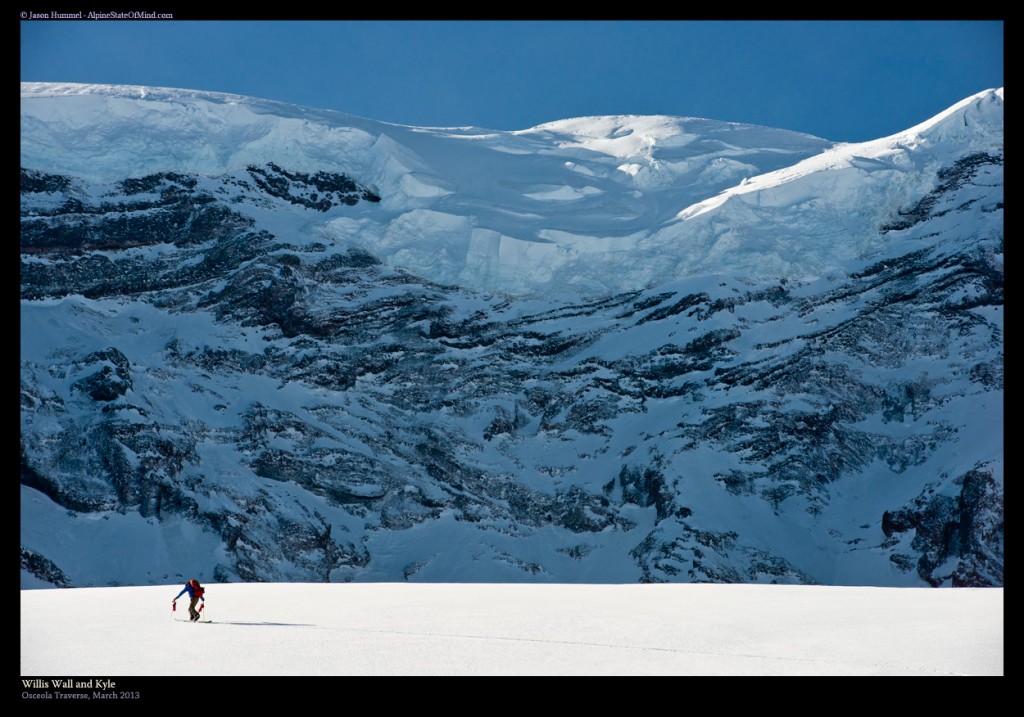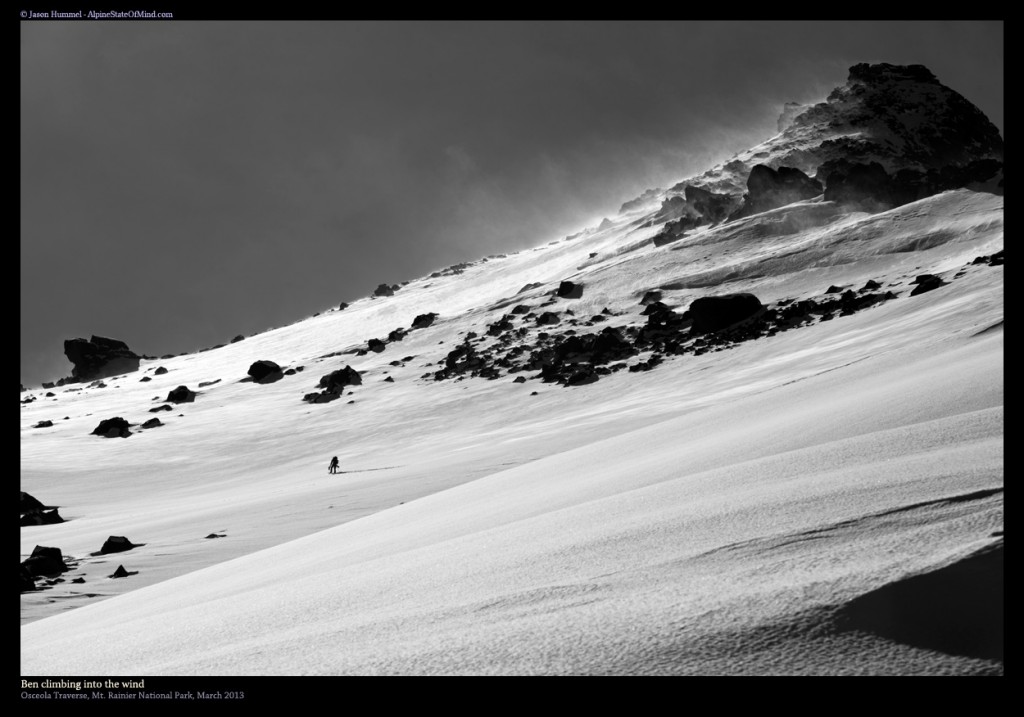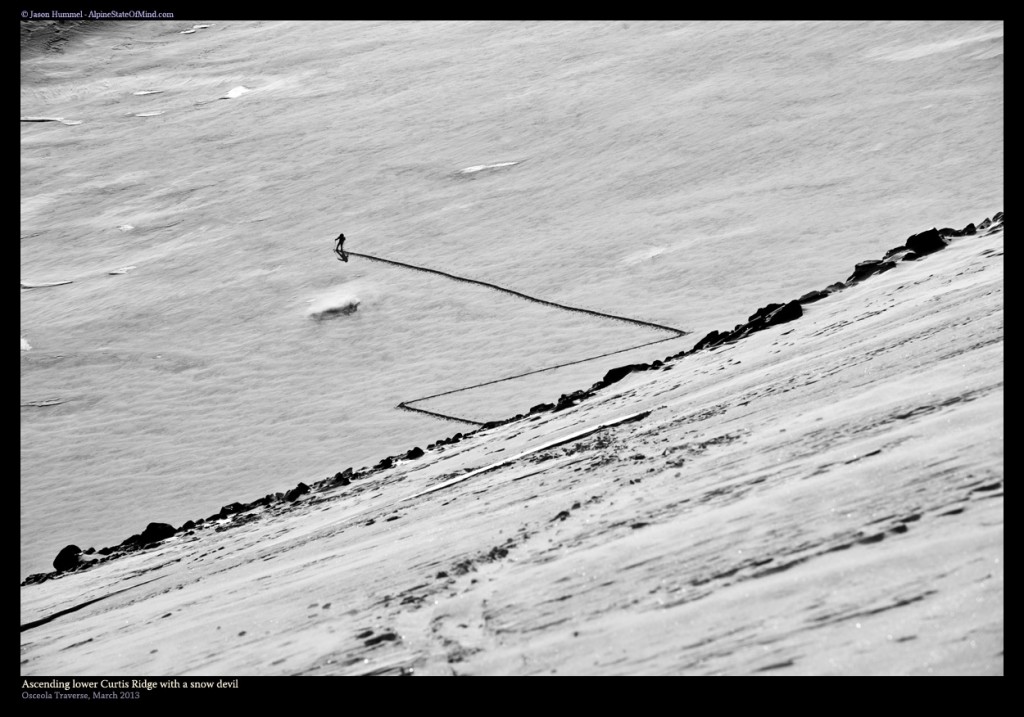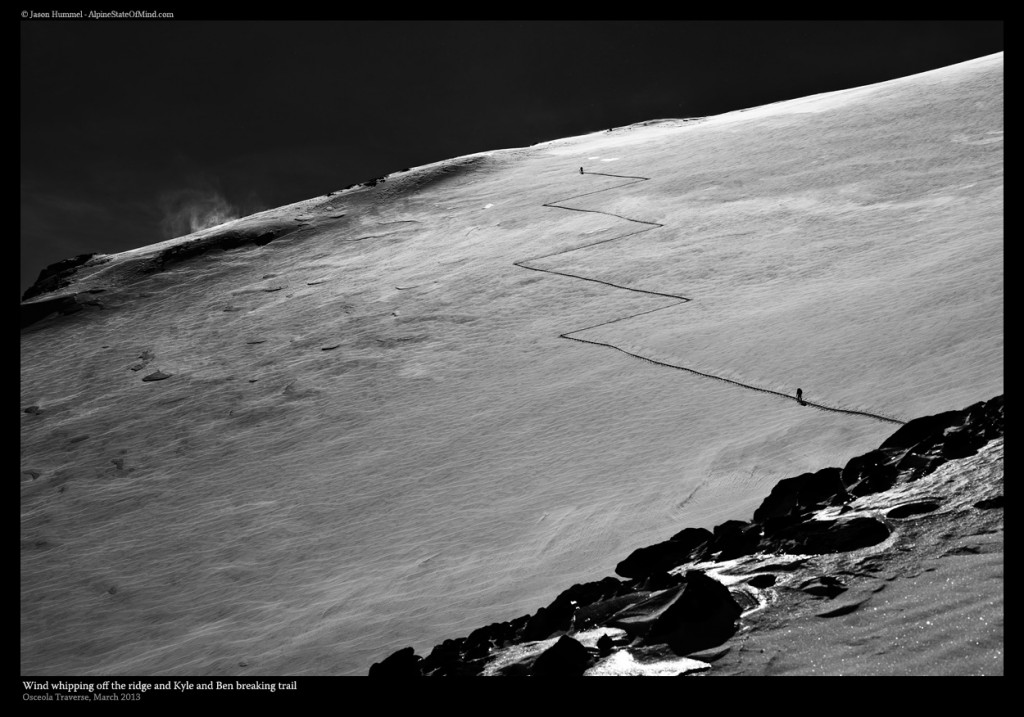 Not three years before, I lived off this tributary, and a decade before, I was forever scarred by a car accident on an FS road that handrailed the runoff of what we were standing on. Somber but smiling, I let the happier memories of this area rush over me as well. I had camped within view with my good friend, who goes by the nickname Boot, and in the distance was my favorite camping spot in the world. Oh, and if memories weren't excitement enough, we were about to descend 4,000 feet of perfect, low-angle powder.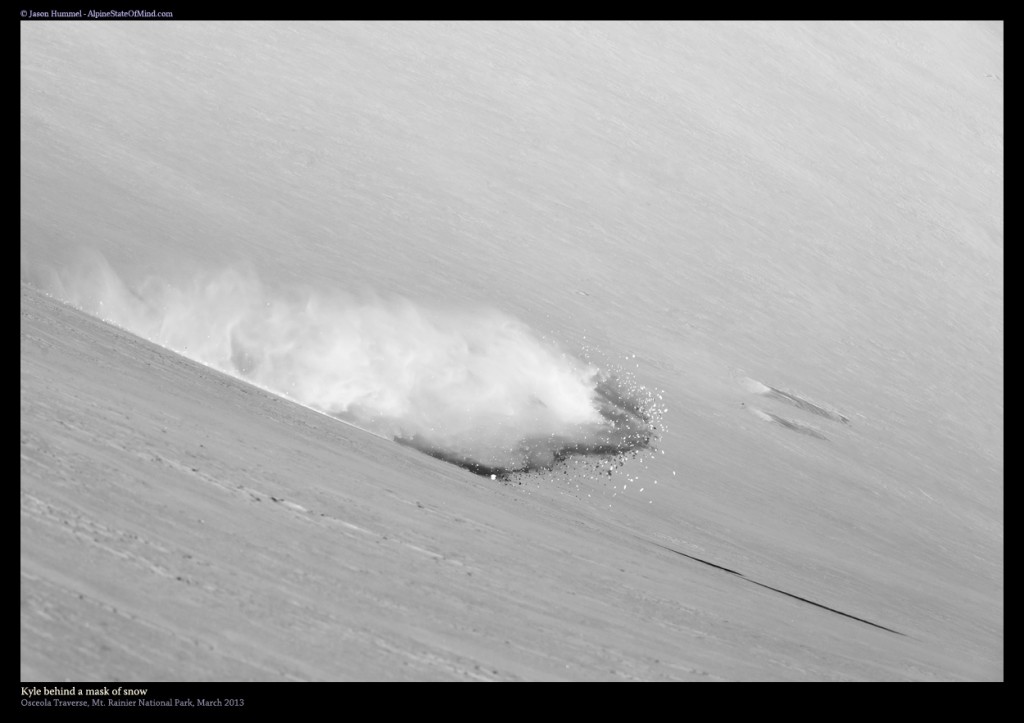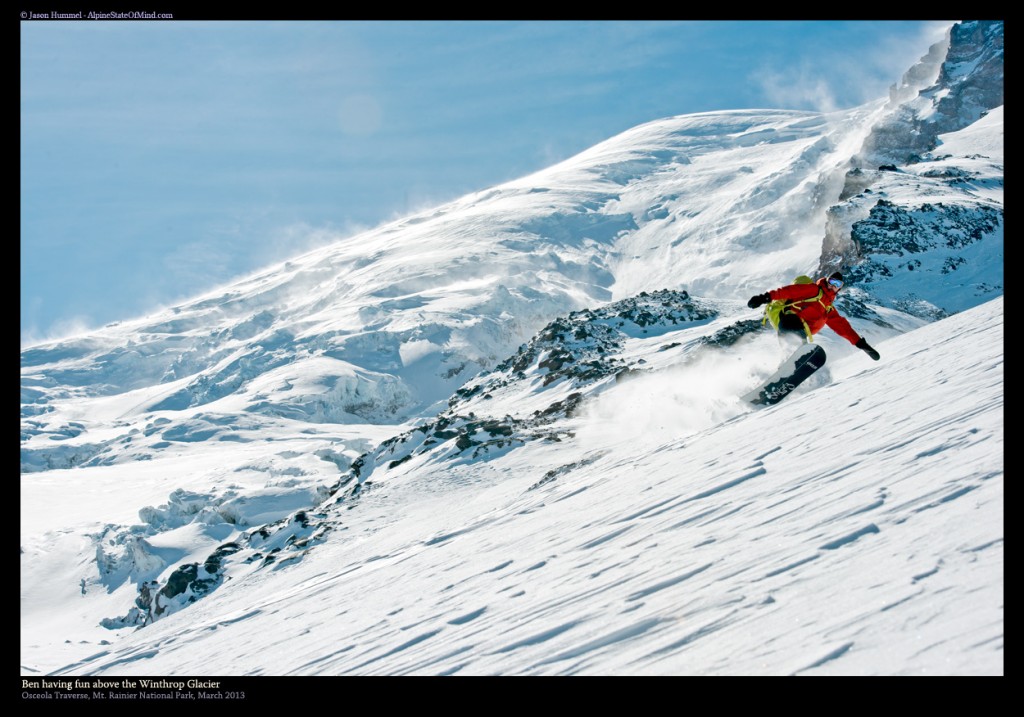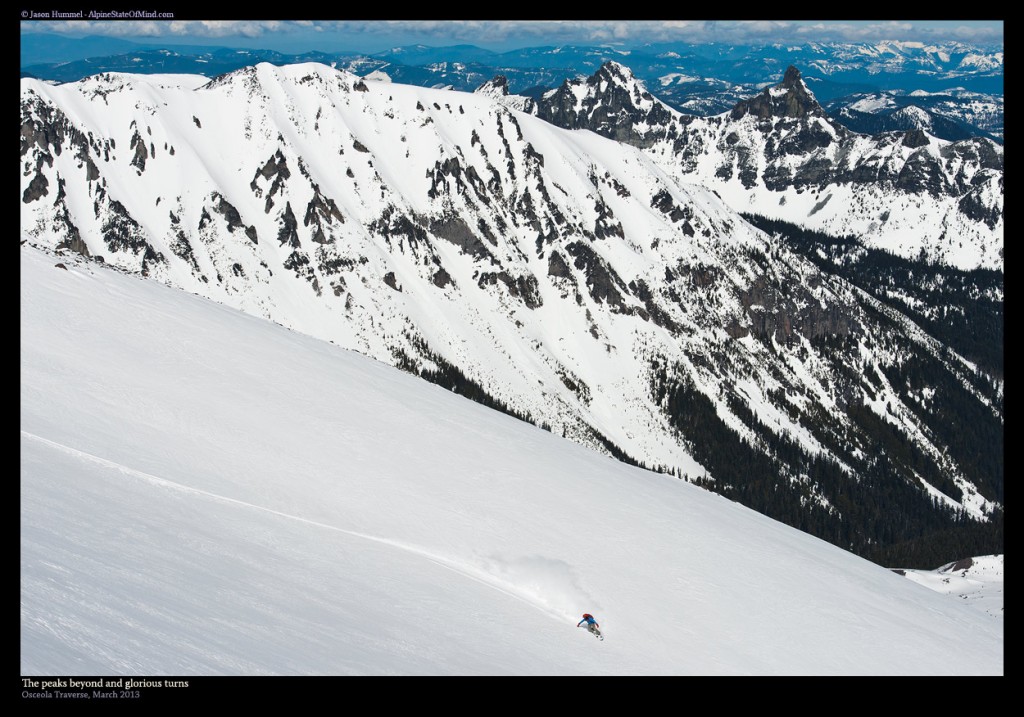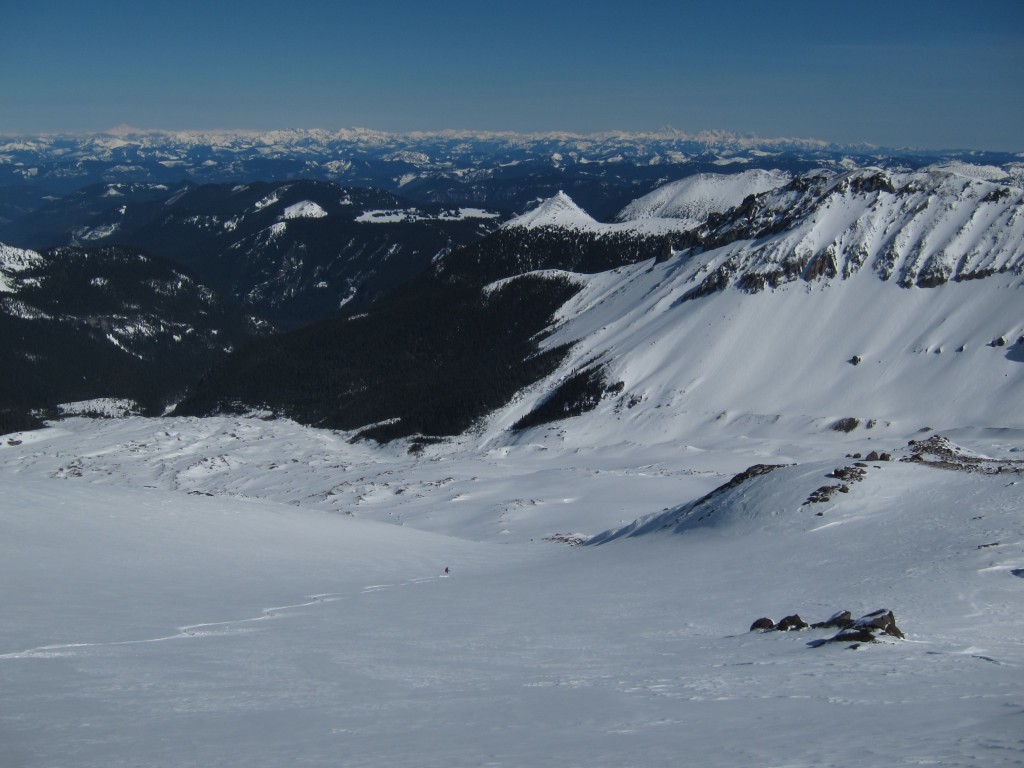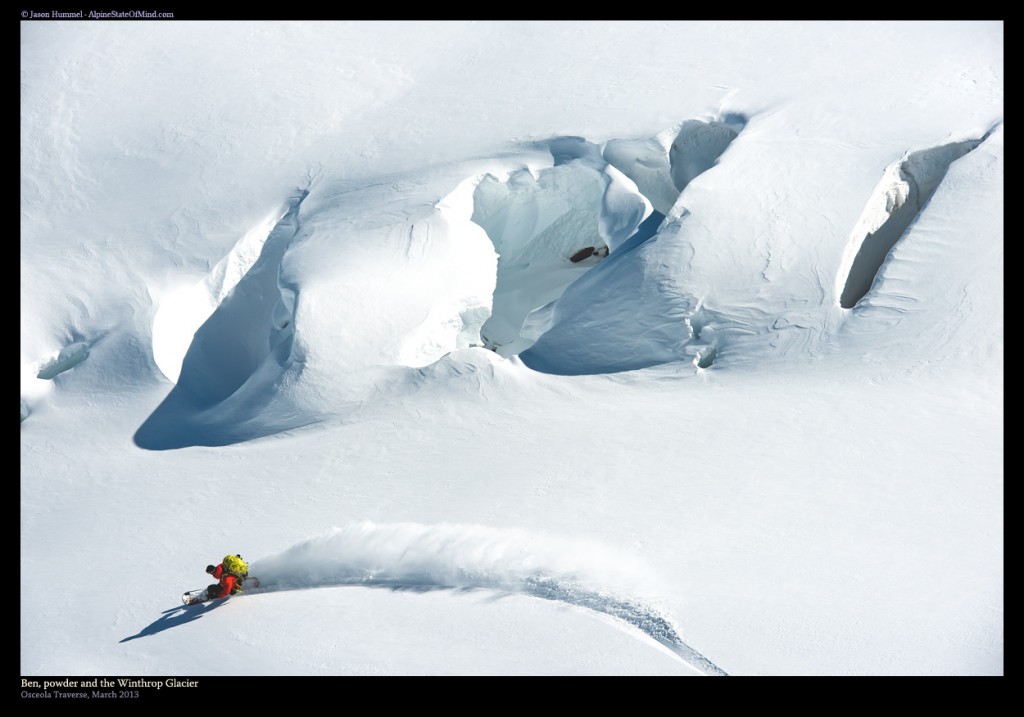 The descent was all-time, as we hooted and hollered about how lucky we were to get such great conditions. Overwhelmed with a feeling of insignificance in comparison to the icy river, glaciers and peaks around, we moved toward the toe of the Winthrop Glacier. The next part made this our crux day. We had hoped we'd find our way to the Wonderland Trail, but this thought was quickly abandoned as we blazed our own. Knowing all too well the art and the pain of bushwhacking in Washington, I feared we'd be at it for a while, but—be it luck or good fortune—we made our way straight up Granite Creek and directly to the Burroughs.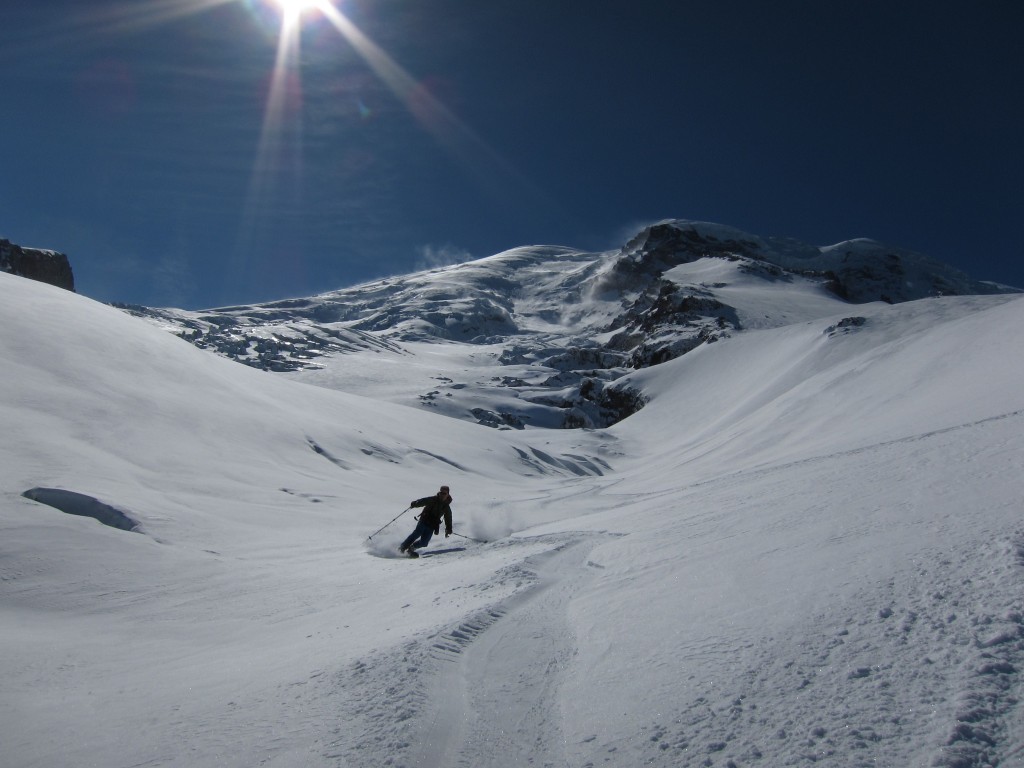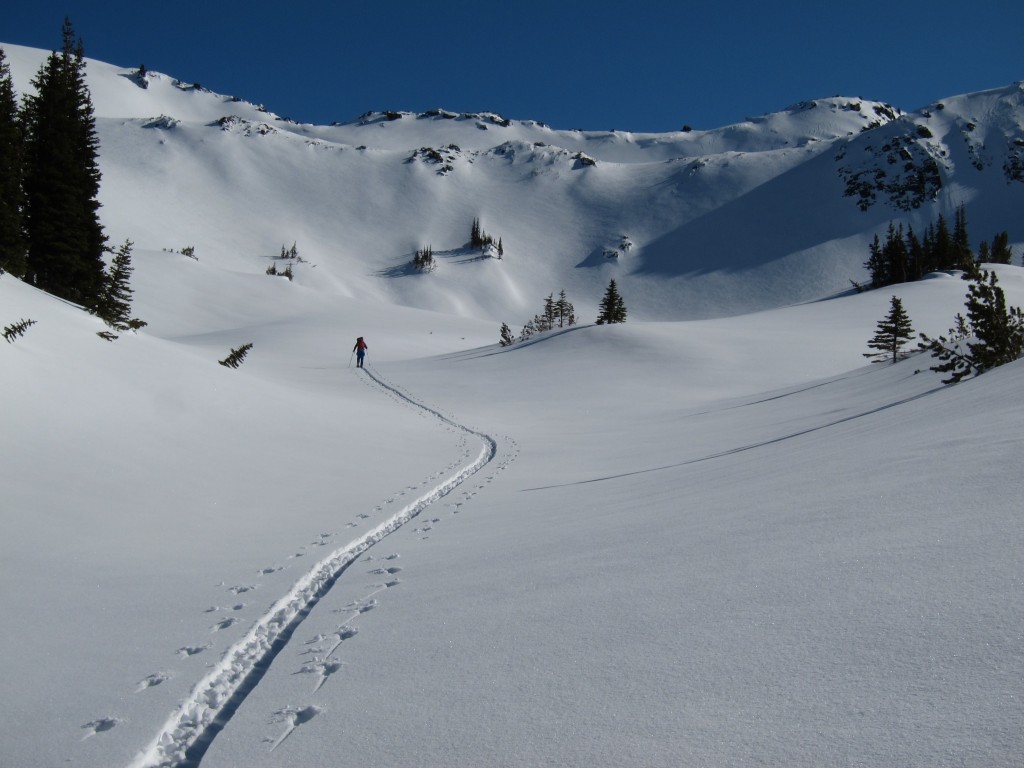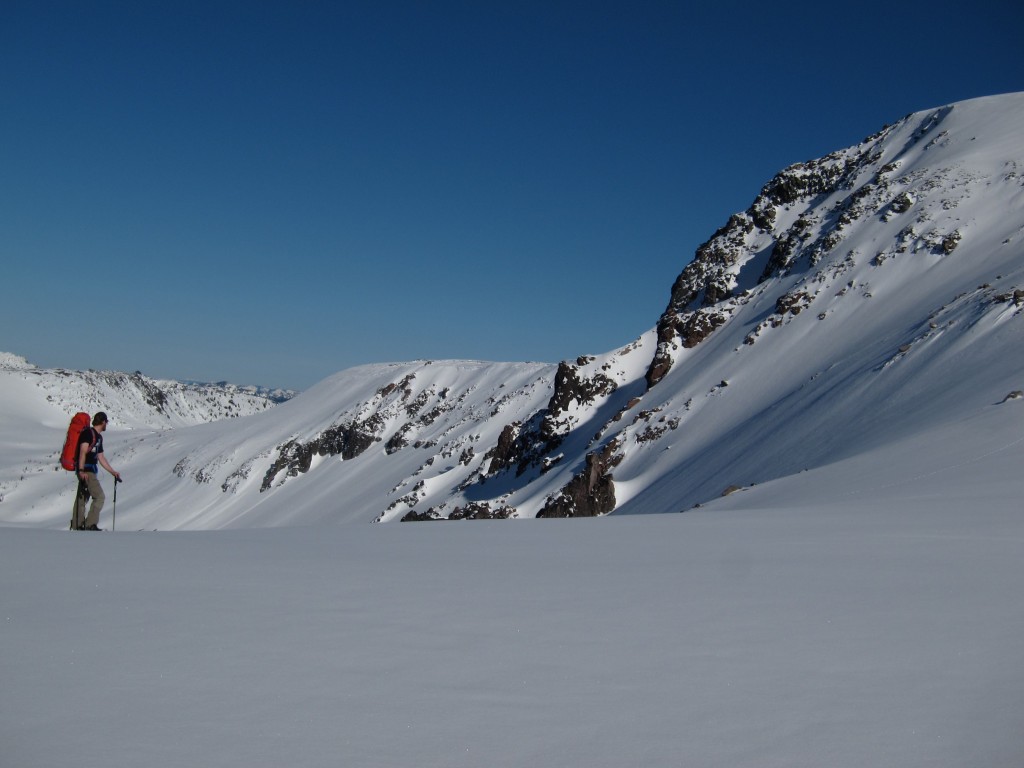 I know the Burroughs like the back of my hand, so we quickly crested the Second Burrough. On the top of it is a chair made of rocks, which I've sat in many a time. I enjoyed its comfort and amazing view for the hundredth time. Once again, the floodgates of memories opened—while I'd never sat here in winter before, I had slept there, hung out and even once battled hypothermia within view. All these experiences had made me who I am. What felt like hours of memories was only mere minutes, and it was time to race the setting sun to our destination for the night, an area fittingly called Sunrise. So with two descents over amazingly sheltered snow, we arrived at the seasonally abandoned visitor center as darkness consumed the surrounding environment. 
Like everything else on this trip, this area held great significance for me, as one of my first outdoors experiences was walking the summer trails around Sunrise with my mother. I owe everything to that kindhearted woman and I thought of her as I fell asleep under a beautiful, starry sky.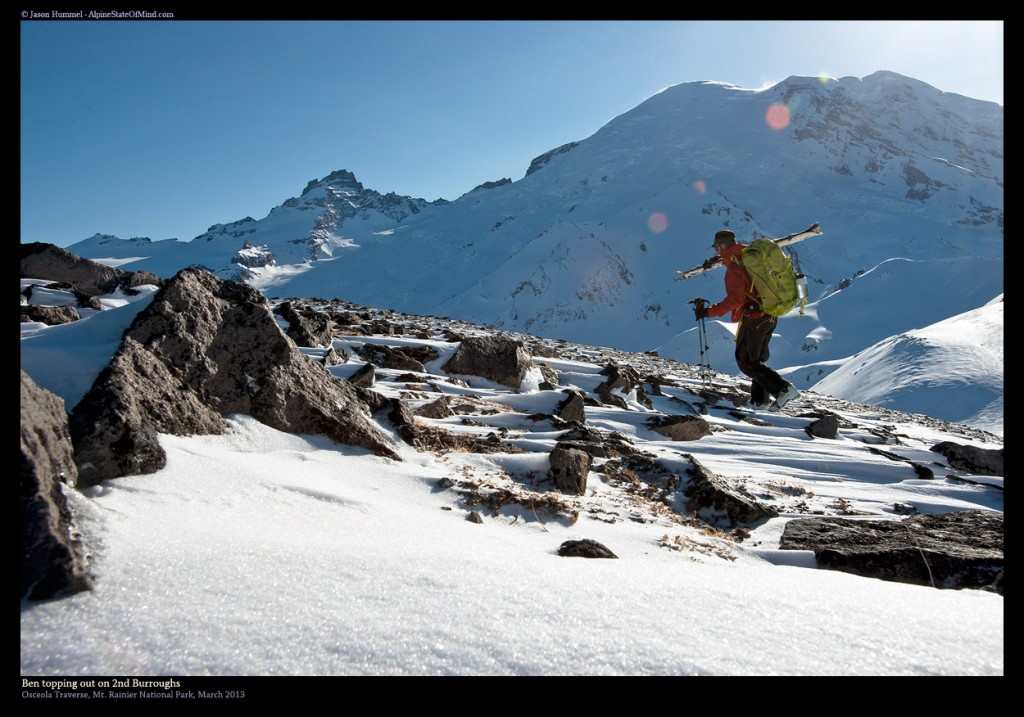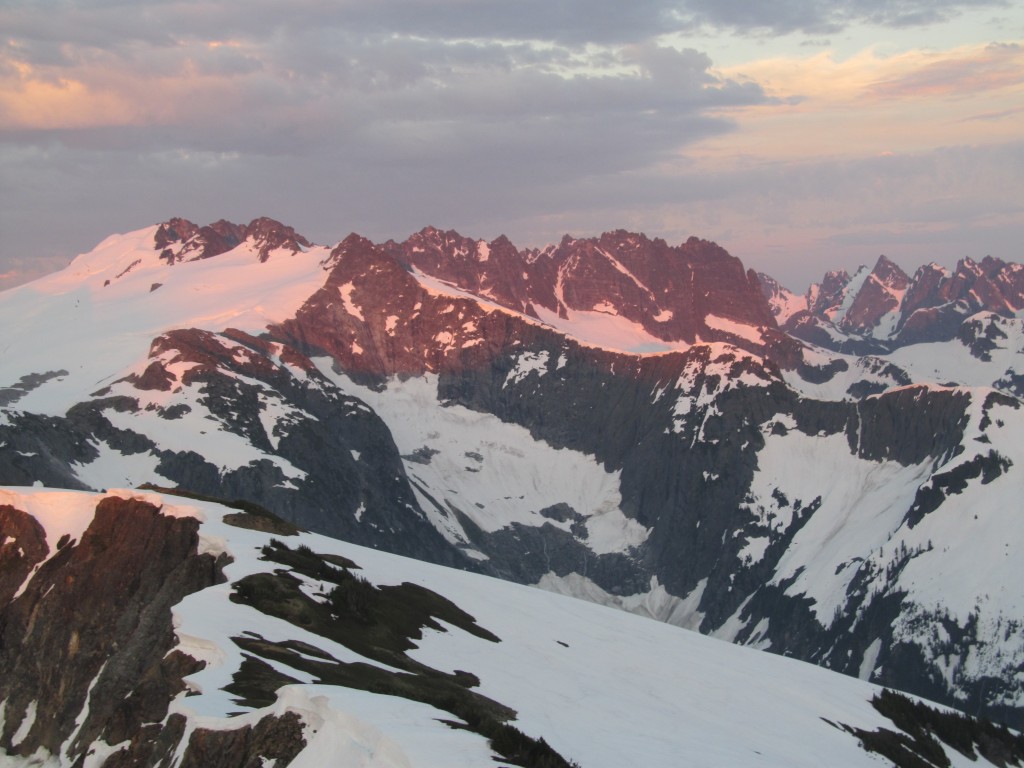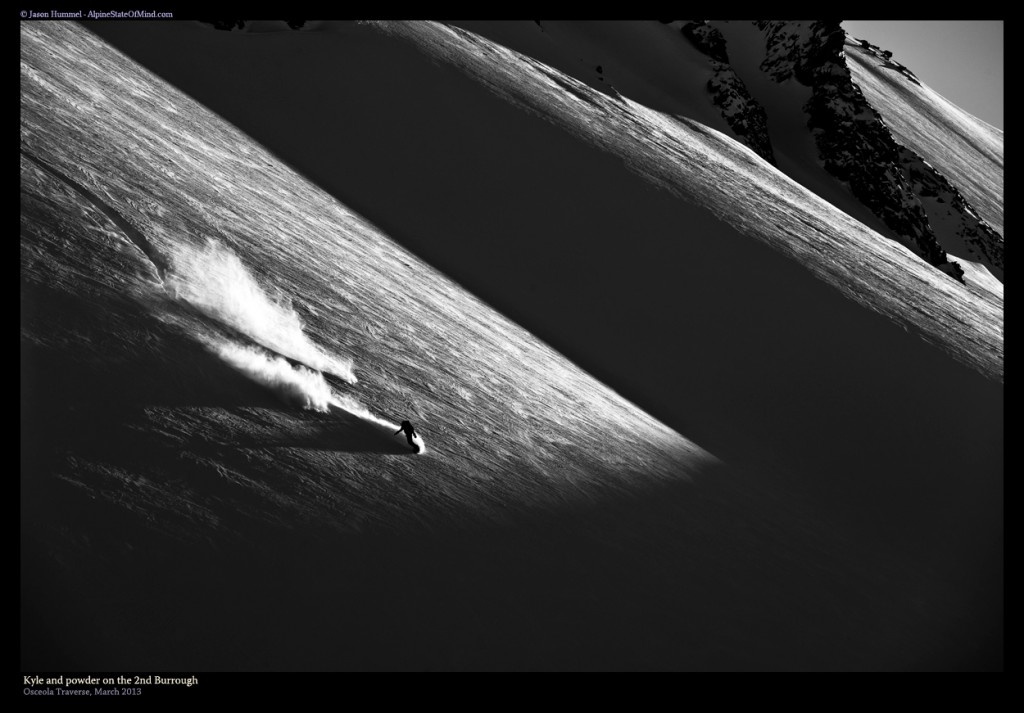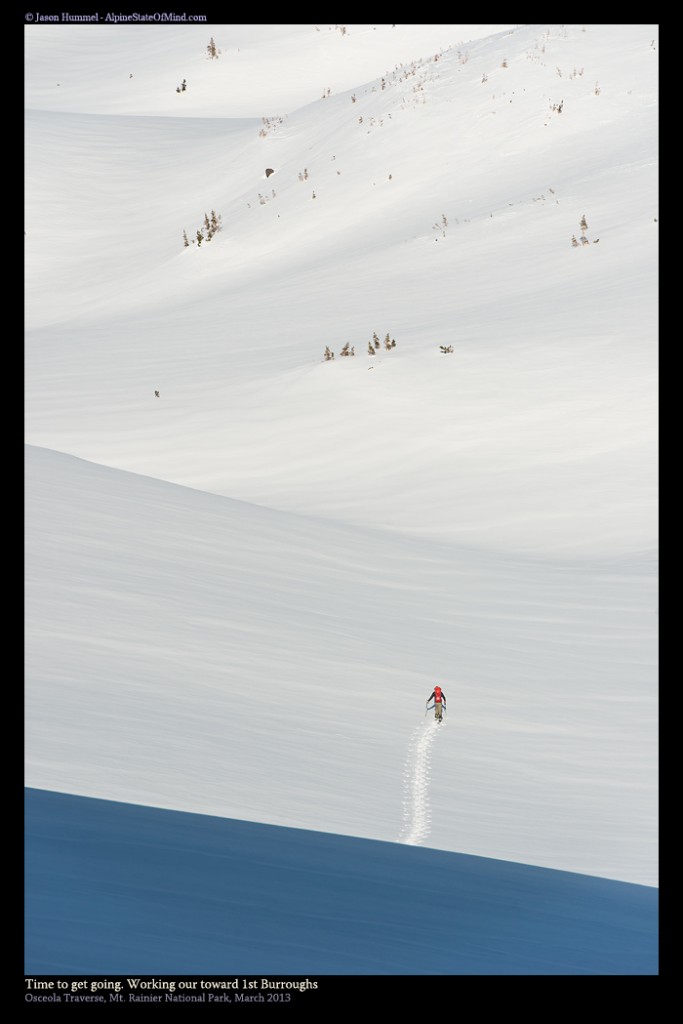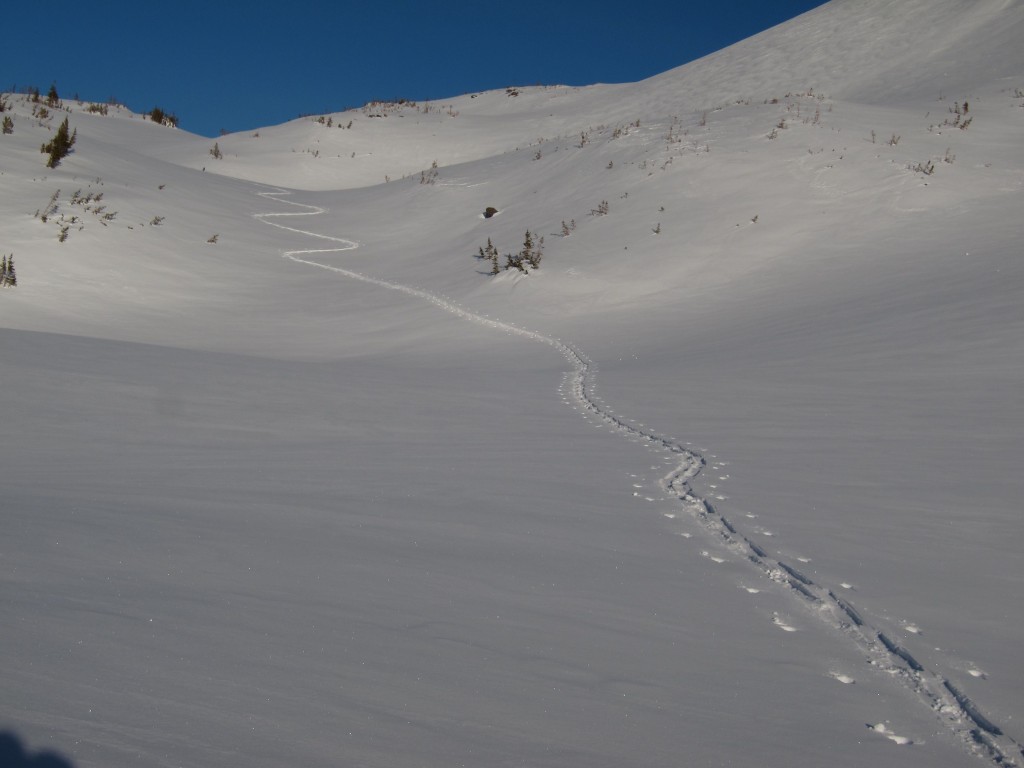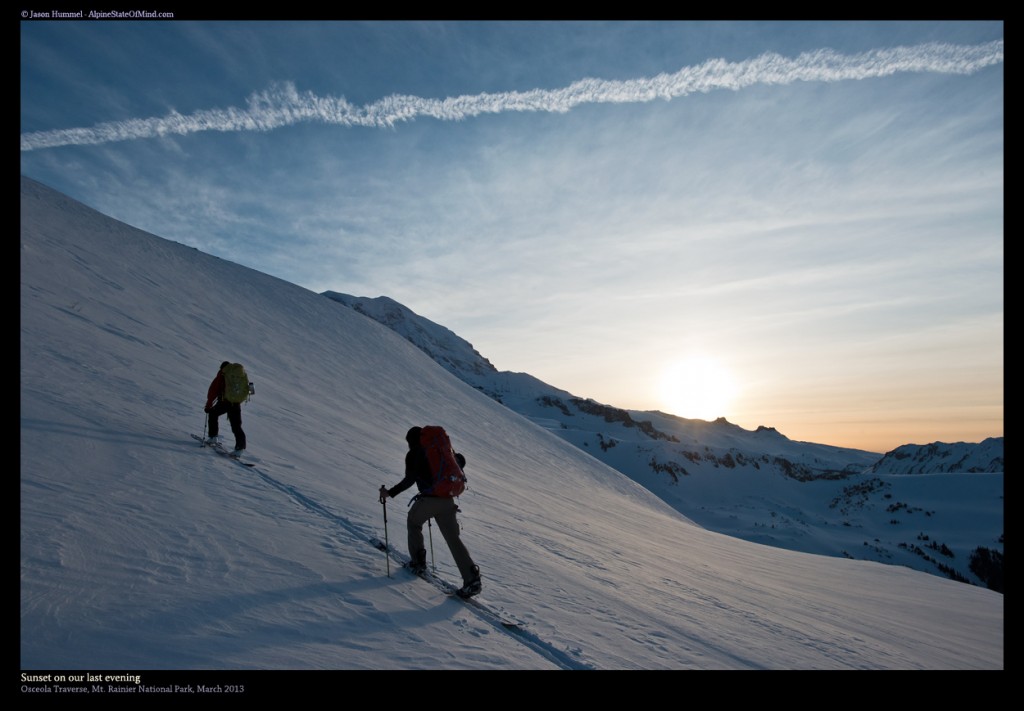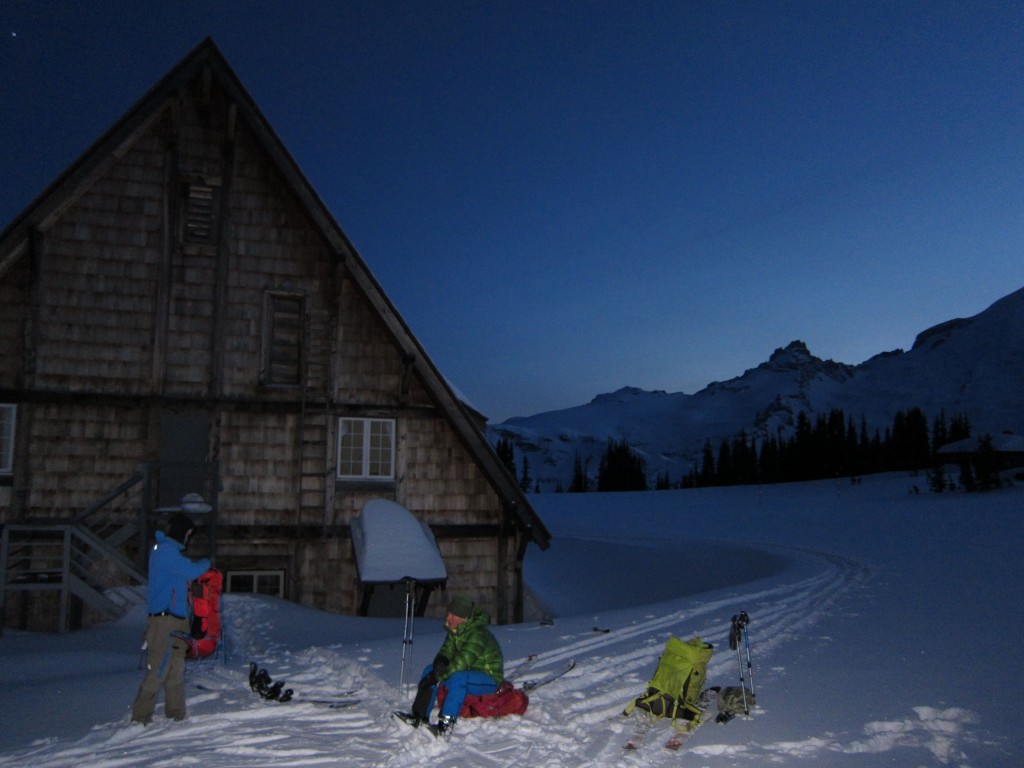 Day 4: Sunrise to White River
The last morning, Ben and I woke at 4 a.m. There was one final objective and one final memory that needed to be stirred. From the summit (or top of the gondola) of Crystal Mountain, you get a perfect view of Rainier on a clear day, as well as the comparatively tiny Dege Peak. From the first time I saw it, I knew one day I would have to ride it, and finally that day was within my grasp. We made quick work of the slopes of Dege and timed it perfectly with the Sunrise.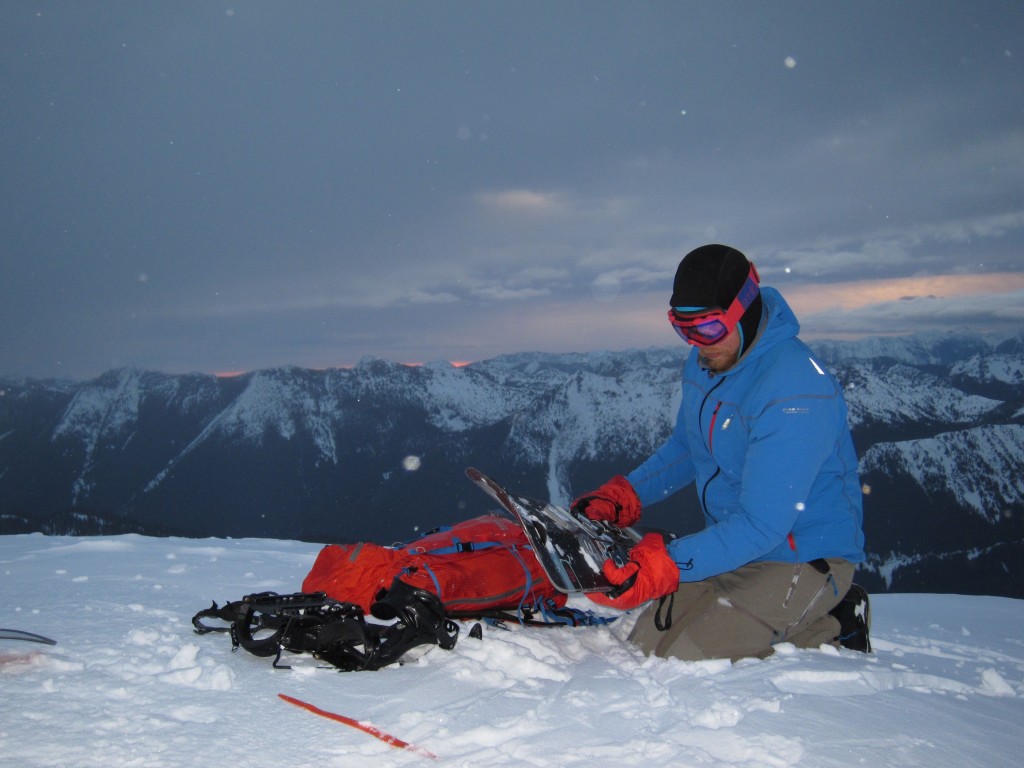 The weather was quickly deteriorating, so we rode our line and ran back to camp, where Jason was awaiting our return. From there, we found an uninterrupted slide path that took us down to White River, where Boot was waiting with sled in hand. The only thing standing between us and the comforts of civilization was a brief 16-mile sled ride to the Crystal Mountain snowpark, which, like everything else on the trip, went smoothly. 
Looking back, I feel so fortunate that everything went so well, from the snow conditions to navigation and group dynamics. I feel honored to say that my life continues to be one big adventure, even here, in my home range.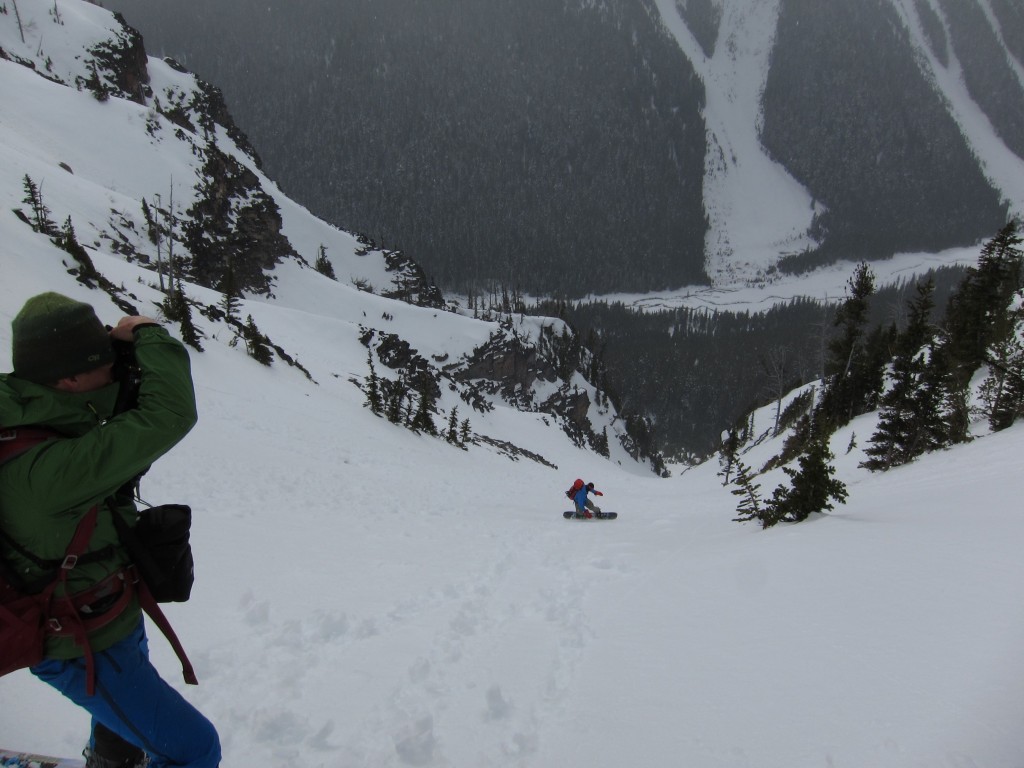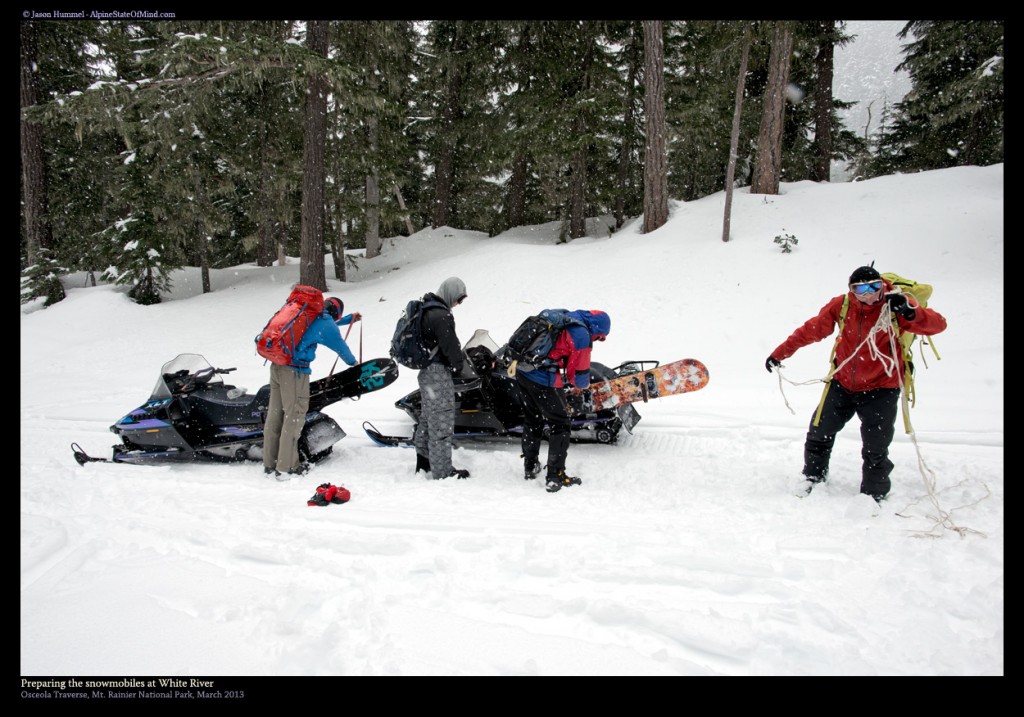 I feel so fortunate to put together this traverse and have such ideal conditions. This route is perfect on a splitboard mellow climbs and long descents. In total it was 36 miles and 18,000 vertical feet Thanks for Reading